Add to Briefcase
Feb. 11, 2014, 6:19 a.m.
The League of Con­ser­va­tion Voters' newly re­leased Na­tion­al En­vir­on­ment­al Score­card un­der­scores what's be­come prac­tic­al wis­dom in Wash­ing­ton: En­vir­on­ment­al lead­er­ship in Con­gress is di­vided starkly along par­tis­an lines.
In a year Pres­id­ent Obama has taken sweep­ing ex­ec­ut­ive ac­tions on the en­vir­on­ment, House Re­pub­lic­ans had the low­est av­er­age score since LCV began put­ting out the score­card in 1970. Scores are based on a scale of 0 to 100 and cal­cu­lated by di­vid­ing the num­ber of pro-en­vir­on­ment votes cast by the total num­ber of votes tal­lied (for more on this, see LCV's meth­od­o­logy). Av­er­age House Re­pub­lic­an scores have dropped stead­ily in re­cent years, from an av­er­age of 17 per­cent in 2008, to 10 per­cent in 2012, down to the low av­er­age of 5 per­cent for 2013.
It's con­sid­er­ably lower even than what con­gres­sion­al Re­pub­lic­ans av­er­aged dur­ing the Gin­grich re­volu­tion in the 1990s. In the four years Newt Gin­grich was House speak­er, the av­er­age Re­pub­lic­an score was 21.93 per­cent, ac­cord­ing to LCV's re­cords.
This year's score­card looked at 13 Sen­ate votes and 28 House votes, se­lec­ted by lead­ers of 20 dif­fer­ent green or­gan­iz­a­tions as the ma­jor en­vir­on­ment­al votes in the first ses­sion of the 113th Con­gress. Over­all, neither party came out look­ing par­tic­u­larly green. House mem­bers av­er­aged 57 per­cent ap­prov­ing on en­vir­on­ment­al votes, while sen­at­ors av­er­aged 43 per­cent — both fail­ing marks, by grade-school stand­ards.
The cleav­age between the parties is es­pe­cially vis­ible with­in Sen­ate party lead­er­ship, where Demo­crats earned an av­er­age score of 98 per­cent to Re­pub­lic­ans' 9 per­cent. In the House, Demo­crat­ic lead­ers earned an av­er­age of 86 per­cent to Re­pub­lic­ans' 6 per­cent.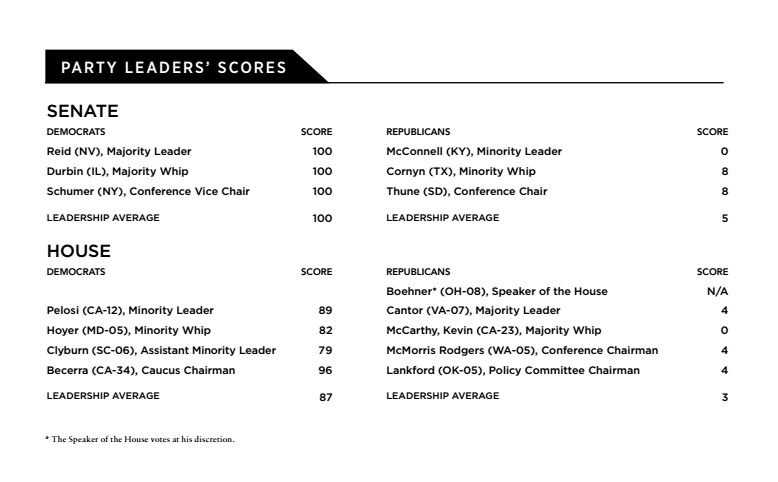 "This score­card is a dis­turb­ing re­flec­tion of the ex­tent to which the Re­pub­lic­an lead­er­ship of the U.S. House of Rep­res­ent­at­ives con­tin­ues to be con­trolled by tea-party cli­mate-change den­iers with an in­sa­ti­able ap­pet­ite for at­tacks on the en­vir­on­ment and pub­lic health," wrote the re­port's au­thors.
A re­cent Pew Poll un­der­scores that sen­ti­ment. The na­tion­al sur­vey con­duc­ted in Oc­to­ber found just 25 per­cent of tea-party Re­pub­lic­ans say there is sol­id evid­ence of glob­al warm­ing, com­pared with 61 per­cent of non-tea-party Re­pub­lic­ans who say the same.