For wo­men liv­ing in big cit­ies, get­ting cat calls from ran­dom men on the street has been a daily oc­cur­rence for dec­ades.
In 1920, a small group of wo­men in Wash­ing­ton, D.C. were es­pe­cially fed up with the heck­ling, whist­ling, and hoot­ing. To com­bat this un­wanted at­ten­tion, they formed the Anti-Flirt Club. "Too many mo­tor­ists here are tak­ing ad­vant­age of the pre­ced­ent es­tab­lished dur­ing the war by of­fer­ing to take young lady ped­es­tri­ans in their cars," Helen Brown, the club's sec­ret­ary told The Wash­ing­ton Post on Feb. 28, 1923.
The Anti-Flirt Club, led by Har­vard Street res­id­ent Alice Reighly, laid out this set of 10 rules for young Amer­ic­an wo­men to do their part to erad­ic­ate street har­ass­ment:
1. Don't flirt: those who flirt in haste oft re­pent in leis­ure.
2. Don't ac­cept rides from flirt­ing mo­tor­ists — they don't in­vite you in to save you a walk.
3. Don't use your eyes for ogling — they were made for wor­thi­er pur­poses.
4. Don't go out with men you don't know — they may be mar­ried, and you may be in for a hair-pulling match.
5. Don't wink — a flut­ter of one eye may cause a tear in the oth­er.
6. Don't smile at flir­ta­tious strangers — save them for people you know.
7. Don't an­nex all the men you can get — by flirt­ing with many, you may lose out on the one.
8. Don't fall for the slick, dan­di­fied cake eat­er — the un­pol­ished gold of a real man is worth more than the gloss of a lounge liz­ard.
9. Don't let eld­erly men with an eye to a flir­ta­tion pat you on the shoulder and take a fath­erly in­terest in you. Those are usu­ally the kind who want to for­get they are fath­ers.
10. Don't ig­nore the man you are sure of while you flirt with an­oth­er. When you re­turn to the first one you may find him gone.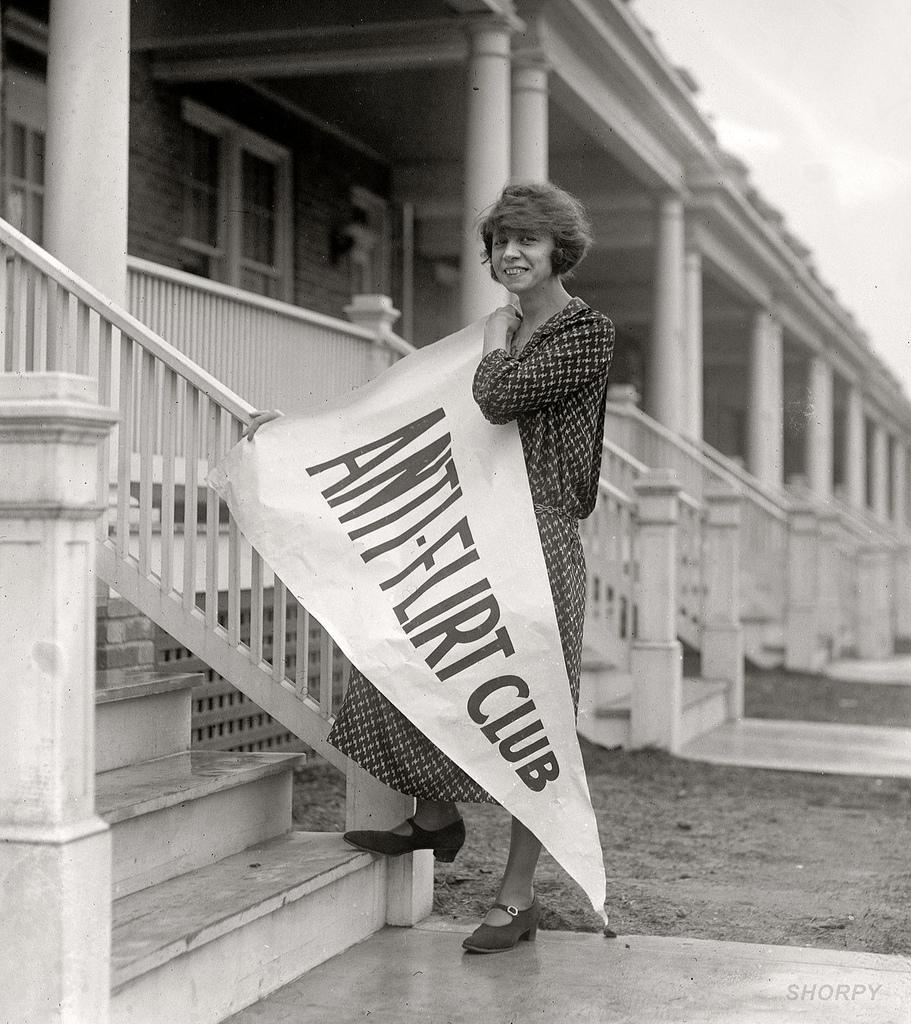 Club pres­id­ent Alice Reighly stands along Har­vard Street on Feb. 27, 1923. (Tom Wigley/Na­tion­al Photo Com­pany Col­lec­tion/Flickr)Seems easy enough: Don't get in­to cars with strangers, juggle too many suit­ors, or ac­cept passes from creepy old men. All sug­ges­tions that still ring true for the mod­ern, young Amer­ic­an wo­man. Un­for­tu­nately that also means that mod­ern, young Amer­ic­an wo­men still deal with the same un­wel­come male at­ten­tion that the Anti-Flirt Club mem­bers ex­per­i­enced dec­ades ago.
After all, "lounge liz­ards," which The At­lantic's Alex­is Coe defined as well-dressed men who woo wo­men with their de­cept­ive charm, still roam the streets (and bars) today. So do their sim­il­ar coun­ter­parts, those "slick, dan­di­fied cake eat­ers."
And so do "mash­ers," men who made their "amor­ous in­ten­tions known in an ag­gress­ive man­ner, main­tain­ing brief re­la­tions with vari­ous wo­men," Coe writes. But in early 20th-cen­tury Chica­go, mash­ers were akin to crim­in­als, ar­res­ted for call­ing out at wo­men they drove past on the street.
"This street flirt­ing has got to stop in Chica­go," act­ing Po­lice Co­mis­sion­ner John Alock de­clared, ac­cord­ing to a re­port by the Chica­go Tribune from Aug. 9, 1931. "No longer may young men in auto­mo­biles edge over to the curb and honk their horns at pretty girls on the side­walk. They must quit ogling wo­men from loaf­ing places in front of drug stores, ci­gar stores and oth­er pub­lic hangouts."
A sim­il­ar anti-flirt­ing move­ment took hold in Man­hat­tan, this one led by a group of men, in­clud­ing "George Car­roll, [a] the­at­ric­al man, and James Madis­on, a broker," Coe wrote. Their goal? To "edu­cate pub­lic opin­ion to the point where a wo­man will con­sider it her duty to pro­sec­ute the mash­er who at­tempts to force his at­ten­tions upon her," ex­plained a New York Times art­icle in Nov. 21, 1922.
"The five men form­ing the nuc­le­us of the or­gan­iz­a­tion say that in New York's streets, es­pe­cially in the the­at­ric­al dis­tricts, hordes of pests of the mash­er spe­cies are car­ry­ing their activ­it­ies to a point where no wo­man is safe from ap­proach and in­sult," the story went on.
Wash­ing­ton's Anti-Flirt Club launched an "anti-flirt week" on March 4, 1923, but some were skep­tic­al about the cam­paign. "The trouble, as sug­ges­ted so far, is that the or­gan­izers are try­ing not only to ab­ol­ish the mash­er but to stop wo­men them­selves from flirt­ing," The Wash­ing­ton Star re­por­ted.
By the end of the 1930s, the cam­paign to crack down on rowdy male mo­tor­ists died out. Today, the blame be­hind street har­ass­ment rests solidly with the flirters, not the flir­tees. The cur­rent move­ment mir­rors the early cam­paigns of Chica­go and New York City, en­cour­aging wo­men to re­port their har­ass­ers to law en­force­ment. Phil­adelphia-based artist Han­nah Price even pho­to­graphs the men who cat call her on the streets and posts the im­ages on­line.
Modes of street trans­port­a­tion may evolve over time, but the mash­ers and lounge liz­ards nev­er change.