Add to Briefcase
March 8, 2016, 8:01 p.m.
Faced with vanishing demand, cheaper competition, massive layoffs and costly federal regulations, the coal industry could use a political savior now more than ever.
According to the Energy Information Administration, natural gas is projected to fuel a larger share of the country's electricity than coal for the first time ever in 2016, and longer-term projections for the industry are dire. Last year, nearly 14 gigawatts of coal-based electricity generation was retired, accounting for more than 80 percent of the overall retirements.
Industry executives say they need to elect a president who would ease the regulatory burden to help coal get a leg up, but it will be a steep climb for King Coal.
"I can't stress how critical this election is. If we don't get the right candidate, we may not be around much longer," said Bill Bissett, president of the Kentucky Coal Association. "But this is also a very difficult time for us to be politically engaged."
How difficult? Of the 10 coal companies that spent the most in the 2012 race, tracked by the Center for Responsive Politics, two—Alpha Natural Resources and Arch Coal—have filed for bankruptcy. Patriot Coal, which cracked the top 10 in the 2014 cycle, also filed for bankruptcy.
And several other giants are circling the drain. Peabody Energy, the world's largest private mine operator, is $6.3 billion in debt and analysts are predicting that it could file for bankruptcy. Murray Energy had plans to lay off more than 500 workers at the end of 2015, having already laid off hundreds of workers the previous May. Other coal firms like CONSOL Energy and Foresight Energy have gone through layoffs in the past year and have been flagged by investors for potential trouble.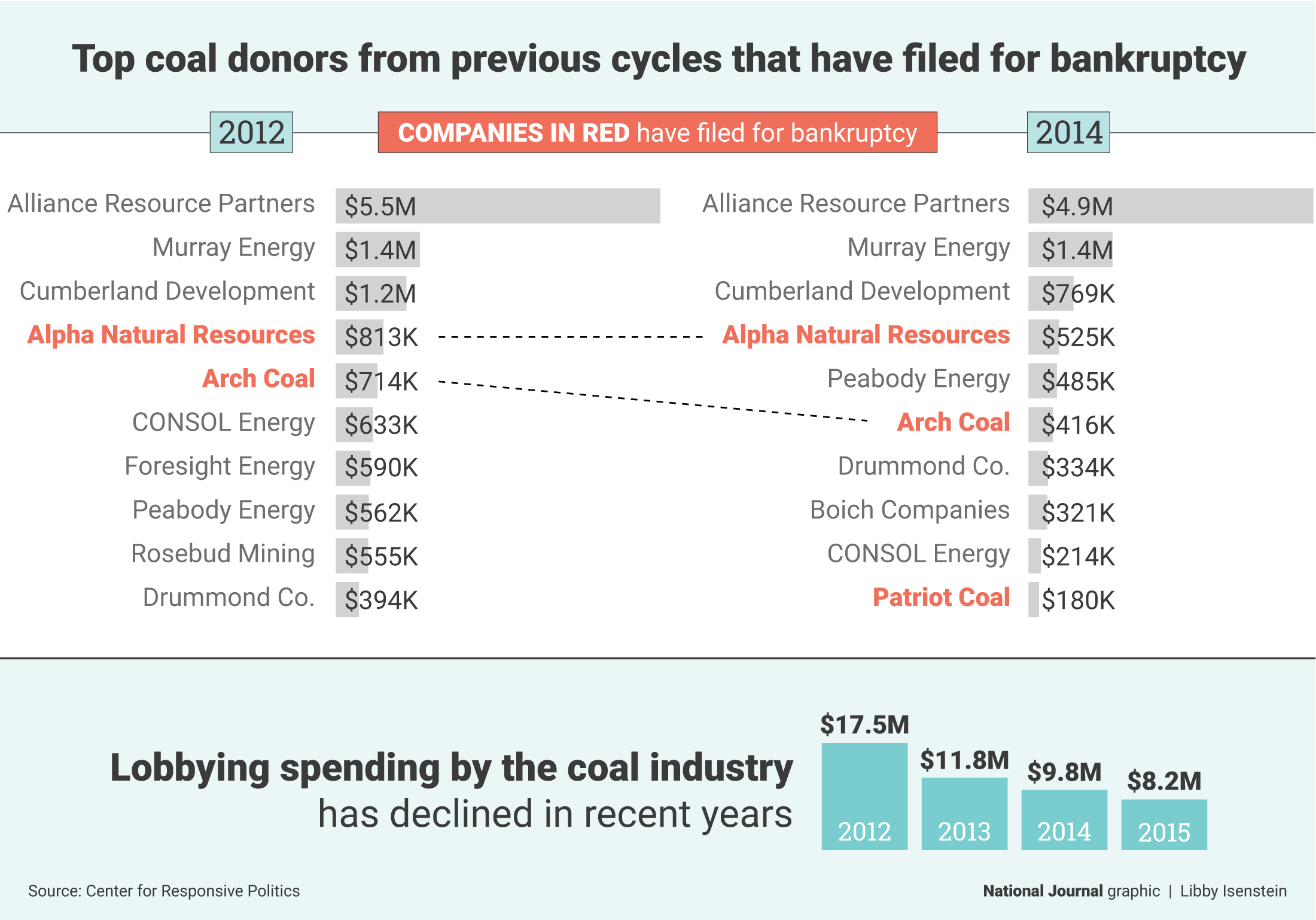 As a result, the industry's political dollars are at a premium. According to the Center for Responsive Politics, the industry's overall lobbying has dropped by more than half, from $17.5 million in 2012 to just $8.2 million last year. The National Mining Association, which represents the coal industry in Washington, spent about a million less in 2015 ($4.8 million) than it did in 2014 ($5.8 million, which represented a high for the group).
In the 2012 presidential race, coal companies gave nearly $1 million to Republican contender Mitt Romney (and $4,700 to President Obama), with the National Mining Association's COALPAC spending $10,500 on Romney. And although it's still early in the race, there seems to be little indication that coal will compete on the same level in 2016. Contributions to several companies' political action committees are off pace from previous cycles.
The National Mining Association declined to comment on its 2016 strategy for the PAC.
As Bloomberg reported last month, much of the industry's attention has switched to the courts, where states and industry groups are challenging federal environmental regulations.
"The layoffs and bankruptcies affect our political influence, no question about it," Bissett said.
And candidates don't seem inclined to take up the mantle of coal. Hillary Clinton and Bernie Sanders have both said that they'd continue President Obama's environmental regulations, which have cracked down on coal-fired generation (Clinton did release a $30 billion plan to provide aid to coal communities hit hard by the industry's slowdown).
On the Republican side, coal has largely been grouped into a larger discussion of "all of the above" energy that includes natural gas and, in the case of Marco Rubio and John Kasich, clean energy as well. The energy issue section on Ted Cruz's campaign website doesn't mention coal at all, although it details an all-of-the-above strategy employing "oil to natural gas to ethanol." Donald Trump caught flack for having said in a 1990 Playboy interview that miners "don't have the imagination" to find different jobs, but he touted the industry at a Kentucky rally before that state's March 5 caucus. "Obama has decimated the coal industry—decimated it—and we're going to bring the coal industry back, folks," he said.
"We were talking about a 'war on coal' in the 2012 race and the candidates have used some of that same rhetoric, but I don't see the dialogue progressing beyond that," said Jason Bohrer, president of the Lignite Energy Council, which represents coal producers in North Dakota. "That's the frustrating part; the coal industry is almost just a trope that both parties at the candidate level sometimes bring out to gin up support."
Republicans have universally vowed to lift regulations on the industry, like the Clean Power Plan, which set the first-ever carbon-dioxide limits on new and existing coal-fired power plants. The industry has also said that mercury and air-toxics standards, which required costly pollution-control devices, have damaged the industry.
But even the most pro-coal administration may not be able to do much to stem the bleeding. The fracking boom drove down the price of natural gas, making it a more attractive option for power providers, while solar and wind power are getting cheaper (the Clean Power Plan also incentivized a move from coal to gas and clean energy). The Energy Information Administration has consistently projected that coal will decline even without the Clean Power Plan.
"Maybe it's a wait-and-see approach," said Jesse Coleman, who tracks fossil-fuel donations for Greenpeace. "But if you look at what the industry is going through right now, it'd be hard to say it's not having an influence on politics."
Graphic by Libby Isenstein