Add to Briefcase
March 8, 2016, 8:01 p.m.
Faced with van­ish­ing de­mand, cheap­er com­pet­i­tion, massive lay­offs and costly fed­er­al reg­u­la­tions, the coal in­dustry could use a polit­ic­al sa­vior now more than ever.
Ac­cord­ing to the En­ergy In­form­a­tion Ad­min­is­tra­tion, nat­ur­al gas is pro­jec­ted to fuel a lar­ger share of the coun­try's elec­tri­city than coal for the first time ever in 2016, and longer-term pro­jec­tions for the in­dustry are dire. Last year, nearly 14 gigawatts of coal-based elec­tri­city gen­er­a­tion was re­tired, ac­count­ing for more than 80 per­cent of the over­all re­tire­ments.
In­dustry ex­ec­ut­ives say they need to elect a pres­id­ent who would ease the reg­u­lat­ory bur­den to help coal get a leg up, but it will be a steep climb for King Coal.
"I can't stress how crit­ic­al this elec­tion is. If we don't get the right can­did­ate, we may not be around much longer," said Bill Bis­sett, pres­id­ent of the Ken­tucky Coal As­so­ci­ation. "But this is also a very dif­fi­cult time for us to be polit­ic­ally en­gaged."
How dif­fi­cult? Of the 10 coal com­pan­ies that spent the most in the 2012 race, tracked by the Cen­ter for Re­spons­ive Polit­ics, two—Al­pha Nat­ur­al Re­sources and Arch Coal—have filed for bank­ruptcy. Pat­ri­ot Coal, which cracked the top 10 in the 2014 cycle, also filed for bank­ruptcy.
And sev­er­al oth­er gi­ants are circ­ling the drain. Pe­abody En­ergy, the world's largest private mine op­er­at­or, is $6.3 bil­lion in debt and ana­lysts are pre­dict­ing that it could file for bank­ruptcy. Mur­ray En­ergy had plans to lay off more than 500 work­ers at the end of 2015, hav­ing already laid off hun­dreds of work­ers the pre­vi­ous May. Oth­er coal firms like CON­SOL En­ergy and Foresight En­ergy have gone through lay­offs in the past year and have been flagged by in­vestors for po­ten­tial trouble.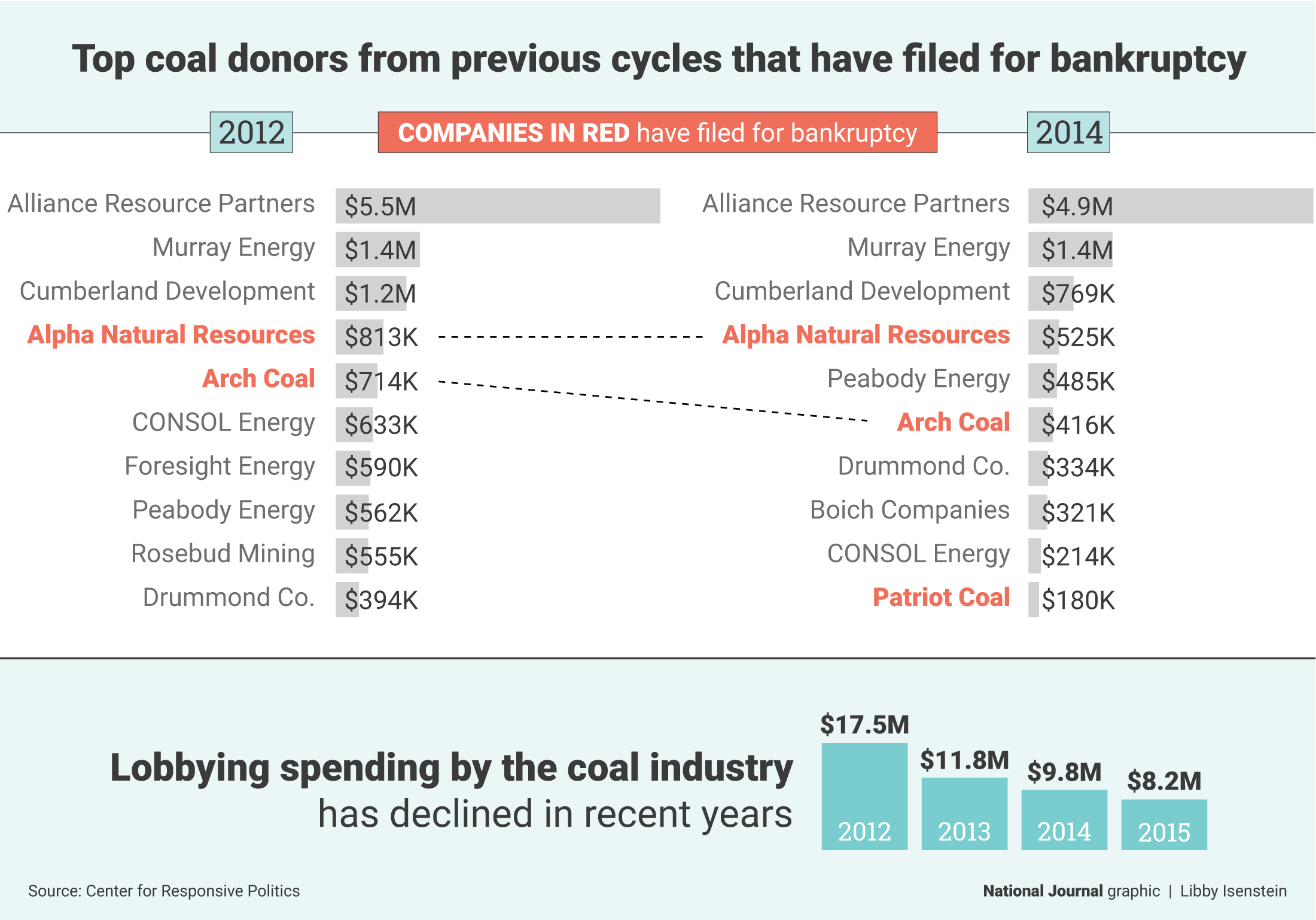 As a res­ult, the in­dustry's polit­ic­al dol­lars are at a premi­um. Ac­cord­ing to the Cen­ter for Re­spons­ive Polit­ics, the in­dustry's over­all lob­by­ing has dropped by more than half, from $17.5 mil­lion in 2012 to just $8.2 mil­lion last year. The Na­tion­al Min­ing As­so­ci­ation, which rep­res­ents the coal in­dustry in Wash­ing­ton, spent about a mil­lion less in 2015 ($4.8 mil­lion) than it did in 2014 ($5.8 mil­lion, which rep­res­en­ted a high for the group).
In the 2012 pres­id­en­tial race, coal com­pan­ies gave nearly $1 mil­lion to Re­pub­lic­an con­tender Mitt Rom­ney (and $4,700 to Pres­id­ent Obama), with the Na­tion­al Min­ing As­so­ci­ation's COALPAC spend­ing $10,500 on Rom­ney. And al­though it's still early in the race, there seems to be little in­dic­a­tion that coal will com­pete on the same level in 2016. Con­tri­bu­tions to sev­er­al com­pan­ies' polit­ic­al ac­tion com­mit­tees are off pace from pre­vi­ous cycles.
The Na­tion­al Min­ing As­so­ci­ation de­clined to com­ment on its 2016 strategy for the PAC.
As Bloomberg re­por­ted last month, much of the in­dustry's at­ten­tion has switched to the courts, where states and in­dustry groups are chal­len­ging fed­er­al en­vir­on­ment­al reg­u­la­tions.
"The lay­offs and bank­ruptcies af­fect our polit­ic­al in­flu­ence, no ques­tion about it," Bis­sett said.
And can­did­ates don't seem in­clined to take up the mantle of coal. Hil­lary Clin­ton and Bernie Sanders have both said that they'd con­tin­ue Pres­id­ent Obama's en­vir­on­ment­al reg­u­la­tions, which have cracked down on coal-fired gen­er­a­tion (Clin­ton did re­lease a $30 bil­lion plan to provide aid to coal com­munit­ies hit hard by the in­dustry's slow­down).
On the Re­pub­lic­an side, coal has largely been grouped in­to a lar­ger dis­cus­sion of "all of the above" en­ergy that in­cludes nat­ur­al gas and, in the case of Marco Ru­bio and John Kasich, clean en­ergy as well. The en­ergy is­sue sec­tion on Ted Cruz's cam­paign web­site doesn't men­tion coal at all, al­though it de­tails an all-of-the-above strategy em­ploy­ing "oil to nat­ur­al gas to eth­an­ol." Don­ald Trump caught flack for hav­ing said in a 1990 Play­boy in­ter­view that miners "don't have the ima­gin­a­tion" to find dif­fer­ent jobs, but he touted the in­dustry at a Ken­tucky rally be­fore that state's March 5 caucus. "Obama has decim­ated the coal in­dustry—decim­ated it—and we're go­ing to bring the coal in­dustry back, folks," he said.
"We were talk­ing about a 'war on coal' in the 2012 race and the can­did­ates have used some of that same rhet­or­ic, but I don't see the dia­logue pro­gress­ing bey­ond that," said Jason Bo­hr­er, pres­id­ent of the Lig­nite En­ergy Coun­cil, which rep­res­ents coal pro­du­cers in North Dakota. "That's the frus­trat­ing part; the coal in­dustry is al­most just a trope that both parties at the can­did­ate level some­times bring out to gin up sup­port."
Re­pub­lic­ans have uni­ver­sally vowed to lift reg­u­la­tions on the in­dustry, like the Clean Power Plan, which set the first-ever car­bon-di­ox­ide lim­its on new and ex­ist­ing coal-fired power plants. The in­dustry has also said that mer­cury and air-tox­ics stand­ards, which re­quired costly pol­lu­tion-con­trol devices, have dam­aged the in­dustry.
But even the most pro-coal ad­min­is­tra­tion may not be able to do much to stem the bleed­ing. The frack­ing boom drove down the price of nat­ur­al gas, mak­ing it a more at­tract­ive op­tion for power pro­viders, while sol­ar and wind power are get­ting cheap­er (the Clean Power Plan also in­centiv­ized a move from coal to gas and clean en­ergy). The En­ergy In­form­a­tion Ad­min­is­tra­tion has con­sist­ently pro­jec­ted that coal will de­cline even without the Clean Power Plan.
"Maybe it's a wait-and-see ap­proach," said Jesse Cole­man, who tracks fossil-fuel dona­tions for Green­peace. "But if you look at what the in­dustry is go­ing through right now, it'd be hard to say it's not hav­ing an in­flu­ence on polit­ics."
Graphic by Libby Isenstein