Donald Trump is a con artist. Donald Trump is only rich because he inherited a lot of money. Donald Trump doesn't know anything.
If Republican Party leaders wind up stuck with a reality-TV star as their nominee this summer, one of the "what-ifs" certain to run through their heads: What if candidates other than just Jeb Bush had started with attacks like these in the second or fifth or even eighth debate, rather than a mere five days before Super Tuesday?
Because should Trump come out Tuesday night having won most of the dozen contests and extend his early lead in delegates, the pummeling he took from Sens. Marco Rubio and Ted Cruz at the last GOP debate could prove meaningless going forward, with the new victories begetting even further victories in later states.
Prior to Thursday's debate, both first-term senators repeatedly declined opportunities to criticize the front-runner on stage. During the Feb. 6 debate in New Hampshire, Trump called Cruz's unwillingness to do so a sign of weakness. "He didn't answer your question. And that's what's going to happen, okay," Trump said of Cruz. "People back down with Trump. And that's what I like and that's what the country is going to like."
Some of the backing down was strategic—the candidates believed that Trump would eventually fade on his own. And some was based on the knowledge that Trump's ability to get near-constant cable-television coverage meant that his counterattacks were liable to gain traction.
"Everyone who took on Donald Trump found it not productive and mostly counterproductive," said Al Cardenas, a longtime supporter of Bush, who dropped out of the race last week. "The mantra was: Let others do it, I will benefit from it and not get bloodied. Well, other than Jeb Bush, everyone thought similarly and, thus, Donald Trump was left mostly unchallenged."
That pattern began with the first debate in August, which actually provided all the candidates an easy opportunity to go after the early front-runner, well before his support hardened. Fox News's Bret Baier got Trump to admit that he would not commit to supporting the eventual nominee, while Megyn Kelly asked him about his repeated denigration of women over the years. "You've called women you don't like fat pigs, dogs, slobs, and disgusting animals," Kelly said.
"Only Rosie O'Donnell," Trump said, and then added that he didn't "have time for total political correctness" and that he was usually kidding when he said those things.
Not one of the candidates challenged Trump on that response, and only Sen. Rand Paul called him out for not promising to back the Republican nominee: "He's already hedging his bet on the Clintons, OK? So if he doesn't run as a Republican, maybe he supports Clinton, or maybe he runs as an independent."
Ohio Gov. John Kasich, in fact, praised Trump's outspokenness. "We need to take lessons from Donald Trump," he said. "Here is the thing about Donald Trump. Donald Trump is hitting a nerve in this country."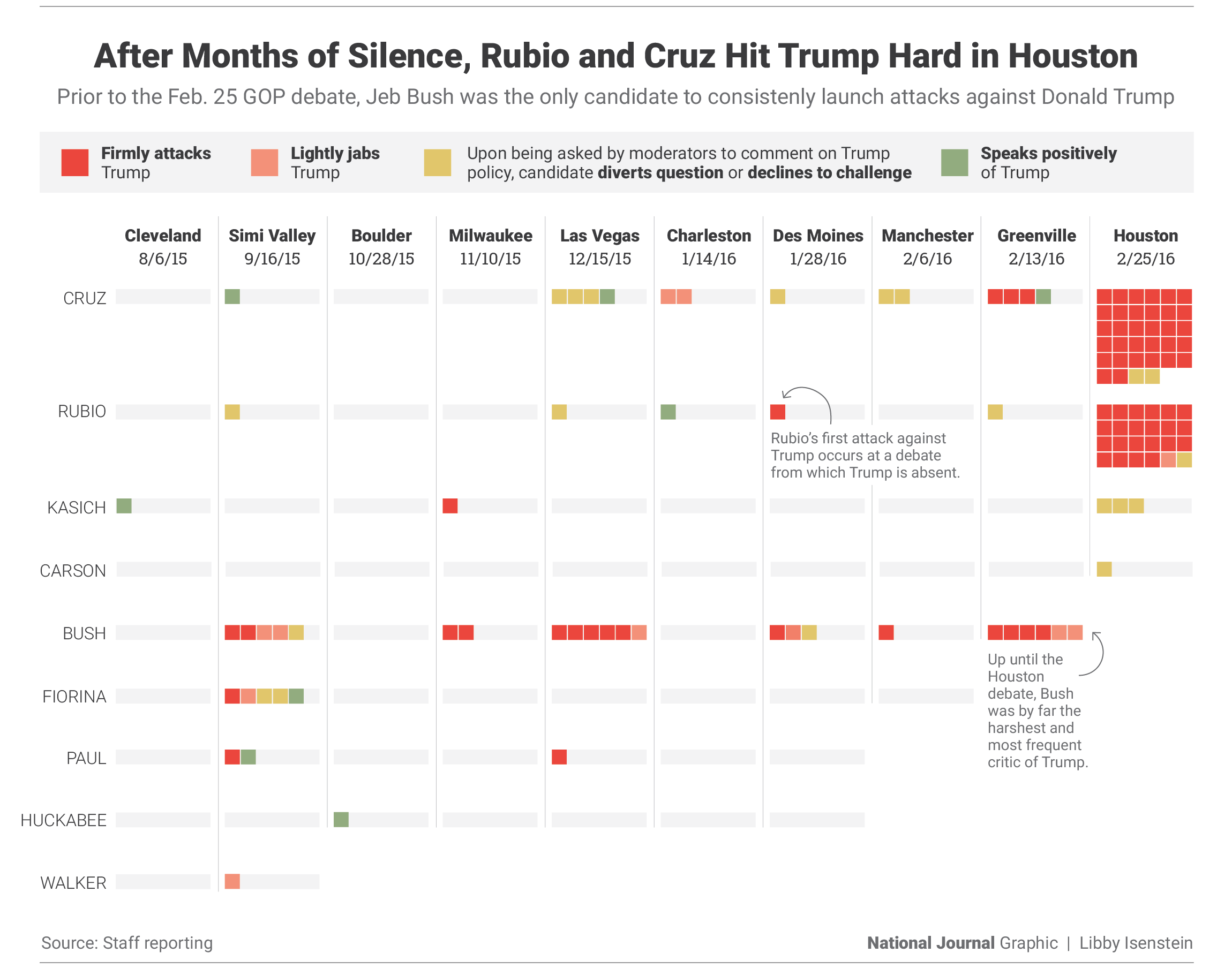 The following month, at the Reagan Library in California, Bush confronted Trump on his demeanor and fitness for the Oval Office. "You can't just, you know, talk about this stuff and insult leaders around the world and expect a good result," Bush said.
Bush, though, remained largely alone. While Paul and former Hewlett-Packard CEO Carly Fiorina occasionally attacked Trump, it was Bush who regularly went after him, calling him a "chaos candidate," ridiculing him for getting his foreign policy knowledge from Sunday-morning TV shows, and using eminent domain against an elderly woman in an attempt to build a limousine parking lot for one of his casinos.
"Everybody else was in the witness-protection program when I went after him," Bush said at the January debate in Des Moines just before the Iowa caucuses.
In the December debate in Las Vegas, Rubio was asked about Trump's proposal to ban Muslims from the country. Rubio gave a 260-word response that never mentioned Trump, and instead shifted all blame to President Obama.
Cruz, meanwhile, went far beyond just keeping his head down. Cruz (until Trump started attacking him in early January) boasted of his unwillingness to say anything negative about Trump, and in fact insisted that he "liked and respected" him. "I'm very glad that Donald Trump's being in this race has forced the mainstream media to finally to talk about illegal immigration. I think that's very important," Cruz said during the Reagan Library debate.
Longtime Bush confidante Sally Bradshaw, who in 2013 helped author the Growth and Opportunity Project report that urged the party to improve its outreach to minorities, said a failure to defeat Trump will be a crushing blow.
"I am disappointed that more in our party have not stood up to the hate and bigotry of Donald Trump," she said. "The long-term consequences of a Trump nomination or presidency should matter more to them than short-term political gain. … Time and again, when people refuse to stand up, what is unacceptable becomes acceptable. And anyone who stays silent has some responsibility for that."
Graphics by Libby Isenstein