Feb. 13, 2014, 11:59 p.m.
Liz Cheney failed to dent Sen. Mi­chael En­zi dur­ing her Re­pub­lic­an primary chal­lenge in Wyom­ing last year, but it wasn't for lack of try­ing. Cheney's cam­paign spent the fifth most of any Sen­ate cam­paign and the most among nonin­cum­bents dur­ing the fourth quarter.
From the be­gin­ning of Oc­to­ber through the end of 2013, Cheney's cam­paign spent $900,000 while rais­ing just $720,000. In the pre­vi­ous quarter, she spent $232,000 and brought in $1 mil­lion. Cheney, the daugh­ter of former Vice Pres­id­ent Dick Cheney, ended her bid against her fel­low Re­pub­lic­an just after the new year.
So were did Cheney's pro­fil­gate fourth-quarter spend­ing go?
The largest chunk — about $221,500 — went to polit­ic­al, me­dia, leg­al, fin­an­cial, and ad­min­is­trat­ive con­sult­ants, ac­cord­ing to a re­port filed re­cently with the Fed­er­al Elec­tion Com­mis­sion. Cheney's cam­paign spread the money around to a hand­ful of dif­fer­ent in­di­vidu­als and firms, with the San Fran­cisco-based Ad­vocacy Group re­ceiv­ing the most at $72,000 for me­dia pro­duc­tion and con­sult­ing.
An­oth­er $42,000 of the cam­paign's money went to Re­pub­lic­an law firm Holtz­man Vo­gel Jose­fiak for leg­al con­sult­ing, and the Aus­tin, Texas-based firm Sul­li­van Al­varado re­ceived $41,000 for fin­an­cial con­sult­ing.
The firm run by GOP ad maker Jason Meath, who is known for pro­du­cing the King of Bain and Fast Terry short films that at­tacked Mitt Rom­ney dur­ing the 2012 Re­pub­lic­an pres­id­en­tial primar­ies and Demo­crat Terry McAul­iffe in the 2013 Vir­gin­ia gov­ernor's race, also col­lec­ted $18,000 for me­dia pro­duc­tion and con­sult­ing.
The cam­paign also re­por­ted spend­ing $187,500 on me­dia dur­ing the most re­cent fun­drais­ing peri­od. Cheney ran two bio­graph­ic­al tele­vi­sion ads while she was in the race, both of which aired Novem­ber.
Travel took up a sig­ni­fic­ant por­tion of the cam­paign's budget as well. More than $160,000 (roughly $42,000 of which was lis­ted as in-kind dis­burse­ments) went to­ward air­fare, ho­tels, and oth­er travel-re­lated ex­penses for trips all over the coun­try, in­clud­ing Hou­s­ton, Chica­go, San Fran­cisco and Den­ver.
The cam­paign's next largest ex­pense was dir­ect mail. In Decem­ber, it gave $107,000 — in­clud­ing dir­ect and in-kind dis­burse­ments — to Ma­jor­ity Strategies, a Flor­ida-based firm that spe­cial­izes in dir­ect mail, for print­ing and post­age.
Oth­er fourth-quarter ex­pendit­ures in­cluded $53,300 for payroll, $52,700 to polling firm Wilson Per­kins Al­len for sur­vey re­search, and $24,000 for ca­ter­ing and fa­cil­ity rent­al. The cam­paign ended the year with $612,000 cash on hand — far less than En­zi's $1.8 mil­lion — and $175,000 in debt.
What We're Following See More »
UNTIL DEC. 9, ANYWAY
Obama Signs Bill to Fund Government
4 hours ago
REDSKINS IMPLICATIONS
SCOTUS to Hear Case on Offensive Trademarks
4 hours ago
WHY WE CARE
"The Supreme Court is taking up a First Amendment clash over the government's refusal to register offensive trademarks, a case that could affect the Washington Redskins in their legal fight over the team name. The justices agreed Thursday to hear a dispute involving an Asian-American rock band called the Slants, but they did not act on a separate request to hear the higher-profile Redskins case at the same time." Still, any precedent set by the case could have ramifications for the Washington football team.
STAFF PICKS
Bannon Still Collecting Royalties from 'Seinfeld'
5 hours ago
WHY WE CARE
The Hollywood Reporter takes a look at a little-known intersection of politics and entertainment, in which Trump campaign CEO Steve Bannon is still raking in residuals from Seinfeld. Here's the digest version: When Seinfeld was in its infancy, Ted Turner was in the process of acquiring its production company, Castle Rock, but he was under-capitalized. Bannon's fledgling media company put up the remaining funds, and he agreed to "participation rights" instead of a fee. "Seinfeld has reaped more than $3 billion in its post-network afterlife through syndication deals." Meanwhile, Bannon is "still cashing checks from Seinfeld, and observers say he has made nearly 25 times more off the Castle Rock deal than he had anticipated."
IT'S ALL CLINTON
Reliable Poll Data Coming in RE: Debate #1
6 hours ago
WHY WE CARE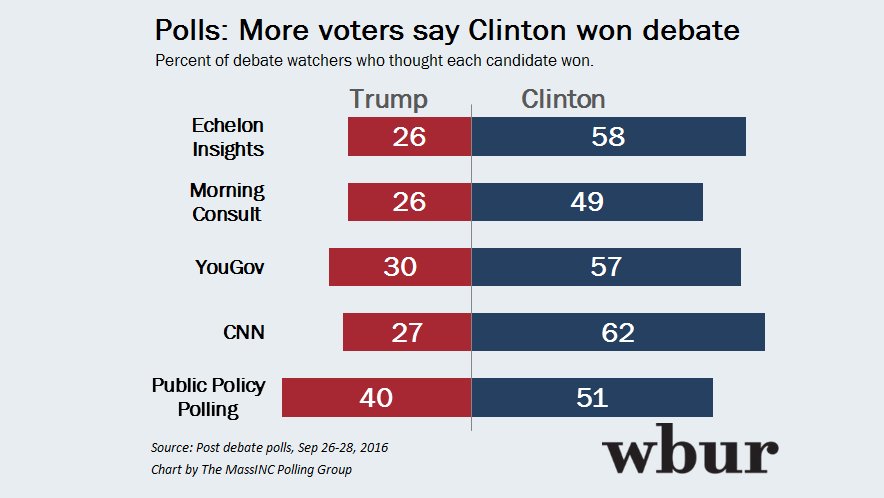 NEXT THURSDAY
Trump Transition Team Meeting with Silicon Valley VIPs
8 hours ago
THE DETAILS
Donald Trump's "transition team will meet next week with representatives of the tech industry, multiple sources confirmed, even as their candidate largely has been largely shunned by Silicon Valley. The meeting, scheduled for next Thursday at the offices of law and lobbying firm BakerHostetler, will include trade groups like the Information Technology Industry Council and the Internet Association that represent major Silicon Valley companies."