Feb. 14, 2014, 10:37 a.m.
A Pakistani act­iv­ist who lost a broth­er and a son in a CIA drone at­tack has been freed after a mys­ter­i­ous ab­duc­tion earli­er this month.
Kareem Khan — who had been set to testi­fy in Europe about drone war­fare — was taken from his home Feb. 5 by nearly 20 men, eight of whom were in po­lice uni­form. "We be­lieve it likely to have been agen­cies con­nec­ted to the gov­ern­ment, po­lice, coun­terter­ror­ism force, or mil­it­ary, in­tel­li­gence ser­vices," emailed Za­rmeeneh Rahim, a law­yer for the Found­a­tion for Fun­da­ment­al Rights, which rep­res­ents Khan. "His work is an em­bar­rass­ment to the Pakistani gov­ern­ment and the mil­it­ary, and they have ample reas­on to si­lence him."
Khan was beaten re­peatedly on the soles of his feet, in­ter­rog­ated about his con­tact with drone vic­tims, and driv­en around blind­folded. On Fri­day, his captors threw him from a van after or­der­ing him not to speak with the me­dia.
Al­though the kid­nap­ping was ap­par­ently in­ten­ded to in­tim­id­ate Khan from speak­ing out, Rahim said he plans to leave for Europe Sat­urday as planned.
In 2010, Khan sued the CIA, ur­ging Pakistani courts to ex­ecute the agency's Is­lamabad sta­tion chief for his role in the drone at­tack that killed his fam­ily mem­bers. U.S. gov­ern­ment lead­ers said the strike was tar­geted at a Taliban com­mand­er they be­lieved to be in the house. Khan claimed he did not know the com­mand­er and that he was not in the home at the time.
Khan — who is slated to speak with Ger­man, Dutch, and Brit­ish au­thor­it­ies about the drone strikes — is also su­ing the Pakistani gov­ern­ment for fail­ing to in­vest­ig­ate the strike that killed his fam­ily. Rahim said he is try­ing to change per­cep­tions of his re­gion, Waziristan, to pre­vent fur­ther vi­ol­ence. "Even with­in Pakistan, there is a lot of mis­in­form­a­tion, mis­un­der­stand­ing about the people of Waziristan, their pre­sumed sup­port for ter­ror­ists," Rahim said. "The people of the tri­bal areas are seen as either Pakistani Taliban, or their sup­port­ers, and seen as in­vit­ing or de­serving of the vi­ol­ence that is vis­ited upon them daily."
What We're Following See More »
ABSENT FROM LIST: GENNIFER FLOWERS
Most Trump Guests Have Military Ties
2 hours ago
TOP OF MIND
Trending on Google: 'Why Should Trump Not Be President'
2 hours ago
THE DETAILS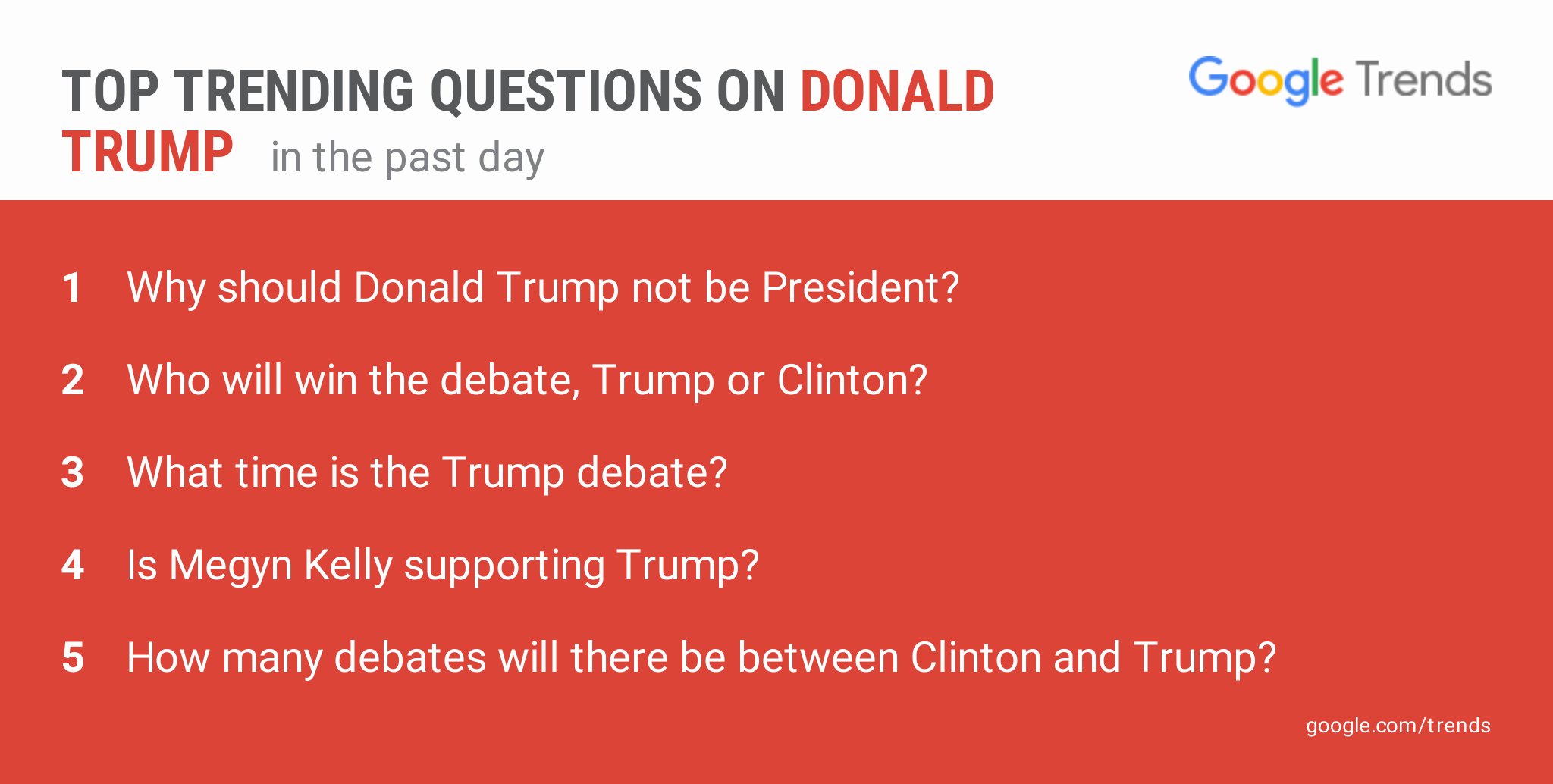 WHO PLAYED THE DONALD?
Longtime Clinton Aide Played Trump in Mock Debates
5 hours ago
THE DETAILS
After keeping the information private for most of the lead-up to the debate on Monday, it has been revealed that longtime Clinton aide Philippe Reines has been playing the role of Donald Trump in her debate prep. Reines knows Clinton better than most, able to identify both her strengths and weaknesses, and his selection for a sparring partner shows that Clinton is preparing for the brash and confrontational Donald Trump many have come to expect.
WEEKEND POLLING ROUNDUP
New Polls Still Show Razor-Thin Margins
5 hours ago
THE QUESTION
How Many Times Has the Trump Campaign Emailed Ted Cruz's Supporters?
5 hours ago
THE ANSWER
More than 30 times, in the case of some donors. Long before Cruz endorsed Trump—and before he even snubbed the nominee at the Republican National Convention—"the senator quietly began renting his vast donor email file to his former rival, pocketing at least tens of thousands of dollars, and more likely hundreds of thousands, that can be used to bankroll the Texan's own political future."