Feb. 18, 2014, 12:20 p.m.
Con­gress's battle over in­creas­ing sanc­tions against Ir­an has caused "a great deal of con­cern" for Ir­a­ni­ans, For­eign Min­is­ter Mo­hammad Javad Za­rif said on Tues­day, but he stressed that ne­go­ti­ations are the only way for­ward for both sides.
"From an Ir­a­ni­an per­spect­ive "¦ what has happened in the last two months has been less than en­cour­aging," Za­rif said, speak­ing at a Uni­versity of Den­ver event via web­cast from Vi­enna.
Za­rif met with Cath­er­ine Ashton, the European Uni­on's for­eign policy chief, in Vi­enna on Tues­day, to kick off form­al talks over reach­ing a long-term deal on Ir­an's nuc­le­ar pro­gram. Ashton is rep­res­ent­ing the United States, United King­dom, France, Ger­many, Rus­sia, and China dur­ing the talks.
He stressed that "state­ments can­not be lim­ited to one audi­ence," re­fer­ring to the back-and-forth between U.S. and Ir­a­ni­an of­fi­cials who have of­ten ac­cused one an­oth­er of say­ing one thing dur­ing private ne­go­ti­ations and an­oth­er thing when speak­ing to a do­mest­ic audi­ence.
But the Ir­a­ni­an of­fi­cial said the West and Ir­an share the com­mon goal of mak­ing sure Ir­an's nuc­le­ar pro­gram is purely peace­ful. He stressed that Ir­an is at the ne­go­ti­at­ing table "be­cause of a single over­rid­ing fact, and that is, we have no oth­er op­tion. If you want to re­solve this is­sue, the only way to re­solve it is through ne­go­ti­ations."
And while he ac­know­ledged that the sanc­tions tar­get­ing the coun­try have crippled its eco­nomy, Za­rif ad­ded that "if the in­ten­tion was to stop the Ir­a­ni­an nuc­le­ar pro­gram, the policy has miser­ably failed."
Un­der an in­ter­im agree­ment dip­lo­mats reached in Novem­ber, of­fi­cials have un­til late Ju­ly to agree on a long-term deal, but Za­rif dis­missed a spe­cif­ic time frame, not­ing that "there is no end date" be­cause of the "com­mon ob­ject­ive" the coun­tries have.
Al­though the six-month peri­od can be ex­ten­ded, Za­rif said he is hope­ful a fi­nal agree­ment can be reached by the Ju­ly 20 dead­line, but that it would take more than "one or two sit­tings".
Za­rif largely sidestepped what oth­er top­ics Ir­an and the West could tackle if a long-term agree­ment is reached, say­ing that he is "real­ist­ic enough to fo­cus on this par­tic­u­lar pro­ject," but he did sug­gest that the two sides could co­oper­ate on a rise in ex­trem­ism.
What We're Following See More »
NEVER TRUMP
USA Today Weighs in on Presidential Race for First Time Ever
12 hours ago
THE DETAILS
"By all means vote, just not for Donald Trump." That's the message from USA Today editors, who are making the first recommendation on a presidential race in the paper's 34-year history. It's not exactly an endorsement; they make clear that the editorial board "does not have a consensus for a Clinton endorsement." But they state flatly that Donald Trump is, by "unanimous consensus of the editorial board, unfit for the presidency."
UNTIL DEC. 9, ANYWAY
Obama Signs Bill to Fund Government
18 hours ago
IT'S ALL CLINTON
Reliable Poll Data Coming in RE: Debate #1
20 hours ago
WHY WE CARE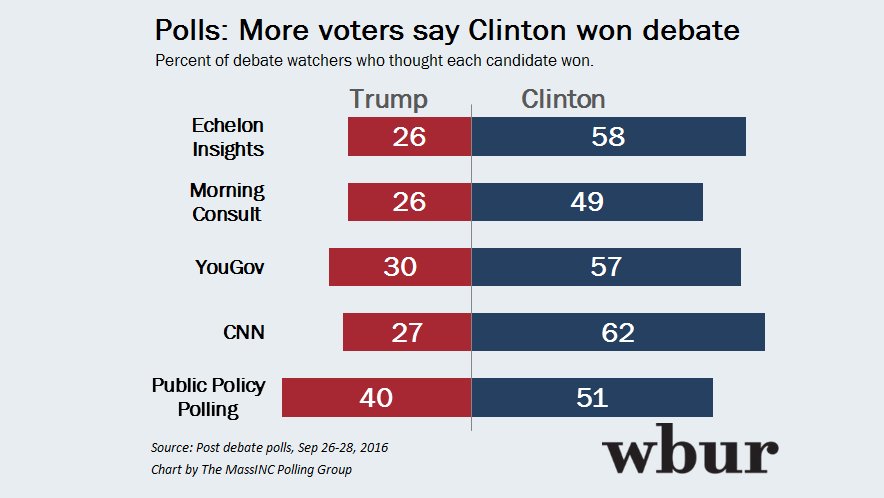 WHAT WILL PASS?
McConnell Doubts Criminal Justice Reform Can Pass This Year
22 hours ago
ALSO FIRED UNATTRACTIVE WAITRESSES
Trump Did Business with Cuba
23 hours ago
THE LATEST
Today in bad news for Donald Trump:
Newsweek found that a company he controlled did business with Cuba under Fidel Castro "despite strict American trade bans that made such undertakings illegal, according to interviews with former Trump executives, internal company records and court filings." In 1998, he spent at least $68,000 there, which was funneled through a consluting company "to make it appear legal."
The Los Angeles Times reports that at a golf club he owns in California, Trump ordered that unattractive female staff be fired and replaced with prettier women.