Feb. 20, 2014, 12:05 a.m.
Wiki­pe­dia says that few­er than 1 per­cent of its med­ic­al art­icles have been peer-re­viewed, but that doesn't stop the pages from grabbing more than 180 mil­lion views per month.
Now the web­site is work­ing to change that.
Enter the Wiki­Pro­ject Med Found­a­tion — a non­profit group work­ing to de­vel­op free med­ic­al con­tent on Wiki­pe­dia — and Wiki­Pro­ject Medi­cine, a dis­cus­sion for­um for people in­ter­ested in health and sci­ence.
Wiki­pe­dia is cur­ated on a vo­lun­teer-only basis and has a tiny budget re­l­at­ive to its size, so the web­site won't be hir­ing doc­tors and oth­er med­ic­al ex­perts to re­write its art­icles. In­stead, the part­ner­ships are work­ing to provide the vo­lun­teers who edit the site ac­cess to pro­fes­sion­al-level med­ic­al in­form­a­tion.
In an ef­fort to ex­pand glob­al ac­cess to ac­cur­ate med­ic­al in­form­a­tion, the pro­jects are col­lab­or­at­ing with third-party ex­perts in­clud­ing the Na­tion­al In­sti­tutes of Health, the World Health Or­gan­iz­a­tion, Trans­lat­ors Without Bor­ders, the Uni­versity of San Fran­cisco Col­lege of Medi­cine, and med­ic­al journ­als such as Open Medi­cine and the Journ­al of In­ter­net Med­ic­al Re­search.
Their most re­cent part­ner­ship is with the Co­chrane Col­lab­or­a­tion, an in­de­pend­ent, non­profit, glob­al health care re­search net­work. Co­chrane works with health prac­ti­tion­ers, re­search­ers, and pa­tient ad­voc­ates to pro­duce treat­ment and policy re­views based on new and ex­ist­ing re­search and stud­ies. As a res­ult of the part­ner­ship, Wiki­pe­dia ed­it­ors have 100 free ac­counts to Co­chrane's on­line lib­rary col­lec­tion to use in veri­fy­ing con­tent ac­cur­acy.
On­line health in­form­a­tion ac­cur­acy is an im­port­ant pri­or­ity, giv­en the high num­ber of pa­tients and doc­tors who rely on the con­tent. Roughly 85 per­cent of U.S. adults use the In­ter­net, ac­cord­ing to a sur­vey con­duc­ted by the Pew Re­search Cen­ter, 72 per­cent of whom look for health in­form­a­tion on­line.
Wiki­pe­dia is the most-used on­line med­ic­al re­source, ac­cord­ing to a Janu­ary re­port from the IMS In­sti­tute for Health­care In­form­at­ics, and is the single lead­ing source of in­form­a­tion for both pa­tients and health care pro­fes­sion­als. In its re­port, IMS ad­ded that pa­tient and pro­vider trust is one of the be­ne­fits of Wiki­pe­dia as a source of med­ic­al in­form­a­tion, but that its vul­ner­ab­il­ity to mis­takes and au­thor bi­as "has caused con­cern with­in the aca­dem­ic and med­ic­al com­munity."
Wiki­pe­dia ed­it­or James Heil­man, an emer­gency doc­tor who also serves as pres­id­ent of the Wiki­Pro­ject Med Found­a­tion, es­tim­ates there are 50-100 act­ive med­ic­al-re­lated page ed­it­ors each month, roughly half of whom have a pro­fes­sion­al back­ground in medi­cine. Some 1,000-2,000 ed­its are made to med­ic­al con­tent each day.
Heil­man said the new re­la­tion­ship with Co­chrane is im­port­ant be­cause it pro­duces qual­ity con­tent and source ma­ter­i­al to pop­u­late Wiki­pe­dia's med­ic­al pages.
"The way Wiki­pe­dia works," Heil­man wrote in an email, "is that all con­tent is to stand en­tirely on the ref­er­ences that are lis­ted. If the best qual­ity sources are used to write Wiki­pe­dia there's a good chance that Wiki­pe­dia will con­tain the best qual­ity in­form­a­tion."
What We're Following See More »
UNTIL DEC. 9, ANYWAY
Obama Signs Bill to Fund Government
1 hours ago
REDSKINS IMPLICATIONS
SCOTUS to Hear Case on Offensive Trademarks
1 hours ago
WHY WE CARE
"The Supreme Court is taking up a First Amendment clash over the government's refusal to register offensive trademarks, a case that could affect the Washington Redskins in their legal fight over the team name. The justices agreed Thursday to hear a dispute involving an Asian-American rock band called the Slants, but they did not act on a separate request to hear the higher-profile Redskins case at the same time." Still, any precedent set by the case could have ramifications for the Washington football team.
STAFF PICKS
Bannon Still Collecting Royalties from 'Seinfeld'
2 hours ago
WHY WE CARE
The Hollywood Reporter takes a look at a little-known intersection of politics and entertainment, in which Trump campaign CEO Steve Bannon is still raking in residuals from Seinfeld. Here's the digest version: When Seinfeld was in its infancy, Ted Turner was in the process of acquiring its production company, Castle Rock, but he was under-capitalized. Bannon's fledgling media company put up the remaining funds, and he agreed to "participation rights" instead of a fee. "Seinfeld has reaped more than $3 billion in its post-network afterlife through syndication deals." Meanwhile, Bannon is "still cashing checks from Seinfeld, and observers say he has made nearly 25 times more off the Castle Rock deal than he had anticipated."
IT'S ALL CLINTON
Reliable Poll Data Coming in RE: Debate #1
3 hours ago
WHY WE CARE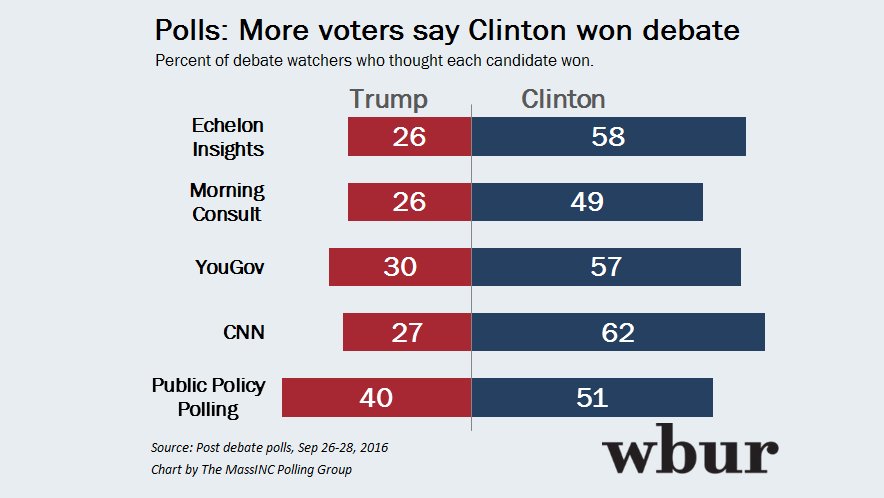 NEXT THURSDAY
Trump Transition Team Meeting with Silicon Valley VIPs
5 hours ago
THE DETAILS
Donald Trump's "transition team will meet next week with representatives of the tech industry, multiple sources confirmed, even as their candidate largely has been largely shunned by Silicon Valley. The meeting, scheduled for next Thursday at the offices of law and lobbying firm BakerHostetler, will include trade groups like the Information Technology Industry Council and the Internet Association that represent major Silicon Valley companies."