If it ac­com­plished any­thing at all, the re­cent evol­u­tion-versus-cre­ation de­bate between Bill Nye (sci­ence guy) and Ken Ham (cre­ation­ist guy) re­in­forced this idea: that sci­ence and re­li­gion are im­possib­ley at odds, that Nye and Ham are speak­ers of two dif­fer­ent lan­guages, in­com­pre­hens­ible to one an­oth­er. 
But that im­pres­sion — that the pop­u­la­tion is stub­bornly sor­ted in­to sci­ence people and re­li­gious/cre­ation people — is not ac­cur­ate. 
A re­cent sur­vey of 10,000 in­di­vidu­als of many re­li­gious back­grounds found that only 27 per­cent felt sci­ence and re­li­gion were at odds with each oth­er. Fur­ther­more, 48 per­cent of re­spond­ents who iden­ti­fied as evan­gel­ic­als said that sci­ence and re­li­gion can col­lab­or­ate with one an­oth­er. Pew Re­search found sim­il­ar res­ults in 2009. "Only 48 per­cent of those who at­tend re­li­gious ser­vices at least once a week see a con­flict," that study noted.
The chart be­low is ad­ap­ted from the sur­vey. No­tice that more than half of those who iden­ti­fied as "Evan­gel­ic­al Prot­est­ant" hold a be­lief that meshes sci­ence and re­li­gion on the ques­tion of hu­man ori­gins.

The stick­ing points for evan­gel­ic­al cre­ation­ists, though, are par­tic­u­larly sticky. For in­stance, 42 per­cent of evan­gel­ic­als strongly be­lieve cre­ation­ism should be taught in­stead of evol­u­tion in schools. An ad­di­tion­al 25 per­cent say it should be taught along­side it. 
But the bot­tom line is this: Fram­ing the de­bate between sci­ence and re­li­gion as bin­ary is not right. It's more of a con­tinuum of be­lief. "The em­phas­is on hu­man ori­gins has nar­rowed the con­ver­sa­tion," the sur­vey con­cludes.  
"It would serve us well to re­mem­ber the top­ics on which there is great­er agree­ment or open­ness to col­lab­or­a­tion, such that a frame­work of trust and mu­tu­al re­spect might de­vel­op between these two com­munit­ies," the au­thors write.
Cre­ate In­fograph­ics
What We're Following See More »
SAUDI ARABIA BILL
Veto Override Scheduled for Wednesday in Senate
1 hours ago
THE LATEST
Senate Majority Leader Mitch McConnell said this afternoon that the Senate on Wednesday will take up an override of President Obama's veto of legislation that would allow the families of 9/11 victims to sue the government of Saudi Arabia. "The vote is expected garner the two-thirds majority necessary to override the veto."
MEDIA SHOULD HOLD TRUMP RESPONSIBLE
Reid Devotes Senate Floor Speech to Trump's 'Racism'
2 hours ago
THE LATEST
"Donald Trump is a racist," announced Senate Minority Leader Harry Reid from the Senate floor this afternoon. Reid said all of us are occasionally politically incorrect, but "I don't know of anyone that when that happens doesn't acknowledge it and, if necessary, apologize quickly." But Trump, he added, says things with "full intent to demean and to denigrate." Reid argued that the media isn't holding Trump to account, and should explicitly call him a racist.
ABSENT FROM LIST: GENNIFER FLOWERS
Most Trump Guests Have Military Ties
5 hours ago
TOP OF MIND
Trending on Google: 'Why Should Trump Not Be President'
6 hours ago
THE DETAILS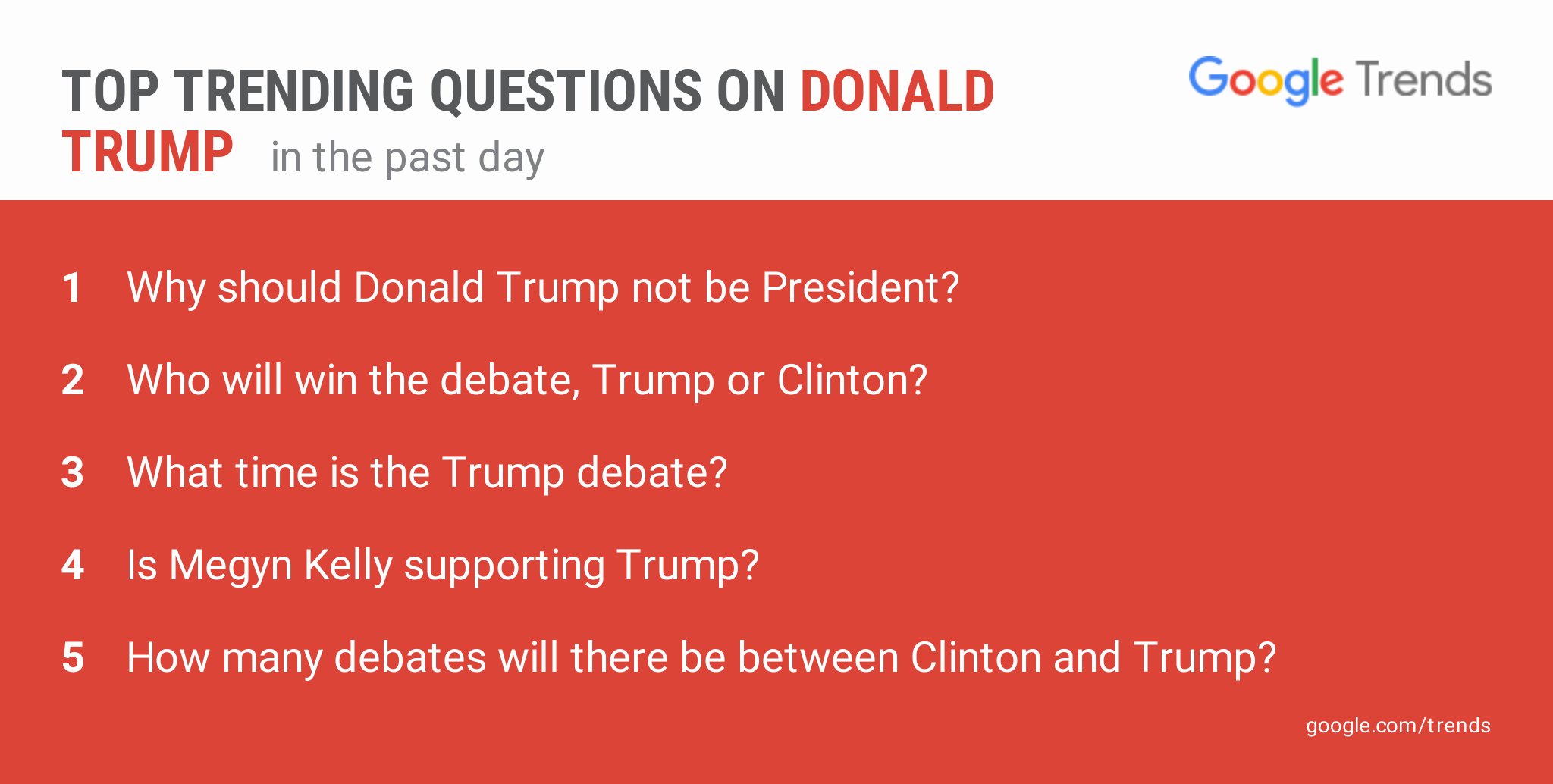 WHO PLAYED THE DONALD?
Longtime Clinton Aide Played Trump in Mock Debates
8 hours ago
THE DETAILS
After keeping the information private for most of the lead-up to the debate on Monday, it has been revealed that longtime Clinton aide Philippe Reines has been playing the role of Donald Trump in her debate prep. Reines knows Clinton better than most, able to identify both her strengths and weaknesses, and his selection for a sparring partner shows that Clinton is preparing for the brash and confrontational Donald Trump many have come to expect.