Feb. 27, 2014, 10:24 a.m.
Tele­vi­sion, In­ter­net, or cell phone. You have to choose one, and only one. The rest will forever be gone from your life. Which of these ubi­quit­ous mod­ern tech­no­lo­gies could you least eas­ily live without?
In­creas­ing, Amer­ic­ans are say­ing the In­ter­net.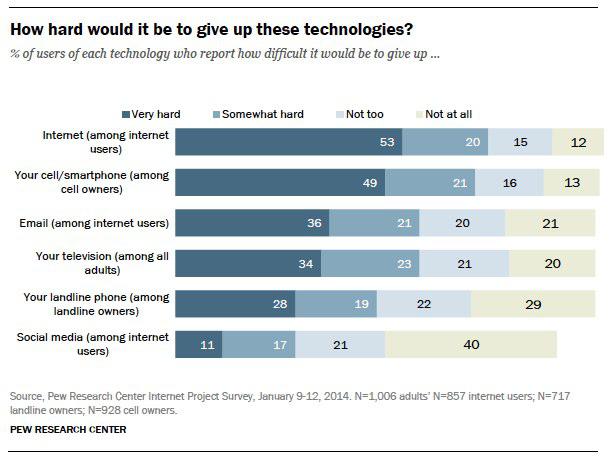 (Pew Re­search)In a re­cent poll, the Pew Re­search Cen­ter found that the In­ter­net was the tech­no­logy people would find hard­est to part with, fol­lowed by cell phones, email, and then, tele­vi­sion. While 53 per­cent of re­spond­ents said the In­ter­net would be "very hard" to part with, just 34 per­cent said the same of tele­vi­sion.
While this doesn't spell the death of tele­vi­sion out­right — 97 per­cent of house­holds still own at least one, at least as re­por­ted in 2011; snd con­sumers are not faced with an either/or choice on the tech­no­lo­gies; most of us have both) — it does sug­gest that a fu­ture with a tra­di­tion­al tele­vi­sion in every home is not a giv­en. Es­pe­cially be­cause the young are some of the most tuned-out tele­vi­sion watch­ers.
"Mil­len­ni­als make up 50 per­cent of No-TV house­holds re­ly­ing in­stead on their smart­phones and laptops to watch con­tent," Nielsen re­por­ted in a re­cent pa­per on mil­len­ni­als. That could be be­cause mil­len­ni­als are less wealthy than their par­ents and opt out of pay­ing cable bills. But it also could be that young people don't value tele­vi­sion as they once did. They're much more likely than their older coun­ter­parts to watch TV and video con­tent on You­Tube (in­dex of 179; with the av­er­age house­hold hav­ing an in­dex of 100), Hulu (155) and Net­flix (145)."
An­oth­er reas­on the In­ter­net is so es­sen­tial is be­cause it works it­self in­to all as­pects of life. Sixty one per­cent of those who said the Web would be hard to give up said it was es­sen­tial to their work. Plus, "67% of In­ter­net users say their on­line com­mu­nic­a­tion with fam­ily and friends has gen­er­ally strengthened those re­la­tion­ships, while 18% say it gen­er­ally weak­ens those re­la­tion­ships," the re­port states.