The next time you pour your­self a cold one, give your­self a pat on the back in the name of pat­ri­ot­ism. On av­er­age, 40 per­cent of the price you paid for that beer is go­ing straight to Uncle Sam and the state.
Lob­by­ists in Wash­ing­ton are push­ing to re­duce those taxes, at least by a few cents. The Beer In­sti­tute is sup­port­ing le­gis­la­tion clev­erly titled the BEER Act, which would re­duce the fed­er­al ex­cise tax from $18 per 31-gal­lon bar­rel (an amount that doesn't ac­tu­ally ex­ist; a keg is 15.5 gal­lons) to $9 for large brew­ers. Smal­ler op­er­a­tions would pay noth­ing in ex­cise taxes on the first 15,000 bar­rels they pro­duce, while kick­ing in a mere $3.50 through 60,000 bar­rels.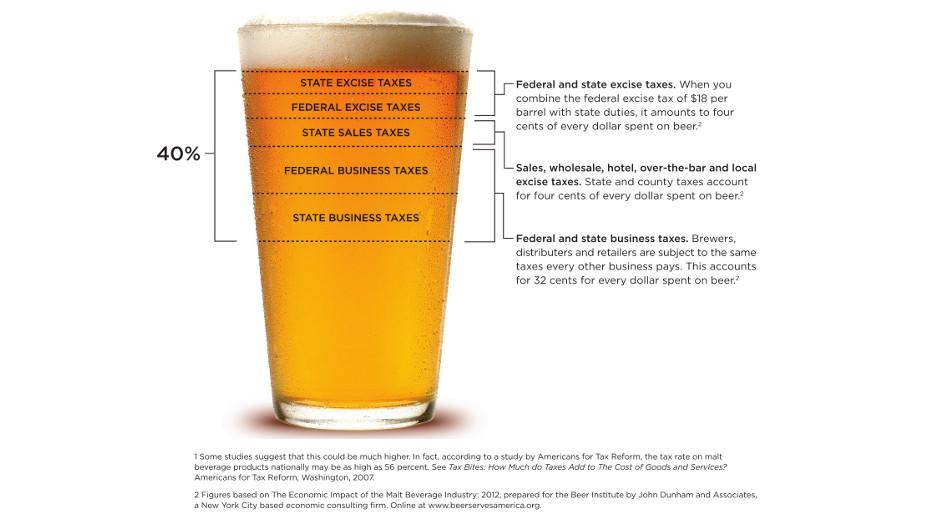 Passing the bill would not only (slightly) re­duce the cost of beer, but could also lead to an up­tick in the num­ber of brew­er­ies in the United States. The in­dustry, which the In­sti­tute has tracked since 1887, has been grow­ing rap­idly in the last two dec­ades, thanks in part to tax breaks for small brew­ers.
The chart be­low shows the num­ber of leg­ally op­er­at­ing brew­er­ies in the coun­try over that peri­od (thus the zero total dur­ing Pro­hib­i­tion). The ori­gin­al ex­cise tax dates back to the 1800s, when the U.S. gov­ern­ment im­posed a small, tem­por­ary tax to help pay for the cost of the Civil War. That tax be­came per­man­ent in 1933, as a "sin tax" im­posed in the wake of Pro­hib­i­tion.
"We don't think we're a sin, we're not like to­bacco. This is just good liv­ing," Beer In­sti­tute Vice Pres­id­ent of Com­mu­nic­a­tions Chris Thorne ar­gues over a cold glass of [re­dac­ted], laugh­ing. (Thorne is pro­hib­ited from play­ing fa­vor­ites among the In­sti­tute's many mem­bers. When at any event with rep­res­ent­at­ives from mul­tiple brew­er­ies, he plays it safe by us­ing a non­branded glass and telling each of them, "I'm drink­ing your beer.")
In 1977, Con­gress re­duced the ex­cise-tax rate for small brew­ers (those pro­du­cing few­er than 2 mil­lion bar­rels per year) by $2. Over the next few years, the num­ber of brew­er­ies began to tick up, un­til 1991 when Con­gress greatly in­creased the ex­cise tax on lar­ger brew­er­ies (to the cur­rent $18 rate), while leav­ing small op­er­a­tions alone. Dur­ing that peri­od, small brew­er­ies like An­chor Steam in San Fran­cisco and New Am­s­ter­dam Brew­ery ex­ploded across the U.S.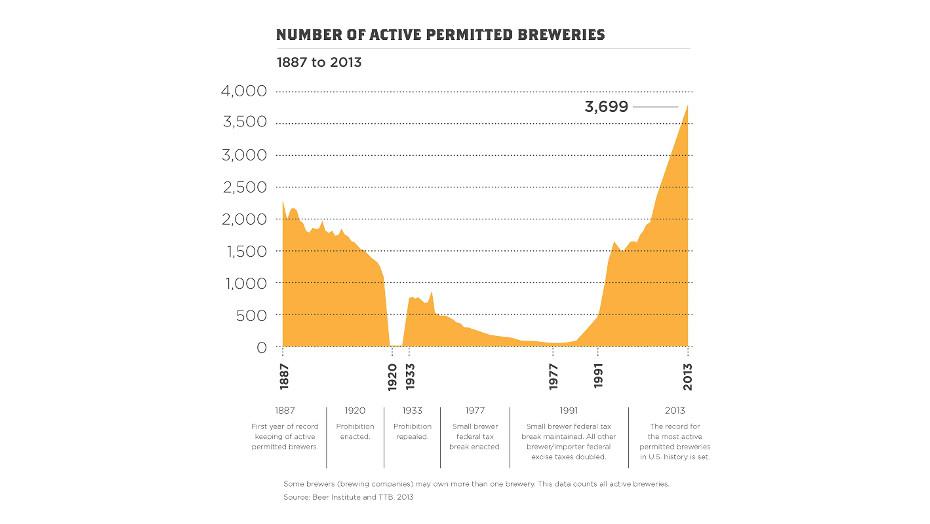 Fur­ther re­du­cing the ex­cise tax could lead to an even big­ger in­flux of small pro­du­cers, the Beer In­sti­tute ar­gues, while provid­ing lar­ger op­er­a­tions like An­heuser-Busch and Miller­Co­ors more room to grow. In oth­er words, lob­by­ists ar­gue, passing the BEER Act would not only re­duce the cost of beer, it would cre­ate jobs.
But that's not how every­one sees it. The Con­gres­sion­al Budget Of­fice has ar­gued in fa­vor of rais­ing the ex­cise tax, not­ing that the costs of al­co­hol­ism and al­co­hol-re­lated in­cid­ents far ex­ceed the rev­en­ue brought in by taxes on beer, wine, and spir­its. "When ad­jus­ted for in­fla­tion, cur­rent ex­cise tax rates on al­co­hol are far lower than his­tor­ic levels," CBO ar­gues. "In the 1950s, ex­cise taxes ac­coun­ted for nearly half of the pretax price of al­co­hol; they now ac­count for between 10 and 20 per­cent of the pretax price."
Mean­while, the Na­tion­al In­sti­tute on Al­co­hol Ab­use and Al­co­hol­ism points to a 1997 study that found that rais­ing the fed­er­al ex­cise tax on beer would greatly re­duce the num­ber of drink­ing and driv­ing in­cid­ents in the United States. Ac­cord­ing to the study, "ad­just­ing the Fed­er­al beer tax for the in­fla­tion rate since 1951 would re­duce the prob­ab­il­ity of non­fatal traffic crashes by al­most 6 per­cent for both men and wo­men."
But Thorne ar­gues that rais­ing the fed­er­al ex­cise tax harms the vast ma­jor­ity of beer drink­ers who aren't ab­us­ing al­co­hol or caus­ing ac­ci­dents. "First of all, we sup­port [the leg­al drink­ing lim­it of] .08 [per­cent blood al­co­hol con­tent]. We be­lieve that the vast ma­jor­ity of ac­ci­dents, and with al­co­hol ab­use, are with re­peat of­fend­ers and high-BAC drunk drivers."¦ We be­lieve that these are rep­res­ent­at­ive of a smal­ler part of the pop­u­la­tion. In­creas­ing taxes not only cap­tures the 95 per­cent of con­sumers who are drink­ing re­spons­ibly and ask­ing them to pay for it, but if you're a prob­lem drink­er, it doesn't mat­ter. The taxes are not go­ing to stop you from con­sum­ing. That's proven too," Thorne said.
The BEER Act to re­duce those ex­cise taxes has 91 co­spon­sors in the House (45 Demo­crats and 46 Re­pub­lic­ans). But once again, it seems to be go­ing nowhere fast. The web­site Gov­Track gives the BEER Act a zero per­cent chance of passing this Con­gress and only a 1 per­cent chance of mak­ing it out of com­mit­tee. To wit, when asked about the bill on Thursday, Rep. Jim Mc­Der­mott, D-Wash., who signed on as a co­spon­sor just the day be­fore, laughed and said: "What's the BEER Act?"
For now, the bill is stuck in the Ways and Means Com­mit­tee, which has been a little pre­oc­cu­pied with re­leas­ing a draft of a massive tax-re­form over­haul — which, like the BEER Act and so many oth­er pieces of le­gis­la­tion, seems un­likely to hit the floor this year. Mc­Der­mott, who sits on Ways and Means as well, said there hasn't been much talk about the BEER Act since it was re­ferred to the com­mit­tee last May.
"There's not been a single word. I mean, that's why I asked what it was…. I mean, re­mem­ber, we passed 38 bills this year. We've done noth­ing. We haven't had hear­ings, we haven't done any­thing," Mc­Der­mott said.
Even Rep. Tom Lath­am, R-Iowa, who in­tro­duced the bill last year, ad­mits it's un­likely to go any­where. "Well, we're hope­ful, but I don't see any le­gis­la­tion mov­ing for­ward," he said.
Al­though they're ad­voc­at­ing for a re­duc­tion in ex­cise taxes, the status quo is just fine by the Beer In­sti­tute. "We pay more than our fair share already. We're not say­ing, for the ma­jor­ity of the in­dustry, pro­tect our carve-out. We're just say­ing don't tax us any more than you already are," Thorne says.