Afgh­anistan's al-Qaida lead­er is mov­ing to shore up his sup­port and re­train mil­it­ants, as the United States and Pres­id­ent Ham­id Kar­zai's gov­ern­ment re­main at an im­passe over a post-2014 se­cur­ity agree­ment.
De­fense and in­tel­li­gence of­fi­cials told the As­so­ci­ated Press that a coun­terter­ror­ism cam­paign, in­clud­ing drone and mis­sile strikes, is un­der­way to keep Farouq al-Qahtani al-Qatari from re­start­ing the large mil­it­ant train­ing camps that he over­saw be­fore the war began.
Al-Qatari is in the Kun­ar and Nuristan provinces, near the Pakistani bor­der, where of­fi­cials would like to keep him. They ad­ded that without the con­tin­ued abil­ity to fly drones and jets from at least one air base — which could be blocked if a bi­lat­er­al se­cur­ity agree­ment between the U.S. and Afgh­anistan isn't reached — the al-Qaida lead­er and his fol­low­ers could plan at­tacks against the United States.
Pres­id­ent Obama on Tues­day asked for the Pentagon to cre­ate a con­tin­gency plan for with­draw­ing all U.S. troops by the end of the year, re­ferred to as the "zero op­tion." If all U.S. troops leave the coun­try, NATO will also pull its forces.
Obama's re­quest fol­lowed a pub­lic cam­paign by U.S. and NATO of­fi­cials to get the Afghan pres­id­ent to sign the se­cur­ity agree­ment. Kar­zai pushed the sign­ing of the pact un­til after the coun­try's elec­tions this spring.
Mil­it­ary and ad­min­is­tra­tion of­fi­cials, mem­bers of Con­gress, and out­side ex­perts have re­peatedly warned that if the United States pulls out all of its troops, the Taliban and al-Qaida would likely see a re­sur­gence in the coun­try.
That line of thought was echoed by Gen. Ray­mond Odi­erno, the Army chief of staff, earli­er this month. He said that Afgh­anistan's in­sti­tu­tions, in­clud­ing se­cur­ity forces, have made "quite a bit" of pro­gress, but aren't strong enough to main­tain those ad­vances over the long term.
The De­fense De­part­ment has re­com­men­ded leav­ing 10,000 troops in the coun­try through 2017.
What We're Following See More »
NEVER TRUMP
USA Today Weighs in on Presidential Race for First Time Ever
9 hours ago
THE DETAILS
"By all means vote, just not for Donald Trump." That's the message from USA Today editors, who are making the first recommendation on a presidential race in the paper's 34-year history. It's not exactly an endorsement; they make clear that the editorial board "does not have a consensus for a Clinton endorsement." But they state flatly that Donald Trump is, by "unanimous consensus of the editorial board, unfit for the presidency."
COMMISSIONERS NEED TO DELIBERATE MORE
FCC Pushes Vote on Set-Top Boxes
9 hours ago
THE LATEST
"Federal regulators on Thursday delayed a vote on a proposal to reshape the television market by freeing consumers from cable box rentals, putting into doubt a plan that has pitted technology companies against cable television providers. ... The proposal will still be considered for a future vote. But Tom Wheeler, chairman of the F.C.C., said commissioners needed more discussions."
UNTIL DEC. 9, ANYWAY
Obama Signs Bill to Fund Government
14 hours ago
IT'S ALL CLINTON
Reliable Poll Data Coming in RE: Debate #1
16 hours ago
WHY WE CARE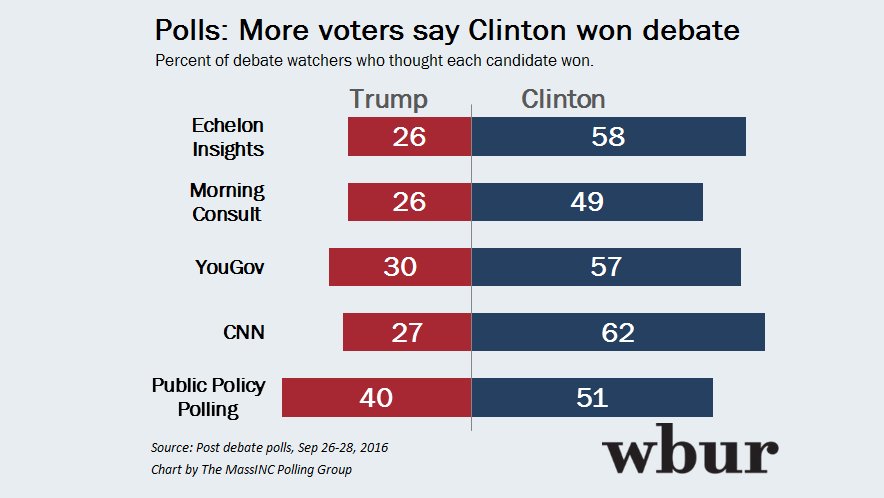 WHAT WILL PASS?
McConnell Doubts Criminal Justice Reform Can Pass This Year
18 hours ago