March 4, 2014, 10:32 a.m.
Pres­id­ent Obama's budget pro­pos­al for fisc­al 2015 high­lights con­ser­va­tion as a pri­or­ity while lay­ing the ground­work for ex­pan­ded oil and gas drilling on pub­lic lands, re­flect­ing an ad­min­is­tra­tion be­lief that it can pro­mote en­ergy de­vel­op­ment without sac­ri­fi­cing en­vir­on­ment­al pro­tec­tion.
The budget blue­print un­veiled Tues­day by the White House would provide per­man­ent fund­ing for the Land and Wa­ter Con­ser­va­tion Fund, a fed­er­al pro­gram that di­verts rev­en­ues from off­shore oil and gas pro­duc­tion to con­ser­va­tion ini­ti­at­ives. The pro­gram has been around since 1964, but as In­teri­or Sec­ret­ary Sally Jew­ell poin­ted out dur­ing a press call on Tues­day, "ever since the fund has been around, with the ex­cep­tion of one year, it has been shor­ted in the ap­pro­pri­ations pro­cess."
Obama's con­ser­va­tion re­quests fol­low an an­nounce­ment by the pres­id­ent dur­ing his State of the Uni­on ad­dress that he would "use [his] au­thor­ity to pro­tect more of our pristine fed­er­al lands for fu­ture gen­er­a­tions."
But the budget makes clear that the pres­id­ent also sees un­tapped po­ten­tial for en­ergy pro­duc­tion on pub­lic lands.
Obama is call­ing for a nearly 20 per­cent in­crease in fund­ing for the Bur­eau of Land Man­age­ment's oil and gas pro­gram re­l­at­ive to the 2014 en­acted level. BLM over­sees per­mit­ting for oil and gas drilling on fed­er­al lands. The re­quest also calls for BLM to im­ple­ment a faster per­mit­ting pro­cess for on­shore drilling. Taken to­geth­er, the pro­pos­als in­dic­ate a will­ing­ness on the part of the ad­min­is­tra­tion to ex­pand fossil-fuel pro­duc­tion on pub­lic lands.
When asked if the pro­pos­al would lead to a boost in pro­duc­tion, Jew­ell in­dic­ated that the funds would at least open the door for ex­pan­ded on­shore drilling.
"Our budgets have been chal­lenged in places like BLM with in­creased de­mand for ex­plor­a­tion and per­mits and we haven't been able to match that de­mand with per­son­nel," Jew­ell said. "Wheth­er we ac­tu­ally have more oil and gas de­vel­op­ment is of course de­pend­ent on in­dustry and what it chooses to do, but we don't want to be a bar­ri­er to that, and this aligns bet­ter the sup­ply of the people we have with the de­mand of in­dustry."
What We're Following See More »
NEVER TRUMP
USA Today Weighs in on Presidential Race for First Time Ever
9 hours ago
THE DETAILS
"By all means vote, just not for Donald Trump." That's the message from USA Today editors, who are making the first recommendation on a presidential race in the paper's 34-year history. It's not exactly an endorsement; they make clear that the editorial board "does not have a consensus for a Clinton endorsement." But they state flatly that Donald Trump is, by "unanimous consensus of the editorial board, unfit for the presidency."
COMMISSIONERS NEED TO DELIBERATE MORE
FCC Pushes Vote on Set-Top Boxes
9 hours ago
THE LATEST
"Federal regulators on Thursday delayed a vote on a proposal to reshape the television market by freeing consumers from cable box rentals, putting into doubt a plan that has pitted technology companies against cable television providers. ... The proposal will still be considered for a future vote. But Tom Wheeler, chairman of the F.C.C., said commissioners needed more discussions."
UNTIL DEC. 9, ANYWAY
Obama Signs Bill to Fund Government
14 hours ago
IT'S ALL CLINTON
Reliable Poll Data Coming in RE: Debate #1
16 hours ago
WHY WE CARE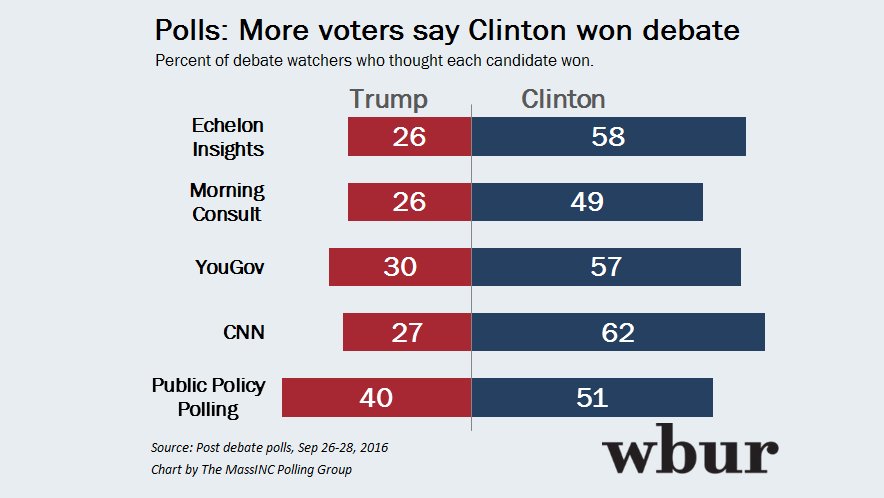 WHAT WILL PASS?
McConnell Doubts Criminal Justice Reform Can Pass This Year
18 hours ago