Two top Demo­crat­ic sen­at­ors ex­pressed alarm Wed­nes­day over re­ports that the Cent­ral In­tel­li­gence Agency spied on the Sen­ate In­tel­li­gence Com­mit­tee.
The CIA's in­tern­al watch­dog, its in­spect­or gen­er­al, is re­view­ing wheth­er CIA agents hacked in­to the com­puters of Sen­ate staffers who worked on a re­port crit­ic­al of the agency's in­ter­rog­a­tion pro­gram, The New York Times re­por­ted. Ac­cord­ing to Mc­Clatchy, the in­spect­or gen­er­al's of­fice has asked the Justice De­part­ment to in­vest­ig­ate the case.
Sen­ate Armed Ser­vices Com­mit­tee Chair­man Carl Lev­in said CIA spy­ing on a Sen­ate com­puter net­work "would be an ex­tremely ser­i­ous mat­ter."
"Such activ­ity, if it oc­curred as al­leged, would im­pede Con­gress's abil­ity to carry out its con­sti­tu­tion­al over­sight re­spons­ib­il­it­ies and could vi­ol­ate fed­er­al law," he said in a state­ment.
Sen­ate Ju­di­ciary Com­mit­tee Chair­man Patrick Leahy said he is "deeply con­cerned" about the al­leg­a­tions.
"These al­leg­a­tions have ser­i­ous con­sti­tu­tion­al im­plic­a­tions that go to the heart of the sep­ar­a­tion of powers, and I in­tend to mon­it­or the situ­ation closely," Leahy said.
The CIA is pro­hib­ited from spy­ing on Amer­ic­ans. Con­gress cre­ated the House and Sen­ate In­tel­li­gence com­mit­tees in the 1970s to over­see the CIA, the Na­tion­al Se­cur­ity Agency, and oth­er spy agen­cies after un­cov­er­ing a slew of spy­ing ab­uses.
CIA Dir­ect­or John Bren­nan said Wed­nes­day that he was "deeply dis­mayed that some mem­bers of the Sen­ate have de­cided to make spuri­ous al­leg­a­tions about CIA ac­tions that are wholly un­sup­por­ted by the facts."
"I am very con­fid­ent that the ap­pro­pri­ate au­thor­it­ies re­view­ing this mat­ter will de­term­ine where wrong­do­ing, if any, oc­curred in either the Ex­ec­ut­ive Branch or Le­gis­lat­ive Branch. Un­til then, I would en­cour­age oth­ers to re­frain from out­bursts that do a dis­ser­vice to the im­port­ant re­la­tion­ship that needs to be main­tained between in­tel­li­gence of­fi­cials and con­gres­sion­al over­seers."
A spokes­man for In­tel­li­gence Com­mit­tee Chair­wo­man Di­anne Fein­stein de­clined to com­ment bey­ond con­firm­ing the in­spect­or gen­er­al's probe.
What We're Following See More »
NEVER TRUMP
USA Today Weighs in on Presidential Race for First Time Ever
9 hours ago
THE DETAILS
"By all means vote, just not for Donald Trump." That's the message from USA Today editors, who are making the first recommendation on a presidential race in the paper's 34-year history. It's not exactly an endorsement; they make clear that the editorial board "does not have a consensus for a Clinton endorsement." But they state flatly that Donald Trump is, by "unanimous consensus of the editorial board, unfit for the presidency."
COMMISSIONERS NEED TO DELIBERATE MORE
FCC Pushes Vote on Set-Top Boxes
9 hours ago
THE LATEST
"Federal regulators on Thursday delayed a vote on a proposal to reshape the television market by freeing consumers from cable box rentals, putting into doubt a plan that has pitted technology companies against cable television providers. ... The proposal will still be considered for a future vote. But Tom Wheeler, chairman of the F.C.C., said commissioners needed more discussions."
UNTIL DEC. 9, ANYWAY
Obama Signs Bill to Fund Government
14 hours ago
IT'S ALL CLINTON
Reliable Poll Data Coming in RE: Debate #1
16 hours ago
WHY WE CARE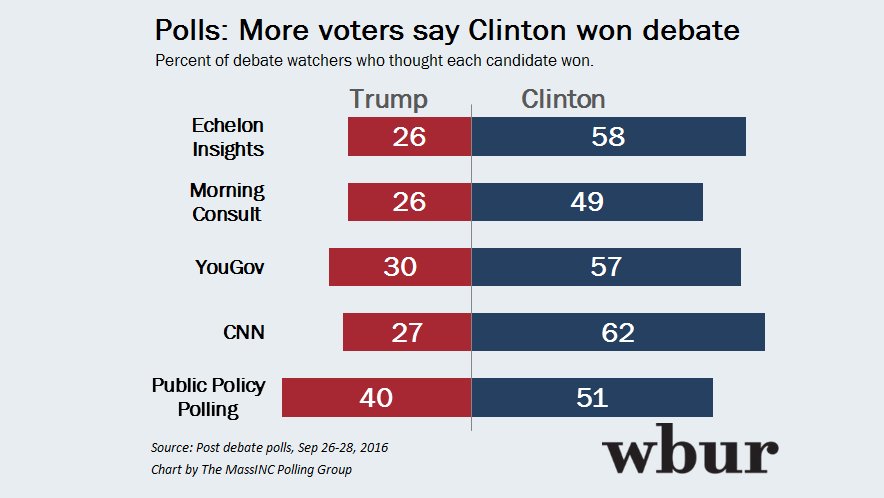 WHAT WILL PASS?
McConnell Doubts Criminal Justice Reform Can Pass This Year
18 hours ago