Two abor­tion clin­ics in Texas are clos­ing, bring­ing the state's total down to 20 as abor­tion pro­viders struggle to stay open un­der new state laws.
The two clin­ics — loc­ated in Mc­Al­len and Beau­mont — are the last re­main­ing pro­viders in rur­al areas. Those that re­main are clustered in ma­jor cit­ies, leav­ing low-in­come wo­men in rur­al Texas without nearby ac­cess to abor­tion.
More clos­ures are likely to fol­low: Un­der House Bill 2, an an­ti­abor­tion bill passed last Novem­ber, all clin­ics are re­quired to close by Sept. 1, 2014, un­less they have on-site am­bu­lat­ory sur­gic­al cen­ters. Of the 20 re­main­ing clin­ics, only six meet that stand­ard and are likely to re­main open.
There were 44 abor­tion clin­ics in Texas in 2011.
House Bill 2 — the most re­strict­ive in a re­cent wave of state-level an­ti­abor­tion laws — gained na­tion­al at­ten­tion last sum­mer when Demo­crat­ic state Sen. Wendy Dav­is fili­bustered the bill for 11 hours. It nev­er­the­less passed the Le­gis­lature shortly after dur­ing a second spe­cial ses­sion called by Re­pub­lic­an Gov. Rick Perry in Ju­ly 2013.
Along with the sur­gic­al-cen­ter clin­ic re­quire­ment, the bill bans abor­tions after 20 weeks; bans med­ic­al abor­tions after sev­en weeks and re­quires wo­men to vis­it the clin­ic four sep­ar­ate times to com­plete the pro­ced­ure (one vis­it for a sono­gram, a second and third for doses of a drug, and a fourth for a fol­low-up); and re­quires all phys­i­cians con­duct­ing the pro­ced­ure to have hos­pit­al ad­mit­ting priv­ileges with­in a 30 mile ra­di­us.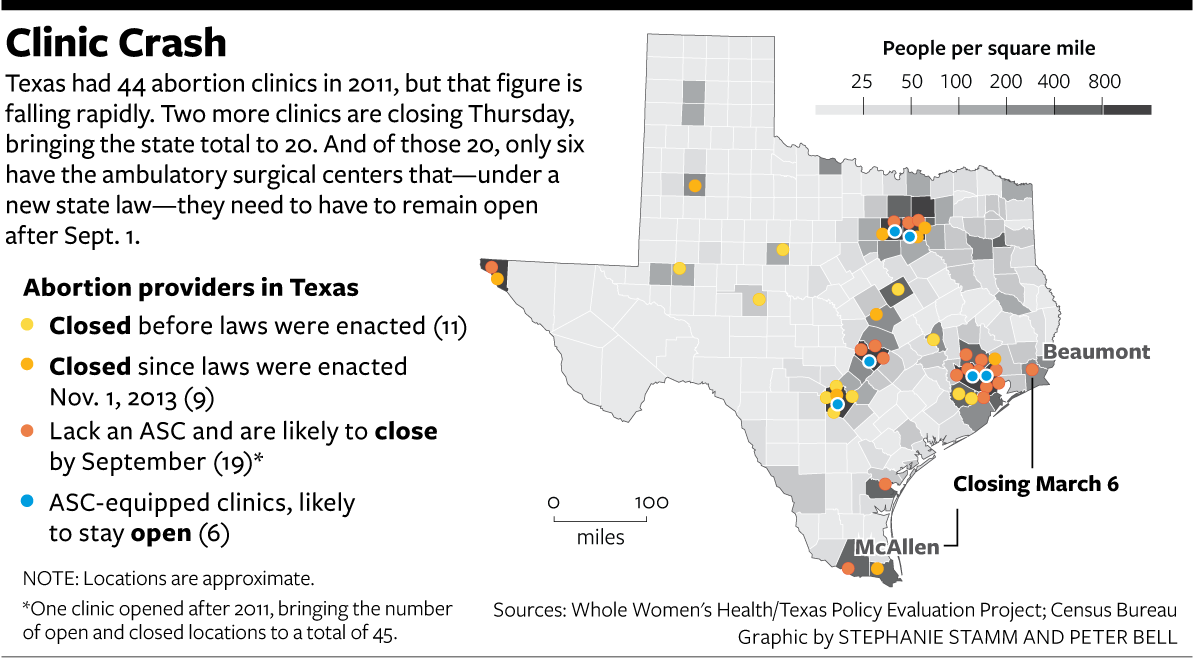 The first three pro­vi­sions went in­to ef­fect Nov. 1, for­cing a wave of clin­ics to close im­me­di­ately. The sur­gic­al-cen­ter re­quire­ment will go in­to ef­fect Sept. 1.
The two clin­ics whose clos­ings were an­nounced this week are op­er­ated by Whole Wo­man's Health. Mc­Al­len stopped provid­ing abor­tions in Novem­ber when the bill went in­to ef­fect, while Beau­mont ceased pro­ced­ures a week and a half ago. Both have tech­nic­ally re­mained open while the own­er tried to find a solu­tion.
Com­pany CEO Amy Hag­strom Miller says the med­ic­al-abor­tion lim­it­a­tion has been the hard­est part of the law for pa­tients, but ad­mit­ting priv­ileges and ASC re­quire­ments have been most dif­fi­cult for clin­ics.
"I've been a little more stub­born or a little more stu­pid," she told Na­tion­al Journ­al. "I've tried to keep them open and lost a lot money."
Neither clin­ic has an ASC, and Hag­strom Miller says she doesn't have the budget or pa­tients to build a mul­ti­mil­lion-dol­lar cen­ter. The Beau­mont clin­ic does cur­rently have a phys­i­cian that has hos­pit­al ad­mit­ting priv­ileges, but he is 75 years old and try­ing to re­tire. At­tempt­ing to get hos­pit­al ad­mit­ting priv­ileges has proven a fruit­less pro­cess; the stigma against abor­tion is too great in Texas, and Hag­strom Miller has not been able to get re­sponses from any doc­tors or hos­pit­als, des­pite call­ing them all. 
"I have trouble get­ting a vendor for bottled wa­ter," she says.
Both Beau­mont and Mc­Al­len are bor­der com­munit­ies with pre­dom­in­antly low-in­come res­id­ents. Ac­cord­ing to data from Whole Wo­man's Health, 22 per­cent of the Beau­mont pop­u­la­tion is be­low the fed­er­al poverty level. Pa­tients at this clin­ic are 40 per­cent Afric­an-Amer­ic­an, largely single and un­in­sured, and between 19 and 35 years old. The fa­cil­ity sees 1,200 pa­tients each year.
In the Mc­Al­len com­munity, just over 27 per­cent of res­id­ents are be­low the poverty level, and only 15 per­cent have in­sur­ance. Clin­ic pa­tients are largely His­pan­ic, mar­ried, un­in­sured, and about 30 years of age. The clin­ic sees 1,700 pa­tients an­nu­ally.
Beau­mont is the only abor­tion fa­cil­ity between Hou­s­ton and New Or­leans. The next closest is in Hou­s­ton, which is 90 miles away.
Mc­Al­len is cur­rently the only abor­tion pro­vider re­main­ing in the Rio Grande Val­ley. The closest al­tern­at­ive is in Cor­pus Christi, 150 miles away, but this clin­ic lacks an ASC, and faces clos­ure in Septem­ber. The next closest is in San Ant­o­nio, which is 230 miles away.
The dif­fi­culty in trav­el­ling these dis­tances — an im­possib­il­ity for many wo­men who lack the fund­ing to do so — is com­poun­ded by the fact that Texas law re­quires mul­tiple vis­its for a single pro­ced­ure. A 2011 law re­quires wo­men to see the doc­tor twice — first for an ul­tra­sound, and again for the abor­tion. This dis­pro­por­tion­ately af­fects rur­al clin­ics, which of­ten fly in phys­i­cians who don't live in the area. For some wo­men in these areas, need­ing to cross the bor­der adds an ad­di­tion­al obstacle.
Hag­strom Miller says wo­men who have the means to travel will, but wo­men who don't will try to find oth­er ways to ter­min­ate their preg­nancy.
"The law didn't do any­thing to pre­vent need," she says. "Un­der any kind of pro­hib­i­tion like this, you'll see clandes­tine op­er­a­tions come up — the need is still there."
Ad­voc­ates of H.B.2 main­tain it is be­ne­fi­cial to wo­men's health, by hold­ing pro­viders to high­er stand­ards. "This is an im­port­ant day for those who sup­port life and for those who sup­port the health of Texas wo­men," Perry said upon sign­ing the bill in­to law.
Op­pon­ents ar­gue it is purely polit­ic­al. A law­suit filed by Planned Par­ent­hood, the Amer­ic­an Civil Liber­ties Uni­on, the Cen­ter for Re­pro­duct­ive Rights, and a Texas law firm chal­lenged the ad­mit­ting priv­ileges pro­vi­sion of the law, say­ing it re­stricts ac­cess and en­dangers wo­men's health. Whole Wo­man's Health is in­volved in the law­suit. An in­junc­tion was ori­gin­ally gran­ted that would stop the pro­vi­sion from go­ing in­to ef­fect, but it was ap­pealed by the state. The case is cur­rently held in the 5th Cir­cuit Court, with a rul­ing ex­pec­ted any day.
However, even if law­suits against the bill are suc­cess­ful, it could be very dif­fi­cult to re­open clin­ics once they have already been closed.
{{ BIZOBJ (video: 4785) }}