On Fri­days, people re­cently re­leased from pris­on head to Cen­ter for Em­ploy­ment Op­por­tun­it­ies in New York City for an ori­ent­a­tion ses­sion. It's the start of a year-long re­la­tion­ship in which they work on a trans­ition­al work crew, learn how to search for a job with a crim­in­al con­vic­tion, and fig­ure out how to hold down steady em­ploy­ment.
"People who are at the highest risk are closest to re­lease [from pris­on]. If you can get over that hump, we think that's keep­ing people from re-of­fend­ing," says Marta Nel­son, Ex­ec­ut­ive Dir­ect­or of CEO New York City.
While the pro­gram may seem like any oth­er re­cidiv­ism-pre­ven­tion ini­ti­at­ive, what makes it a one-of-a-kind is how it's fun­ded: by private, high-net-worth in­vestors.
In Decem­ber 2013, Gov. An­drew Cuomo an­nounced the start of New York's Pay for Suc­cess pro­gram, the first state-led so­cial-im­pact bond. Private in­vestors put up $13.5 mil­lion to ex­pand a so­cial pro­gram with a proven track re­cord, and they ex­pect a re­turn on their in­vest­ment if the pro­gram meets spe­cif­ic per­form­ance stand­ards. The state ends up sav­ing money it would have oth­er­wise spent on in­car­cer­at­ing people, and in­vestors can even earn a profit.
"The bot­tom line is it does not mat­ter where you work — a For­tune 500 com­pany, in the gov­ern­ment, or a non­profit — we're all tax­pay­ers and we all have to pay to in­car­cer­ate people," says Al­phonso Dav­id, Cuomo's deputy sec­ret­ary for civil rights.
The pro­gram fo­cuses on people at a high risk of end­ing up back in pris­on; CEO has re­duced re­cidiv­ism among its par­ti­cipants up to 22 per­cent, ac­cord­ing to a study by MDRC, a non­par­tis­an so­cial-policy re­search or­gan­iz­a­tion. The Pay for Suc­cess in­vest­ment al­lows CEO to serve an ad­di­tion­al 500 people every year.
"It pays non­profit pro­viders or ser­vice pro­viders like us what it ac­tu­ally costs to do what we do, and al­lows us to go out and do it without be­ing con­cerned with how to raise money, day to day or week to week," says Nel­son.
It costs a lot of money to put and keep people in pris­on. New York spends an av­er­age of $60,000 per in­mate and $3.6 bil­lion a year on pris­ons. Ideally, pub­lic money would be go­ing in­to pre­vent­ing re­cidiv­ism, which is 40 per­cent in New York state. But of­ten that's not the case.
"There is a grow­ing body of evid­ence on a lot of these top­ics about ef­fect­ive in­ter­ven­tions, but those in­ter­ven­tions are too costly, too risky, too big, or the re­turned be­ne­fits are too far in­to the fu­ture for gov­ern­ment to be will­ing to fund it it­self," says John Ro­man, seni­or fel­low at the Urb­an In­sti­tute.
In New York, private in­vestors put up money, which gets paid up-front to CEO at reg­u­lar in­ter­vals. These sorts of fin­an­cing struc­tures are pop­u­lar in the United King­dom, and are start­ing to catch on in the U.S. The Labor De­part­ment awar­ded $12 mil­lion to New York to start it.
Bank of Amer­ica and Mer­rill Lynch se­cured money from more than 40 in­vestors, who put in an av­er­age of $300,000 each, in­clud­ing former Treas­ury Sec­ret­ary Larry Sum­mers and the Sorensen Found­a­tion.
"They all say what ex­cited them is this is a vehicle that will al­low them to in­vest in people's lives ac­tu­ally im­prov­ing, and that's a source of re­turn," says Tracy Pa­landji­an, CEO of So­cial Fin­ance, which brought all the parties to­geth­er in the com­plex ar­range­ment.
CEO must re­duce re­cidiv­ism by at least 8 per­cent or in­crease em­ploy­ment by at least 5 per­cent for in­vestors to get their money back. But they can get more if the pro­gram ex­ceeds those mark­ers. The max­im­um pay­out to in­vestors is around $21.5 mil­lion, some of which comes from the Labor De­part­ment grant and some from the state. New York would still stand to save $7.8 mil­lion. The first re­pay­ment will be in four years.
"The source of the re­turn is not a tra­di­tion­al zero-sum trans­ac­tion in the sense that the in­vestors profit comes at the profit of someone's loss," Pa­landji­an says. "It's about cre­at­ing value to­geth­er, so even after the gov­ern­ment re­pays in­vestors, they're still net."
One of the best meth­ods to re­duce re­cidiv­ism is to fo­cus on people at a high risk for end­ing up back in pris­on, and cre­at­ing highly spe­cial­ized coun­sel­ing for their in­di­vidu­al needs, says Thomas MacLel­lan, the Na­tion­al Gov­ernors As­so­ci­ation dir­ect­or of home­land se­cur­ity and pub­lic safety. For some, that's em­ploy­ment. For oth­ers, there could be phys­ic­al and men­tal-health chal­lenges first.
Un­der­ly­ing any kind of anti-re­cidiv­ism pro­gram is the need for good, sol­id data, MacLel­lan adds. Pro­ponents of so­cial-im­pact bonds ar­gue that the private sec­tor forces ef­fi­ciency and over­sight in the way that gov­ern­ment doesn't. But it's still on states to fig­ure out what mat­ters most to them when it comes to pub­lic safety policy.
"Com­pound­ing this whole thing is the value. For some states, it's lock­ing them up and throw­ing away the key," says MacLel­lan. "Cor­rect­ive sys­tems are re­flec­tions of value, and not re­search and sci­ence."
What We're Following See More »
UNTIL DEC. 9, ANYWAY
Obama Signs Bill to Fund Government
4 hours ago
REDSKINS IMPLICATIONS
SCOTUS to Hear Case on Offensive Trademarks
4 hours ago
WHY WE CARE
"The Supreme Court is taking up a First Amendment clash over the government's refusal to register offensive trademarks, a case that could affect the Washington Redskins in their legal fight over the team name. The justices agreed Thursday to hear a dispute involving an Asian-American rock band called the Slants, but they did not act on a separate request to hear the higher-profile Redskins case at the same time." Still, any precedent set by the case could have ramifications for the Washington football team.
STAFF PICKS
Bannon Still Collecting Royalties from 'Seinfeld'
6 hours ago
WHY WE CARE
The Hollywood Reporter takes a look at a little-known intersection of politics and entertainment, in which Trump campaign CEO Steve Bannon is still raking in residuals from Seinfeld. Here's the digest version: When Seinfeld was in its infancy, Ted Turner was in the process of acquiring its production company, Castle Rock, but he was under-capitalized. Bannon's fledgling media company put up the remaining funds, and he agreed to "participation rights" instead of a fee. "Seinfeld has reaped more than $3 billion in its post-network afterlife through syndication deals." Meanwhile, Bannon is "still cashing checks from Seinfeld, and observers say he has made nearly 25 times more off the Castle Rock deal than he had anticipated."
IT'S ALL CLINTON
Reliable Poll Data Coming in RE: Debate #1
6 hours ago
WHY WE CARE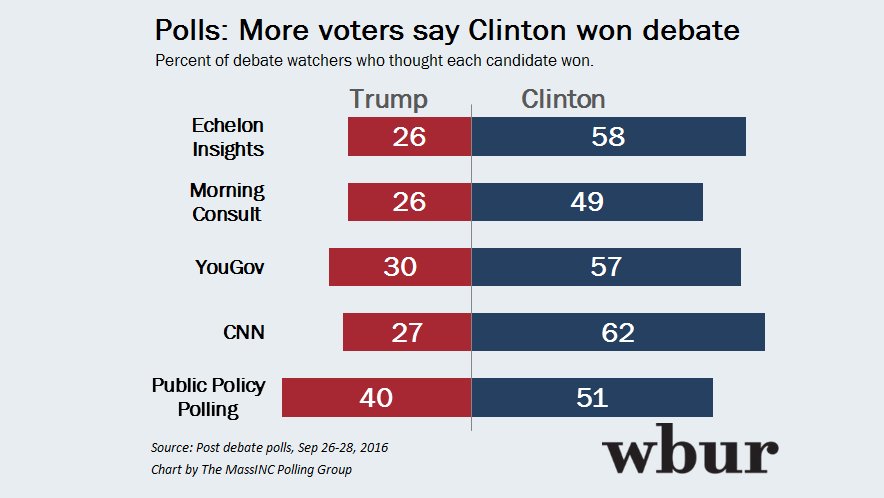 NEXT THURSDAY
Trump Transition Team Meeting with Silicon Valley VIPs
8 hours ago
THE DETAILS
Donald Trump's "transition team will meet next week with representatives of the tech industry, multiple sources confirmed, even as their candidate largely has been largely shunned by Silicon Valley. The meeting, scheduled for next Thursday at the offices of law and lobbying firm BakerHostetler, will include trade groups like the Information Technology Industry Council and the Internet Association that represent major Silicon Valley companies."