The last time Cali­for­nia served as a suc­cess­ful launch­pad for one man's na­tion­al polit­ic­al am­bi­tions was more than three dec­ades ago. Be­fore elec­tric cars. Be­fore En­ergy Star ap­pli­ances. Be­fore cli­mate change (or even "glob­al warm­ing") was re­cog­nized by any­one out­side sci­ence. Tom Stey­er could end that drought.
Stey­er isn't cam­paign­ing for any of­fice, but in little more than a year, the en­vir­on­ment­al ad­voc­ate has cata­pul­ted from a mem­ber of the na­tion­al Demo­crat­ic donor com­munity to one of the party's biggest polit­ic­al spend­ers. He is re­portedly plan­ning to de­ploy $50 mil­lion of his own, plus $50 mil­lion from donors, through his Nex­t­Gen Cli­mate Ac­tion su­per PAC and af­fil­i­ated groups to in­flu­ence the 2014 midterms. That makes the former hedge-fund man­ager one of the biggest polit­ic­al spend­ers in the coun­try, a role set up by his re­cent work in Golden State polit­ics.
While Stey­er's dra­mat­ic entry onto the na­tion­al polit­ic­al stage has in­vited com­par­is­ons to the Koch broth­ers and oth­er ma­jor fin­an­ci­ers, his planned in­vest­ment is less about match­ing ever-lar­ger amounts of con­ser­vat­ive groups' spend­ing than it is about ex­pand­ing the cli­mate politick­ing he's been do­ing in Cali­for­nia, far from the Wash­ing­ton me­dia glare. Over the past four years, Stey­er has been a pro­lif­ic, but con­ven­tion­al, donor to na­tion­al Demo­crat­ic cam­paigns. He steered clear of su­per PACs in 2010 and 2012, in­stead spend­ing more than $35 mil­lion push­ing two suc­cess­ful statewide bal­lot ini­ti­at­ives.
Those were, in ef­fect, train­ing ex­er­cises that al­lowed Stey­er to learn the ropes of big-time polit­ic­al cam­paign­ing and see how his in­vestor's eye might be ap­plied to polling and cam­paign mech­an­ics. And with that now un­der his belt, an ex­pan­sion should come as no sur­prise. "He didn't ne­ces­sar­ily go in­to Cali­for­nia bal­lot ini­ti­at­ives as if they'd be a beta test for what he's do­ing na­tion­ally, but in ef­fect they served as a beta test," said Stey­er strategist Chris Le­hane.
Al­though they can slip be­low the na­tion­al radar, Cali­for­nia ini­ti­at­ives are some of the biggest polit­ic­al con­tests out there. "They can be more com­plex than any cam­paign out­side a pres­id­en­tial," says Le­hane — who would know, hav­ing worked on both. Stey­er spent $5 mil­lion to save a state law curb­ing car­bon emis­sions in 2010. Two years later, he made an even big­ger fin­an­cial com­mit­ment, pump­ing more than $30 mil­lion of his own money in­to an ef­fort to pass Pro­pos­i­tion 39, which closed the loop­hole on an out-of-state busi­ness tax and dir­ec­ted the rev­en­ue in­to green-tech­no­logy pro­jects.
Put in­to per­spect­ive, Stey­er's pro-Prop 39 spend­ing in Cali­for­nia amoun­ted to more than 40 per­cent of what Pres­id­ent Obama's un­of­fi­cial su­per PAC, Pri­or­it­ies USA, spent na­tion­wide in the same year.
So, his $100 mil­lion fin­an­cial in­vest­ment in 2014, eye-pop­ping as it might be, is not a big leap. Stey­er is ap­ply­ing a na­tion­al fo­cus to what he's been do­ing all along — and shift­ing his eye from policy ini­ti­at­ives to cam­paigns for elec­ted of­fice. In 2013, the su­per-PAC-armed bil­lion­aire dropped sev­en fig­ures to elect Demo­crat­ic Sen. Ed­ward Mar­key in Mas­sachu­setts and then an ad­di­tion­al $11 mil­lion on cli­mate-themed ad­vert­ising to boost new Demo­crat­ic Gov. Terry McAul­iffe in Vir­gin­ia.
"He really be­lieves that cli­mate change is the most im­port­ant is­sue of our time, so now he's build­ing on the suc­cess" in Cali­for­nia, said Mark Bal­dassare, the pres­id­ent of the Pub­lic Policy In­sti­tute of Cali­for­nia and a keen ob­serv­er of the state's bal­lot meas­ures.
Skep­tics on both sides of the aisle — scoff­ing Re­pub­lic­ans on one hand and some Demo­crat­ic strategists ar­guing over the best way to win votes on the oth­er — won­der wheth­er Stey­er's group, no mat­ter how well moneyed it is, can el­ev­ate cli­mate is­sues enough to drive voters' de­cisions in ma­jor Sen­ate and gov­ernor's races. The top­ic it­self won't be on the bal­lot, and polling shows that voters star­ted the year far more con­cerned about the eco­nomy and jobs than the en­vir­on­ment.
But Stey­er has already had some suc­cess out­side Cali­for­nia, us­ing op­pos­i­tion to gas drilling to set up a wider eth­ics-based at­tack on Re­pub­lic­an Ken Cuc­cinelli in Vir­gin­ia last year. Now, he thinks he can build on it. "He's been suc­cess­ful in the busi­ness world be­cause he's a 're­in­vestor,' " Le­hane said. "You in­vest money, fig­ure out what works, and get really smart about mak­ing that second, third, fourth in­vest­ment."¦ That's in­formed by what he went through in Cali­for­nia and know­ing just how soph­ist­ic­ated your data needs to be" to make de­cisions.
Re­in­vest­ing also lets a fin­an­ci­er scale up the po­ten­tial gains. "It can't all be done in Cali­for­nia," Bal­dassare said. "He's ap­ply­ing what he learned on a big­ger stage."
What We're Following See More »
NEVER TRUMP
USA Today Weighs in on Presidential Race for First Time Ever
12 hours ago
THE DETAILS
"By all means vote, just not for Donald Trump." That's the message from USA Today editors, who are making the first recommendation on a presidential race in the paper's 34-year history. It's not exactly an endorsement; they make clear that the editorial board "does not have a consensus for a Clinton endorsement." But they state flatly that Donald Trump is, by "unanimous consensus of the editorial board, unfit for the presidency."
UNTIL DEC. 9, ANYWAY
Obama Signs Bill to Fund Government
17 hours ago
IT'S ALL CLINTON
Reliable Poll Data Coming in RE: Debate #1
20 hours ago
WHY WE CARE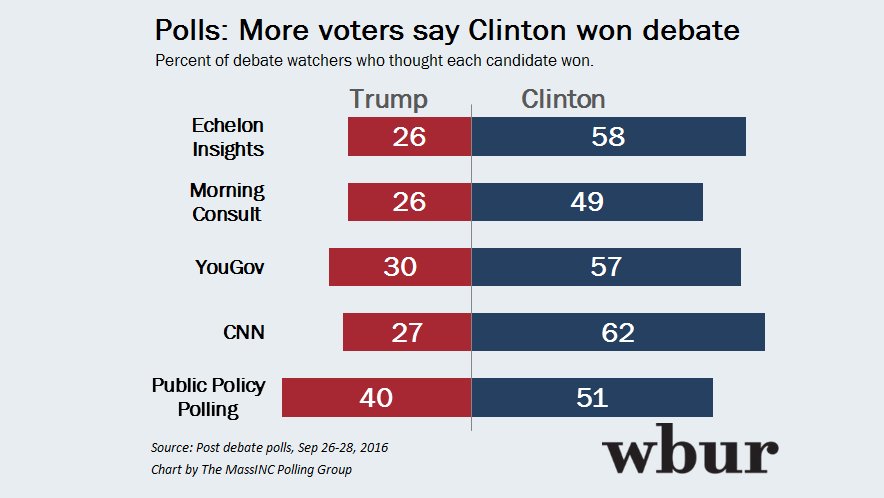 WHAT WILL PASS?
McConnell Doubts Criminal Justice Reform Can Pass This Year
22 hours ago
ALSO FIRED UNATTRACTIVE WAITRESSES
Trump Did Business with Cuba
22 hours ago
THE LATEST
Today in bad news for Donald Trump:
Newsweek found that a company he controlled did business with Cuba under Fidel Castro "despite strict American trade bans that made such undertakings illegal, according to interviews with former Trump executives, internal company records and court filings." In 1998, he spent at least $68,000 there, which was funneled through a consluting company "to make it appear legal."
The Los Angeles Times reports that at a golf club he owns in California, Trump ordered that unattractive female staff be fired and replaced with prettier women.