A White House of­fi­cial con­firmed that U.S. en­voys will push to es­tab­lish glob­al stand­ards for safe­guard­ing sens­it­ive ma­ter­i­als at an up­com­ing Nuc­le­ar Se­cur­ity Sum­mit.
Wash­ing­ton is seek­ing "a core group of coun­tries" to spear­head the ad­op­tion of po­ten­tially bind­ing rules that could help pre­vent atom­ic ma­ter­i­als from pro­lif­er­at­ing or fall­ing in­to the hands of ter­ror­ists, said Laura Hol­gate, a seni­or dir­ect­or on the Na­tion­al Se­cur­ity Coun­cil staff.
Del­eg­ates from more than 50 coun­tries are slated to gath­er for the 2014 Nuc­le­ar Se­cur­ity Sum­mit in The Hag­ue in just a few weeks, and pre­par­a­tions have been on­go­ing be­hind the scenes about out­comes of the March 24-25 gath­er­ing.
The sum­mits are seen as closely tied to Pres­id­ent Obama's ten­ure in of­fice. He con­cep­tu­al­ized and hos­ted the in­aug­ur­al such gath­er­ing in Wash­ing­ton in 2010.
Speak­ing at a March 3 event sponsored by Har­vard Uni­versity's John F. Kennedy Jr. For­um in Cam­bridge, Mass., Hol­gate said the ef­forts to fur­ther strengthen nuc­le­ar se­cur­ity must con­tin­ue bey­ond form­al bi­en­ni­al gath­er­ings.
The core group of coun­tries en­vi­sioned by the White House would help cre­ate an "ar­chi­tec­ture" for nuc­le­ar se­cur­ity, Hol­gate said, es­sen­tially lend­ing a level of form­al­ity to what is now primar­ily a vol­un­tary un­der­tak­ing.
Glob­al Se­cur­ity News­wire re­por­ted last month that the United States, the Neth­er­lands and South Korea had be­gun so­li­cit­ing pledges from sum­mit par­ti­cipants aimed com­ply­ing with in­ter­na­tion­al guidelines for the pro­tec­tion of nuc­le­ar ma­ter­i­als.
Sam­antha Pitts-Kiefer, a seni­or pro­gram of­ficer at the Nuc­le­ar Threat Ini­ti­at­ive who spoke at the same event, called the time between the sum­mits of 2014 and 2016 a "win­dow of op­por­tun­ity."
"If it closes and this work is not done, it's go­ing to be a prob­lem be­cause there is no in­sti­tu­tion right now to pick up the slack," Pitts-Kiefer said.
Hol­gate ac­know­ledged that work also re­mains in con­vin­cing gov­ern­ments of the "base case" for se­cur­ing their nuc­le­ar ma­ter­i­al — namely, that pre­vent­ing its theft is in both their in­di­vidu­al in­terest and that of the in­ter­na­tion­al com­munity.
What We're Following See More »
NEVER TRUMP
USA Today Weighs in on Presidential Race for First Time Ever
7 hours ago
THE DETAILS
"By all means vote, just not for Donald Trump." That's the message from USA Today editors, who are making the first recommendation on a presidential race in the paper's 34-year history. It's not exactly an endorsement; they make clear that the editorial board "does not have a consensus for a Clinton endorsement." But they state flatly that Donald Trump is, by "unanimous consensus of the editorial board, unfit for the presidency."
COMMISSIONERS NEED TO DELIBERATE MORE
FCC Pushes Vote on Set-Top Boxes
7 hours ago
THE LATEST
"Federal regulators on Thursday delayed a vote on a proposal to reshape the television market by freeing consumers from cable box rentals, putting into doubt a plan that has pitted technology companies against cable television providers. ... The proposal will still be considered for a future vote. But Tom Wheeler, chairman of the F.C.C., said commissioners needed more discussions."
UNTIL DEC. 9, ANYWAY
Obama Signs Bill to Fund Government
12 hours ago
IT'S ALL CLINTON
Reliable Poll Data Coming in RE: Debate #1
14 hours ago
WHY WE CARE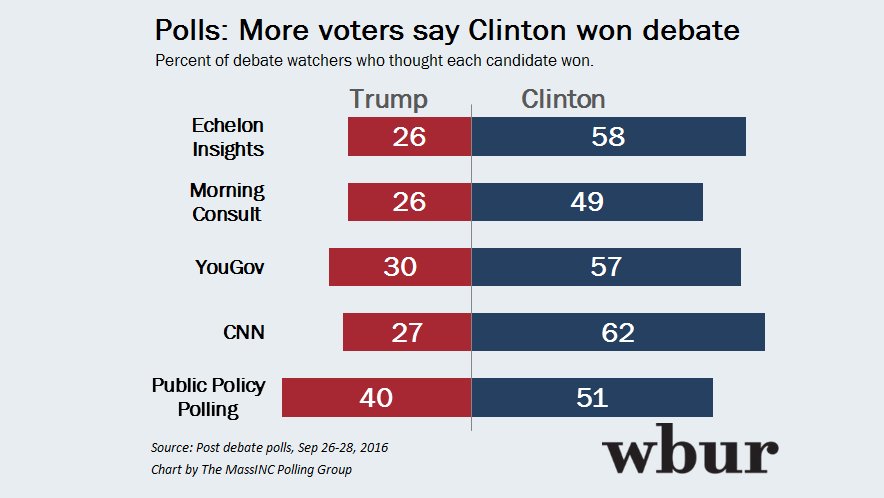 WHAT WILL PASS?
McConnell Doubts Criminal Justice Reform Can Pass This Year
17 hours ago