March 6, 2014, 11:14 a.m.
Medi­caid ex­pan­sion is set to be ap­proved in New Hamp­shire.
The Re­pub­lic­an-con­trolled state Sen­ate voted 18-5 Thursday to pass its own ver­sion of ex­pan­sion un­der the Af­ford­able Care Act. The five mem­bers who voted against it are Re­pub­lic­ans.
The bill is ex­pec­ted to pass in the Demo­crat­ic-led House, and is sup­por­ted by Demo­crat­ic Gov. Mag­gie Has­san.
The bi­par­tis­an pro­pos­al would use fed­er­al funds for Medi­caid ex­pan­sion to buy private in­sur­ance plans on the health law's ex­changes. A sim­il­ar plan was im­ple­men­ted first in Arkan­sas as the state's "private op­tion," with a small hand­ful of oth­er states fol­low­ing suit. Arkan­sas voted earli­er this week to re­new fund­ing for its pro­gram an­oth­er year, after be­ing stalled in the House for a con­ten­tious few weeks.
Pas­sage of the bill would give about 50,000 low-in­come New Hamp­shire res­id­ents ac­cess to in­sur­ance.
"This meas­ure will help us ad­dress long-stand­ing health care chal­lenges by re­du­cing un­com­pensated care at our hos­pit­als' emer­gency rooms, ex­pand­ing ac­cess to cost-sav­ing primary and pre­vent­ive care, and provid­ing sub­stance-ab­use and men­tal-health treat­ment cov­er­age to thou­sands of people for the first time," Has­san wrote in a state­ment.
The health care law ex­tends Medi­caid cov­er­age to those at or be­low 138 per­cent of the fed­er­al poverty level, but the Su­preme Court left the de­cision to opt in or out up to the states.
New Hamp­shire is one of six states that has not yet de­cided. Cur­rently 25 states and the Dis­trict of Columbia are mov­ing for­ward with Medi­caid ex­pan­sion, while 19 are not.
What We're Following See More »
NEVER TRUMP
USA Today Weighs in on Presidential Race for First Time Ever
10 hours ago
THE DETAILS
"By all means vote, just not for Donald Trump." That's the message from USA Today editors, who are making the first recommendation on a presidential race in the paper's 34-year history. It's not exactly an endorsement; they make clear that the editorial board "does not have a consensus for a Clinton endorsement." But they state flatly that Donald Trump is, by "unanimous consensus of the editorial board, unfit for the presidency."
COMMISSIONERS NEED TO DELIBERATE MORE
FCC Pushes Vote on Set-Top Boxes
10 hours ago
THE LATEST
"Federal regulators on Thursday delayed a vote on a proposal to reshape the television market by freeing consumers from cable box rentals, putting into doubt a plan that has pitted technology companies against cable television providers. ... The proposal will still be considered for a future vote. But Tom Wheeler, chairman of the F.C.C., said commissioners needed more discussions."
UNTIL DEC. 9, ANYWAY
Obama Signs Bill to Fund Government
16 hours ago
IT'S ALL CLINTON
Reliable Poll Data Coming in RE: Debate #1
18 hours ago
WHY WE CARE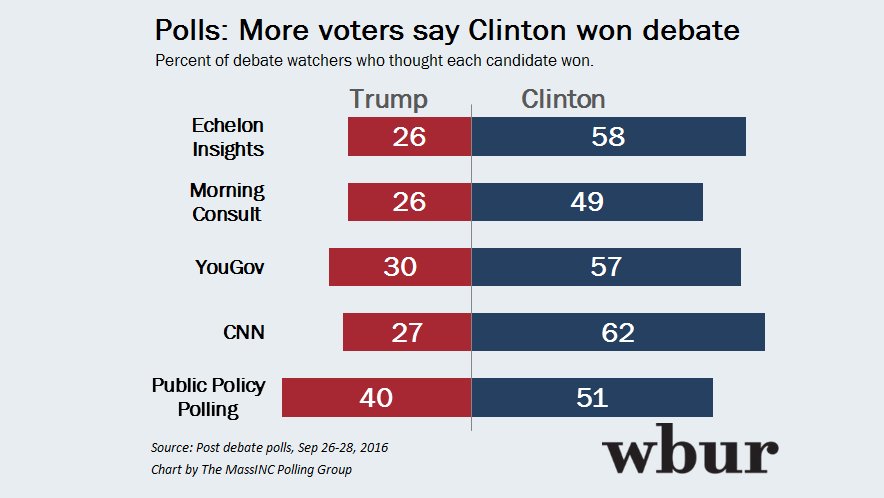 WHAT WILL PASS?
McConnell Doubts Criminal Justice Reform Can Pass This Year
20 hours ago