March 6, 2014, 12:35 p.m.
HOU­S­TON — En­vir­on­ment­al Pro­tec­tion Agency Ad­min­is­trat­or Gina Mc­Carthy sought to as­sure en­ergy ex­ec­ut­ives on Thursday that EPA won't shut off the lights in the name of bat­tling cli­mate change.
Mc­Carthy, in a speech be­fore a big en­ergy con­fer­ence here, said EPA's up­com­ing rule to set car­bon-emis­sions stand­ards for power plants will cut pol­lu­tion without jeop­ard­iz­ing sup­plies.
"EPA is not go­ing to threaten en­ergy re­li­ab­il­ity," Mc­Carthy said at the IHS CER­AWeek con­fer­ence, call­ing it a pri­or­ity.
EPA plans to is­sue draft cli­mate-change reg­u­la­tions for the na­tion's ex­ist­ing power plants in June.
Mc­Carthy said EPA's goal is to help spur a clean­er power sys­tem while re­cog­niz­ing the im­port­ant role of fossil fuels.
"Con­ven­tion­al fuels like coal and nat­ur­al gas are go­ing to play a crit­ic­al role in a di­verse U.S. en­ergy mix for years to come. This rule will not change that. It will re­cog­nize that," she said.
Agency crit­ics have ar­gued that the rules, com­bined with oth­er EPA pol­lu­tion man­dates, will ef­fect­ively force power com­pan­ies to re­tire enough coal-fired power plants that power re­li­ab­il­ity will be jeop­ard­ized.
They have poin­ted to the heavy en­ergy de­mand when the in­vad­ing po­lar vor­tex sent tem­per­at­ures plunging in Janu­ary.
But Mc­Carthy said the agency has been con­duct­ing ex­tens­ive out­reach with oth­er fed­er­al agen­cies as well as the power in­dustry.
Cheryl LaFleur, the act­ing chair­wo­man of the Fed­er­al En­ergy Reg­u­lat­ory Com­mis­sion, told Na­tion­al Journ­al that she has met with Mc­Carthy about the power-plant rule and grid re­li­ab­il­ity.
"It is something I know she is … quite com­mit­ted to," LaFleur said of grid re­li­ab­il­ity.
"It will re­quire a lot of co­ordin­a­tion as the rule gets fi­nal­ized and im­ple­men­ted to un­der­stand its im­pact on the grid," she ad­ded.
Mc­Carthy, in a speech Thursday, made a broad pitch for the EPA rules and the White House cli­mate agenda, ur­ging the audi­ence to "seize this as an eco­nom­ic op­por­tun­ity to drive a healthy, sus­tain­able, and more pros­per­ous fu­ture for all of us."
She said that for dec­ades the Clean Air Act has suc­cess­fully driv­en down pol­lu­tion without stifling eco­nom­ic growth, and that there's no reas­on to be­lieve that can't con­tin­ue with cli­mate reg­u­la­tions.
Mc­Carthy said the rules would provide states with plenty of flex­ib­il­ity.
What We're Following See More »
STAFF PICKS
Bannon Still Collecting Royalties from 'Seinfeld'
44 minutes ago
WHY WE CARE
The Hollywood Reporter takes a look at a little-known intersection of politics and entertainment, in which Trump campaign CEO Steve Bannon is still raking in residuals from Seinfeld. Here's the digest version: When Seinfeld was in its infancy, Ted Turner was in the process of acquiring its production company, Castle Rock, but he was under-capitalized. Bannon's fledgling media company put up the remaining funds, and he agreed to "participation rights" instead of a fee. "Seinfeld has reaped more than $3 billion in its post-network afterlife through syndication deals." Meanwhile, Bannon is "still cashing checks from Seinfeld, and observers say he has made nearly 25 times more off the Castle Rock deal than he had anticipated."
IT'S ALL CLINTON
Reliable Poll Data Coming in RE: Debate #1
1 hours ago
WHY WE CARE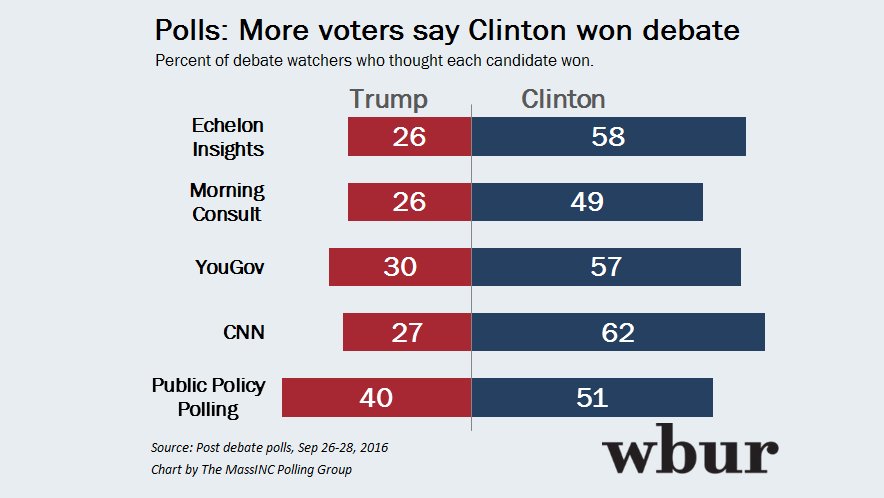 NEXT THURSDAY
Trump Transition Team Meeting with Silicon Valley VIPs
3 hours ago
THE DETAILS
Donald Trump's "transition team will meet next week with representatives of the tech industry, multiple sources confirmed, even as their candidate largely has been largely shunned by Silicon Valley. The meeting, scheduled for next Thursday at the offices of law and lobbying firm BakerHostetler, will include trade groups like the Information Technology Industry Council and the Internet Association that represent major Silicon Valley companies."
WHAT WILL PASS?
McConnell Doubts Criminal Justice Reform Can Pass This Year
3 hours ago
ALSO FIRED UNATTRACTIVE WAITRESSES
Trump Did Business with Cuba
4 hours ago
THE LATEST
Today in bad news for Donald Trump:
Newsweek found that a company he controlled did business with Cuba under Fidel Castro "despite strict American trade bans that made such undertakings illegal, according to interviews with former Trump executives, internal company records and court filings." In 1998, he spent at least $68,000 there, which was funneled through a consluting company "to make it appear legal."
The Los Angeles Times reports that at a golf club he owns in California, Trump ordered that unattractive female staff be fired and replaced with prettier women.