In­ter­na­tion­al of­fi­cials said Syr­ia ap­pears poised to miss a March 15 tar­get date for elim­in­at­ing a dozen chem­ic­al-arms man­u­fac­tur­ing sites, Re­u­ters re­ports.
States parties to an in­ter­na­tion­al chem­ic­al-weapons ban called last year for Syr­i­an Pres­id­ent Bashar As­sad's gov­ern­ment to fin­ish elim­in­at­ing the 12 sites by the middle of this month. That goal is now out of reach, ac­cord­ing to Thursday com­ments from sources at the Or­gan­iz­a­tion for the Pro­hib­i­tion of Chem­ic­al Weapons.
"That [dead­line] will def­in­itely be missed," one in­sider told the wire ser­vice. "None of them have been des­troyed at the mo­ment."
The source de­scribed sev­en of the fa­cil­it­ies as "hardened" air­plane stor­age sites, and five of the loc­a­tions as un­der­ground in­stall­a­tions. At a meet­ing of the 41-na­tion OP­CW Ex­ec­ut­ive Coun­cil this week, mul­tiple West­ern en­voys re­jec­ted a Syr­i­an gov­ern­ment pro­pos­al to close off the sites with ce­ment rather than fully de­mol­ish them, ac­cord­ing to agency in­siders.
"The phys­ic­al de­struc­tion of CW pro­duc­tion fa­cil­it­ies is a fun­da­ment­al re­quire­ment of the [Chem­ic­al Weapons] Con­ven­tion, and a prudent pro­tec­tion against the re­tain­ment or re­start of a chem­ic­al-weapons pro­gram," U.S. Am­bas­sad­or Robert Miku­lak said to the body in pre­pared re­marks.
As­sad re­gime's pledged to re­lin­quish its chem­ic­al-war­fare stock­pile and re­lated as­sets when it faced ac­cus­a­tions of re­leas­ing sar­in nerve agent over an op­pos­i­tion-held sub­urb of Dam­as­cus, al­legedly killing more than 1,400 people in Au­gust.
"Des­troyed means des­troyed," a source told Re­u­ters. "Why should a coun­try that used chem­ic­al weapons against its own people be giv­en spe­cial priv­ileges?"
As­sad's gov­ern­ment nev­er ac­cep­ted blame for the Aug. 21 strike, and Rus­sia has backed the deni­als by its part­ner in Dam­as­cus.
What We're Following See More »
NEVER TRUMP
USA Today Weighs in on Presidential Race for First Time Ever
9 hours ago
THE DETAILS
"By all means vote, just not for Donald Trump." That's the message from USA Today editors, who are making the first recommendation on a presidential race in the paper's 34-year history. It's not exactly an endorsement; they make clear that the editorial board "does not have a consensus for a Clinton endorsement." But they state flatly that Donald Trump is, by "unanimous consensus of the editorial board, unfit for the presidency."
COMMISSIONERS NEED TO DELIBERATE MORE
FCC Pushes Vote on Set-Top Boxes
9 hours ago
THE LATEST
"Federal regulators on Thursday delayed a vote on a proposal to reshape the television market by freeing consumers from cable box rentals, putting into doubt a plan that has pitted technology companies against cable television providers. ... The proposal will still be considered for a future vote. But Tom Wheeler, chairman of the F.C.C., said commissioners needed more discussions."
UNTIL DEC. 9, ANYWAY
Obama Signs Bill to Fund Government
14 hours ago
IT'S ALL CLINTON
Reliable Poll Data Coming in RE: Debate #1
16 hours ago
WHY WE CARE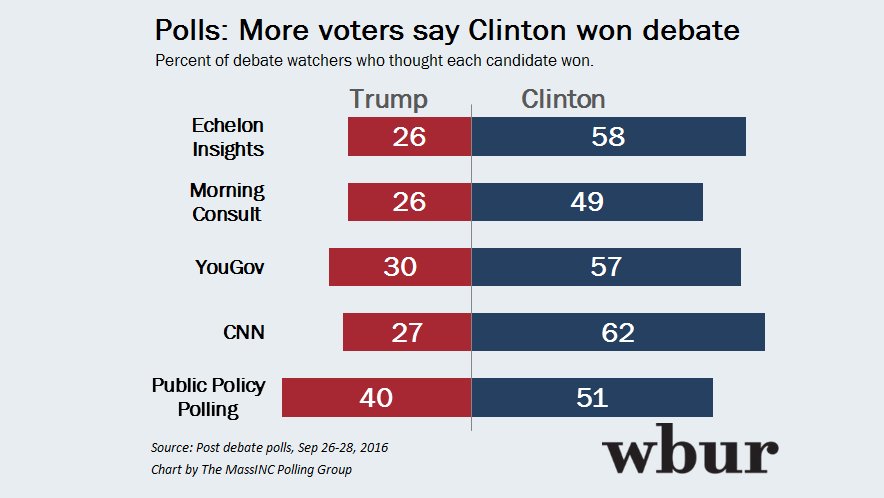 WHAT WILL PASS?
McConnell Doubts Criminal Justice Reform Can Pass This Year
18 hours ago