March 10, 2014, 9:14 a.m.
The Scot­tish gov­ern­ment is de­mand­ing an apo­logy from Lon­don for a lack of no­ti­fic­a­tion about a ra­di­ation leak at a nuc­le­ar re­act­or based in Scot­land.
Scot­tish First Min­is­ter Alex Sal­mond said U.K. Prime Min­is­ter Dav­id Camer­on should apo­lo­gize for not no­ti­fy­ing the Scot­tish par­lia­ment in 2012 when the emis­sion was dis­covered at a test re­act­or housed at Doun­reay in Scot­land, Re­u­ters re­por­ted on Sunday.
"You must now of­fer an im­me­di­ate ex­plan­a­tion of why your gov­ern­ment al­lowed this to hap­pen, an apo­logy for the dis­reg­ard of es­tab­lished pro­cesses and a com­mit­ment that it will nev­er hap­pen again," Sal­mond said.
The latest im­broglio over Brit­ish nuc­le­ar activ­it­ies in Scot­land comes as Sal­mond's Scot­tish Na­tion­al Party, gov­ern­ing in Ed­in­burgh, seeks to con­vince Scot­tish voters to ap­prove a ref­er­en­dum for in­de­pend­ence, sched­uled to take place in Septem­ber. The Scot­tish Na­tion­al Party has vowed to or­der U.K. nuc­le­ar-armed Tri­dent bal­list­ic-mis­sile sub­mar­ines ex­pelled from Scot­land if it at­tains a "yes" vote.
Brit­ish De­fense Sec­ret­ary Philip Ham­mond on Thursday said ra­di­ation was found in the cool­ing wa­ter sur­round­ing the Doun­reay re­act­or — the same type as those used to power U.K. nuc­le­ar sub­mar­ines. He said the leak was not a safety risk and that atom­ic reg­u­lat­ors and Scot­tish en­vir­on­ment­al of­fi­cials were made aware of the in­cid­ent when it happened.
The Scot­tish En­vir­on­ment Pro­tec­tion Agency in a state­ment said it did not dis­close the leak be­cause the De­fense Min­istry had re­ques­ted the in­form­a­tion be kept "on a strict need-to-know basis for se­cur­ity reas­ons."
Scot­land's gov­ern­ment now is say­ing it would or­der all atom­ic-powered sub­mar­ines out of Scot­land — not just nuc­le­ar-armed, bal­list­ic-mis­sile ves­sels — in the event of in­de­pend­ence, the Scot­tish Her­ald re­por­ted on Sunday.
"We do not see the con­tin­ued basing of the As­tute or Tra­fal­gar fleets at Faslane, bey­ond the ne­ces­sary trans­ition peri­od, to be in Scot­land's in­terests," a gov­ern­ment spokes­wo­man told the news­pa­per.
The United King­dom in the com­ing dec­ades an­ti­cip­ates a fleet of 14 atom­ic-powered sub­mar­ines: four bal­list­ic-mis­sile sub­mar­ines, three Tra­fal­gar-class ves­sels and sev­en new As­tute-class sub­mar­ines.
What We're Following See More »
NEVER TRUMP
USA Today Weighs in on Presidential Race for First Time Ever
11 hours ago
THE DETAILS
"By all means vote, just not for Donald Trump." That's the message from USA Today editors, who are making the first recommendation on a presidential race in the paper's 34-year history. It's not exactly an endorsement; they make clear that the editorial board "does not have a consensus for a Clinton endorsement." But they state flatly that Donald Trump is, by "unanimous consensus of the editorial board, unfit for the presidency."
COMMISSIONERS NEED TO DELIBERATE MORE
FCC Pushes Vote on Set-Top Boxes
11 hours ago
THE LATEST
"Federal regulators on Thursday delayed a vote on a proposal to reshape the television market by freeing consumers from cable box rentals, putting into doubt a plan that has pitted technology companies against cable television providers. ... The proposal will still be considered for a future vote. But Tom Wheeler, chairman of the F.C.C., said commissioners needed more discussions."
UNTIL DEC. 9, ANYWAY
Obama Signs Bill to Fund Government
16 hours ago
IT'S ALL CLINTON
Reliable Poll Data Coming in RE: Debate #1
18 hours ago
WHY WE CARE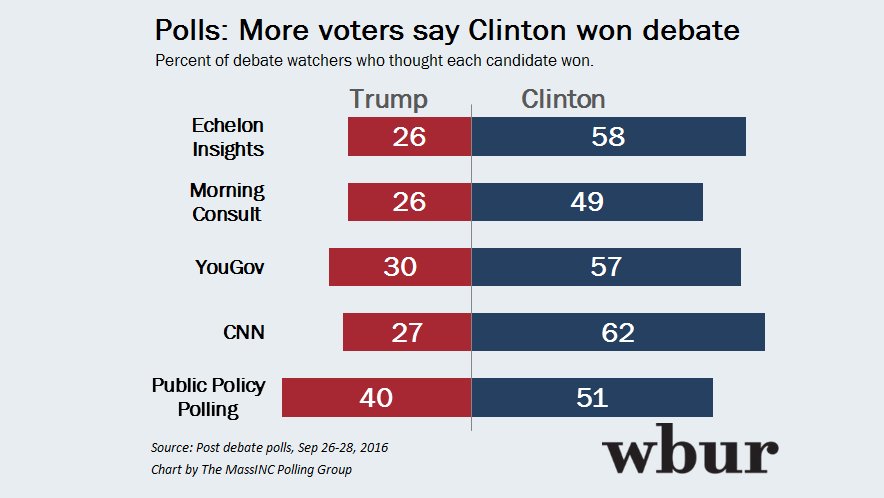 WHAT WILL PASS?
McConnell Doubts Criminal Justice Reform Can Pass This Year
20 hours ago