DE­TROIT — This city is in ru­ins. You see it every­where you look. And if you want to know how it happened, ride the el­ev­at­or to the top of the West­in Book Ca­dillac, the city's most lux­uri­ous hotel, peer out a win­dow, and be­hold the his­tor­ic col­li­sion of forces that brought De­troit to its knees.
To the right, you'll see a tower­ing struc­ture, aban­doned and rus­ted and fore­bod­ing. It stretches dozens of stor­ies in­to the De­troit sky. No lights are on and no life is vis­ible, only shattered win­dows and blips of il­legible graf­fiti. Hun­dreds of feet be­low, at ground level, hangs an hon­or­ari­um la­beling Wash­ing­ton Av­en­ue as "John Con­yers Jr. Drive" after De­troit's long-serving con­gress­man — the man whose chair­man­ship of the House Ju­di­ciary Com­mit­tee was in­ter­rup­ted by news that his wife, the City Coun­cil's pres­id­ent pro tem, would be fol­low­ing former May­or Kwame Kilpatrick to fed­er­al pris­on for bribery. Fi­nally, from the left comes the knock­out blow. There, dir­ectly out­side the hotel, plastered across an en­tire build­ing, is a sign fea­tur­ing a stun­ning sil­ver auto­mobile. It says: "The Best Knows No Al­tern­at­ive." The ad­vert­ise­ment, in the heart of De­troit, flaunts a Mer­cedes-Benz.
Aban­don­ment. Polit­ic­al cor­rup­tion. For­eign com­pet­i­tion. These are the pred­at­ors that teamed to send De­troit, once Amer­ica's fifth-largest city and a sym­bol of its in­dus­tri­al might, spiral­ing in­to an urb­an apo­ca­lypse. The race ri­ots of 1967 sparked an ex­odus of whites to the sub­urbs. In 1974, Cole­man Young be­came may­or and laid the blue­print for rul­ing De­troit through cronyism and vice. Around that time, the do­mest­ic auto­makers, which man­aged their books as in­eptly as the city, began leak­ing mar­ket share to over­seas rivals pro­du­cing bet­ter cars at lower cost. This tri­fecta weighed more heav­ily on the city as the dec­ades wore on, press­ing De­troit to­ward im­min­ent cata­strophe. Fi­nally, in 2013, with its tax base rav­aged by pop­u­la­tion loss and its former may­or im­prisoned on rack­et­eer­ing charges, De­troit did what its auto­makers had done sev­er­al years earli­er: It de­clared bank­ruptcy.
Shortly be­fore the Mo­tor City can­on­ized its fin­an­cial col­lapse in fed­er­al court, the De­troit Free Press pub­lished an acerbic column by Mitch Al­bom. In light of De­troit's his­tor­ic de­teri­or­a­tion and the state's ap­point­ment of Emer­gency Man­ager Kevyn Orr to gov­ern the city like an auto­cracy, he asked, "Why would any­one want to be may­or of De­troit?"
Fair ques­tion. There's noth­ing de­sir­able about a po­s­i­tion that en­tails lim­ited au­thor­ity, much less over a bank­rup­ted city crippled by crime, poverty, and deser­tion. Be­ing may­or of De­troit, it's reas­on­able to as­sume, might just be the worst job in Amer­ic­an polit­ics.
But then you talk to Mike Dug­gan, who took of­fice in Janu­ary. You hear about the nar­row scope of his power, since Orr is re­spons­ible for the big and con­tro­ver­sial de­cisions, in­clud­ing craft­ing a pro­pos­al for the city to exit bank­ruptcy by cut­ting pen­sions and screw­ing cred­it­ors. You hear about Dan Gil­bert, the bil­lion­aire who is tak­ing on the tasks of mar­ket­ing and job cre­ation that nor­mally strain a may­or. You hear about the ex­cep­tion­ally low bar Dug­gan has to clear, thanks to the mal­feas­ance or in­com­pet­ence (or both) of pre­vi­ous ad­min­is­tra­tions. You hear that his most ur­gent pri­or­ity, like some Third World po­tentate, is to de­liv­er ba­sic city ser­vices. And you real­ize: Be­ing may­or of De­troit might just be the best job in Amer­ic­an polit­ics.
This city is at war with it­self. Signs of mod­ern pro­gress clash with ar­cha­ic in­dic­at­ors of des­pair. De­troit is famed for its re­si­li­ence, and, after years of be­ing pummeled polit­ic­ally and eco­nom­ic­ally, the city is off the mat and throw­ing punches. But it's still ab­sorb­ing too many blows. Here, the Amer­ic­an Dream battles the Amer­ic­an Night­mare.
North of down­town, on a sub­zero Janu­ary af­ter­noon, young pro­fes­sion­als — most of them white — file in­to a beau­ti­ful, newly con­struc­ted cof­fee shop. In­side they laugh with friends over a warm bever­age or pull out laptops and rap away at their key­boards. Out­side, 50 feet from the door, a young black moth­er tucks two chil­dren in­side her un­zipped jack­et to shield them from the bit­ter cold and blis­ter­ing wind. They are three of per­haps a dozen people wait­ing at a bus stop; their ride won't ar­rive for at least 30 minutes, and when it does, there aren't enough seats to go around.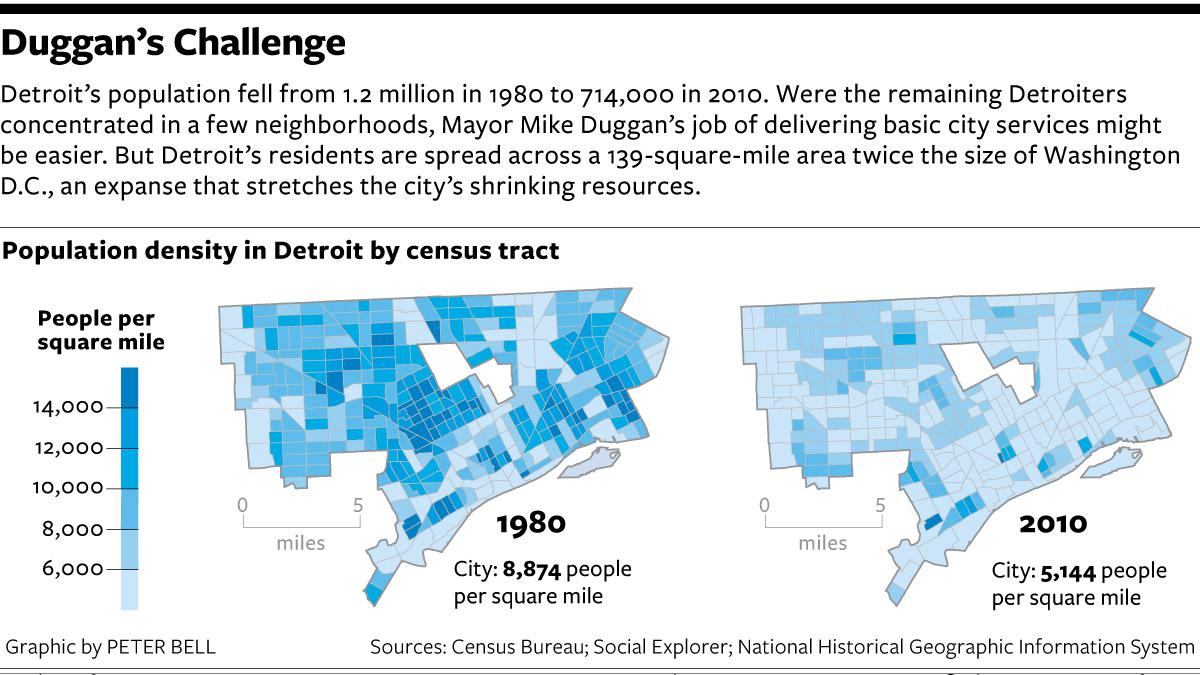 Farther up Wood­ward Av­en­ue, the artery run­ning from a vi­brant down­town through De­troit's for­got­ten neigh­bor­hoods and out to the wealthy sub­urbs, is a bou­quet of re­cently opened busi­nesses, many launched with a loan and a pray­er. Their at­tract­ive ex­ter­i­ors con­trast sharply with the filthy, aban­doned, graf­fiti-rid­den struc­ture across the street, and could en­cour­age the next en­tre­pren­eur to take a chance on this block. But around the corner, the side­walks and park­ing lots are bur­ied be­neath snow. It has ac­cu­mu­lated here over days, per­haps weeks; there's more than two feet now. It's even worse sev­er­al blocks farther from Wood­ward, where the plows vis­it so rarely that some res­id­ents won't drive to work once fresh snow­fall be­gins be­cause they know they'll get stuck on the way home.
These same neigh­bor­hoods, some of them a stone's throw from the na­tion's first mile of paved road, are par­tially aban­doned. Some houses are boarded up, oth­ers half-burned. Still, the once-bust­ling blocks have an en­dur­ing charm to them, as hand­made mail­boxes dot single drive­ways with iron car­ports and stone-slab porches. Sadly, the houses aren't vis­ible after dark. The lights don't come on any­more, not in these neigh­bor­hoods and not in dozens more around the city. De­troit's gov­ern­ment hasn't paid its bills, and as a res­ult De­troit's cit­izens must re­live the pre-Edis­on era of res­id­en­tial dark­ness.
Buses. Snow re­mov­al. Street­lights. These are the most es­sen­tial of ser­vices that any first-rate, First World city has un­der con­trol. De­troit does not. And Dug­gan knows it.
Dur­ing a lengthy in­ter­view at his down­town of­fice, the new may­or swears he's go­ing to fix De­troit. Asked where he'll start, Dug­gan, like the new coach of a last-place team, preaches fun­da­ment­als. De­troit's re­birth will not oc­cur, he says, un­til its cit­izens feel as­sured that they live in a func­tion­ing, 21st-cen­tury met­ro­pol­is.
"My job, at this point, is to provide ba­sic city ser­vices," Dug­gan says. "Make sure the po­lice show up, the am­bu­lances show up, the buses run on time, the streets are plowed, the garbage is picked up."
Upon tak­ing of­fice, Dug­gan asked De­troiters to give him six months to prove he could change the cul­ture. "A big part of our prob­lem has been a feel­ing of hope­less­ness: that the garbage sits there for days; that [snow]plows may not come; that the street lights don't work; that nobody ever deals with the aban­doned houses. There's al­most a sense that we've giv­en up hope," he ex­plains. "So what I think I can do in six months is, prove the city can be run com­pet­ently."
Iron­ic­ally, this dearth of op­tim­ism is Dug­gan's greatest ally. In­cred­ibly low ex­pect­a­tions have been set for the may­or of this ma­jor Amer­ic­an city. Dug­gan knows that if he clears it, he'll be re­war­ded. He'll have bronze statues built to his like­ness; build­ings will be re­named in his hon­or. Amaz­ingly, by restor­ing ba­sic ser­vices to Michigan's largest city, Mike Dug­gan could be may­or for life.
But this is De­troit. Prom­ising lead­ers have come and gone, of­ten leav­ing the city worse off than when they ar­rived. Dug­gan talks a good game, but so did the oth­ers. What makes this guy any dif­fer­ent?
In­side the headquar­ters of De­troit Med­ic­al Cen­ter, a sprawl­ing hos­pit­al sys­tem that serves the city and its sur­round­ing town­ships, Dug­gan once dis­played a massive white­board. Every Monday, his seni­or staff mem­bers would state their goals for the week, and on Fri­day, they would eval­u­ate them with either a black check mark in­dic­at­ing suc­cess or a red check mark in­dic­at­ing fail­ure. Ac­cord­ing to people who re­called Dug­gan's ten­ure at the med­ic­al cen­ter, nev­er once did the boss wit­ness three red check marks in a row.
It's evid­ent in speak­ing with Dug­gan that he knows how to get res­ults; it's equally ob­vi­ous he doesn't achieve them by in­tim­id­a­tion. The may­or is short and bald­ing, with a pro­trud­ing belly and a tim­id smile. His tone is pla­cid and de­lib­er­ate, and his per­son­al­ity is scarcely cha­ris­mat­ic. He struggles to schmooze. He does not drink al­co­hol. He does not travel with an en­tour­age. He does not look, or act, like De­troit's most power­ful politi­cian.
"Mike is not im­per­i­al or form­al or im­pos­ing. He's not a snappy dress­er. He doesn't look straight out of cent­ral cast­ing," says Sandy Baru­ah, pres­id­ent and CEO of the De­troit Re­gion­al Cham­ber, who pre­vi­ously ran the Small Busi­ness Ad­min­is­tra­tion un­der Pres­id­ent George W. Bush. Baru­ah, who worked with Dug­gan for sev­er­al years when he sat on the cham­ber's board of dir­ect­ors, chuckles be­fore adding, "He looks like a guy who works at an in­sur­ance firm."
The joke that Dug­gan doesn't fit in here is rooted in the real­ity that he doesn't. He is a white man hail­ing from De­troit's sub­urbs, gov­ern­ing a city that's nearly 85 per­cent black. He is, in fact, De­troit's first white may­or in 40 years. Dug­gan claims he doesn't un­der­stand the fuss, and dis­misses any talk of ra­cial polit­ics, say­ing the city "got past that a long time ago." But not every­one be­lieves it. In­deed, in speak­ing with Dug­gan, the wounds are fresh from a cam­paign that saw his rival, former De­troit Po­lice Chief Benny Na­po­leon, launch what some res­id­ents viewed as di­vis­ive, im­pli­citly ra­cial at­tacks.
"It was settled be­fore the cam­paign was over with," Dug­gan says, when asked about the role race played in the may­or­al con­test. He pauses, then adds: "It's just that my op­pon­ent didn't real­ize it."
Dug­gan looks like he's temp­ted to elab­or­ate, but stops him­self. He doesn't want to live in the past. He says the city is mov­ing for­ward, and he in­sists that De­troiters con­sidered his track re­cord, not skin col­or, in choos­ing him to run their city. This sen­ti­ment sounds trite, ex­cept that it's true. "When I was in barber shops and su­per­mar­kets and talk­ing to the av­er­age man or wo­man on the street, it was just not an is­sue for them," said Ken Cock­rel Jr., the former De­troit City Coun­cil pres­id­ent who took over as in­ter­im may­or when Kilpatrick resigned in Septem­ber 2008. "They did not care. It's al­most sur­pris­ing the ex­tent to which it was not an is­sue."
A WXYZ-TV/De­troit Free Press poll in Septem­ber asked re­spond­ents, 79 per­cent of whom were Afric­an-Amer­ic­an, what factor Dug­gan's be­ing white would play in their vot­ing de­cision. An as­ton­ish­ing 86 per­cent said it was "not a factor." Six weeks later, Dug­gan cruised to vic­tory.
"This city over­whelm­ingly does not care what col­or you are, or what re­li­gion you are, or where you're from," he says. "They want to know, what's in your heart? And can you per­form?"
Dug­gan can cer­tainly per­form. His repu­ta­tion as a turn­around artist was set in 1991 when he took over the SMART bus sys­tem, whose de­fi­cit he elim­in­ated by re­struc­tur­ing uni­on con­tracts and slash­ing main­ten­ance spend­ing. He per­formed sim­il­ar fisc­al wiz­ardry as deputy Wayne County ex­ec­ut­ive, ab­ol­ish­ing de­fi­cits to bal­ance 15 con­sec­ut­ive budgets. He later served two years as Wayne County pro­sec­utor, where he was cred­ited with cut­ting De­troit's once-as­tro­nom­ic­al murder rate.
But Dug­gan's re­cord at the De­troit Med­ic­al Cen­ter is the high­light of his résumé and was the corner­stone of his may­or­al cam­paign. Dug­gan in 2004 took over an enorm­ous op­er­a­tion that was hem­or­rhaging cash and near­ing bank­ruptcy. By the time he stepped down in 2012 the hos­pit­al sys­tem was prof­it­able and had ad­ded nearly 3,000 jobs, mak­ing it one of Metro De­troit's 10 largest em­ploy­ers.
"Mike Dug­gan is the most out­come-driv­en CEO I've ever met," says Dav­id Egn­er, pres­id­ent of the Hud­son-Webber Found­a­tion. Egn­er, one of De­troit's best-known and most re­spec­ted civic lead­ers, leads an or­gan­iz­a­tion that boasts $170 mil­lion in as­sets that flow to­ward grants and phil­an­throp­ic pur­suits. Dug­gan, Egn­er notes, "turned the DMC around from leak­ing $60 mil­lion per year to be­ing in the black. And he did it by hold­ing all of his people — es­pe­cially his seni­or people — ac­count­able."
Not sur­pris­ingly, Dug­gan says the hos­pit­al's re­viv­al is "the mod­el" for his ap­proach at City Hall. He in­sists that "everything is the same," wheth­er dir­ect­ing a health or­gan­iz­a­tion or run­ning a city, hence his ob­ses­sion with the two things that saved the De­troit Med­ic­al Cen­ter: per­son­nel and ser­vices. "Man­age­ment is man­age­ment. So you get the right people in­to the right jobs, and you get them to de­liv­er the ser­vices they're sup­posed to de­liv­er," Dug­gan says. "I learned in the hos­pit­al busi­ness that if you do the ba­sics very well, the res­ults will take care of them­selves."
In this case, he doesn't have a choice but to fo­cus on ba­sics. De­troit is un­der the su­per­vi­sion of Orr, who was ap­poin­ted emer­gency man­ager last year by Gov. Rick Snyder. Orr, a black at­tor­ney from Wash­ing­ton, is tasked with do­ing whatever it takes to bal­ance De­troit's books — cut­ting pen­sions for city work­ers, re­struc­tur­ing cred­it­or agree­ments, auc­tion­ing off De­troit's art col­lec­tion, or even selling its wa­ter sys­tem to the sub­urbs.
The emer­gency man­ager con­trols De­troit's fin­ances, which clouded Dug­gan's vic­tory in Novem­ber. Orr eas­ily could have rendered the new may­or a fig­ure­head, much as he did with Dave Bing, Dug­gan's pre­de­cessor. But in Decem­ber the two highly am­bi­tious men struck a deal: Orr kept con­trol of city fin­ances (and, not­ably, the po­lice de­part­ment), while Dug­gan was au­thor­ized to run the city's day-to-day op­er­a­tions. This power-shar­ing agree­ment al­lows the new may­or to break in by fo­cus­ing on ex­actly the is­sues he ob­sessed over dur­ing the cam­paign — street­lights, snowplows, bus delays, and aban­doned homes.
"Kevyn Orr and I have a very pro­fes­sion­al re­la­tion­ship. We don't have any trouble un­der­stand­ing what we've each agreed to do." Dug­gan says. "I have plenty of things to solve. And in eight more months, he will move on, and I ex­pect the trans­ition back to elec­ted lead­er­ship of this city to be seam­less."
Of course, noth­ing is ever "seam­less" with De­troit's elec­ted lead­er­ship. The City Coun­cil has been a dis­aster for dec­ades — high­lighted by scream­ing matches, cor­rup­tion, and ra­cial in­nu­endo — and that dys­func­tion is slow in abat­ing. (One week after Dug­gan was sworn in, Pres­id­ent Pro Tem George Cush­ing­berry was pulled over with an open bottle of al­co­hol and marijuana in his car; he was tick­eted for fail­ing to sig­nal, and sev­er­al days later apo­lo­gized to the coun­cil for "driv­ing while black.") Dug­gan main­tains he has good work­ing re­la­tion­ships with today's coun­cil mem­bers, but that could change quickly once he, not Orr, is charged with mak­ing dif­fi­cult de­cisions.
In­deed, al­though Dug­gan would nev­er ad­mit it, Orr's pres­ence does him an enorm­ous fa­vor. The emer­gency man­ager, whose ap­point­ment was wildly un­pop­u­lar in De­troit, bears the brunt of cri­ti­cism from res­id­ents and city of­fi­cials who op­pose the bank­ruptcy blue­print. The tough choices re­quired to make De­troit solvent — and the ugly re­per­cus­sions cer­tain to fol­low — are be­ing at­trib­uted to Orr, not Dug­gan. The new may­or, in oth­er words, won't have bank­ruptcy blood on his hands.
"It's cer­tainly help­ful that those tough calls are be­ing made by someone else," says Maur­een Krauss, vice pres­id­ent of eco­nom­ic de­vel­op­ment at the De­troit Re­gion­al Cham­ber. "Mike Dug­gan can work on those fun­da­ment­al city ser­vices now, with Kevyn Orr tak­ing care of the ne­ces­sary items to right the city, and that gives him a bit of a buf­fer."
However, as Dug­gan knows, that "buf­fer" will soon evap­or­ate. Orr re­cently sub­mit­ted a "plan of ad­just­ment" in fed­er­al court de­tail­ing De­troit's exit from bank­ruptcy, and has said he plans to leave in Septem­ber and re­turn the city to demo­crat­ic rule. At that point, Dug­gan's hon­ey­moon peri­od will be over and the harsh real­it­ies of run­ning De­troit's sprawl­ing, dis­join­ted gov­ern­ment will take hold.
The phones won't stop ringing.
Not 30 seconds go by without an­oth­er pier­cing shrill from be­hind the re­cep­tion­ist's desk. The lobby out­side the may­or's of­fice is small but noisy; three wo­men are an­swer­ing calls and scrib­bling notes. It's been like this since the day Dug­gan took his oath in Janu­ary, one says. De­troiters have been call­ing to re­quest the new may­or's as­sist­ance with everything ima­gin­able — the va­cant house on their block, the dope deal­er on their corner, the trash dumped on their drive­ways. Some callers want to speak to Dug­gan right then; oth­er cit­izens stroll in­to the lobby, ask­ing to leave a per­son­al note for Hizzo­n­er.
Pre­vi­ous lead­ers may have set the bar low, but De­troiters are ex­pect­ing Dug­gan to raise it — and fast.
There are tre­mend­ous ad­vant­ages to Dug­gan's ten­ure be­gin­ning after De­troit's bank­ruptcy was filed; there is also an ob­vi­ous down­side. Civic lead­ers have sold bank­ruptcy to De­troiters as a fresh start, an op­por­tun­ity to shed old bag­gage and be­gin build­ing a mod­ern city. "The bank­ruptcy rep­res­ents a re­set for the city on a num­ber of fronts," says Jim Boyle, who runs the New Eco­nomy Ini­ti­at­ive down­town.
With that fresh start, however, comes in­creased ex­pect­a­tions, es­pe­cially for the self-pro­claimed turn­around spe­cial­ist. If De­troit exits bank­ruptcy and city ser­vices do im­prove, sud­denly Dug­gan will be asked to do more than flip on street­lights. He says he wel­comes that chal­lenge, and guar­an­tees he'll run city gov­ern­ment with the "com­pet­ence" that's been lack­ing. Of course, that's an easy claim to make when you don't yet con­trol De­troit's fin­ances.
In­deed, it's easy to see why people joke about nobody want­ing Dug­gan's job: There's much to do, and little to do it with. The city is big — big­ger than Miami, Pitt­s­burgh, Seattle, even Wash­ing­ton — with 139 square miles that re­quire poli­cing and ba­sic main­ten­ance. Many of those square miles are now half-empty, the res­ult of a dec­ades-long ex­odus to the sub­urbs that siphoned the city's pop­u­la­tion and suf­foc­ated its tax base.
"The one thing that has to be kept in per­spect­ive," says Cock­rel, "is that a big reas­on city-ser­vice de­liv­ery re­mains a ma­jor prob­lem in De­troit is be­cause of pop­u­la­tion shift. The real­ity is, De­troit at one point was home to roughly 1.8 mil­lion people. At this point, ac­cord­ing to the most re­cent census in 2010, De­troit's pop­u­la­tion was a little over 700,000."
City de­part­ments are still con­figured to ser­vice that lar­ger ver­sion of De­troit. "We don't have that amount of people in town," Cock­rel says. "And the people who have left have taken the tax base along with them, which means you have few­er rev­en­ues to ac­tu­ally de­liv­er those ser­vices."
Bank­ruptcy can wipe the slate clean, but it can't re­pop­u­late a city and in­crease its rev­en­ues. Bar­ring a sud­den in­fu­sion of new res­id­ents, Dug­gan will one day con­front the same conun­drum his pre­de­cessors did: It costs money to keep those sparsely pop­u­lated areas lit, and De­troit doesn't have much to spend.
Two weeks after Dug­gan took of­fice, the De­troit Lions in­tro­duced Jim Cald­well as the team's new head coach. Cald­well, like Dug­gan, in­her­its an in­ept op­er­a­tion that's been in a state of de­cline since its hey­day in the 1950s. In his in­tro­duct­ory press con­fer­ence, blocks from City Hall, Cald­well said he wanted his play­ers to be "steel wrapped in vel­vet" — tough and nasty on the foot­ball field, gentle and kind in the com­munity.
Iron­ic­ally, De­troit is just the op­pos­ite: a city of vel­vet wrapped in steel. The down­town area is at­tract­ive and se­cure, with new busi­nesses dotting an urb­an land­scape lined with grand, his­tor­ic ar­chi­tec­ture. Sur­round­ing down­town, however, are some of Amer­ica's ugli­est sites (like the old Pack­ard auto­mot­ive plant, 3.5 mil­lion square feet of charred des­ol­a­tion) and most dan­ger­ous blocks (such as Mack Av­en­ue, where aban­doned homes al­low the crim­in­al ele­ment to rule).
Luck­ily for Dug­gan, Dan Gil­bert wants to change that. A bil­lion­aire and De­troit nat­ive, Gil­bert is the founder and chair­man of Rock Ven­tures, the um­brella en­tity that in­cludes on­line lend­ing gi­ant Quick­en Loans. In the past four years, Gil­bert has in­ves­ted nearly $1.5 bil­lion in down­town De­troit, snatch­ing up more than 40 prop­er­ties and mov­ing 12,000 of his em­ploy­ees in from the sub­urbs to oc­cupy them. More than just a fin­an­ci­er, Gil­bert has morph­ed in­to a sales­man and se­cur­ity of­ficer for the city, lur­ing new busi­nesses down­town and pro­tect­ing his massive in­vest­ment with a state-of-the-art sur­veil­lance sys­tem that sup­ple­ments an un­der­staffed and un­der­fun­ded De­troit Po­lice De­part­ment.
Gil­bert al­most single-handedly has re­sur­rec­ted down­town. But De­troit will nev­er again be a world-class met­ro­pol­is, he ar­gues, if its neigh­bor­hoods rot around a re­vital­ized core. That's why Gil­bert, as co­chair­man of the privately fun­ded De­troit Blight Task Force, has teams sur­vey­ing the city's 382,000 par­cels of land, a pro­ject that when fin­ished will yield his or­gan­iz­a­tion "an in­cred­ibly com­pre­hens­ive data­base that no oth­er city in Amer­ica has." With that in­form­a­tion in hand, Gil­bert's team will sub­mit a pro­pos­al to gov­ern­ment of­fi­cials re­com­mend­ing the elim­in­a­tion of "every single piece of blight" in De­troit. "Not part of it, not some of it, not most of it, but all of it," Gil­bert says.
Of course, this would be in­cred­ibly ex­pens­ive — some­where north of half a bil­lion dol­lars. That's a big bill for a bank­rupt city, even if Dug­gan suc­ceeds in win­ning help from Wash­ing­ton. But Gil­bert sounds pre­pared to pick up a hefty chunk of the tab, know­ing it will boost both his city and even­tu­ally his bot­tom line.
Count Gil­bert as yet an­oth­er ex­traordin­ary ad­vant­age Dug­gan en­joys as De­troit's may­or — a nat­ive private-sec­tor part­ner will­ing to spend bil­lions of his own dol­lars build­ing, se­cur­ing, and clean­ing up the city.
Not sur­pris­ingly, the two men are quite fond of one an­oth­er. "He's go­ing to be fant­ast­ic. He's an op­er­at­or," says Gil­bert, a ma­jor con­trib­ut­or to Dug­gan's cam­paign. "Run­ning a city is like run­ning a large busi­ness, and that's what we've been lack­ing here for dec­ades — someone with the busi­ness know-how to handle the ex­e­cu­tion of simple, daily busi­ness func­tions."
Bey­ond the ba­sics of light­ing and buses and snow re­mov­al, Dug­gan makes it clear that hous­ing is a pri­or­ity. He has been meet­ing with fed­er­al of­fi­cials in hopes of es­tab­lish­ing policies that move De­troiters in­to the city's sal­vage­able hous­ing stock be­fore plans are drawn up to be­gin de­mol­ish­ing va­cant struc­tures en masse. Out­side of that idea, however, Dug­gan agrees with Gil­bert that blighted build­ings in De­troit must go, and he will likely ac­cept the bil­lion­aire's as­sist­ance in fin­an­cing such an am­bi­tious op­er­a­tion.
Some white res­id­ents shud­der at the nar­rat­ive of two white men team­ing to de­mol­ish por­tions of heav­ily black neigh­bor­hoods. Dug­gan re­sponds that he's just do­ing the job he was elec­ted to do. "You go out with me, and most of the time I'm the only Caucasi­an in the room. Nobody cares," Dug­gan says. "What they want to know is: "˜What's my plan for the aban­doned house on their block?' "
Noth­ing quite cap­tures the near-death of De­troit like its half-burned build­ings. And noth­ing sym­bol­izes the city's at­temp­ted re­sur­rec­tion like ef­forts to tear them down com­pletely and re­build in their place. Ap­pro­pri­ately, De­troit's flag fea­tures a Lat­in phrase Spera­mus meli­ora; re­sur­get cin­eribus, which means: "We hope for bet­ter things; it shall rise from the ashes."
People here want badly to be­lieve that things are get­ting bet­ter. Ask them, and they'll tell you again and again that they feel Dug­gan's pos­it­iv­ity, and yearn to trust it. But this is De­troit. Op­tim­ism must be guarded. Hope must be cau­tious. You see the pro­gress be­ing made, but you curb your en­thu­si­asm, con­scious of the long road to res­tor­a­tion.
Cer­tainly, this is a city no longer on life sup­port. Mil­len­ni­als are mov­ing in. The auto­makers are com­ing back. The new may­or is get­ting rave re­views. But it's still in re­hab­il­it­a­tion, work­ing to put one foot in front of the oth­er. This ex­plains Dug­gan's ob­ses­sion with the ba­sics; he knows De­troit's ca­pa­city for im­prove­ment is in­ex­tric­able from its abil­ity to do the little things right. Keep the lights on. Get the buses run­ning. Plow the snow. Col­lect the trash. Clean up the eye­sores. Prove to De­troiters they live in a First World city.
Once Dug­gan runs the po­lice, that list ex­pands. Pro­tect the people. Lim­it the dead bod­ies. Catch the crim­in­als. In­deed, the im­me­di­ate chal­lenge Dug­gan in­her­its from Orr is pub­lic safety. Dug­gan says he'll have a "very ag­gress­ive" plan to po­lice De­troit, but cops here aren't hur­ry­ing Orr out of town. They are thrilled with the emer­gency man­ager's hand­picked po­lice chief, James Craig, whose ag­gress­ive style goes largely un­dis­puted be­cause his boss doesn't an­swer to voters. Some of­ficers privately fear that re­cent gains in pub­lic safety could be jeop­ard­ized when Craig gets a new su­per­visor, one who re­lies on voters to keep him in his job.
While there is little cer­tainty about the post-Orr era in De­troit, one thing is known: Dug­gan won't be left to run the city alone. Even after the emer­gency man­ager leaves, Michigan re­tains con­trol over De­troit. There's already a state-ap­poin­ted fin­an­cial ad­vis­ory board in place. What de­gree of au­thor­ity Lans­ing gives to that group — and how much power is ves­ted in Dug­gan — are ques­tions still un­answered.
Dug­gan already con­trols the fire de­part­ment and is gripped with re­du­cing re­sponse time. Oth­er city ser­vices are com­ing along slowly, but res­id­ents see pro­gress. Of course, once Dug­gan has a handle on the ba­sics, a host of oth­er is­sues will de­mand may­or­al at­ten­tion: re­gion­al eco­nom­ic co­oper­a­tion, edu­ca­tion re­form, and job-train­ing pro­grams, to name a few.
If these chal­lenges are dealt with deftly, fur­ther down the road he will face obstacles unique to suc­cess­ful cit­ies: traffic prob­lems, trans­port­a­tion short­ages, and gentri­fic­a­tion con­cerns. It would have seemed laugh­able not long ago, but with a blank fin­an­cial slate, an in­flux of busi­nesses, and a newly vi­brant down­town, some loc­al lead­ers pre­dict De­troit will be deal­ing with these is­sues in five years.
Dug­gan cer­tainly hopes so. If De­troit's con­cerns in 2019 re­volve around traffic jams and rich people mov­ing in in­stead of out, that means city ser­vices are be­ing de­livered and is­sues of crime and blight are be­ing re­solved. And that, in turn, means Dug­gan is serving his second of many terms as may­or of De­troit.