Add to Briefcase
March 19, 2014, 12:53 p.m.
There's an app for re­lay­ing ba­sic med­ic­al in­struc­tions in Fukienese, a group of dia­lects spoken in south­east­ern China. Need a way to help bedrid­den non-Eng­lish-speak­ing pa­tients in­stantly alert a nurse for as­sist­ance? Touch-screen soft­ware ex­ists that al­lows pa­tients to click a pained face — per­haps marked "pain" in Rus­si­an — to in­stantly alert a nurse. Both were cre­ated by New York City-based Tran­scend­ent En­deavors to im­prove com­mu­nic­a­tion between pa­tients and health care pro­fes­sion­als who speak dif­fer­ent lan­guages.
But while today's di­git­al tools can help com­mu­nic­ate ba­sic in­form­a­tion across lan­guage bar­ri­ers, there's not yet a di­git­al sub­sti­tute for a trained med­ic­al in­ter­pret­er or a fully bi­lin­gual prac­ti­tion­er. And some ex­perts say that trans­la­tion apps and oth­er tools can even be dan­ger­ous if they lead to in­com­plete com­mu­nic­a­tion.
"The med­ic­al en­counter is in­cred­ibly com­plex and nu­anced," says Dr. Glenn Flores, dir­ect­or of the gen­er­al pe­di­at­rics di­vi­sion at the Uni­versity of Texas South­west­ern and Chil­dren's Med­ic­al Cen­ter in Dal­las. Pa­tients and doc­tors need to com­mu­nic­ate about the pre­cise nature of symp­toms, past med­ic­al his­tory, pre­scrip­tions, and pro­ced­ures. "If you just have a simple tab­let that asks, do you have pain or not, that's go­ing to give people a false sense of se­cur­ity," Flores says. "You're go­ing to end up put­ting people at risk."
About 21 per­cent of people liv­ing in the U.S. speak a lan­guage oth­er than Eng­lish at home, and some 9 per­cent of U.S. res­id­ents aren't flu­ent in Eng­lish, ac­cord­ing to 2011 census es­tim­ates. Eld­erly people are most likely to say they don't speak Eng­lish very well, and speak­ers of some Asi­an lan­guages — like Chinese, Korean, and Vi­et­namese — are par­tic­u­larly likely to lack Eng­lish flu­ency.
These lan­guage bar­ri­ers can make it more dif­fi­cult for pa­tients to re­ceive ef­fect­ive med­ic­al care. People who don't speak Eng­lish well are more likely to be hos­pit­al­ized for pro­longed peri­ods or to ex­per­i­ence ser­i­ous med­ic­al events while they're in the hos­pit­al, Flores says. Stud­ies show that poor com­mu­nic­a­tion can hinder everything from colon-can­cer screen­ings to care for asth­mat­ic chil­dren.
Fed­er­al law re­quires all health care fa­cil­it­ies that re­ceive fed­er­al fund­ing of­fer lan­guage ser­vices to pa­tients who need them. Most hos­pit­als ac­com­plish this by re­ly­ing on a mix on staff in­ter­pret­ers, bi­lin­gual staff, out­side in­ter­pret­a­tion agen­cies, and phone-based ser­vices. Yet many fa­cil­it­ies don't do a good job con­nect­ing pa­tients with lan­guage ser­vices. Less than half of pa­tients who need an in­ter­pret­er say they usu­ally get such as­sist­ance, ac­cord­ing to 2001 sur­vey from the Com­mon­wealth Fund.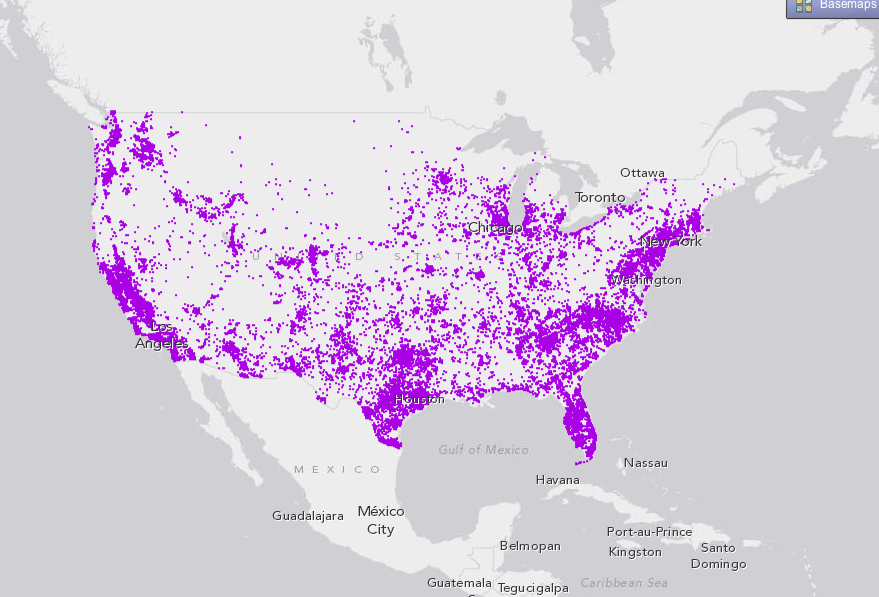 Each dot rep­res­ents 100 Span­ish speak­ers who say they speak Eng­lish less than "very well." (U.S. Census Bur­eau's 2011 Lan­guage Map­per)Bill Tan, founder and CEO of Tran­scend­ent En­deavors, be­lieves that there are lots of points of con­tact in health care — from home vis­its to emer­gency de­part­ments — where tech­no­logy can make lan­guage ser­vices bet­ter and more ac­cess­ible. Foun­ded in 2002, the com­pany uses Na­tion­al In­sti­tutes of Health grants to de­vel­op di­git­al com­mu­nic­a­tion tools. Sev­er­al small busi­nesses have been launched by suc­cess­ful products.
In­spir­a­tion for one such product, Starling, came from Tan's per­son­al ex­per­i­ence. When his fam­ily moved to the U.S. from China in 1992, Tan was 15 and knew just a hand­ful of Eng­lish words. He picked up Eng­lish quickly, but his grand­par­ents — who were in their six­ties when they left China — struggled. To­ward the end of her life, his grand­moth­er was hos­pit­al­ized for a heart con­di­tion. She took to draw­ing on a note­pad to tell her nurses what she needed. "Luck­ily, she was a good artist," Tan says.
Starling is soft­ware that an in­pa­tient fa­cil­ity like a hos­pit­al can load onto a touch screen and put at a pa­tient's bed­side. By se­lect­ing a pic­ture — of a toi­let, say, or food — de­scribed in one of eight lan­guages, pa­tients can send an alert straight to a nurse's mo­bile device. The soft­ware also helps nurses track what ser­vices pa­tients are re­quest­ing and when. "It can im­prove the com­mu­nic­a­tion pro­cess, and has the abil­ity to im­prove health care de­liv­ery as well," Tan says. Since Starling launched in 2012, about six health care fa­cil­it­ies have li­censed the soft­ware.
Tan's com­pany has also cre­ated a trans­la­tion app and med­ic­al Span­ish on­line train­ing pro­gram, both called Can­opy. The app — which can be down­loaded for free — in­cludes au­dio clips of about 1,500 routine med­ic­al phrases (like: "I'm go­ing to listen to your heart and lungs") in 11 lan­guages. A but­ton on the app al­lows doc­tors to call a phone-based in­ter­pret­a­tion ser­vice when the con­ver­sa­tion gets com­plic­ated.
"Something like that is use­ful if you need to look up a word, a single word," Dr. Den­nis Cle­m­ents, pro­fess­or of glob­al health and pe­di­at­rics at the Duke Uni­versity School of Medi­cine, says of trans­la­tion apps. He's a big­ger fan of Can­opy's on­line lan­guage-learn­ing pro­gram, which med­ic­al school stu­dents at Duke are now us­ing. "In the United States in their life­time, [health-care pro­fes­sion­als] are go­ing to be at a great dis­ad­vant­age in be­ing able to see pa­tients and in be­ing able to be cul­tur­ally ap­pro­pri­ate with pa­tients" if they can't speak Span­ish, Cle­m­ents says.
Call­ing in a trained med­ic­al in­ter­pret­er is still the safest way to bridge a lan­guage gap between pa­tient and health care pro­vider. In a 2003 study, Flores found that ad-hoc in­ter­pret­ers — like nurses, so­cial work­ers, or a pa­tient's sib­ling — were much more likely to com­mit ser­i­ous er­rors than pro­fes­sion­al in­ter­pret­ers. Er­rors in­cluded mis­steps like for­get­ting to ask about drug al­ler­gies and giv­ing in­com­plete in­form­a­tion about med­ic­a­tion dosages.
The best in­ter­pret­ers can also re­lay cul­tur­al tra­di­tions that can help im­prove dia­gnos­is or treat­ment plans. For ex­ample, Flores says, in some Mex­ic­an-Amer­ic­an com­munit­ies, loc­al heal­ers sell powders to aid in­di­ges­tion that can con­tain tox­ic con­cen­tra­tions of lead. On the oth­er hand, doc­tors might want to in­clude harm­less tra­di­tion­al treat­ments for in­di­ges­tion, like rub­bing the stom­ach with warm oil, in their treat­ment plans in or­der to set pa­tients at ease.
For now, phone-based in­ter­pret­a­tion ser­vices are the best tech­no­lo­gic­al sub­sti­tute for hav­ing a trained in­ter­pret­er in the room. Some hos­pit­als have made it their policy to use phone-based ser­vices in emer­gency rooms, be­cause it's faster to call than to wait for an in­ter­pret­er to ar­rive, says Cath­er­ine West, seni­or re­search sci­ent­ist at the George Wash­ing­ton Uni­versity School of Pub­lic Health and Health Ser­vices.
"What I think is ex­cit­ing, but it's prob­ably a num­ber of years away, is we may at some point have a smart­phone that's able ac­tu­ally to provide state-of-the-art, spoken-lan­guage trans­la­tion," Flores says — a tool that ac­cur­ately trans­lates spoken lan­guage in real time. Google Trans­late's speech-en­abled smart­phone apps, an early at­tempt at this, aren't al­ways gram­mat­ic­ally ac­cur­ate, he says, and shouldn't be used in a health-care set­ting.
As the num­ber of truly bi­lin­gual doc­tors and nurses grows, di­git­al tools may be­come less ne­ces­sary. "Four of the last five pro­viders I have hired — I'm in charge of the whole sec­tion, with 30 doc­tors — all speak Span­ish nat­ively," Cle­m­ents says of Duke's primary care pe­di­at­rics de­part­ment. In the two Durham hos­pit­al nurs­er­ies he over­sees, doc­tors must be bi­lin­gual: Half the ba­bies there are born to moth­ers most com­fort­able speak­ing in Span­ish.