March 14, 2014, 9:39 a.m.
Clin­ton ad­min­is­tra­tion of­fi­cials con­sidered award­ing famed as­tro­nomer Carl Sagan the Pres­id­en­tial Medal of Free­dom after his death in 1996, new doc­u­ments re­veal.
Sagan, who is fam­ous for at­tempt­ing to pop­ular­ize sci­ence through movies, books, and tele­vi­sion, had just been honored by NASA when the agency dubbed the Mars Rover land­ing spot as the Carl Sagan Me­mori­al Sta­tion. White House staffers then talked about tak­ing it a step fur­ther.
"I won­der if that boosts Carl Sagan pos­tum­ously [sic] for a Medal of Free­dom," Shelly Fidler, the chief of staff for the White House Coun­cil on En­vir­on­ment­al Qual­ity, wrote in a 1997 email re­leased Fri­day. "You know he was one of the very first to sound the warn­ing on cli­mate as well."
She then tossed around a few oth­er names for pos­sible medal win­ners: Frank Sher­wood Row­land, who dis­covered the hole in the ozone lay­er, and en­vir­on­ment­al­ist An­sel Adams. But the White House was com­ing across a com­mon prob­lem.
"We're hav­ing trouble think­ing up great liv­ing people," Fidler wrote to Todd Stern, an as­sist­ant to the pres­id­ent and staff sec­ret­ary for the Clin­ton ad­min­is­tra­tion. "I guess that's every­one's af­flic­tion these days."
Earli­er in the email, Fidler called Adams "an­oth­er good dead per­son" for the award.
Sagan didn't end up win­ning the medal, but the idea does show that the Clin­ton ad­min­is­tra­tion was at­tempt­ing to boost the pro­file of cli­mate change and the en­vir­on­ment­al move­ment.
One of Sagan's bet­ter-known con­tri­bu­tions to space ex­plor­a­tion happened in 1990, when he asked NASA to take what is now one of the most fam­ous pho­tos of Earth. The Voy­ager 1 space­craft was leav­ing the sol­ar sys­tem when NASA com­manded it to turn around and take a photo. From 3.7 bil­lion miles away, you can see a "pale blue dot," Earth.
"There is per­haps no bet­ter demon­stra­tion of the folly of hu­man con­ceits than this dis­tant im­age of our tiny world," Sagan wrote in his book Pale Blue Dot. "To me, it un­der­scores our re­spons­ib­il­ity to deal more kindly with one an­oth­er and to pre­serve and cher­ish the pale blue dot, the only home we've ever known."
What We're Following See More »
UNTIL DEC. 9, ANYWAY
Obama Signs Bill to Fund Government
56 minutes ago
REDSKINS IMPLICATIONS
SCOTUS to Hear Case on Offensive Trademarks
1 hours ago
WHY WE CARE
"The Supreme Court is taking up a First Amendment clash over the government's refusal to register offensive trademarks, a case that could affect the Washington Redskins in their legal fight over the team name. The justices agreed Thursday to hear a dispute involving an Asian-American rock band called the Slants, but they did not act on a separate request to hear the higher-profile Redskins case at the same time." Still, any precedent set by the case could have ramifications for the Washington football team.
STAFF PICKS
Bannon Still Collecting Royalties from 'Seinfeld'
2 hours ago
WHY WE CARE
The Hollywood Reporter takes a look at a little-known intersection of politics and entertainment, in which Trump campaign CEO Steve Bannon is still raking in residuals from Seinfeld. Here's the digest version: When Seinfeld was in its infancy, Ted Turner was in the process of acquiring its production company, Castle Rock, but he was under-capitalized. Bannon's fledgling media company put up the remaining funds, and he agreed to "participation rights" instead of a fee. "Seinfeld has reaped more than $3 billion in its post-network afterlife through syndication deals." Meanwhile, Bannon is "still cashing checks from Seinfeld, and observers say he has made nearly 25 times more off the Castle Rock deal than he had anticipated."
IT'S ALL CLINTON
Reliable Poll Data Coming in RE: Debate #1
2 hours ago
WHY WE CARE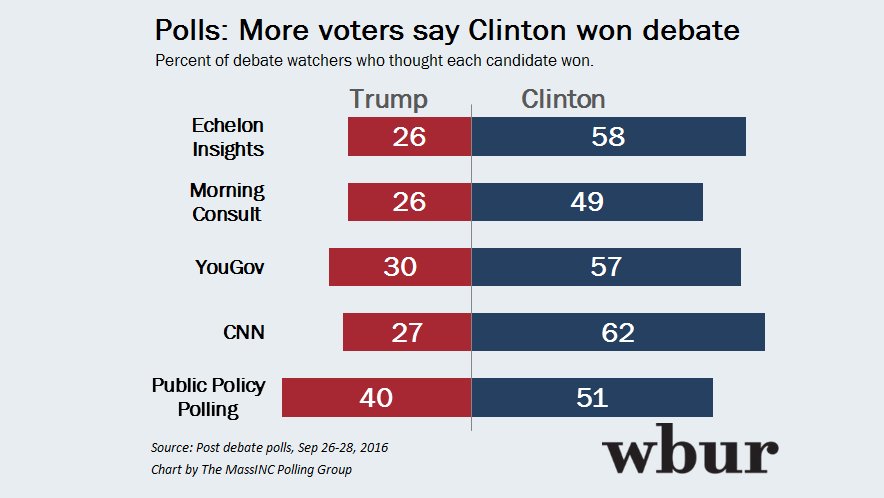 NEXT THURSDAY
Trump Transition Team Meeting with Silicon Valley VIPs
5 hours ago
THE DETAILS
Donald Trump's "transition team will meet next week with representatives of the tech industry, multiple sources confirmed, even as their candidate largely has been largely shunned by Silicon Valley. The meeting, scheduled for next Thursday at the offices of law and lobbying firm BakerHostetler, will include trade groups like the Information Technology Industry Council and the Internet Association that represent major Silicon Valley companies."