March 17, 2014, 8:52 a.m.
The United States and Rus­sia have both crossed a Ru­bicon in the Ukraine crisis, and Wash­ing­ton must now con­front the like­li­hood that if the stan­doff con­tin­ues, it will dra­mat­ic­ally al­ter re­la­tions on a much lar­ger map than East­ern Europe, in­vit­ing Rus­si­an re­cal­cit­rance in crisis zones as far afield as East Asia, Ir­an, Syr­ia, and Afgh­anistan.
While hit­ting Mo­scow with sanc­tions that a seni­or ad­min­is­tra­tion of­fi­cial de­scribed Monday as "by far" the most severe since the Cold War, it is clear the White House is aware of the per­ils. Seni­or of­fi­cials stressed that Pres­id­ent Obama was de­term­ined to leave the way open to Rus­si­an Pres­id­ent Vladi­mir Putin to back down from an­nex­ing Crimea fol­low­ing Sunday's ref­er­en­dum, in which 97 per­cent of voters ap­proved se­ces­sion from Ukraine.
In re­sponse to what it called an il­le­git­im­ate, Mo­scow-or­ches­trated vote, the ad­min­is­tra­tion an­nounced it was freez­ing and block­ing the U.S. as­sets of sev­en seni­or Rus­si­an of­fi­cials whom U.S. of­fi­cials de­scribed as "clearly people who are very close to Pres­id­ent Putin" and "the key ideo­lo­gists and im­ple­menters" of his Ukraine policy, in ad­di­tion to seni­or Ukrain­i­ans, in­clud­ing ous­ted pro-Rus­si­an Pres­id­ent Vikt­or Ya­nukovych.
But the ad­min­is­tra­tion spe­cific­ally avoided tar­get­ing the Rus­si­an lead­er him­self. "We have the abil­ity to rev up our pres­sure," said a seni­or ad­min­is­tra­tion of­fi­cial, "or to de-es­cal­ate. "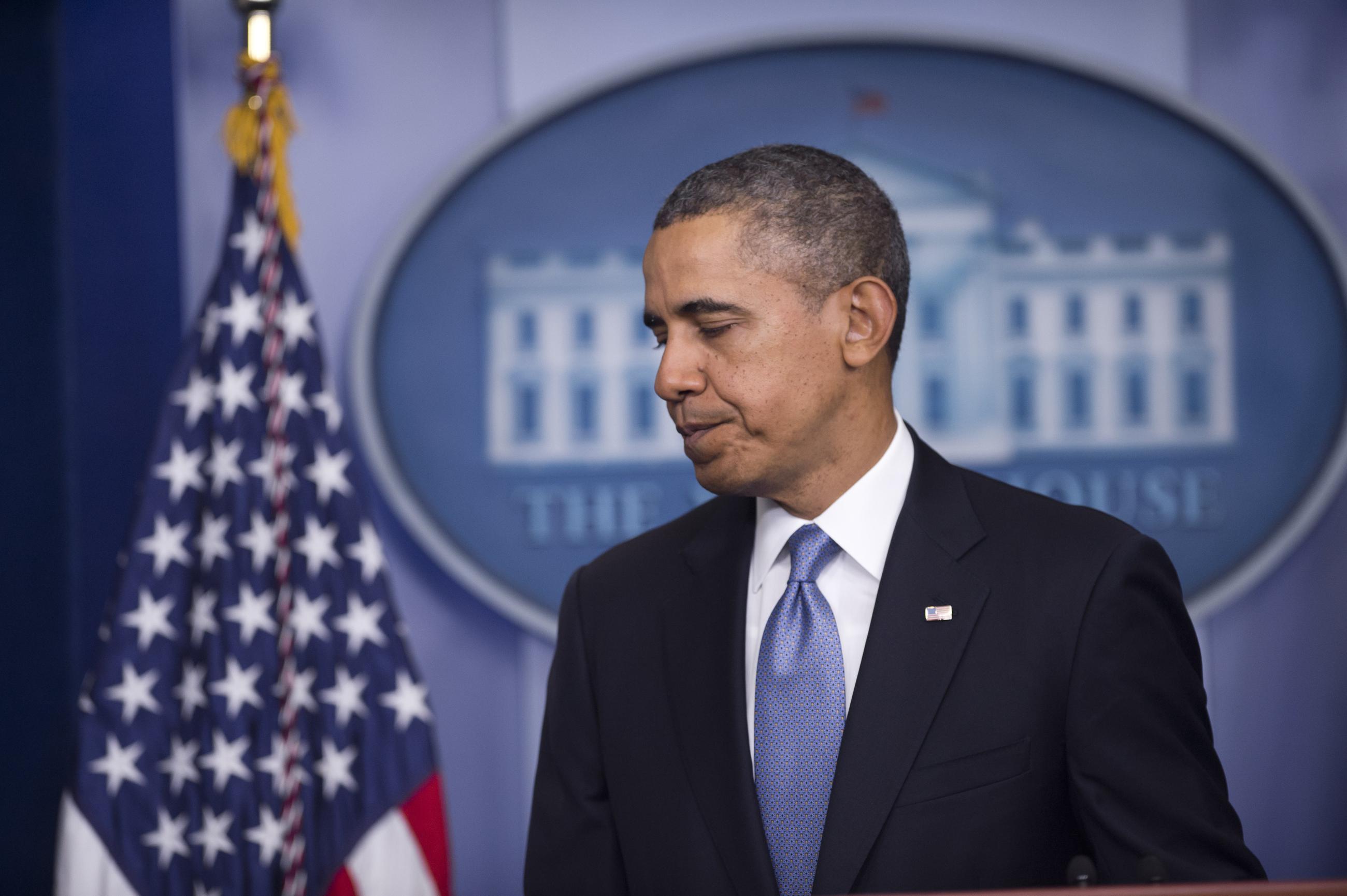 U.S. of­fi­cials said they hoped a peace­ful dip­lo­mat­ic res­ol­u­tion was still pos­sible. Even so, they said a newly re­vealed Rus­si­an pro­pos­al to cre­ate a fed­er­ated re­pub­lic out of Ukraine, giv­ing each re­gion con­sid­er­able autonomy, was un­ac­cept­able be­cause the in­ter­im gov­ern­ment in Kiev is already de­cid­ing it­self on the coun­try's fate, in­clud­ing a new con­sti­tu­tion. Obama, after speak­ing about the situ­ation in the Crimea re­gion of Ukraine. (Saul Loeb/AFP/Getty Im­ages)
"The days are long past when world powers meet and make de­cisions about the fu­ture of demo­crat­ic coun­tries," one seni­or Obama ad­min­is­tra­tion of­fi­cial said. Non­ethe­less, he ad­ded, "there is a space here for a dip­lo­mat­ic dis­cus­sion on these is­sues."
Putin is ex­pec­ted to speak to a joint ses­sion of the Duma, Rus­sia's par­lia­ment, on Tues­day af­ter­noon, and the Duma may con­sider form­ally an­nex­ing Crimea by week's end.
Putin faces a very real crisis of eco­nom­ic and polit­ic­al isol­a­tion. This is es­pe­cially true after a vote in the U.N. Se­cur­ity Coun­cil in which 13 coun­tries con­demned the Rus­si­an moves, and China, which has been Mo­scow's long­time fel­low trav­el­er on many oth­er is­sues, ab­stained in a re­buff to Putin. The European Uni­on also said it would freeze as­sets of and ban travel for 21 of­fi­cials in Rus­sia and Ukraine. "These are by far the most com­pre­hens­ive sanc­tions ap­plied to Rus­si­ans since the end of the Cold War," a seni­or ad­min­is­tra­tion said in a tele­phone call with re­port­ers, stress­ing that they are far more severe than those ap­plied after Rus­sia in­ter­vened in Geor­gia in 2008.
In the past, noth­ing has in­censed Putin more than what he deems in­ter­fer­ence in his in­tern­al af­fairs in­volving the tar­get­ing of Rus­si­an of­fi­cials, es­pe­cially those close to him; and the Rus­si­an pres­id­ent is un­likely to re­treat any time soon. The gravest danger now re­mains that, in threat­en­ing to an­nex Crimea, Putin will feel pres­sured to fol­low up by send­ing Rus­si­an forces in­to oth­er parts of east­ern Ukraine. The Krem­lin knows that without Crimea, eth­nic Rus­si­ans amount to a dis­tinct minor­ity in the rest of the coun­try.
Un­less he doubles down with more mil­it­ary pres­sure, Putin could thus upend his own strategy of co-opt­ing Ukraine in­to a Euras­i­an Uni­on, in­stead mak­ing it easi­er for the rest of the coun­try, dom­in­ated by eth­nic Ukrain­i­ans, to vote to join the European Uni­on and NATO. While the West is not con­sid­er­ing mil­it­ary force, U.S. of­fi­cials are already mak­ing "sig­nal­ing" moves by send­ing more fight­er jets to Po­land and Lithuania. Rus­sia's re­sponse, as com­mu­nic­ated by a TV an­noun­cer over the week­end, was to re­mind Wash­ing­ton that Rus­sia is "the only coun­try in the world cap­able of turn­ing the U.S.A. in­to ra­dio­act­ive dust."
Judging from his past ac­tions, it should be ex­pec­ted that Putin will, at the very least, re­tali­ate by ob­struct­ing U.S. ini­ti­at­ives in oth­er places. Be­fore the crisis, the Rus­si­an pres­id­ent was already work­ing hard at deep­en­ing ties with China, form­ing a Euras­i­an Uni­on to counter European com­munity, and de­liv­er­ing coun­ter­moves to West­ern ini­ti­at­ives in the Middle East.
The Krem­lin may well de­cide it has a lar­ger stake now in sup­ply­ing the mil­it­ary forces of Putin's ally, Bashar al-As­sad, in Syr­ia's civil war, and it's no sur­prise that the Syr­i­an dic­tat­or has re­spon­ded by launch­ing new mil­it­ary of­fens­ives against the rebels. Putin has already made his sym­pathy for oth­er auto­crats in the re­gion known, for ex­ample by en­cour­aging Egypt's junta lead­er, Field Mar­shal Ab­del Fat­tah al-Sisi, to run for pres­id­ent.
It would be sur­pris­ing if Mo­scow did not also find ways to delay or even sty­mie the nuc­le­ar talks with Ir­an be­ing con­duc­ted by five per­man­ent mem­bers of the U.N. Se­cur­ity Coun­cil, which in­clude Rus­sia, and Ger­many. Mo­scow had already planned to help Tehran build sev­er­al nuc­le­ar re­act­ors. Un­til now, Rus­sia has also been more co­oper­at­ive than not in ac­ced­ing to the sup­ply of U.S. and NATO forces in Afgh­anistan; that could quickly change, as well.
The up­shot is that the crisis over Ukraine is likely to re­order glob­al re­la­tions in a sig­ni­fic­ant way. The U.S.-Rus­sia rivalry that was be­ing vo­ci­fer­ously de­bated as re­cently as the 2012 pres­id­en­tial elec­tion, when Pres­id­ent Obama mocked GOP nom­in­ee Mitt Rom­ney's ar­gu­ment that Rus­sia had be­come Amer­ica's "No. 1 geo­pol­it­ic­al foe," is today quickly be­com­ing con­ven­tion­al wis­dom in Wash­ing­ton.
A kind of "cool war" between the two coun­tries — one that is not quite yet "cold" — may already be emer­ging. While this is clearly noth­ing yet like the great ideo­lo­gic­al struggle and arms race of the Cold War, U.S. of­fi­cials may soon need to con­sider a new strategy in­volving the con­tain­ment of Rus­si­an coun­ter­moves around the world.
{{ BIZOBJ (video: 4822) }}