March 18, 2014, 7:45 a.m.
There wasn't much doubt about this be­fore­hand, but this week's polit­ic­al ad­vert­ising news con­firms how Amer­ic­ans for Prosper­ity has taken con­trol of the Sen­ate and House land­scapes. All over the coun­try, Demo­crats have been forced to re­act to the well-fun­ded non­profit's moves, which even have some Re­pub­lic­ans guess­ing.

— AFP's perch in the driver's seat has been es­pe­cially clear of late. AFP doubled its spend­ing against Sen. Mark Pry­or (D-AR) last week with a $700,000 buy, at which point the Demo­crat­ic out­side group Pat­ri­ot Ma­jor­ity jumped in again versus Rep. Tom Cot­ton (R-AR). Sen. Mary Landrieu's (D-LA) strik­ing de­cision to drop $2.6 mil­lion on TV in the spring about equaled what AFP had pre­vi­ously spent against her. (The group then upped its in­vest­ment.) And Sen. Mark Be­gich (D-AK) took dir­ect aim at AFP and the Koch broth­ers in his first TV ad AFP also fired the first (mil­lion-dol­lar) salvo in Col­or­ado this week.

— It's not just the Sen­ate land­scape, either. House-fo­cused Demo­crats are play­ing de­fense against AFP more than any­thing else right now. After spend­ing 2013 pok­ing at po­ten­tially vul­nerbale GOP in­cum­bents like Mike Coff­man, Joe Heck, and Steve South­er­land, some­times draw­ing an AFP re­sponse, House Ma­jor­ity PAC has spent 2014 chas­ing AFP in­to Ari­zona, Flor­ida, and West Vir­gin­ia to mit­ig­ate dam­age from at­tacks against Demo­crat­ic law­makers. In Rep. Nick Ra­hall's WV-03, an­oth­er Koch-con­nec­ted group's ads on coal have also ser­i­ously dam­aged the long­time in­cum­bent.

— AFP's in­di­vidu­al ad buys have oc­ca­sion­ally puzzled Re­pub­lic­an strategists eye­ing the House, too, with a few won­der­ing where the group was dur­ing the FL-13 spe­cial elec­tion. But they're happy with the res­ults: Some Dems are tak­ing dam­age, and it's for­cing them to spend re­sources now.

The usu­al sus­pects — the party com­mit­tees, Cross­roads, etc. — have barely got­ten in­volved in in­de­pend­ent ex­pendit­ures yet, and things may change as the elec­tion draws near­er and more ad­vert­ising comes on­line. But for now, AFP ap­pears to be in charge.
— Scott Bland
What We're Following See More »
UNTIL DEC. 9, ANYWAY
Obama Signs Bill to Fund Government
4 hours ago
REDSKINS IMPLICATIONS
SCOTUS to Hear Case on Offensive Trademarks
4 hours ago
WHY WE CARE
"The Supreme Court is taking up a First Amendment clash over the government's refusal to register offensive trademarks, a case that could affect the Washington Redskins in their legal fight over the team name. The justices agreed Thursday to hear a dispute involving an Asian-American rock band called the Slants, but they did not act on a separate request to hear the higher-profile Redskins case at the same time." Still, any precedent set by the case could have ramifications for the Washington football team.
STAFF PICKS
Bannon Still Collecting Royalties from 'Seinfeld'
5 hours ago
WHY WE CARE
The Hollywood Reporter takes a look at a little-known intersection of politics and entertainment, in which Trump campaign CEO Steve Bannon is still raking in residuals from Seinfeld. Here's the digest version: When Seinfeld was in its infancy, Ted Turner was in the process of acquiring its production company, Castle Rock, but he was under-capitalized. Bannon's fledgling media company put up the remaining funds, and he agreed to "participation rights" instead of a fee. "Seinfeld has reaped more than $3 billion in its post-network afterlife through syndication deals." Meanwhile, Bannon is "still cashing checks from Seinfeld, and observers say he has made nearly 25 times more off the Castle Rock deal than he had anticipated."
IT'S ALL CLINTON
Reliable Poll Data Coming in RE: Debate #1
6 hours ago
WHY WE CARE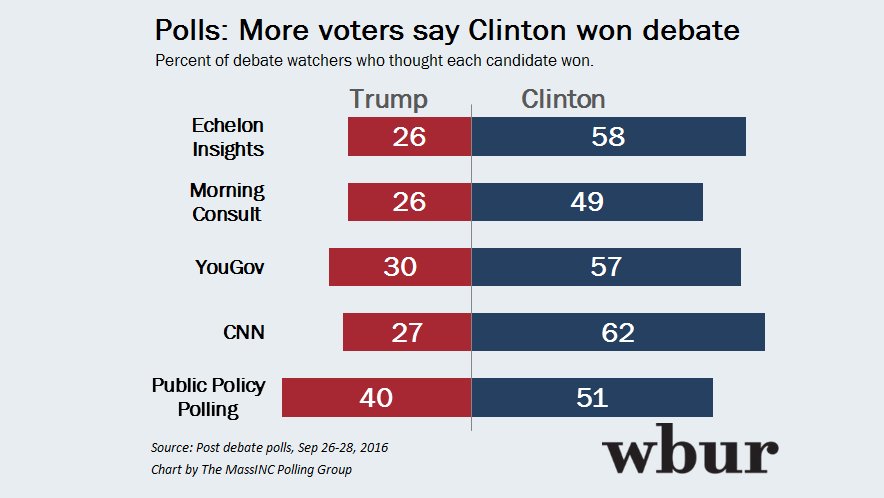 NEXT THURSDAY
Trump Transition Team Meeting with Silicon Valley VIPs
8 hours ago
THE DETAILS
Donald Trump's "transition team will meet next week with representatives of the tech industry, multiple sources confirmed, even as their candidate largely has been largely shunned by Silicon Valley. The meeting, scheduled for next Thursday at the offices of law and lobbying firm BakerHostetler, will include trade groups like the Information Technology Industry Council and the Internet Association that represent major Silicon Valley companies."