March 19, 2014, 7:25 a.m.
Above, you see two maps of Rus­sia as sup­plied by Wiki­pe­dia.
"It is not in Wiki­pe­dia's charter to re­cog­nize the ex­ist­ence of na­tions."
The one on the left was down­loaded Tues­day at 6:31 p.m. EST, nearly 12 hours after Rus­si­an Pres­id­ent Vladi­mir Putin signed an an­nex­a­tion of the Crimean Pen­in­sula. On this map, Crimea is not in Rus­sia. The map on the right was ac­cessed Wed­nes­day morn­ing, around 10. By then, the com­munity of ed­it­ors tend­ing to the world's largest re­pos­it­ory of hu­man know­ledge re­cog­nized Rus­sia's claim to the re­gion.
"Light green rep­res­ents a claimed ter­rit­ory, claimed ter­rit­or­ies do not ne­ces­sar­ily have to be ter­rit­or­ies out­side of de facto con­trol, but rather can be ter­rit­or­ies un­der dis­puted leg­al claims," an ed­it­or ex­plained on a dis­cus­sion board. Oth­ers ar­gued that Crimea should ap­pear striped on the map, to in­dic­ate out­right an­nex­a­tion (as seen on this map of Mo­rocco). That ten­sion re­flects the world's as it grapples with how to deal with Rus­sia's land­grab. Is it a dis­puted ter­rit­ory, or thor­oughly Rus­sia's? 
This map de­cision came after a bit of an edit­ing war Tues­day, when Crimea was ad­ded and then sub­trac­ted from the map four times be­fore the page was locked by an ad­min­is­trat­or.
Such a small de­tail — a shad­ing of green — is a dif­fi­cult choice for the site's ed­it­ors. (On con­tro­ver­sial top­ics, ed­it­ors are lim­ited to vet­ted Wiki­pe­di­ans.)  As one of the top search res­ults for both "Crimea" and "Rus­sia," Wiki­pe­dia will provide the basis of pub­lic un­der­stand­ing of the re­gion.
Tra­di­tion­al me­dia have been grap­pling with this ques­tion, too. On Tues­day, Na­tion­al Geo­graph­ic — a magazine so as­so­ci­ated with maps that it pub­lishes them as center­folds — de­cided to add Crimea to Rus­sia, though also in a spe­cial shade to des­ig­nate the dis­pute. "We map de facto, in oth­er words we map the world as it is, not as people would like it to be," Juan Valdés, the magazine's top map­maker, told U.S. News & World Re­port. 
The Crimea ques­tion on Wiki­pe­dia is far from over. The map might show Crimea in light green for now, but on both the "Rus­sia" and "Crimea" art­icle pages on the Eng­lish Wiki­pe­dia site, the pen­in­sula's status is de­scribed as "dis­puted."
On the dis­cus­sion boards for these pages (where ed­it­ors de­bate the ed­it­or­i­al strategy of the entries) the Rus­si­an an­nex­a­tion of Crimea has fueled something of a philo­soph­ic­al de­bate of how Wiki­pe­dia should cov­er fast-chan­ging world events.
"The biggest dis­ap­point­ment would be to let this art­icle use for pro­pa­ganda pur­poses of in­volved sides, USA, EU and Rus­sia," an an­onym­ous ed­it­or wrote on the Crimea-art­icle dis­cus­sion page.
"Such a des­ig­na­tion has not been of­fi­cially re­cog­nized yet by any ma­jor gov­ern­ment or the United Na­tions," wrote a user called Day­dream­er­302000. "It is not in Wiki­pe­dia's charter to re­cog­nize the ex­ist­ence of na­tions."
"As of now it has been re­cog­nized by Rus­sia," a user called Cheesen­ibbles re­tor­ted.
"IMO this art­icle is/should be about the geo­graph­ic­al area con­sidered the Crimea, not the polit­ic­al lines in the sand (in the same way that the art­icle on Kosovo is sep­ar­ate to the art­icle on the Re­pub­lic of Kosovo). We should however change the map to re­flect that polit­ic­al it's no longer part of Ukraine and up­date the de­scrip­tion ac­cord­ingly," an­oth­er user wrote.
Cur­rently (10:20 a.m. Wed­nes­day), the ac­tu­al art­icle text reads, "Due to re­cent polit­ic­al in­stabil­ity in the re­gion and oc­cu­pa­tion by Rus­si­an mil­it­ary forces, na­tion­al sov­er­eignty over the pen­in­sula is cur­rently be­ing dis­puted by Rus­sia and Ukraine."
But that could very well have changed by now. 
What We're Following See More »
UNTIL DEC. 9, ANYWAY
Obama Signs Bill to Fund Government
2 hours ago
REDSKINS IMPLICATIONS
SCOTUS to Hear Case on Offensive Trademarks
3 hours ago
WHY WE CARE
"The Supreme Court is taking up a First Amendment clash over the government's refusal to register offensive trademarks, a case that could affect the Washington Redskins in their legal fight over the team name. The justices agreed Thursday to hear a dispute involving an Asian-American rock band called the Slants, but they did not act on a separate request to hear the higher-profile Redskins case at the same time." Still, any precedent set by the case could have ramifications for the Washington football team.
STAFF PICKS
Bannon Still Collecting Royalties from 'Seinfeld'
4 hours ago
WHY WE CARE
The Hollywood Reporter takes a look at a little-known intersection of politics and entertainment, in which Trump campaign CEO Steve Bannon is still raking in residuals from Seinfeld. Here's the digest version: When Seinfeld was in its infancy, Ted Turner was in the process of acquiring its production company, Castle Rock, but he was under-capitalized. Bannon's fledgling media company put up the remaining funds, and he agreed to "participation rights" instead of a fee. "Seinfeld has reaped more than $3 billion in its post-network afterlife through syndication deals." Meanwhile, Bannon is "still cashing checks from Seinfeld, and observers say he has made nearly 25 times more off the Castle Rock deal than he had anticipated."
IT'S ALL CLINTON
Reliable Poll Data Coming in RE: Debate #1
4 hours ago
WHY WE CARE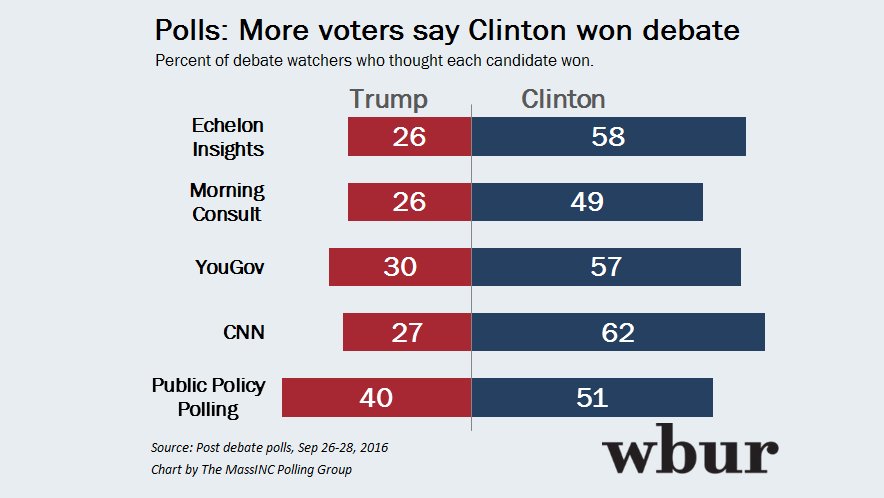 NEXT THURSDAY
Trump Transition Team Meeting with Silicon Valley VIPs
6 hours ago
THE DETAILS
Donald Trump's "transition team will meet next week with representatives of the tech industry, multiple sources confirmed, even as their candidate largely has been largely shunned by Silicon Valley. The meeting, scheduled for next Thursday at the offices of law and lobbying firm BakerHostetler, will include trade groups like the Information Technology Industry Council and the Internet Association that represent major Silicon Valley companies."