March 24, 2014, 12:34 p.m.
The glob­al in­dus­tri­al­ized na­tions' Su­per Friends are down a mem­ber. At least for now.
The Group of Eight has ditched Rus­sia after its ac­tions in Ukraine and is now the G-7, the coun­tries' lead­ers an­nounced Monday from The Hag­ue. The group — which now in­cludes the lead­ers of Canada, France, Ger­many, Italy, Ja­pan, the U.K., the United States, the pres­id­ent of the European Coun­cil, and the pres­id­ent of the European Com­mis­sion — con­demned "Rus­sia's il­leg­al at­tempt to an­nex Crimea" and said the mem­bers "re­main ready" to take ad­di­tion­al steps if Rus­sia "con­tin­ues to es­cal­ate the situ­ation."
In the mean­time, the G-8 is on hi­atus. "We will sus­pend our par­ti­cip­a­tion in the G-8 un­til Rus­sia changes course and the en­vir­on­ment comes back to where the G-8 is able to have a mean­ing­ful dis­cus­sion," the lead­ers said in their joint state­ment. The G-7 will meet this sum­mer, at the same time the G-8 was sched­uled to meet, but it'll do so in Brus­sels in­stead of So­chi.
Rus­sia doesn't seem to mind the ex­clu­sion, at least pub­licly. "If our West­ern part­ners be­lieve the [G-8] format has ex­hausted it­self, we don't cling to this format," Rus­si­an For­eign Min­is­ter Sergei Lav­rov said Monday. "We don't be­lieve it will be a big prob­lem if it doesn't con­vene." At the same time, Lav­rov took is­sue with the idea that his coun­try could just be ex­pelled from the group. "No one hands out [G-8] mem­ber­ship cards and no one can be kicked out," he said. Rus­sia had only been ad­ded to the G-7, mak­ing it the G-8, in 1998.
There may come a day when the G-8 is whole again. But that day def­in­itely doesn't look to be in the very im­me­di­ate fu­ture. So for now, let's re­mem­ber the hap­pi­er times, just a year ago, when the G-8 was whole and no one wore ties.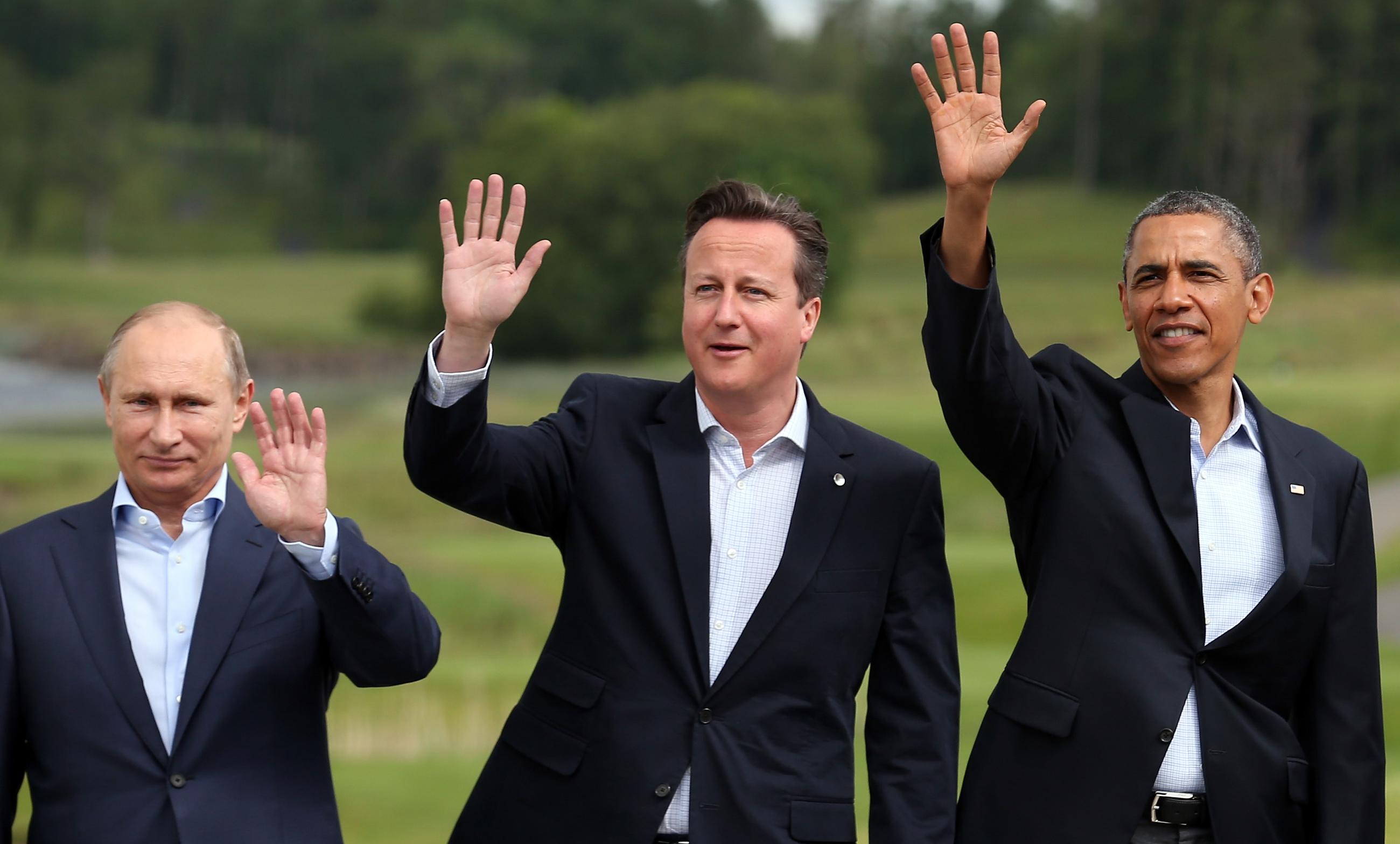 This photo from last sum­mer's meet­ing, mean­while, is much more in line with what you can ex­pect to see at the up­com­ing meet­ing. Just, you know, without that little bit of Putin's head stick­ing around be­hind Dav­id Camer­on.