March 25, 2014, 9:11 a.m.
Canada on Monday re­vealed it had re­turned to the United States enough highly en­riched urani­um to fuel one war­head, the Ot­t­awa Cit­izen re­ports.
The an­nounce­ment  covered about 100 pounds of weapon-grade urani­um con­tained in thou­sands of "tar­gets" that were ori­gin­ally ex­por­ted from the United States and held at the Chalk River nuc­le­ar com­plex. The ma­ter­i­als were in­ten­ded to have been ir­ra­di­ated at site re­act­ors and con­ver­ted in­to med­ic­al-iso­topes, but that nev­er happened due to prob­lems with the re­act­or tech­no­logy.
Ot­t­awa's de­clar­a­tion was made at the 2014 Nuc­le­ar Se­cur­ity Sum­mit in The Hag­ue, Neth­er­lands. The third sum­mit of its kind, this year's two-day con­fer­ence in­cluded par­ti­cip­a­tion by 53 coun­tries. A num­ber of na­tions used the event to high­light pro­gress they made since the last sum­mit in 2012 in se­cur­ing vul­ner­able stock­piles of nuc­le­ar and ra­dio­act­ive ma­ter­i­als.
The Ca­na­dian an­nounce­ment did not in­clude many spe­cif­ics, but it is be­lieved that the HEU tar­gets were sent back to the Y-12 Na­tion­al Se­cur­ity Com­plex in Oak Ridge, Tenn., ac­cord­ing to the news­pa­per.
Mean­while, U.S. Sec­ret­ary of State John Kerry ap­plauded Pakistan on Monday for its ef­forts to im­prove na­tion­al nuc­le­ar se­cur­ity, ac­cord­ing to the State De­part­ment.
Fol­low­ing a meet­ing on the side­lines of the sum­mit with Pakistani Prime Min­is­ter Nawaz Sharif, Kerry said the United States had "great con­fid­ence in Pakistan's nuc­le­ar se­cur­ity. They've really done an enorm­ous amount of work," ac­cord­ing to an of­fi­cial tran­script.
A 2014 ex­pert ana­lys­is con­cluded that Pakistan in re­cent years had made more head­way than any oth­er nuc­le­ar-armed na­tion in im­prov­ing pro­tec­tion of its atom­ic ma­ter­i­als. At the same time, the South Asi­an state con­tin­ued to rank to­ward the bot­tom of 25 na­tions as­sessed on their nuc­le­ar-se­cur­ity prac­tices.
In re­marks at the sum­mit, Sharif said his coun­try's nuc­le­ar se­cur­ity was based on five pil­lars: a strong reg­u­lat­ory frame­work; a co­hes­ive in­tel­li­gence ap­par­at­us; good com­mand-and-con­trol by the Na­tion­al Com­mand Au­thor­ity; an ex­tens­ive set of rules for the sale abroad of sens­it­ive ma­ter­i­als and tech­no­logy; and vig­or­ous col­lab­or­a­tion with in­ter­na­tion­al part­ners, ac­cord­ing to a Daily Times art­icle.
Sharif re­af­firmed Is­lamabad's de­sire to be gran­ted mem­ber­ship in all in­ter­na­tion­al ex­port-con­trol groups, par­tic­u­larly the Nuc­le­ar Sup­pli­ers Group.
What We're Following See More »
UNTIL DEC. 9, ANYWAY
Obama Signs Bill to Fund Government
56 minutes ago
REDSKINS IMPLICATIONS
SCOTUS to Hear Case on Offensive Trademarks
1 hours ago
WHY WE CARE
"The Supreme Court is taking up a First Amendment clash over the government's refusal to register offensive trademarks, a case that could affect the Washington Redskins in their legal fight over the team name. The justices agreed Thursday to hear a dispute involving an Asian-American rock band called the Slants, but they did not act on a separate request to hear the higher-profile Redskins case at the same time." Still, any precedent set by the case could have ramifications for the Washington football team.
STAFF PICKS
Bannon Still Collecting Royalties from 'Seinfeld'
2 hours ago
WHY WE CARE
The Hollywood Reporter takes a look at a little-known intersection of politics and entertainment, in which Trump campaign CEO Steve Bannon is still raking in residuals from Seinfeld. Here's the digest version: When Seinfeld was in its infancy, Ted Turner was in the process of acquiring its production company, Castle Rock, but he was under-capitalized. Bannon's fledgling media company put up the remaining funds, and he agreed to "participation rights" instead of a fee. "Seinfeld has reaped more than $3 billion in its post-network afterlife through syndication deals." Meanwhile, Bannon is "still cashing checks from Seinfeld, and observers say he has made nearly 25 times more off the Castle Rock deal than he had anticipated."
IT'S ALL CLINTON
Reliable Poll Data Coming in RE: Debate #1
2 hours ago
WHY WE CARE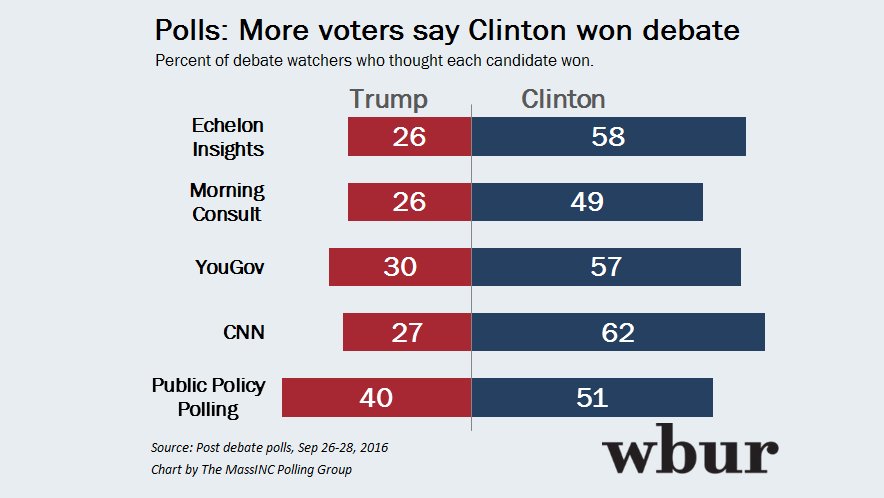 NEXT THURSDAY
Trump Transition Team Meeting with Silicon Valley VIPs
5 hours ago
THE DETAILS
Donald Trump's "transition team will meet next week with representatives of the tech industry, multiple sources confirmed, even as their candidate largely has been largely shunned by Silicon Valley. The meeting, scheduled for next Thursday at the offices of law and lobbying firm BakerHostetler, will include trade groups like the Information Technology Industry Council and the Internet Association that represent major Silicon Valley companies."