PHOENIX — The Prince of Dark­ness re­com­mends the French toast.
We're sit­ting in a Crack­er Bar­rel res­taur­ant filled — no, jammed — with cus­tom­ers, many of them tour­ists in town to take in the March sun, play golf, or see an ex­hib­i­tion base­ball game. It isn't long be­fore the meal ar­rives — and here it's nev­er con­tained to a single plate. Food thuds on the table like mor­tars. "This is a don't-judge-me break­fast," Con­stantin Quer­ard says.
Plenty of people judge Quer­ard any­way. He's been de­scribed in the loc­al press as a "polit­ic­al-sleaze maes­tro," a "vis­ion of Re­pub­lic­an dark­ness," and the "dark prince of the Sand Land." A dec­ade ago, he was a loc­al nobody, a car­pet­bag­ger from Col­or­ado in his early 30s, work­ing the edges of state polit­ics, try­ing to see a way in. He launched a non­profit, the Ari­zona Fam­ily Pro­ject, de­voted to sup­port­ing con­ser­vat­ive causes. But that wasn't enough. He wanted to run cam­paigns.
But he soon found his seam. In 1998, after a string of cor­rup­tion scan­dals, state voters had ap­proved a so-called clean-elec­tions law that al­lowed for tax­pay­er fin­an­cing of cam­paigns. The stand­ard for qual­i­fy­ing for pub­lic sup­port was ludicrously low. A can­did­ate simply had to put to­geth­er 200 con­tri­bu­tions of $5 to qual­i­fy for state match­ing funds — a total of just $1,000.
Passed to the ac­claim of good-gov­ern­ment lib­er­als, the clean-elec­tions law be­came Quer­ard's weapon of choice. "I cracked the code," he says. The meas­ure be­nefited fringe can­did­ates who had a harder time rais­ing money through tra­di­tion­al means like PACs and cor­por­ate money — and it gave them enough sup­port to sur­vive against a bet­ter-fun­ded chal­lenger, par­tic­u­larly in GOP primar­ies. The oth­er com­pon­ent for suc­cess was mes­sage. The Quer­ard can­did­ate had to be louder, bolder, more pro­voc­at­ive than the oth­er guy. He or she had to turn hard right — and then keep go­ing down the block. "These are my people!" he says over slabs of sour­dough.
But the greatest gift to Quer­ard's for­tunes wasn't the pub­lic-fin­an­cing law; it was the elec­tion of Barack Obama. His pres­id­ency crys­tal­lized an­ti­gov­ern­ment, anti-am­nesty, anti-Demo­crat sen­ti­ment on the right, and Quer­ard was per­fectly po­si­tioned to take ad­vant­age. After the 2010 midterms gave the GOP a su­per­ma­jor­ity in the Ari­zona Le­gis­lature, there were al­most more le­gis­lat­ors who were Quer­ard cli­ents (25) than sur­viv­ing Demo­crats (29). The suc­cess has al­lowed Quer­ard, a fan of Sen. Ted Cruz of Texas, to move in­to man­aging more tra­di­tion­al money-driv­en cam­paigns, al­beit still for "true be­liev­ers," as he calls them. Today, he es­tim­ates that one-third of the 90-mem­ber Le­gis­lature owe their po­s­i­tions to him.
One Quer­ard cli­ent is state Sen. Al Melvin, the Tuc­son Re­pub­lic­an who was em­bar­rassed on air earli­er this year by CNN's An­der­son Cooper over his sup­port of S.B. 1062, the "re­li­gious free­dom" bill that crit­ics said tar­geted the gay com­munity. An­oth­er was Rus­sell Pearce, the ar­chi­tect of the in­fam­ous S.B. 1070, known bet­ter as the anti-im­mig­rant "pa­pers" law. Pearce later be­came the first sit­ting state sen­at­or to be re­called by voters.
The best way to un­der­stand why such meas­ures see the light of day here — and earn Ari­zona na­tion­al scorn — where in oth­er states they would either nev­er be pro­posed or would quickly be bur­ied is to re­cog­nize that much of it in­volves a pileup of good in­ten­tions. The clean-elec­tions law was sup­posed to min­im­ize the in­flu­ence of big busi­ness and out­side groups. Term lim­its were in­ten­ded to rein in so-called pro­fes­sion­al politi­cians. And out­siders such as Con­stantin Quer­ard, son of a Rus­si­an moth­er and a French fath­er, should have been able to, in the tra­di­tion of the Amer­ic­an West, re­in­vent him­self as a canny play-the-angles in­sider.
But to­geth­er, these forces have con­spired to give the state a throw­back Le­gis­lature that seems to be pick­ing fights most res­id­ents would rather not have. While to the cas­u­al CNN-watch­er Ari­zona some­times looks to be a place that has lost its ever-lov­ing mind, it feels dif­fer­ent on the ground. If there was one un­ap­pre­ci­ated as­pect to the sideshow that was the re­li­gious-free­dom bill, it might be that it fully awakened apathet­ic voters and a checked-out busi­ness com­munity to what was be­ing done in their name. They aren't happy — and hav­ing sur­rendered their state to the right wing, they're look­ing to take it back. "It's pop­u­lism gone awry," says Jim Kolbe, the former Re­pub­lic­an House mem­ber.
But re­gain­ing power won't come easy. The va­cu­um has been filled by those who are de­term­ined to make Ari­zona the most con­ser­vat­ive state in the na­tion — and in do­ing so, res­cue it, in their minds, from craven com­prom­isers, like, say, the state Cham­ber of Com­merce or, you know, the Re­pub­lic­an gov­ernor. "You had a state that was a Re­pub­lic­an state that was No. 22 in everything, with a Le­gis­lature that was left of where it needed to be," Quer­ard says. Now, he says, "we're No. 1 in school choice, in the top three on guns, and No. 1 on pro-life."
Iron­ic­ally, the Crack­er Bar­rel favored by Quer­ard sits across the street from Phoenix's sun-dappled foot­ball sta­di­um, the site of next year's Su­per Bowl. It was the NFL's im­pli­cit threat of mov­ing the game, amid oth­er cor­por­ate pres­sure, that many be­lieve con­vinced Gov. Jan Brew­er to veto the re­li­gious-free­dom bill. Brew­er was praised na­tion­ally for her move, but shortly af­ter­ward, the loc­al press re­por­ted that the gov­ernor's staff had helped tail­or the bill be­fore its pas­sage, sug­gest­ing that she only tor­pedoed it once the NFL and oth­ers star­ted to squawk.
The bill's sup­port­ers aren't chastened. Quer­ard talks of how the de­bate be­came "dis­tor­ted" and "dis­hon­est." Sen. Steve Yar­brough, a spon­sor of the le­gis­la­tion, tells me the same thing on a phone call as I stare across the street at the sta­di­um. "It was ap­par­ent that the LGBT com­munity had de­term­ined to make this a battle­ground," Yar­brough says. "It really wasn't about them at all."
But oth­ers hope the de­bate over S.B. 1062 her­alds a new era in Ari­zona polit­ics, one that ush­ers in the de­cline of con­ser­vat­ive he­ge­mony and helps re­pair what they see as the state's tattered na­tion­al im­age. "They have been in con­trol for far too long; they be­lieve they can do any­thing, that no one's pay­ing at­ten­tion," says Sen. Steve Gal­lardo, a Demo­crat from Phoenix. "This bill blew up right in front of them."
If there's one prom­ise the West has ful­filled, it's that there is plenty of free park­ing.
You can drive right up to the state Cap­it­ol, the site of so many protests and battles over the last few years, and park as eas­ily as you would at a Wal-Mart. No tick­ets or time lim­its — free­dom is just an­oth­er word for not hav­ing to fork over $3.50. And don't let the men in the or­ange jump­suits startle you. They're in­mates trim­ming the grounds on the or­ders of no­tori­ous get-tough Mari­copa County Sher­iff Joe Arpaio. That's one of his things.
The his­tor­ic Cap­it­ol it­self has long been re­tired from ser­vice, hav­ing been trans­formed in­to a mu­seum, and it looms over the twin mod­ern struc­tures that house the state Sen­ate and the House like an in­dif­fer­ent deity. Today is Mo­tor­cycle Day. Bikes line the av­en­ue in front of the Le­gis­lature. A tent ded­ic­ated to "mo­tor­cycle rights" has been set up on the lawn.
Laurie Roberts greets me in the plaza where the three build­ings meet. A colum­nist for The Ari­zona Re­pub­lic, she's covered the Le­gis­lature since the 1980s. "I think they had a hear­ing on the gold stand­ard yes­ter­day," Roberts says as we stroll past the House.
The House, in fact, had held a hear­ing on a bill that would al­low state res­id­ents to use gold or sil­ver to pur­chase goods. It was part of a busy le­gis­lat­ive slate this ses­sion that in­cluded a bill that would al­low snap in­spec­tions of abor­tion clin­ics; one that pro­tects the right to take a gun in­to a pub­lic build­ing or to a pub­lic event; one that makes it a felony to take someone's gun away; one that bans the use of fed­er­al gov­ern­ment stand­ards in edu­ca­tion; one that re­quires "nav­ig­at­ors" for the Af­ford­able Care Act to first ob­tain li­cens­ing as an in­sur­ance agents — and for good meas­ure, an anti-traffic-cam bill.
There was also the bill, sup­por­ted by more than two dozen sen­at­ors, that would re­quire fed­er­al agents to ob­tain writ­ten ap­prov­al from a county sher­iff be­fore en­ga­ging in any law-en­force­ment activ­ity. That bill was needed, it was said at a com­mit­tee hear­ing, to guard against fed­er­al "at­ro­cit­ies" like the FBI siege in Waco, Texas, 20 years ago. And there's the bill that would al­low state ac­cess to fed­er­al land "dur­ing a state of emer­gency." And then the one that would in­val­id­ate the fed­er­al En­dangered Spe­cies Act. And the one that would simply take all fed­er­al land in Ari­zona (some 25 mil­lion acres) and hand it to the state.
"We have a Le­gis­lature that is com­pletely out of touch with the state of Ari­zona," Roberts says. "That's not their fault. It's our fault."
The Le­gis­lature is ac­tu­ally more bal­anced now than it was be­fore the 2012 elec­tions, with Re­pub­lic­ans out­num­ber­ing Demo­crats 17-13 in the Sen­ate and 36-24 in the House. But the edge is still enough to al­low the GOP to rule both cham­bers with im­pun­ity. The re­li­gious-free­dom bill passed on mostly party-line votes. And the con­ser­vat­ism that marks the Le­gis­lature goes bey­ond Quer­ard's cli­en­tele. Yar­brough, for ex­ample, who sponsored S.B. 1062 and heads a caucus known as the Ari­zona Val­ues Ac­tion Team, isn't a Quer­ard cli­ent and has run tra­di­tion­al cam­paigns. "Ari­zona is a right-of-cen­ter state," Yar­brough says. "Our le­gis­la­tion rep­res­ents that."
Two years ago, us­ing her perch at the news­pa­per, Roberts launched a pub­lic cru­sade to "de-kook" the Le­gis­lature, one that came com­plete with pen­nants and cam­paign-style but­tons. She iden­ti­fied her top 10 "kooks" and ad­voc­ated for their ouster. No. 1 was Carl Seel, a Re­pub­lic­an rep­res­ent­at­ive from Phoenix. At the time, Seel, a former mem­ber of "minute­man" mi­li­tia on the bor­der, was best known for be­ing an ad­her­ent to the "birth­er" move­ment who met with Don­ald Trump in Man­hat­tan to dis­cuss how to push Pres­id­ent Obama to cer­ti­fy his ori­gins.
Seel, a cli­ent of Quer­ard who was first elec­ted in 2008, won again in 2012 des­pite Roberts's ef­forts. He sponsored a bill this ses­sion that would it make it a crime for an un­doc­u­mented ali­en to at­tend a pub­lic school, drive on a pub­lic road, or use a pub­lic bath­room. Second on the list was Re­pub­lic­an Sen. Judy Burges of Sun City, an­oth­er Quer­ard cli­ent. She won, too. She's the prime spon­sor of the bill this ses­sion that would re­quire the feds to ob­tain per­mis­sion from the loc­al sher­iff be­fore en­for­cing any laws.
"Sadly, the kooks still reign," Roberts says. "It's a damn shame. It's a beau­ti­ful state. We're held host­age by a small group of ideo­logues. But we let it. We don't vote."
Ari­zona lags be­hind the na­tion in terms of voter turnout, and it's es­pe­cially true in the state primar­ies, which oc­cur in the dead of the Ari­zona sum­mer (read: when it's an egg-fry­ing 110 de­grees). In 2012, just 28 per­cent of all re­gistered voters cast a primary bal­lot — and be­cause the le­gis­lat­ive dis­tricts have been fash­ioned to give the GOP strong re­gis­tra­tion edges in a ma­jor­ity of dis­tricts, voters had little reas­on to come out. Few of the races prom­ised to be com­pet­it­ive.
"It isn't hard to get elec­ted to the Le­gis­lature," says Scott Smith, the Re­pub­lic­an may­or of Mesa who is run­ning to re­place Brew­er. "I think we have a new si­lent ma­jor­ity. Now the people who used to be en­gaged aren't en­gaged."
Fig­ures re­leased this month by the Ari­zona Sec­ret­ary of State's Of­fice help make Smith's ar­gu­ment. A plur­al­ity of state voters (34.9 per­cent) now out­num­ber both Re­pub­lic­ans (34.7 per­cent) and Demo­crats (29.5 per­cent), a rar­ity matched by just eight oth­er states, in­clud­ing Col­or­ado and New Jer­sey, ac­cord­ing to the cent­rist think tank Third Way.
And these in­de­pend­ents ap­pear to be the voters most ali­en­ated from the polit­ic­al pro­cess. In 2012, a mere 7 per­cent of them voted in the primar­ies — and state law al­lows them do so as long as they re­gister be­fore­hand and pick one party for the dur­a­tion of that elec­tion cycle.
All of it means that a small slice of the elect­or­ate dom­in­ates le­gis­lat­ive races. Mi­chael O'Neil, a Phoenix-based polit­ic­al ana­lyst, es­tim­ates that in the 2012 elec­tions, be­cause of the nar­rowly drawn dis­tricts and the fact that sev­er­al Re­pub­lic­ans ran un­op­posed, 35,500 voters — barely more than 1 per­cent of Ari­zona's 3.2 mil­lion re­gistered voters — de­term­ined the Le­gis­lature's com­pos­i­tion. And those voters were the most highly mo­tiv­ated ones of all — what Quer­ard would call his "people," a dis­pro­por­tion­ately in­flu­en­tial set of bal­lot-casters.
"You want to talk tea party," O'Neil says over cof­fee in Tempe. "This is tea party."
That ex­plains, he says, the dis­con­nect between the Le­gis­lature and Ari­zona's largely urb­an and sub­urb­an pop­u­la­tion. (An over­whelm­ing share of the state is clustered around Phoenix and Tuc­son; more than 4 mil­lion people live in the Phoenix metro area.) "The myth is that Ari­zona is hy­per-con­ser­vat­ive," he says.
It is, as the state's new voter stats show, where, ab­sent in­de­pend­ents, GOP re­gis­tra­tion out­paces Demo­crat­ic en­roll­ment by just 5 per­cent. Where Demo­crats hold the ma­jor­ity of the del­eg­a­tion's seats in the U.S. House (al­though that may change this fall), and where the state re­cently elec­ted a two-term Demo­crat­ic gov­ernor, Janet Na­pol­it­ano, Brew­er's pre­de­cessor. It's a state where voters passed, through ref­er­en­dum, not only the clean-elec­tions cam­paign-re­form law but a med­ic­al-marijuana ini­ti­at­ive, a chil­dren's health pro­gram, in­creased edu­ca­tion spend­ing, and sev­er­al tax in­creases.
Sur­veys con­duc­ted by Pub­lic Policy Polling earli­er this year showed S.B. 1062 to be over­whelm­ingly un­pop­u­lar — and also showed wide­spread sup­port for Brew­er's veto. The poll­ster also found that more Ari­zo­ni­ans (49 per­cent) sup­port gay mar­riage than op­pose it (41 per­cent).
Earli­er this month, in the heat of the le­gis­lat­ive ses­sion, a group of more than 60 cit­izens took out an ad in The Ari­zona Re­pub­lic, ur­ging the pub­lic to "take back Ari­zona."
"Be rep­res­en­ted," the ad im­plored. "We don't need an over­throw or a re­volu­tion. Change can be free, and blood­less. We can vote." The ad con­cluded: "Let's gen­er­ate head­lines in a pos­it­ive way."
That would be a change. Most of the head­lines em­an­at­ing from the Le­gis­lature still sound like Fox News cranked up to 11. Take, for in­stance, the re­cent move by the Ari­zona Re­pub­lic­an Party to cen­sure Sen. John Mc­Cain. ("The lead­er­ship didn't drive that. It came from the grass­roots," says Robert Gra­ham, the dir­ect­or of the state party.)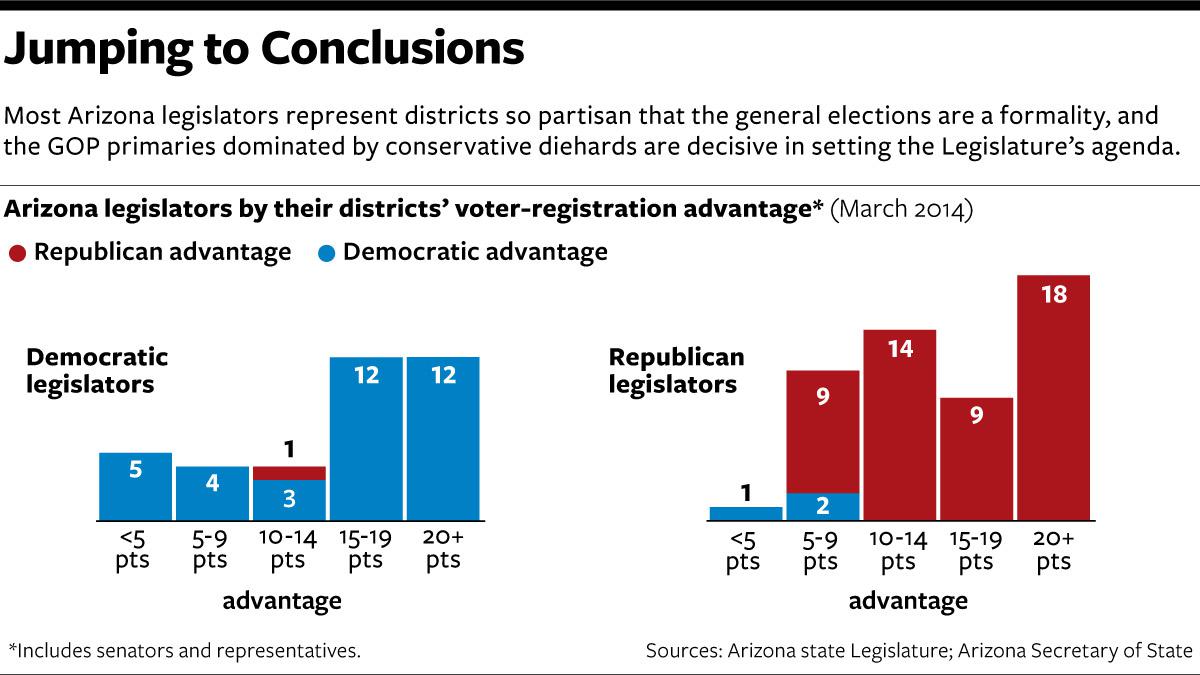 A re­cent PPP sur­vey found Mc­Cain, a war hero and former pres­id­en­tial nom­in­ee who has rep­res­en­ted the state for 30 years, to be the least pop­u­lar sen­at­or in the coun­try, ap­par­ently re­viled both by Demo­crats and hard-core Re­pub­lic­ans alike. In a state where in­de­pend­ents don't vote, be­ing a mav­er­ick is risky busi­ness. "If he runs again, I think he loses," Quer­ard sniffs.
But then, among his many ex­er­cises in apostasy, Mc­Cain long ago waded in­to an im­mig­ra­tion de­bate in Ari­zona that, even if it has cooled here with the drop in bor­der-cross­ers from Mex­ico, still ranks among the state's most po­lar­iz­ing is­sues.
If you want to un­der­stand what sep­ar­ates Ari­zona polit­ic­ally from oth­er states, it's the un­swerving, un­set­tling feel­ing shared by many res­id­ents that their south­ern bor­der is up for grabs — and that the fed­er­al gov­ern­ment hasn't done enough to se­cure it.
The im­mig­ra­tion rhet­or­ic out of Wash­ing­ton, says Smith, the Mesa may­or, "does not match the every­day real­ity in Ari­zona." It's an is­sue that cuts across ideo­logy and party lines. When Na­pol­it­ano was gov­ernor, she routinely hectored the fed­er­al gov­ern­ment for not do­ing enough to stem the flow of mi­grants and con­tain gang vi­ol­ence. So, while the re­li­gious-free­dom bill en­joyed little sup­port from the masses, S.B. 1070, the "pa­pers" law, was favored by a ma­jor­ity of state res­id­ents sur­veyed (Lati­nos not­with­stand­ing).
Geo­graphy ex­plains part of the is­sue's per­vas­ive­ness. The desert bor­der along Ari­zona is the least se­cure (and most dan­ger­ous) cross­ing point for im­mig­rants. Texas has the Rio Grande River as a nat­ur­al bar­ri­er and Cali­for­nia has a re­l­at­ively small, more com­mer­cial­ized bor­der. In ad­di­tion, U.S. bor­der- se­cur­ity ef­forts in­volving check­points, drones, and fences have res­ul­ted in fun­nel­ing bor­der-cross­ers in­to the ar­id, ex­pans­ive Son­or­an desert. The over­whelm­ing ma­jor­ity of mi­grant deaths in the last 15 years have oc­curred along the Ari­zona bor­der — more than 2,600, ac­cord­ing to No More Deaths, an im­mig­ra­tion ad­vocacy group based here.
The por­ous desert bor­der is also a haven to smug­glers and traf­fick­ers, tap­ping in­to Ari­zo­ni­ans' col­lect­ive sense of un­ease. Smith talks of signs pos­ted along In­ter­state 8 as far as 50 to 100 miles in­side the state warn­ing trav­el­ers about "armed crim­in­als and smug­gling vehicles," ad­vising that the re­gion is un­safe. The signs went up in 2010, a year when bor­der rhet­or­ic reached blood-fever levels. It was the year that prom­in­ent ranch­er Robert Krentz was killed on his land in south­east­ern Ari­zona. Evid­ence poin­ted to either a mi­grant or a car­tel scout, and he was in­stantly a mar­tyr for the cause.
Ari­zona was still be­ing hammered by the re­ces­sion and the fore­clos­ure crisis, adding to the ten­sion. And it was the same year that the Le­gis­lature passed S.B. 1070, which sought to give the state more tools on the loc­al level to com­bat il­leg­al im­mig­ra­tion and which Brew­er signed over vir­u­lent protests. But it was also be­com­ing clear that Ari­zona was go­ing to pay an eco­nom­ic price for the Le­gis­lature's uber-con­ser­vat­ive tack.
The bill had passed with little in­put from the busi­ness com­munity, but the state began to lose mil­lions of dol­lars in con­ven­tion busi­ness as its im­age as a wel­com­ing place for cor­por­a­tions to re­lo­cate began to fray. And when loc­al busi­ness own­ers star­ted to find it dif­fi­cult to build a labor force, some found their voice. The fol­low­ing year, when the Le­gis­lature in­tro­duced five more anti-im­mig­ra­tion bills, in­clud­ing one that re­voked "birth­right cit­izen­ship" for chil­dren of il­leg­al im­mig­rants, "we said enough is enough," says Glenn Hamer, pres­id­ent and CEO of the state Cham­ber of Com­merce.
This time, 60 CEOs signed a let­ter op­pos­ing the meas­ures. "The busi­ness com­munity ban­ded to­geth­er like it had nev­er ban­ded to­geth­er," Hamer says, while not­ing that Mex­ico is the state's biggest trad­ing part­ner.
Hamer said that the state's im­age prob­lem be­came clear to him when he learned that a girls high school vol­ley­ball team in Chica­go had can­celed a trip to tony Scott­s­dale over fears of crime and vi­ol­ence. "The worst thing that could hap­pen to them in Scott­s­dale is that they might be hit by an old lady on a rid­ing mower," he says.
That used to be Ari­zona's im­age — the sun-drenched haven for re­tir­ees and refugees seek­ing a slo-mo life un­der empty desert skies. Be­fore the anti-im­mig­ra­tion and an­ti­gay bills, be­fore warn­ings of drug car­tels and day­light kid­nap­pings, be­fore Sher­iff Joe, be­fore the Gabby Gif­fords shoot­ing, noth­ing much happened.
It's still matur­ing, hav­ing been gran­ted state­hood a cen­tury ago. And really, mod­ern Ari­zona, mean­ing Phoenix, only began to grow after World War II, with the de­vel­op­ment of air con­di­tion­ing and with it the mi­gra­tion to the re­gion of busi­nesses and, es­pe­cially, the de­fense in­dustry.
Phoenix rose through the strength of loc­al in­dus­tries, bank­ing and min­ing among them. And in turn, the in­dus­tri­al­ists ran the town in a man­ner not dis­sim­il­ar from oth­er fron­ti­er en­virons. Dubbed the "Phoenix 40," they were clas­sic civic boost­ers, from the loc­al banks such as Val­ley Na­tion­al and First Na­tion­al to the power­ful pub­lish­er of The Ari­zona Re­pub­lic, Eu­gene Pul­li­am.
But in the late 1980s the old or­der began to break down. Gov. Evan Mecham, who was the first con­ser­vat­ive to thrust the state in­to an un­wanted spot­light by do­ing away with the state's Mar­tin Luth­er King Day hol­i­day, was in­dicted (but ac­quit­ted) and im­peached. The "Keat­ing Five" scan­dal, which en­meshed Mc­Cain, in­volved charges that mem­bers of Con­gress in­ter­vened to aid a loc­al sav­ings and loan. And there was "Az­S­cam," a bribery and money-laun­der­ing probe that took down sev­en state le­gis­lat­ors and lob­by­ists.
In 1992, voters ap­proved an­oth­er pop­u­list rem­edy, a term-lim­it law that capped le­gis­lat­ive terms in one house at eight years. "The Le­gis­lature really star­ted to change," says Kolbe, the former House mem­ber. There was, he says, "a loss of in­sti­tu­tion­al know­ledge and ca­pa­city." There would be no more fig­ures such as the le­gendary Re­pub­lic­an lead­er Bur­ton Barr, who dom­in­ated the Cap­it­ol for two dec­ades and was dubbed "Mr. Ma­gic" for his abil­ity to forge prag­mat­ic deals with Demo­crats. Six years later, voters ap­proved the clean-elec­tions act.
The cor­por­ate land­scape was also be­ing rad­ic­ally altered as Ari­zona com­pan­ies were bought, con­sol­id­ated, and elim­in­ated. (A re­cent ex­ample is the de­par­ture of US Air­ways to Dal­las.) There are times driv­ing around the Phoenix area when the en­tire re­gion feels like one big Pan­era Bread or Tar­get, as if the town it­self is a cor­por­ate fran­chise — with the cent­ral of­fice off-site. The Phoenix 40 is long gone and mem­bers of the loc­al Rotary Club are likely to be gen­er­al man­agers at Best Buy. "You don't have in­sti­tu­tions. You don't have a busi­ness com­munity that's dom­in­ant," says Scott Smith, as we sit at a Star­bucks in Scott­s­dale, with the low-slung Mc­Dow­ell Moun­tains in the back­ground. (Even the moun­tains sound like fran­chises.) "The [cor­por­ate] money nev­er touches Ari­zona," he says. "It goes to At­lanta or Min­neapol­is."
It's left a va­cu­um, Smith says, and "nature takes over." In this case, nature means people like Con­stantin Quer­ard and Rus­sell Pearce. And groups such as the Koch broth­ers-backed Amer­ic­ans for Prosper­ity, which plays a large role in Ari­zona; the Cen­ter for Ari­zona Policy, a so­cial con­ser­vat­ive ad­vocacy group that was a driv­ing force be­hind the re­li­gious-free­dom bill; and the liber­tari­an Gold­wa­ter In­sti­tute (named for the icon­ic sen­at­or) which, among oth­er things, cham­pi­ons for charter-school vouch­ers.
As the busi­ness com­munity has sought to re­as­sert it­self, it's found much of the turf has been staked out — and not al­ways in the ways it likes. AFP battled the cham­ber of com­merce over wheth­er Ari­zona should set up its own ex­change un­der the Af­ford­able Care Act. AFP won. The two sides fought over wheth­er the state should ac­cept money for Medi­caid ex­pan­sion un­der the ACA. The cham­ber won.
Much of the skir­mish­ing has come down to which side can do a bet­ter job of per­suad­ing Brew­er to get on board. The gov­ernor, who an­nounced last month she would not seek an­oth­er term (to do so would have meant chal­len­ging the state's term-lim­it law), has had to chart the same kind of path as many Re­pub­lic­ans who aren't aligned with the Quer­ard fac­tion, al­tern­at­ing between em­bra­cing it (as she did when she cam­paigned on S.B. 1070) and show­ing her in­de­pend­ence, as when she sup­por­ted Medi­caid ex­pan­sion. The cham­ber's Hamer is a fan. "I call her the heavy­weight cham­pi­on of the world," he says.
Be­cause Brew­er is stand­ing down, she won't have to worry about a primary chal­lenge, but that isn't true for oth­er Re­pub­lic­ans who have broken from the pack. Take Sen. Bob Wors­ley, who rep­res­ents the same east Mesa dis­trict once held by Rus­sell Pearce. Wors­ley teamed with Demo­crats to push through the Medi­caid bill. Last month, he again stood with a sliv­er of Re­pub­lic­ans and Sen­ate Demo­crats to beat back a con­cer­ted ef­fort to ex­empt the state from the so-called Com­mon Core na­tion­al edu­ca­tion­al stand­ards.
Guess who's been de­clared Pub­lic En­emy No. 1? "I'm clearly the per­son who has his head on the plat­ter," Wors­ley says. "I've proven I won't toe the line. I'll make de­cisions that are bet­ter for the state than for my caucus."
Cue primary chal­lenger: In this case, it's Ral­ph Heap, an or­tho­ped­ic sur­geon and sworn Obama­care foe who is ex­pec­ted to give Wors­ley a tough time. "This race isn't go­ing to be a tea party versus a tra­di­tion­al Re­pub­lic­an," says Heap's cam­paign man­ager, Chris Baker. "It's go­ing to be a tra­di­tion­al Re­pub­lic­an versus a lib­er­al Re­pub­lic­an in the clas­sic sense."
There aren't many politi­cians in Ari­zona, or Wash­ing­ton for that mat­ter, like Wors­ley. It might help that he doesn't need the gig. He's the mil­lion­aire in­vent­or of SkyMall, the cata­log you flip through on the plane when you for­get to bring something to read. He likes to talk about how in de­vel­op­ing the com­pany, he ori­gin­ally pro­posed de­liv­er­ing cus­tom­ers' or­ders to them as soon as they stepped off the flight. But, it turned out pas­sen­gers didn't want the hassle. They just wanted the stuff shipped to their homes. "It was a solu­tion in search of a prob­lem," Wors­ley says.
He says the same thing about the re­li­gious-free­dom bill, which he had voted for. "There was a lot of pres­sure for the caucus to stay to­geth­er," he says. But as soon as he cast his vote, "there was a sense of gloom. We walked out to our cars feel­ing we had just made a huge mis­take." He ended up ur­ging Brew­er to veto the bill.
The Le­gis­lature, he says, needs to move bey­ond what he calls "sym­bol­ic le­gis­la­tion." The state "has wa­ter is­sues, en­ergy is­sues. We have really sig­ni­fic­ant things we need to do."
But to do that, he says, "we're go­ing to have to slowly turn over the Le­gis­lature from the pub­licly fin­anced ideo­logues."
That was al­ways the strange con­tra­dic­tion about the Quer­ard ap­proach: big-gov­ern­ment-hat­ing con­ser­vat­ives run­ning cam­paigns on the dole. But it's less of a prob­lem now. The same con­ser­vat­ive groups that have formed an al­li­ance with Quer­ard's le­gions helped bring much of the pub­lic-fin­an­cing law down by fil­ing a law­suit. In 2012, the U.S. Su­preme Court struck down the match­ing-funds pro­vi­sion as un­con­sti­tu­tion­al.
Adi­os, weapon of choice. But Quer­ard isn't fazed. He's a fix­ture now — and here, he says, the mes­sage mat­ters more than the money. And the pro-guns, an­ti­abor­tion, an­ti­gov­ern­ment plat­form still works. More than that, Quer­ard won­ders why any­one would want to re­turn to an era when the es­tab­lish­ment gov­erned and in­sur­gents were locked out. "That sort of makes my head ex­plode," he says as the plates are be­ing cleared at the Crack­er Bar­rel.
"Big com­pan­ies, big busi­ness, wealthy folks — their main pri­or­ity is pre­ser­va­tion of the status quo," he adds. "If you had to go to the cham­ber to get elec­ted, I'm not sure they'd be elect­ing my can­did­ates."
That's the point. The shift to more tra­di­tion­al cam­paigns could, over time, be­gin to fa­vor can­did­ates such as Wors­ley who can rally big busi­ness in a way that Quer­ard's can­did­ates can­not. (In fact, Wors­ley beat Quer­ard's cli­ent, Pearce, in a primary — a rare loss for the maes­tro.) Moreover, the Ari­zona Re­pub­lic­an Party, long viewed as moribund, is look­ing to get back in the game un­der its new chair­man, Gra­ham. He wel­comes the move from the Quer­ard mod­el. "You want to en­gage the donors," he says. "The busi­ness com­munity has en­gaged us again, the lob­by­ing com­munity isn't afraid any­more."
There is also, of course, the chan­ging demo­graph­ics that have had Demo­crats fan­tas­iz­ing about put­ting the state in play na­tion­ally. The Latino pop­u­la­tion is grow­ing and the white pop­u­la­tion is de­clin­ing — al­though minor­ity turnout re­mains a ser­i­ous is­sue. "It's a real worry for [the GOP]," says An­drei Cherny, a former Demo­crat­ic can­did­ate for treas­urer. "Over the long term, Ari­zona will be purple. It just de­pends on when that long term comes."
Gra­ham knows this too: In the 2012 elec­tion that sent Jeff Flake to the Sen­ate, 70 per­cent of His­pan­ics voted for Flake's Demo­crat­ic op­pon­ent, Richard Car­mona. Gra­ham's com­mit­ting the party to for­ging a bet­ter bond with Latino voters.
The Ari­zona Le­gis­lature took the op­pos­ite ap­proach. Last year, it passed (and Brew­er signed) a bill that was widely viewed as a vehicle for sup­press­ing votes in Latino and poor com­munit­ies and mak­ing it harder to bring cit­izen ini­ti­at­ives, a favored tac­tic here, to over­turn le­gis­la­tion. After wide­spread com­plaints, the Le­gis­lature re­pealed the meas­ure earli­er this ses­sion be­fore voters did it them­selves this Novem­ber.
The bill may have been an ad­mis­sion that this group of Re­pub­lic­ans at the Cap­it­ol knows it's liv­ing on bor­rowed time. That some com­bin­a­tion of a reen­gaged busi­ness com­munity, a stronger GOP in­fra­struc­ture, a gal­van­ized elect­or­ate, and shift­ing demo­graph­ics will drag the state back to the cen­ter and keep it from be­ing a cable-news punch line. All the talk here about Ari­zona's fu­ture fo­cuses on wheth­er it will someday be like true-blue Cali­for­nia — or blood-red Texas. There's a tug-of-war for its West­ern soul.
Quer­ard real­izes this, as well. "There is no per­man­ent vic­tory," he says, as he leaves the table and heads out of the Crack­er Bar­rel. He's tak­ing his kids to Leg­o­land for the week­end. And, really, what could be more Amer­ic­an than that?