March 27, 2014, 9:25 a.m.
A sen­at­or pressed to elim­in­ate a planned cut to New York City dis­aster-re­sponse funds after Pres­id­ent Obama al­luded to pos­sible nuc­le­ar threats to Man­hat­tan.
Sen­at­or Chuck Schu­mer (D-N.Y.) lashed the fed­er­al gov­ern­ment on Wed­nes­day for pro­pos­ing to cut loc­al "Se­cur­ing the Cit­ies" fund­ing by more than half in fisc­al 2015, drop­ping the an­nu­al budget from $11 mil­lion to $4.7 mil­lion. The pro­gram began in 2006 as a pi­lot ini­ti­at­ive to bol­ster New York City's de­fenses against nuc­le­ar or ra­di­olo­gic­al at­tacks, and has since ex­pan­ded to the Los Angeles area.
The Home­land Se­cur­ity De­part­ment "must re­cog­nize the prob­lem with their de­cision and re­verse it im­me­di­ately," Schu­mer said in a press re­lease. The state­ment says the pro­posed fund­ing re­duc­tion would "deal a ma­jor blow" to ra­di­ation-sensor activ­it­ies by loc­al law en­force­ment.
The plea came a day after Obama said that con­cerns about Rus­sia's an­nex­a­tion of Ukraine's Crimea re­gion are min­im­al when com­pared with the danger of a pos­sible nuc­le­ar strike.
"Rus­sia is a re­gion­al power that is threat­en­ing some of its im­me­di­ate neigh­bors," Obama said on the second day of the 2014 Nuc­le­ar Se­cur­ity Sum­mit in The Hag­ue, Neth­er­lands. "I con­tin­ue to be much more con­cerned when it comes to our se­cur­ity with the pro­spect of a nuc­le­ar weapon go­ing off in Man­hat­tan."
In a cla­ri­fic­a­tion, the White House on Wed­nes­day said Obama was not re­fer­ring to any spe­cif­ic threat to New York City.
"The pres­id­ent was not dis­cuss­ing in­tel­li­gence," Na­tion­al Se­cur­ity Coun­cil spokes­wo­man Caitlin Hay­den said in an e-mail to Bloomberg.
Still, Schu­mer seized on the pres­id­ent's re­mark in his re­leased com­ments.
"As Pres­id­ent Obama cor­rectly noted, our biggest fear is a nuc­le­ar weapon go­ing off in New York City, so why would DHS want to cut fund­ing for such a vi­tal pro­gram here?" the sen­at­or said.
What We're Following See More »
NEVER TRUMP
USA Today Weighs in on Presidential Race for First Time Ever
7 hours ago
THE DETAILS
"By all means vote, just not for Donald Trump." That's the message from USA Today editors, who are making the first recommendation on a presidential race in the paper's 34-year history. It's not exactly an endorsement; they make clear that the editorial board "does not have a consensus for a Clinton endorsement." But they state flatly that Donald Trump is, by "unanimous consensus of the editorial board, unfit for the presidency."
COMMISSIONERS NEED TO DELIBERATE MORE
FCC Pushes Vote on Set-Top Boxes
7 hours ago
THE LATEST
"Federal regulators on Thursday delayed a vote on a proposal to reshape the television market by freeing consumers from cable box rentals, putting into doubt a plan that has pitted technology companies against cable television providers. ... The proposal will still be considered for a future vote. But Tom Wheeler, chairman of the F.C.C., said commissioners needed more discussions."
UNTIL DEC. 9, ANYWAY
Obama Signs Bill to Fund Government
12 hours ago
IT'S ALL CLINTON
Reliable Poll Data Coming in RE: Debate #1
14 hours ago
WHY WE CARE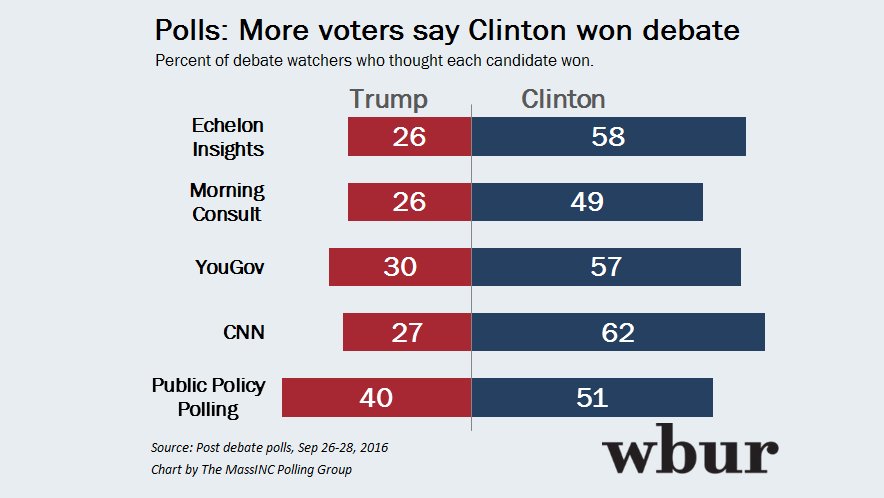 WHAT WILL PASS?
McConnell Doubts Criminal Justice Reform Can Pass This Year
17 hours ago