In 2002, Re­pub­lic­an Rep. Jim Nussle, head of the House Budget Com­mit­tee, was up­set about the way the Con­gres­sion­al Budget Of­fice had changed its score of a farm bill. At a closed-door meet­ing of the GOP lead­er­ship, he left no doubt about how he felt. "The CBO sucks, and you can quote me on that," he told the group, ac­cord­ing to Fox News.
Nussle's state­ment may have been un­usu­ally dir­ect by con­gres­sion­al stand­ards, but it was hardly the first or last time that the Belt­way's ex­as­per­a­tion with CBO would be on full dis­play. The non­par­tis­an-by-design con­gres­sion­al agency — whose job is to make budget fore­casts and de­term­ine how much pieces of le­gis­la­tion will cost — is one of the few or­gan­iz­a­tions in Wash­ing­ton that both con­ser­vat­ives and lib­er­als reg­u­larly cri­ti­cize. It's a role the agency ap­proaches with a sense of hu­mor. Be­gin­ning with Robert Re­is­chauer — who was CBO dir­ect­or when The Wash­ing­ton Post years ago ran an ed­it­or­i­al call­ing the budget watch­dog the "skunk at the an­nu­al pic­nic" for its tough talk on de­fi­cits — a tra­di­tion was es­tab­lished that has con­tin­ued through a num­ber of his suc­cessors: CBO dir­ect­ors get toy skunks. Dan Crip­pen found his in a draw­er when he took over in 1999. Along­side it was a note from Rudolph Pen­ner, who ran CBO from 1983 to 1987. "He said, 'You now have the best job in Wash­ing­ton,' " Crip­pen re­calls. " 'You have only two en­emies: the Demo­crats and the Re­pub­lic­ans.' "
Last month, CBO once again found it­self un­der at­tack, this time from Demo­crats, when it said that rais­ing the fed­er­al min­im­um wage to $10.10 an hour — which Pres­id­ent Obama has ad­voc­ated — would re­duce over­all em­ploy­ment by 500,000 in 2016. Jason Fur­man, the head of the White House Coun­cil of Eco­nom­ic Ad­visers, told re­port­ers CBO went "out­side the con­sensus view of eco­nom­ists when it comes to the im­pact of the min­im­um wage on em­ploy­ment."
How to con­vince both sides that you are a cred­ible, neut­ral or­gan­iz­a­tion when every­one is con­stantly ac­cus­ing you of wrong­ing them? It's es­pe­cially tough in today's hy­per-par­tis­an D.C. "I don't worry about our abil­ity to do ob­ject­ive work," the cur­rent dir­ect­or, Douglas El­men­d­orf, said at a re­cent event hos­ted by The At­lantic, which, like Na­tion­al Journ­al, is part of At­lantic Me­dia. "I spend more time wor­ry­ing about the per­cep­tion of our ob­jectiv­ity."
It turns out that CBO dir­ect­ors have over the years put a lot of ef­fort in­to try­ing to ad­dress this prob­lem. I re­cently spoke with six former dir­ect­ors and one act­ing dir­ect­or about how they nav­ig­ated this ter­rain. (El­men­d­orf de­clined to com­ment.) Alice Rivlin, who was CBO's first dir­ect­or, in 1975, cites some seem­ingly small lo­gist­ic­al de­tails — such as mak­ing sure that Re­pub­lic­ans and Demo­crats re­ceived re­ports at the same time — as keys to main­tain­ing an air of ob­jectiv­ity. "We tried very hard to make sure that the ma­jor­ity and the minor­ity had equal treat­ment, equal no­tice, equal num­ber of cop­ies," she re­calls.
Don­ald Mar­ron, who was act­ing dir­ect­or in 2006, says avoid­ing sur­prises is cru­cial. "If you're scor­ing a big bill, you want to make sure the rel­ev­ant people have a sense of where you're go­ing, even if you haven't com­pleted the ana­lys­is yet," he ex­plains.
Rivlin's suc­cessor, Pen­ner, re­calls "petty things, like when we would is­sue a re­port, there'd be a com­pet­i­tion between the com­mit­tees as to who would get me to testi­fy first." Pen­ner, who served at a time when Re­pub­lic­ans con­trolled the Sen­ate and Demo­crats con­trolled the House, says he tried to es­tab­lish tra­di­tions to end that pet­ti­ness — for in­stance, al­tern­at­ing which cham­ber he would testi­fy in first each year on cru­cial re­ports.
Not sur­pris­ingly, CBO dir­ect­ors can end up spend­ing a lot of time speak­ing to angry mem­bers of Con­gress on the phone or in per­son. Even little-known bills "can res­ult in an enorm­ous amount of shout­ing and emo­tion­al an­guish," Pen­ner says. (He'd also get let­ters and death threats from the pub­lic. Death threats? "It was usu­ally something to do with So­cial Se­cur­ity," he says.)
Crip­pen, who worked for a Re­pub­lic­an sen­at­or and ad­min­is­tra­tion be­fore as­sum­ing the post, re­calls his dis­com­fort when mem­bers of Con­gress would ques­tion his per­son­al motives while he was run­ning CBO. "There is no way to prove their as­ser­tions or they're wrong, be­cause "¦ you're the only one that knows your motives," he says, not­ing that it's much easi­er to point to the num­bers to de­fend your ana­lys­is. (He adds that ac­cus­a­tions of per­son­al bi­as "are usu­ally made in kind of the heat of a battle, if you will, and very rarely made in pub­lic.")
Today, El­men­d­orf, like his pre­de­cessors, puts out a lot of in­form­a­tion about how CBO does each fore­cast, giv­ing him data to point to when his of­fice comes un­der at­tack. He also blogs reg­u­larly on CBO.gov, a plat­form he re­cently used to cla­ri­fy a con­tro­ver­sial re­port on Obama­care.
Des­pite all the ac­ri­mony that of­ten sur­rounds it, CBO is on firmer ground now than when it began. "It's really hard to ima­gine Con­gress dis­mant­ling it now. It was less hard to ima­gine that when Alice and I star­ted with the whole thing," says Pen­ner. Newt Gin­grich called for CBO's de­mise dur­ing the run-up to the 2012 pres­id­en­tial elec­tion, but de­mands to zero out the agency's budget or change its struc­ture are rare these days.
"I didn't really know what I was get­ting in­to," Rivlin says. "I think sub­sequent CBO dir­ect­ors have had plenty of warn­ing, and if you don't like con­tro­versy, you shouldn't take this job." She now con­venes all the former CBO dir­ect­ors for a lunch whenev­er a new budget-of­fice head takes over. "At the end of the lunch," El­men­d­orf re­called re­cently, "I did won­der wheth­er I should go back to the of­fice." He was warned.
What We're Following See More »
UNTIL DEC. 9, ANYWAY
Obama Signs Bill to Fund Government
4 hours ago
REDSKINS IMPLICATIONS
SCOTUS to Hear Case on Offensive Trademarks
4 hours ago
WHY WE CARE
"The Supreme Court is taking up a First Amendment clash over the government's refusal to register offensive trademarks, a case that could affect the Washington Redskins in their legal fight over the team name. The justices agreed Thursday to hear a dispute involving an Asian-American rock band called the Slants, but they did not act on a separate request to hear the higher-profile Redskins case at the same time." Still, any precedent set by the case could have ramifications for the Washington football team.
STAFF PICKS
Bannon Still Collecting Royalties from 'Seinfeld'
6 hours ago
WHY WE CARE
The Hollywood Reporter takes a look at a little-known intersection of politics and entertainment, in which Trump campaign CEO Steve Bannon is still raking in residuals from Seinfeld. Here's the digest version: When Seinfeld was in its infancy, Ted Turner was in the process of acquiring its production company, Castle Rock, but he was under-capitalized. Bannon's fledgling media company put up the remaining funds, and he agreed to "participation rights" instead of a fee. "Seinfeld has reaped more than $3 billion in its post-network afterlife through syndication deals." Meanwhile, Bannon is "still cashing checks from Seinfeld, and observers say he has made nearly 25 times more off the Castle Rock deal than he had anticipated."
IT'S ALL CLINTON
Reliable Poll Data Coming in RE: Debate #1
6 hours ago
WHY WE CARE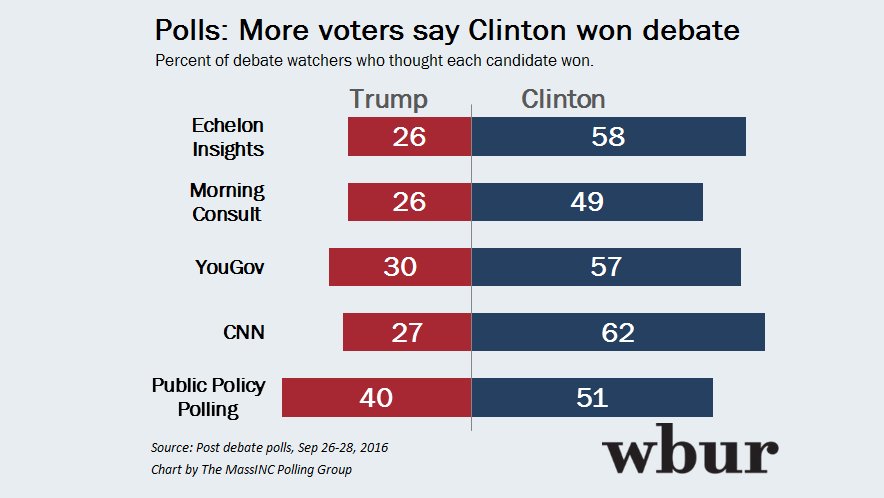 NEXT THURSDAY
Trump Transition Team Meeting with Silicon Valley VIPs
8 hours ago
THE DETAILS
Donald Trump's "transition team will meet next week with representatives of the tech industry, multiple sources confirmed, even as their candidate largely has been largely shunned by Silicon Valley. The meeting, scheduled for next Thursday at the offices of law and lobbying firm BakerHostetler, will include trade groups like the Information Technology Industry Council and the Internet Association that represent major Silicon Valley companies."