March 27, 2014, 4:20 p.m.
In 1991 An­ita Hill made us start think­ing about sexu­al har­ass­ment. Now, with the de­but of the doc­u­ment­ary An­ita: Speak­ing Truth to Power, she's mak­ing us think about what's changed 23 years later.
Back then, sexu­al har­ass­ment was still a re­l­at­ively new concept. It wasn't un­til 1975 that the term even ap­peared in The New York Times, and when it did, the pa­per or­gan­ized a defin­i­tion of it in bul­let points, to suss out ex­actly what this for­eign idea en­tailed.
It was the be­gin­ning of an en­tirely dif­fer­ent era, par­tic­u­larly with re­gard to wo­men in Wash­ing­ton. When Hill went be­fore a Sen­ate Ju­di­ciary Com­mit­tee of all-white male sen­at­ors more than two dec­ades ago, her testi­mony sparked a back­lash that still re­ver­ber­ates. Where were the wo­men sen­at­ors?
The hear­ings helped in­spire the cam­paign of Demo­crat Patty Mur­ray of Wash­ing­ton state who, upon watch­ing Hill testi­fy, told her friends she was run­ning for the Sen­ate in 1992. That year would also see Di­anne Fein­stein and Bar­bara Box­er elec­ted to the Sen­ate, mak­ing Cali­for­nia the first state to be rep­res­en­ted in the up­per cham­ber by two wo­men. It was the year that Car­ol Mose­ley Braun of Illinois joined the Sen­ate, and the first year that four wo­men were elec­ted to the Sen­ate in a single elec­tion year.
After Hill's testi­mony in Wash­ing­ton, D.C., sexu­al-har­ass­ment claims shot up. (It's easi­er to speak about sex­ism when someone's helped define the vocab­u­lary.) "Our phones were ringing off the hook with people will­ing to come for­ward who had been suf­fer­ing in si­lence," Mar­cia D. Green­ber­ger, founder and copres­id­ent of the Na­tion­al Wo­men's Law Cen­ter in Wash­ing­ton, re­cently told The New York Times. And Con­gress passed le­gis­la­tion grant­ing sexu­al-dis­crim­in­a­tion vic­tims the right to sue for dam­ages.
Journ­al­ists hailed it as the "Year of the Wo­man," but Sen. Bar­bara Mikul­ski wasn't buy­ing the sound bite. "Call­ing 1992 the Year of the Wo­man makes it sound like the Year of the Cari­bou or the Year of the As­paragus," the Mary­land Demo­crat said at the time. "We're not a fad, a fancy, or a year."
When 2012 was dubbed Year of the Wo­man by me­dia out­lets such as Moth­er Jones, The Wash­ing­ton Post, and Salon, be­loved lady colum­nist Ann Fried­man sim­il­arly dis­missed the la­bel, not­ing that nine out of every 10 states still had a male gov­ernor and wo­men's rep­res­ent­a­tion had been stag­nant since 2007. "We've made some in­cre­ment­al pro­gress since 1992, but to achieve gender par­ity in Con­gress and se­cure wo­men's rights more broadly, every year has to be a Year of the Wo­man," Fried­man wrote at the time. "And not just in the cam­paign head­lines, but on In­aug­ur­a­tion Day."
If An­ita Hill were to testi­fy be­fore today's Ju­di­ciary Com­mit­tee, she would face three fe­male faces in ques­tion­ing; they in­clude Sens. Amy Klobuchar and Fein­stein, and just one wo­man of col­or, Sen. Mazie Hirono. That may not sound like much, but it's three wo­men more than when Hill first went be­fore the com­mit­tee in 1991.
Should Re­pub­lic­ans take back the Sen­ate in 2014, as poll ana­lysts like Nate Sil­ver are now pre­dict­ing, those num­bers could be even worse — which is to say even more uni­formly white and male. (There are cur­rently no fe­male or minor­ity mem­bers on the GOP side of the Sen­ate Ju­di­ciary Com­mit­tee, the side of the com­mit­tee that would likely ex­pand giv­en a Re­pub­lic­an vic­tory, though it's con­ceiv­able the three Demo­crat­ic wo­men would all stay on the com­mit­tee and some new fresh­man wo­men could come on as well.)
But that there has already been pro­gress, however in­cre­ment­al, is un­deni­able. At the time Hill test­i­fied there were just two wo­men serving in the en­tire Sen­ate: Mikul­ski and Nancy Kasse­baum of Kan­sas. Today there are 20.
"With the three Demo­crat­ic wo­men on that pan­el, I can ima­gine that the dy­nam­ic would be a lot dif­fer­ent today," says Marcy Stech, a spokes­wo­man for EMILY's List, the polit­ic­al ac­tion com­mit­tee that helps elect wo­men who sup­port abor­tion rights. "But we have more work to do, which is why we at EMILY's List are fo­cused on elect­ing more wo­men in 2014 and we're ex­cited to see the im­pact that more and more wo­men can make once they get to Wash­ing­ton."
The doc­u­ment­ary is now play­ing at theat­ers in New York, Los Angeles, and San Fran­cisco.
What We're Following See More »
UNTIL DEC. 9, ANYWAY
Obama Signs Bill to Fund Government
2 hours ago
REDSKINS IMPLICATIONS
SCOTUS to Hear Case on Offensive Trademarks
3 hours ago
WHY WE CARE
"The Supreme Court is taking up a First Amendment clash over the government's refusal to register offensive trademarks, a case that could affect the Washington Redskins in their legal fight over the team name. The justices agreed Thursday to hear a dispute involving an Asian-American rock band called the Slants, but they did not act on a separate request to hear the higher-profile Redskins case at the same time." Still, any precedent set by the case could have ramifications for the Washington football team.
STAFF PICKS
Bannon Still Collecting Royalties from 'Seinfeld'
4 hours ago
WHY WE CARE
The Hollywood Reporter takes a look at a little-known intersection of politics and entertainment, in which Trump campaign CEO Steve Bannon is still raking in residuals from Seinfeld. Here's the digest version: When Seinfeld was in its infancy, Ted Turner was in the process of acquiring its production company, Castle Rock, but he was under-capitalized. Bannon's fledgling media company put up the remaining funds, and he agreed to "participation rights" instead of a fee. "Seinfeld has reaped more than $3 billion in its post-network afterlife through syndication deals." Meanwhile, Bannon is "still cashing checks from Seinfeld, and observers say he has made nearly 25 times more off the Castle Rock deal than he had anticipated."
IT'S ALL CLINTON
Reliable Poll Data Coming in RE: Debate #1
4 hours ago
WHY WE CARE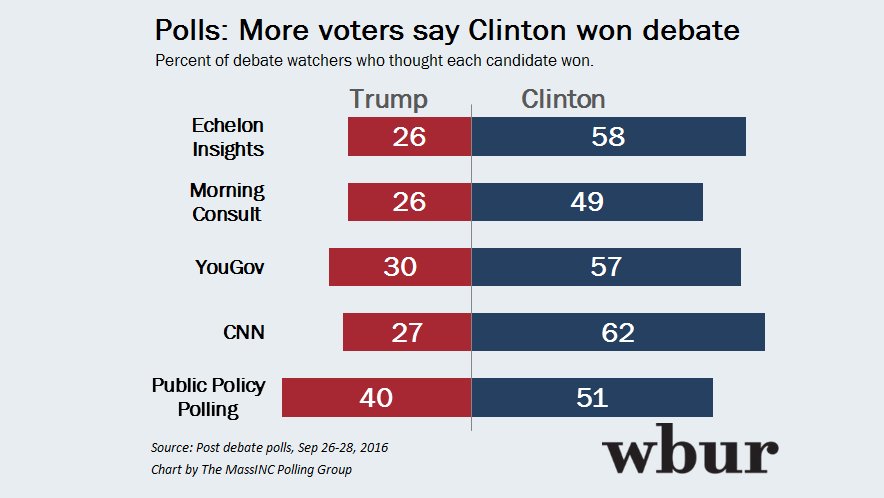 NEXT THURSDAY
Trump Transition Team Meeting with Silicon Valley VIPs
6 hours ago
THE DETAILS
Donald Trump's "transition team will meet next week with representatives of the tech industry, multiple sources confirmed, even as their candidate largely has been largely shunned by Silicon Valley. The meeting, scheduled for next Thursday at the offices of law and lobbying firm BakerHostetler, will include trade groups like the Information Technology Industry Council and the Internet Association that represent major Silicon Valley companies."