With­in a year, nine out of 10 Amer­ic­ans could be dead. And whatever causes the na­tion­al apo­ca­lypse — be it North Korean malice or the whims of the sun — the down­fall will ul­ti­mately be our own fault.
That's the fear of Newt Gin­grich and oth­er mem­bers of a high-pro­file co­ali­tion who are con­vinced that our fra­gile elec­tric­al grid could be wiped out at any mo­ment.
Their con­cern? Elec­tro­mag­net­ic pulses, the short bursts of en­ergy — caused by any­thing from a nuc­le­ar blast to a sol­ar flare — that can wreak hav­oc on elec­tric­al sys­tems on a massive scale. And the co­ali­tion be­lieves it's com­ing soon.
"I think we're run­ning out of time," said Peter Pry, a former CIA of­ficer and head of a con­gres­sion­al ad­vis­ory board on na­tion­al se­cur­ity. And if the worst hap­pens? "This gets trans­lated in­to mass fatal­it­ies, be­cause our mod­ern civil­iz­a­tion can't feed, trans­port, or provide law and or­der without elec­tri­city," he said.
While some see the co­ali­tion as alarm­ist — and oth­ers dis­miss them as out-and-out quacks — the co­ali­tion boasts some prom­in­ent and in­flu­en­tial names. Pry and Gin­grich are joined by former CIA Dir­ect­or James Wool­sey.
"It wasn't dif­fi­cult per­suad­ing them" to join the co­ali­tion, Pry said. Gin­grich "has known about EMP and cared about it for many years."
Last year, Gin­grich told mem­bers of Con­gress that an EMP at­tack "could be the kind of cata­strophe that ends civil­iz­a­tion — and that's not an ex­ag­ger­a­tion."
The co­ali­tion's mem­bers in­sist the scen­ario is a real threat, and not the plot of a Mi­chael Bay movie or a Cor­mac Mc­Carthy nov­el. They be­lieve a single nuc­le­ar blast at 300-400 kilo­met­ers in alti­tude — about the height of the In­ter­na­tion­al Space Sta­tion — could take down all power in the U.S. Even an ex­plo­sion just 30 kilo­met­ers up would take out the East­ern grid, which sup­plies three-quar­ters of the coun­try's power.
What hap­pens post-det­on­a­tion is not a pretty pic­ture, Pry says: "You'd have massive in­dus­tri­al ac­ci­dents. One hun­dred four nuc­le­ar re­act­ors go­ing Fukushi­ma, spread­ing tox­ic clouds every­where. Oil re­finer­ies burn­ing down, oil pipelines ex­plod­ing."¦ Air­liners crash­ing down."
That's just day one. With no power, the coun­try would lose trans­port­a­tion, our food would go bad and we'd lose the com­mu­nic­a­tion tools we've come to rely on. To en­vi­sion what that would look like, just pic­ture New Or­leans after Hur­ricane Kat­rina, Pry says.
The co­ali­tion es­tim­ates that we'd lose up to 90 per­cent of our pop­u­la­tion with­in a year.
But it wouldn't ne­ces­sar­ily take a hos­tile for­eign power's nuc­le­ar trick­ery to spark the down­fall: The co­ali­tion claims Amer­ic­an de­mise could come from the flares of a fickle sun.
A gi­ant sol­ar flare that trig­gers a geo­mag­net­ic storm could in­flict the same dam­age as a high-alti­tude nuc­le­ar blast — but do it on a glob­al scale.
The last such flare — known as the Car­ring­ton Event — happened in 1859, fry­ing tele­graph lines around the plan­et. Ac­cord­ing to Pry, such events hap­pen about every 150 years, so we're already over­due for an­oth­er.
By com­par­is­on, a Lloyd's of Lon­don study used a wider range of 100-250 years. The study also said a sol­ar event would only cause ex­ten­ded black­outs for 20-40 mil­lion people — not an in­sig­ni­fic­ant num­ber, but nowhere near the globe-en­com­passing dis­aster the EMP Co­ali­tion pre­dicts.
And Kris­tof Pet­ro­vay, a Hun­gary-based sol­ar phys­i­cist whose work is of­ten cited by NASA, said pre­dict­ing the in­ter­val of such flares is more-or-less a fool's er­rand. "There's really no way to tell when or how of­ten it will hap­pen again," Pet­ro­vay said.
Re­gard­less of when or if an­oth­er flare hits, there's a wide range of as­sess­ments of its po­ten­tial dam­age.
Most ob­serv­ers stop short of fore­cast­ing the dooms­day scen­ari­os laid out by the Pry-Gin­grich co­ali­tion, but they still see ser­i­ous prob­lems.
In 2008, the Na­tion­al Academy of Sci­ences looked at the pos­sib­il­ity of a sol­ar flare and its ef­fects. Its find­ings, while less apo­ca­lyptic than the EMP Co­ali­tion's warn­ings, were still dire. A sol­ar storm two-thirds the size of the Car­ring­ton Event could still knock out power for 130 mil­lion people. The fal­lout? "[W]ater dis­tri­bu­tion af­fected with­in sev­er­al hours; per­ish­able foods and med­ic­a­tions lost in 12-24 hours; loss of heat­ing/air con­di­tion­ing, sewage dis­pos­al, phone ser­vice, fuel re-sup­ply and so on."
If we were hit with an­oth­er Car­ring­ton-sized storm, the re­port said, it could take months to get parts of the grid back to func­tion­al. In the first year alone, it would take an eco­nom­ic toll of $2 tril­lion, about 20 times the cost of Hur­ricane Kat­rina.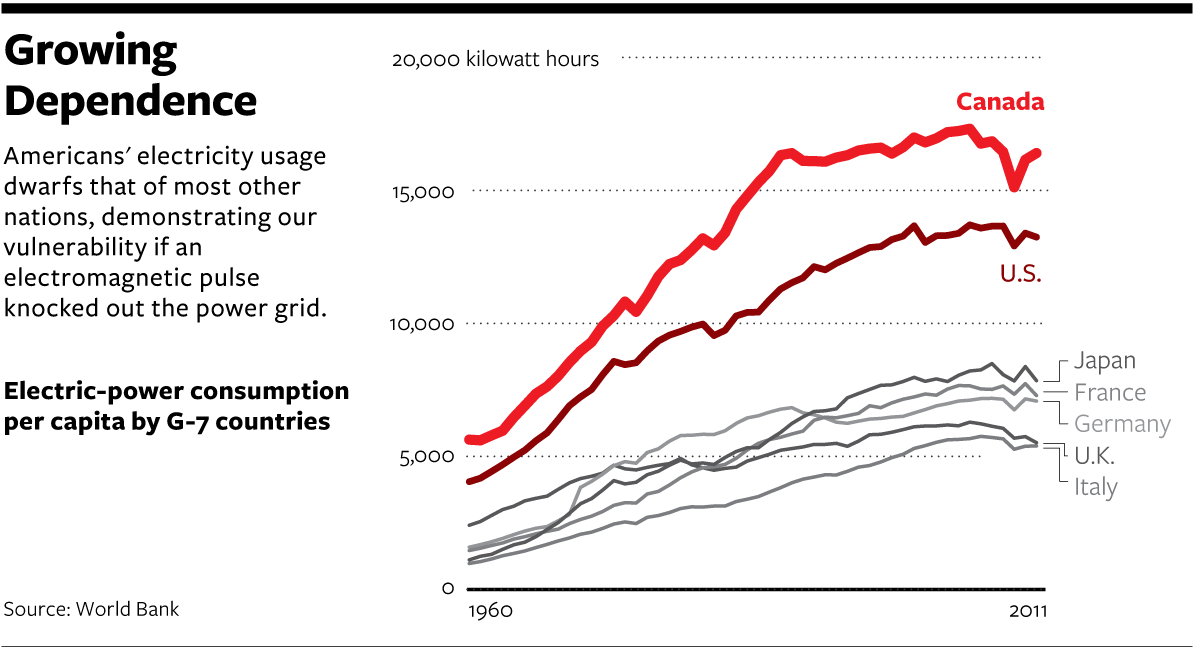 Ac­cord­ing to Pet­ro­vay, the worst ef­fects of the flare would be felt in North Amer­ica, where the highly-con­nec­ted grid could ex­acer­bate prob­lems and sys­tems run­ning near peak ca­pa­city have less room for er­ror. "I have doubts wheth­er [a sol­ar storm] would really take out the whole grid, but prob­ably shut­downs would oc­cur in many places," he said.
So how can the U.S. avoid go­ing dark?
Ad­voc­ates say the solu­tion is as simple as surge pro­tect­ors Amer­ic­ans use to pro­tect their per­son­al com­puters — though on a much lar­ger scale.
The co­ali­tion wants such pro­tect­ors placed across the elec­tric­al grid to block harm­ful cur­rents. In ad­di­tion, ad­voc­ates want to pro­tect the ex­tra-high-voltage trans­formers we de­pend on with met­al, cur­rent-ab­sorb­ing boxes called Faraday cages.
And more re­place­ment parts, es­pe­cially the gi­ant trans­formers that can take years to make, need to be at the ready in case we lose crit­ic­al pieces of the grid. That way, even if an EMP dam­aged key in­fra­struc­ture ele­ments, the U.S. would have re­place­ments ready to go.
Without those backups, black­outs could last up to two years, said the Lloyd's re­port. Pry pegs it some­where between four and 10 years. "That's op­tim­ist­ic be­cause it as­sumes people would live that long," he said.
These aren't new solu­tions. In 2010, the House passed the GRID Act, which would have pro­tec­ted 300 of the coun­try's biggest trans­formers. The meas­ure died in the Sen­ate later that year.
Last June, Reps. Trent Franks and Yvette Clarke in­tro­duced the SHIELD Act, which man­dates many of the same safe­guards.
When the bill was in­tro­duced, Gin­grich voiced his sup­port, but the House En­ergy and Com­merce Com­mit­tee has yet to take it up. For that, Pry blames Chair­man Fred Up­ton, who he says is be­hold­en to elec­tri­city util­it­ies that don't want Con­gress to as­sert reg­u­lat­ory au­thor­ity over the power grid.
Up­ton's staff re­spon­ded with a state­ment fol­low­ing a Wed­nes­day grid se­cur­ity brief­ing. "We have been act­ive in our over­sight of the na­tion's en­ergy grid vul­ner­ab­il­it­ies and we re­main vi­gil­ant over all emer­ging threats to the grid, in­clud­ing cy­ber and phys­ic­al at­tacks, sol­ar storms, and elec­tro­mag­net­ic pulses," Up­ton said.
Ac­cord­ing to the co­ali­tion, pro­tect­ing the elec­tric­al grid would cost only $2 bil­lion, and could be com­pleted in less than five years. Safe­guard­ing all es­sen­tial in­fra­struc­ture would come in between $10-20 bil­lion.
Those who are OK with the status quo, Pry says, are "like the zep­pelin in­dustry in the 1920s." By his es­tim­ate, util­it­ies could fund grid-pro­tect­ing ef­forts by tack­ing on just 20 cents per year to rate­pay­ers' bills.
For now, frus­trated with Con­gress, the EMP Co­ali­tion is fo­cus­ing on state-level ef­forts — while still push­ing for ac­tion on the SHIELD Act. Maine's state gov­ern­ment re­cently passed le­gis­la­tion to pro­tect its power sup­ply from EMPs. "We've already made more pro­gress at the state level than in five years of beat­ing our heads against the wall in Wash­ing­ton," Pry said.
It's clear the head-banging has got­ten to Pry. At times, the frus­tra­tion and ur­gency in his voice is palp­able. He brings up North Korean nuc­le­ar tests, a sniper at­tack on San Diego trans­formers and mis­siles found last year aboard a North Korean freight­er in the Panama Canal. "All of this looks like pre­par­a­tion for a lar­ger, more co­ordin­ated at­tack," he said.
{{ BIZOBJ (video: 4847) }}