March 27, 2014, 6:19 p.m.
Rep. Mike Ro­gers is re­tir­ing at the end of his term, but he is not resign­ing early from his po­s­i­tion as chair­man of the House In­tel­li­gence Com­mit­tee — des­pite a news re­port Thursday even­ing say­ing the Michigan Re­pub­lic­an would.
The Hill had re­por­ted Ro­gers would serve an ab­bre­vi­ated term as chair­man. His spokes­wo­man quickly denied that re­port. "He is not step­ping down as Chair­man of the House In­tel Com­mit­tee," Susan Phalen said via email Thursday night.
Ro­gers, in a sur­prise move, an­nounced early Fri­day morn­ing that he would re­tire in Novem­ber to be­gin a new ca­reer as a talk ra­dio host.
"They may have lost my vote in Con­gress, but you haven't lost my voice," Ro­gers told WJR-AM ra­dio this morn­ing, ac­cord­ing to
De­troit News.
Be­fore Ro­gers de­parts from the helm of the power­ful con­gres­sion­al com­mit­tee, he is seek­ing some ma­jor le­gis­lat­ive re­forms to the Na­tion­al Se­cur­ity Agency's con­tro­ver­sial col­lec­tion of mil­lions of U.S. phone calls.
Ro­gers has been a highly vis­ible fig­ure in the re­cent de­bate over the NSA's once-secret sur­veil­lance pro­grams. Earli­er this week, Ro­gers in­tro­duced a bill along with the pan­el's top Demo­crat, Dutch Rup­pers­ber­ger, to al­low the agency's vast data­base of phone re­cords to stay in the hands of the phone com­pan­ies. House Speak­er John Boehner in­dic­ated he plans to al­low a vote on that le­gis­la­tion.
Ro­gers has been a fierce de­fend­er of the NSA after former con­tract­or Ed­ward Snowden dis­closed the once-secret sur­veil­lance pro­grams — and sparked wide­spread con­cerns about Amer­ic­ans' pri­vacy. Ro­gers, ac­cord­ing to the De­troit News, said the pro­gram was be­ing changed "based on a per­cep­tion, not a real­ity."
"We think that we have found a way to end the gov­ern­ment bulk col­lec­tion of tele­phone metadata and still provide a mech­an­ism to pro­tect the United States," Ro­gers said.
What We're Following See More »
UNTIL DEC. 9, ANYWAY
Obama Signs Bill to Fund Government
4 hours ago
REDSKINS IMPLICATIONS
SCOTUS to Hear Case on Offensive Trademarks
4 hours ago
WHY WE CARE
"The Supreme Court is taking up a First Amendment clash over the government's refusal to register offensive trademarks, a case that could affect the Washington Redskins in their legal fight over the team name. The justices agreed Thursday to hear a dispute involving an Asian-American rock band called the Slants, but they did not act on a separate request to hear the higher-profile Redskins case at the same time." Still, any precedent set by the case could have ramifications for the Washington football team.
STAFF PICKS
Bannon Still Collecting Royalties from 'Seinfeld'
5 hours ago
WHY WE CARE
The Hollywood Reporter takes a look at a little-known intersection of politics and entertainment, in which Trump campaign CEO Steve Bannon is still raking in residuals from Seinfeld. Here's the digest version: When Seinfeld was in its infancy, Ted Turner was in the process of acquiring its production company, Castle Rock, but he was under-capitalized. Bannon's fledgling media company put up the remaining funds, and he agreed to "participation rights" instead of a fee. "Seinfeld has reaped more than $3 billion in its post-network afterlife through syndication deals." Meanwhile, Bannon is "still cashing checks from Seinfeld, and observers say he has made nearly 25 times more off the Castle Rock deal than he had anticipated."
IT'S ALL CLINTON
Reliable Poll Data Coming in RE: Debate #1
6 hours ago
WHY WE CARE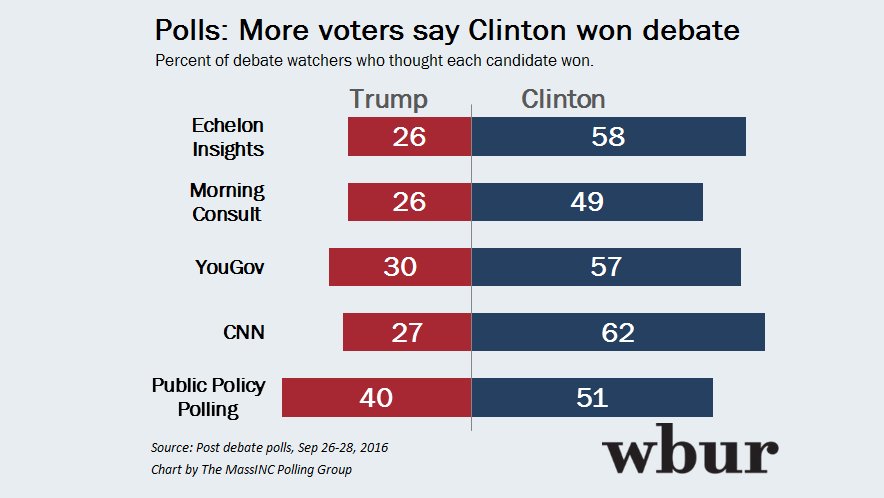 NEXT THURSDAY
Trump Transition Team Meeting with Silicon Valley VIPs
8 hours ago
THE DETAILS
Donald Trump's "transition team will meet next week with representatives of the tech industry, multiple sources confirmed, even as their candidate largely has been largely shunned by Silicon Valley. The meeting, scheduled for next Thursday at the offices of law and lobbying firm BakerHostetler, will include trade groups like the Information Technology Industry Council and the Internet Association that represent major Silicon Valley companies."