March 28, 2014, 8:01 a.m.
Mem­bers of the U.N. Se­cur­ity Coun­cil in a Thursday closed-door ses­sion re­portedly re­buked North Korea for its test earli­er this week of two bal­list­ic mis­siles.
Each rep­res­ent­at­ive at the power­ful 15-mem­ber U.N. body con­demned the fir­ing of the Ro­dong me­di­um-range mis­siles "as a vi­ol­a­tion of Se­cur­ity Coun­cil res­ol­u­tion[s]," Lux­em­bourg dip­lo­mat Sylvie Lu­cas, the cur­rent ro­tat­ing pres­id­ent of the coun­cil, said after the meet­ing was done, Re­u­ters re­por­ted.
Mul­tiple coun­cil en­voys said fur­ther dis­cus­sions prob­ably would be held next week on po­ten­tial new meas­ures against North Korea. An uniden­ti­fied West­ern dip­lo­mat told the news ser­vice it would "be an ap­pro­pri­ate re­sponse" to broaden the num­ber of North Korean en­tit­ies un­der U.N. sanc­tions.
Wheth­er the coun­cil de­cides to ex­pand the sanc­tions list will de­pend largely on China's will­ing­ness to go along. Beijing on a num­ber of pre­vi­ous oc­ca­sions has pro­tec­ted North Korea from Se­cur­ity Coun­cil pun­ish­ments.
Mean­while, U.S. Army Chief of Staff Gen. Ray­mond Odi­erno on Tues­day told a con­gres­sion­al hear­ing that the ser­vice was "look­ing at the op­tions" for main­tain­ing de­ploy­ment of an an­ti­mis­sile sys­tem in Guam that could counter in­ter­me­di­ate-range bal­list­ic mis­sile strikes, the Pa­cific Daily News re­por­ted.
The Ter­min­al High-Alti­tude Area De­fense sys­tem was de­ployed to the U.S. is­land ter­rit­ory in spring 2013 dur­ing a peri­od of heightened nuc­le­ar ten­sions with North Korea.
Sep­ar­ately, South Korea, Ja­pan, and the United States have agreed to hold two sep­ar­ate tri­lat­er­al meet­ings in April to fo­cus on im­prov­ing co­oper­a­tion in re­sponses to North Korea, the Yon­hap News Agency re­por­ted. One meet­ing is to in­volve high-rank­ing de­fense of­fi­cials from the three coun­tries. The oth­er ses­sion is ex­pec­ted to in­volve the na­tions' seni­or ne­go­ti­at­ors as­signed to a stalled mul­tina­tion­al pro­cess on North Korean de­nuc­lear­iz­a­tion.
Else­where, South Korean Pres­id­ent Park Geun-hye in a high-pro­file speech on Fri­day said Seoul was pre­pared to sup­ply North Korea with sig­ni­fic­ant eco­nom­ic as­sist­ance, if Py­ongy­ang would agree to sur­render its nuc­le­ar-weapons pro­gram, Re­u­ters sep­ar­ately re­por­ted.
What We're Following See More »
UNTIL DEC. 9, ANYWAY
Obama Signs Bill to Fund Government
1 hours ago
REDSKINS IMPLICATIONS
SCOTUS to Hear Case on Offensive Trademarks
1 hours ago
WHY WE CARE
"The Supreme Court is taking up a First Amendment clash over the government's refusal to register offensive trademarks, a case that could affect the Washington Redskins in their legal fight over the team name. The justices agreed Thursday to hear a dispute involving an Asian-American rock band called the Slants, but they did not act on a separate request to hear the higher-profile Redskins case at the same time." Still, any precedent set by the case could have ramifications for the Washington football team.
STAFF PICKS
Bannon Still Collecting Royalties from 'Seinfeld'
2 hours ago
WHY WE CARE
The Hollywood Reporter takes a look at a little-known intersection of politics and entertainment, in which Trump campaign CEO Steve Bannon is still raking in residuals from Seinfeld. Here's the digest version: When Seinfeld was in its infancy, Ted Turner was in the process of acquiring its production company, Castle Rock, but he was under-capitalized. Bannon's fledgling media company put up the remaining funds, and he agreed to "participation rights" instead of a fee. "Seinfeld has reaped more than $3 billion in its post-network afterlife through syndication deals." Meanwhile, Bannon is "still cashing checks from Seinfeld, and observers say he has made nearly 25 times more off the Castle Rock deal than he had anticipated."
IT'S ALL CLINTON
Reliable Poll Data Coming in RE: Debate #1
3 hours ago
WHY WE CARE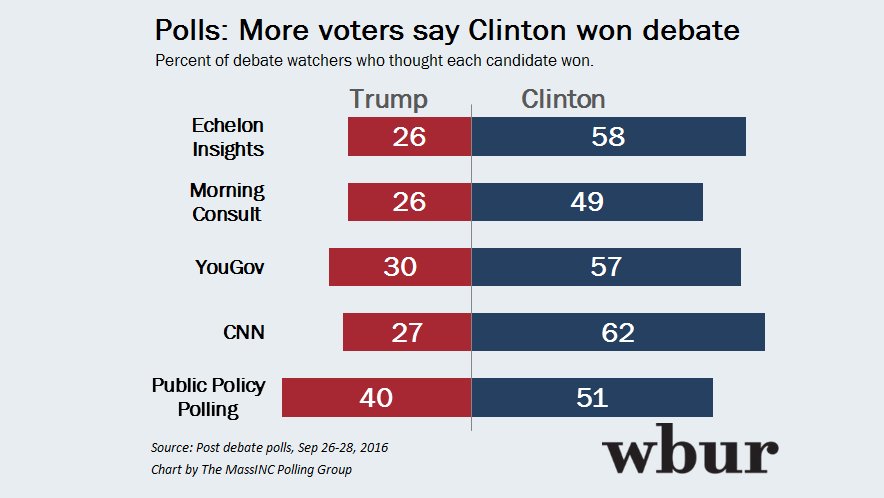 NEXT THURSDAY
Trump Transition Team Meeting with Silicon Valley VIPs
5 hours ago
THE DETAILS
Donald Trump's "transition team will meet next week with representatives of the tech industry, multiple sources confirmed, even as their candidate largely has been largely shunned by Silicon Valley. The meeting, scheduled for next Thursday at the offices of law and lobbying firm BakerHostetler, will include trade groups like the Information Technology Industry Council and the Internet Association that represent major Silicon Valley companies."