Obama­care's first en­roll­ment peri­od is end­ing — and with it, a half-dec­ade of de­bat­ing the law solely as a vague polit­ic­al ab­strac­tion.
How the Af­ford­able Care Act would play out has been mostly a the­or­et­ic­al ques­tion un­til now; Re­pub­lic­ans pre­dicted it would col­lapse in on it­self (didn't hap­pen), while Demo­crats swore the pub­lic would em­brace it as time went on (also didn't hap­pen).
The end of the first open-en­roll­ment peri­od provides real-world data to meas­ure the law's pro­gress — and those res­ults will help define the chal­lenges the law faces as it grows out of its in­fancy.
We won't know for a few more weeks ex­actly how many people picked a plan dur­ing the six-month en­roll­ment win­dow, but it's some­where north of 6 mil­lion. And we won't know un­til much later — if ever — how many people paid their first premi­um, or how many en­rollees were pre­vi­ously un­in­sured.
Both of those are crit­ic­al met­rics for eval­u­at­ing the law's per­form­ance. Neither an­swer, however, is likely to move the law back to the oth­er side of the key threshold it has already crossed: sign­ing up enough people to push ahead in­to 2015 and 2016.
"The ACA has sur­vived an elec­tion and a Su­preme Court chal­lenge and a gov­ern­ment shut­down and a web­site de­bacle, and now doubts about its en­roll­ment totals," said Drew Alt­man, pres­id­ent of the Kais­er Fam­ily Found­a­tion.
With mil­lions of people sign­ing up, the law has cleared one long, dif­fi­cult set of hurdles and has de­fied the darkest pre­dic­tions of its crit­ics. But that doesn't mean it's out of the woods en­tirely — it's just on to the next long, dif­fi­cult set of hurdles.
What will hap­pen to premi­ums?
It's too flip to say the na­tion­al en­roll­ment data "doesn't mat­ter" — the whole point of the law was to cov­er mil­lions of un­in­sured Amer­ic­ans, and wheth­er that's hap­pen­ing mat­ters very much. But the na­tion­al total doesn't say much about of the law's sus­tain­ab­il­ity or what hap­pens to premi­ums next year.
Premi­ums will go up, be­cause premi­ums go up every year. The size of next year's premi­um in­creases de­pends on en­roll­ment and demo­graph­ics in each state, and even with­in spe­cif­ic re­gions of each state.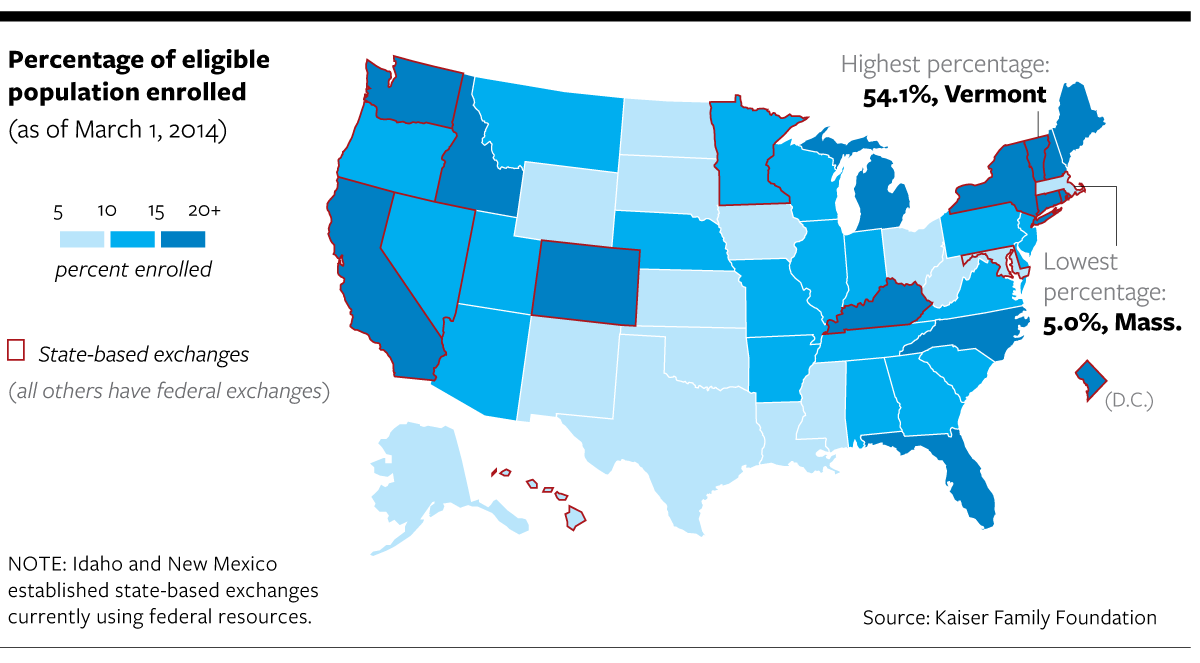 Some states are faring bet­ter than oth­ers: Cali­for­nia is well-po­si­tioned for 2015, with en­roll­ment above ex­pect­a­tions and a com­pet­it­ive mar­ket. On the oth­er end of the spec­trum are states like Mis­sis­sippi, where there's only one in­sur­ance com­pany in the state's ex­change and the pop­u­la­tion is re­l­at­ively un­healthy to be­gin with.
The demo­graph­ic mix is pretty steady across all 50 states. Na­tion­ally, young adults — the most coveted en­rollees — made up 25 per­cent of all sign-ups through the end of Feb­ru­ary. The per­cent­age will prob­ably im­prove in the fi­nal ana­lys­is; young people were al­ways ex­pec­ted to sign up at the last minute.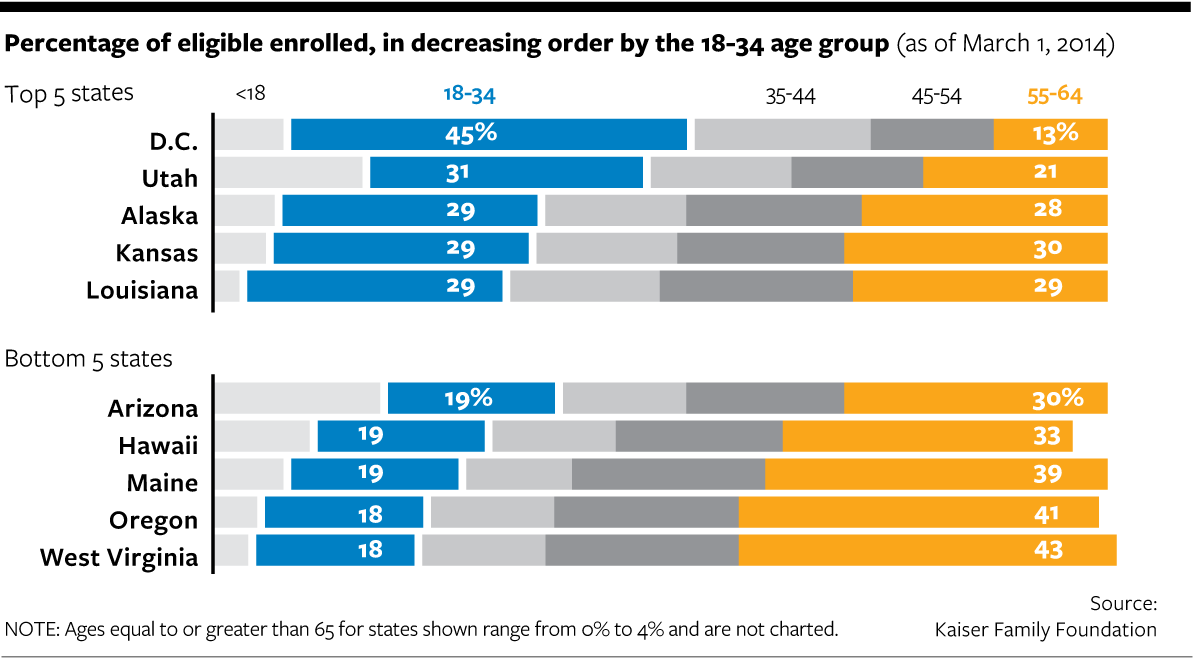 Gen­er­ally, if the risk pool in a par­tic­u­lar mar­ket turns out older and sick­er than ex­pec­ted, in­surers are more likely to raise their premi­ums. We don't know pre­cisely what in­surers ex­pec­ted — they all priced their plans in­de­pend­ently, and the law in­cludes sev­er­al pro­grams de­signed to ab­sorb any sur­prises and keep premi­ums as steady as pos­sible. In com­pet­it­ive mar­kets, in­surers likely will try to keep in­creases to a min­im­um, but in­dustry in­siders cau­tion that hikes are look­ing likely, at least in some parts of the coun­try.
Will people like their plans?
So, en­roll­ment in the first is de­cent, and there are tools to try to keep premi­ums in check, which will help en­roll­ment con­tin­ue to grow. The ad­min­is­tra­tion will prob­ably do pretty well at get­ting people in­to the sys­tem. The biggest chal­lenge for the Af­ford­able Care Act, health care ex­perts say, is wheth­er people like what they find.
"The biggest ques­tion by far is how people feel about that cov­er­age, and wheth­er they think it's a good deal "¦ and what is the pro­por­tion of win­ners to losers," Alt­man said.
The "losers" — people who had their plans can­celed and must pay more for an equi­val­ent policy that might not in­clude their doc­tor — have got­ten more at­ten­tion so far. The "win­ners" — people with preex­ist­ing con­di­tions who were denied or priced out of health in­sur­ance un­til now — will likely get more at­ten­tion as more of them ac­tu­ally gain cov­er­age.
But what if even the "win­ners" start to sour on their cov­er­age?
If the people who were sup­posed to be­ne­fit the most from Obama­care find them­selves stuck in their de­duct­ibles, pay­ing out of pock­et even though they have in­sur­ance, they could "start to be very pub­licly un­happy," said Car­oline Pear­son, seni­or vice pres­id­ent at the con­sult­ing firm Avalere Health.
The risk, Pear­son said, is that "you've got the chron­ic­ally ill people who … came in with the prom­ise of good cov­er­age and they don't find their cov­er­age to be mean­ing­ful."
The Health and Hu­man Ser­vices De­part­ment is already "wor­ry­ing about that and try­ing to fig­ure out, 'How do we give people some good­ies?' " she said.
There's also a risk of con­sumer back­lash against nar­row net­works of doc­tors and oth­er pro­viders. Many ex­change plans have ex­cluded ex­pens­ive pro­viders as a way to keep premi­ums low. That's a big­ger is­sue for people who had cov­er­age be­fore than people who are gain­ing it for the first time, but HHS is also on guard on that front, hint­ing that it might re­quire broad­er net­works.
Even if people like their be­ne­fits, will they like 'Obama­care'?
Re­pub­lic­ans are con­fid­ent the is­sue will buoy them in Novem­ber, and Demo­crat­ic strategists ac­know­ledge that health care isn't likely to turn in their fa­vor between now and then. The best they can do is neut­ral­ize it.
The turn­around in en­roll­ment from Oc­to­ber to March is un­deni­able, and it's a big win for the White House. But even as the law has found its foot­ing and en­roll­ment has surged, pub­lic ap­prov­al hasn't budged.
In the Kais­er Fam­ily Found­a­tion's latest track­ing poll, pub­lic opin­ion of the Af­ford­able Care Act was deeply di­vided, as al­ways. Forty-six per­cent of voters said they have an un­fa­vor­able view of the law, com­pared with 38 per­cent who rate it fa­vor­ably — ba­sic­ally the same break­down the poll found in Septem­ber, be­fore the dis­astrous Health­Care.gov launch.
"We could ask, Will the ACA cure Amer­ica's en­ergy prob­lems or take us to Mars, and we will get an al­most per­fect par­tis­an split in the re­sponses," Alt­man said.
If the pub­lic is go­ing to re­think Obama­care, it's go­ing to take a while.
"I think over time, as the law be­comes more real for the Amer­ic­an people, a judg­ment based on the real­ity of the law will be­gin to sup­plant the role the law has played as a sym­bol­ic di­vid­ing line between Left and Right," Alt­man said.
{{ BIZOBJ (video: 4850) }}