March 31, 2014, 11:50 a.m.
For the first time in al­most a cen­tury, the Wis­con­sin state Le­gis­lature may vote to ex­pel one of its mem­bers. Rep. Bill Kramer, who rep­res­ents a con­ser­vat­ive sub­urb in the south­east­ern part of the state, has been ac­cused of grop­ing and sexu­ally har­ass­ing two wo­men, nearly three years apart.
Kramer is ac­cused of sexu­ally har­ass­ing a fe­male lob­by­ist and a le­gis­lat­ive aide at a fun­draiser in Wash­ing­ton last month. He has been charged on two counts of second-de­gree sexu­al as­sault. If con­victed on both charges, Kramer could face up to 80 years in pris­on and $200,000 in fines.
Kramer, who has been in of­fice since 2006, has been a stal­wart in the Re­pub­lic­an-con­trolled Le­gis­lature since Gov. Scott Walk­er was elec­ted in 2010. Kramer has served as ma­jor­ity lead­er in the state As­sembly since Septem­ber. After the charges came to light, he was sum­mar­ily stripped of his title, but re­mains a mem­ber of the Le­gis­lature.
After the ac­cus­a­tions sur­faced, Kramer checked him­self in­to an un­spe­cified treat­ment pro­gram.
Kramer has already an­nounced he will not seek reelec­tion, but his at­tor­ney, James Gatzke, says his cli­ent has no in­ten­tion of leav­ing of­fice early. "He's not go­ing to," Gatzke told Na­tion­al Journ­al. "He's de­cided to take ad­vant­age of the [crim­in­al justice] pro­cess just like any­one else is able to take ad­vant­age of the pro­cess."
In or­der to ex­pel Kramer, two-thirds of the state As­sembly would have to vote to kick him out. The last time a Wis­con­sin state law­maker was ex­pelled was in 1917, when a so­cial­ist state sen­at­or re­fused to re­tract state­ments that were per­ceived as anti-Amer­ic­an. The state As­sembly lead­er­ship is now mulling its op­tions, and de­cid­ing wheth­er to take pun­it­ive ac­tion against Kramer be­fore he is con­victed.
Kramer is ac­cused of har­ass­ing a fe­male lob­by­ist and grop­ing a staffer at a fun­draiser in Feb­ru­ary. Spe­cific­ally, ac­cord­ing to the Mil­wau­kee Journ­al Sen­tinel:
Wit­nesses have al­leged that Kramer hugged a le­gis­lat­ive staffer and touched her breasts at a so­cial event after the D.C. fun­draiser. He also al­legedly made vul­gar re­marks about his sexu­al prowess to a lob­by­ist on that night of Feb. 26 and again the next day on a flight back to Wis­con­sin.
When a de­tect­ive asked Kramer to re­spond to al­leg­a­tions of touch­ing a wo­man's breasts, he said the wo­man "has very nice, doc­tor-en­hanced breasts. I am not a big fan of those. I like the real ones."
After these al­leg­a­tions came out, a sep­ar­ate fe­male polit­ic­al staffer re­por­ted an­oth­er in­cid­ent in­volving Kramer. She told po­lice that in 2011 or 2012, Kramer as­saul­ted her after a Re­pub­lic­an gath­er­ing at a loc­al bar.
In the po­lice re­port, she said Kramer was "really drunk." They walked back to her car, and after deny­ing his sexu­al ad­vances, Kramer is said to have shoved her up against her car, for­cibly kissed her, and pushed his hands un­der her shirt to feel her breasts. Ac­cord­ing to the al­leged vic­tim, Kramer later made more un­wanted sexu­al ad­vances, grabbing her groin and ex­pli­citly telling her what he wanted to do with her.
The staffer de­scribed the in­cid­ent as a "night­mare," but did not ini­tially re­port it for fear of pub­lic em­bar­rass­ment. She did, however, threaten to tell her story to the po­lice if Kramer ever sexu­ally har­assed her or someone else.
What We're Following See More »
SAUDI ARABIA BILL
Veto Override Scheduled for Wednesday in Senate
4 minutes ago
THE LATEST
Senate Majority Leader Mitch McConnell said this afternoon that the Senate on Wednesday will take up an override of President Obama's veto of legislation that would allow the families of 9/11 victims to sue the government of Saudi Arabia. "The vote is expected garner the two-thirds majority necessary to override the veto."
MEDIA SHOULD HOLD TRUMP RESPONSIBLE
Reid Devotes Senate Floor Speech to Trump's 'Racism'
48 minutes ago
THE LATEST
"Donald Trump is a racist," announced Senate Minority Leader Harry Reid from the Senate floor this afternoon. Reid said all of us are occasionally politically incorrect, but "I don't know of anyone that when that happens doesn't acknowledge it and, if necessary, apologize quickly." But Trump, he added, says things with "full intent to demean and to denigrate." Reid argued that the media isn't holding Trump to account, and should explicitly call him a racist.
ABSENT FROM LIST: GENNIFER FLOWERS
Most Trump Guests Have Military Ties
4 hours ago
TOP OF MIND
Trending on Google: 'Why Should Trump Not Be President'
4 hours ago
THE DETAILS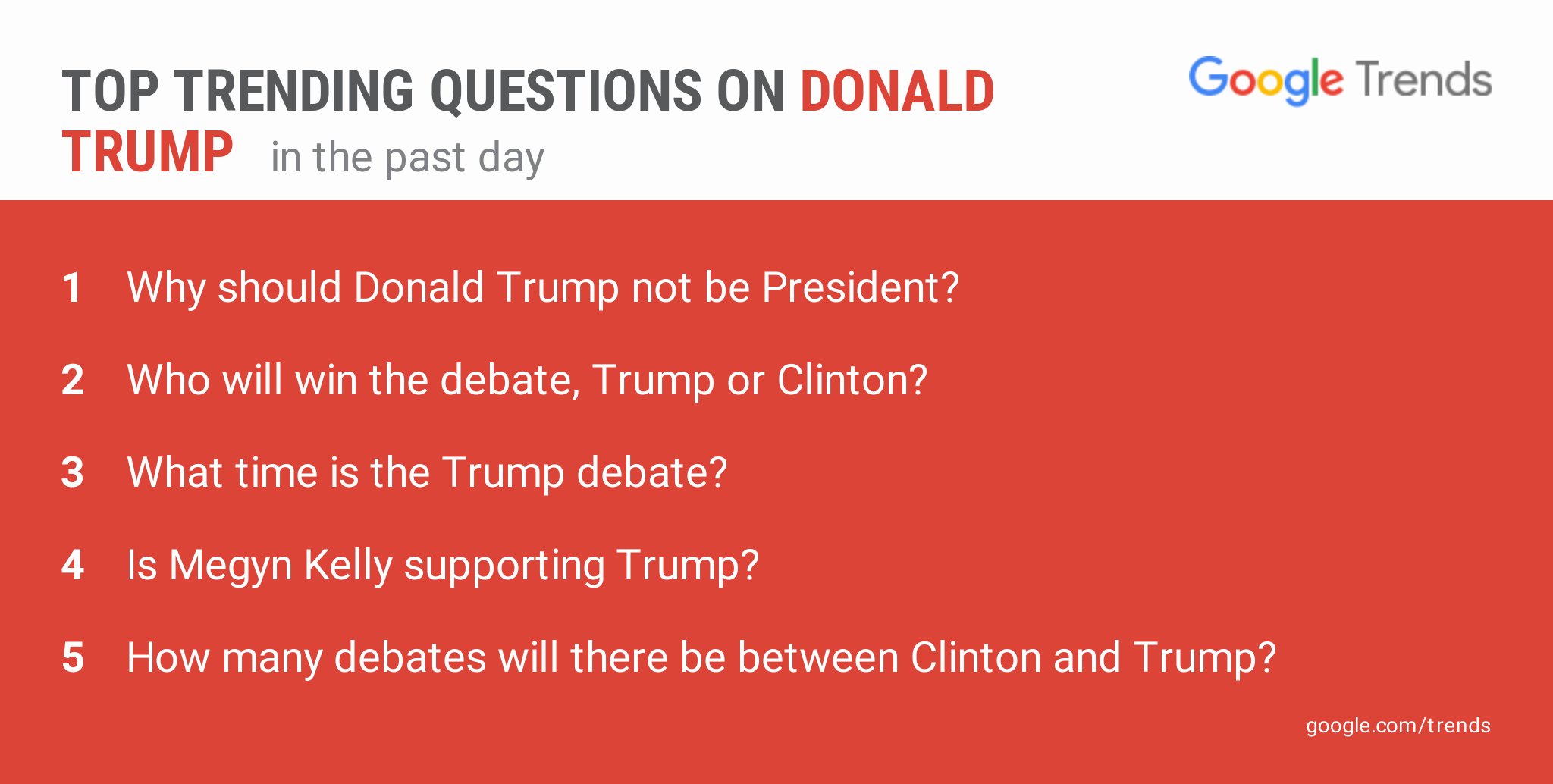 WHO PLAYED THE DONALD?
Longtime Clinton Aide Played Trump in Mock Debates
6 hours ago
THE DETAILS
After keeping the information private for most of the lead-up to the debate on Monday, it has been revealed that longtime Clinton aide Philippe Reines has been playing the role of Donald Trump in her debate prep. Reines knows Clinton better than most, able to identify both her strengths and weaknesses, and his selection for a sparring partner shows that Clinton is preparing for the brash and confrontational Donald Trump many have come to expect.