After years of ca­jol­ing by the United States, a num­ber of European al­lies are mov­ing for­ward with new in­vest­ments in their mis­sile de­fense sys­tems.
Po­land an­nounced last month it would sig­ni­fic­antly speed up the time table for choos­ing a vendor to provide the coun­try with a mis­sile de­fense sys­tem, a so-called "Pol­ish Shield." The move co­in­cides with rising anxi­et­ies in Warsaw about Mo­scow's re­cent land grab in Ukraine and con­cerns that Rus­si­an ag­gres­sion could drift fur­ther west­ward.
There is a "strong pos­sib­il­ity" that Po­land could nar­row the field of bids to just two de­fense firms as early as June, said Marty Coyne, who leads air and mis­sile de­fense busi­ness de­vel­op­ment for Lock­heed Mar­tin, in an in­ter­view with In­side De­fense in late March.
Lock­heed is pitch­ing the Me­di­um Ex­ten­ded Air De­fense Sys­tem — a mo­bile bat­tle­field an­ti­mis­sile sys­tem that provides 360-de­gree cov­er­age.
Ber­lin, which has par­tially fun­ded de­vel­op­ment of the an­ti­mis­sile sys­tem, could de­cide in the com­ing months wheth­er to pur­chase units, Coyne said. The Ger­man gov­ern­ment is presently car­ry­ing out a study of its op­tions. Rome — an­oth­er source of pro­gram-de­vel­op­ment funds — also is ex­pec­ted to make a de­cision soon, he said.
"We would ex­pect a pos­it­ive de­cision to come out of Italy this spring, fol­lowed closely by Ger­many and Po­land," the seni­or Lock­heed of­fi­cial said. "We are not over­con­fid­ent but we think we stand a good chance that all three na­tions will see the be­ne­fit of mer­ging in­to a single MEADS fol­low-on pro­gram."
Also in the run­ning for the Pol­ish con­tract are Ray­theon, a French in­dustry team of con­sist­ing of Thales and MBDA, and the Is­raeli gov­ern­ment, In­side De­fense re­por­ted.
Mean­while, Turk­ish pro­cure­ment of­fi­cials re­portedly are weigh­ing wheth­er to scrap a con­tro­ver­sial plan to buy Chinese mis­sile in­ter­cept­ors and in­stead es­tab­lish the de­sired na­tion­al an­ti­mis­sile cap­ab­il­ity us­ing loc­al de­fense firms, De­fense News re­por­ted on Monday. Faced with strong NATO op­pos­i­tion to the Chinese plan, Ank­ara has giv­en U.S. and European de­fense firms un­til the end of April to sweeten their earli­er con­tract pro­pos­als.
What We're Following See More »
ABSENT FROM LIST: GENNIFER FLOWERS
Most Trump Guests Have Military Ties
39 minutes ago
TOP OF MIND
Trending on Google: 'Why Should Trump Not Be President'
49 minutes ago
THE DETAILS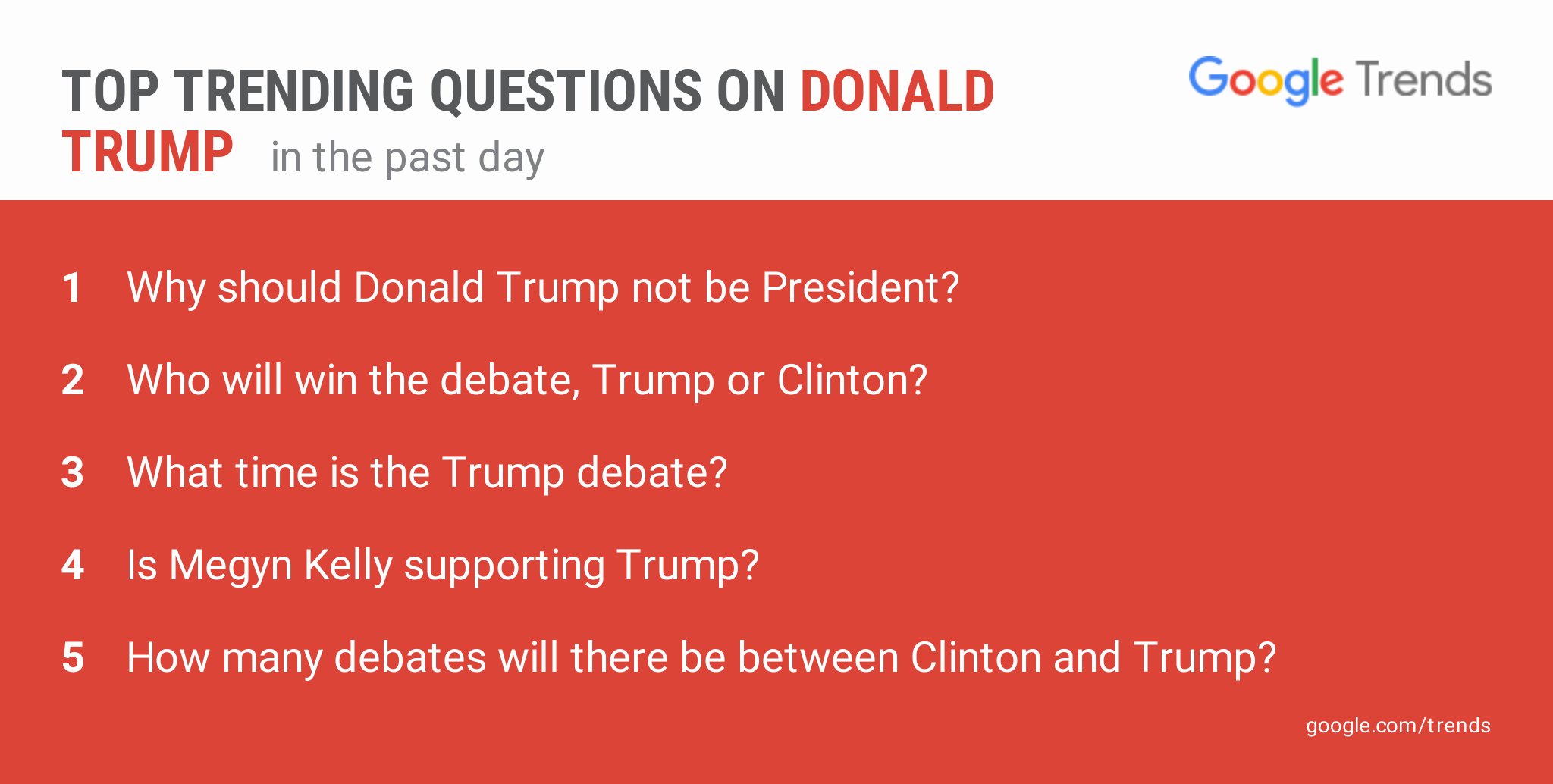 WHO PLAYED THE DONALD?
Longtime Clinton Aide Played Trump in Mock Debates
3 hours ago
THE DETAILS
After keeping the information private for most of the lead-up to the debate on Monday, it has been revealed that longtime Clinton aide Philippe Reines has been playing the role of Donald Trump in her debate prep. Reines knows Clinton better than most, able to identify both her strengths and weaknesses, and his selection for a sparring partner shows that Clinton is preparing for the brash and confrontational Donald Trump many have come to expect.
WEEKEND POLLING ROUNDUP
New Polls Still Show Razor-Thin Margins
3 hours ago
THE QUESTION
How Many Times Has the Trump Campaign Emailed Ted Cruz's Supporters?
3 hours ago
THE ANSWER
More than 30 times, in the case of some donors. Long before Cruz endorsed Trump—and before he even snubbed the nominee at the Republican National Convention—"the senator quietly began renting his vast donor email file to his former rival, pocketing at least tens of thousands of dollars, and more likely hundreds of thousands, that can be used to bankroll the Texan's own political future."