Re­li­gious liberty "has nev­er been more in per­il than it is right now," Ted Cruz told a crowd of Chris­ti­an stu­dents Wed­nes­day.
The sen­at­or from Texas was speak­ing at Liberty Uni­versity's con­voc­a­tion, and he echoed the col­lege's evan­gel­ic­al philo­sophy.
The late Rev. Jerry Fal­well foun­ded the Chris­ti­an col­lege in Lynch­burg, Va., in 1971 as an al­tern­at­ive to what he saw as the lib­er­al in­doc­trin­a­tion of oth­er Amer­ic­an uni­versit­ies. In his day, Fal­well was a lead­er of the Re­pub­lic­an Party's "mor­al ma­jor­ity" and was a pas­sion­ate sup­port­er of Ron­ald Re­agan. He was also vehe­mently an­ti­gay — in 2001, Fal­well said ho­mo­sexu­al­ity in the U.S. was par­tially to blame for the Sept. 11 ter­ror­ist at­tacks.
But today, the uni­versity's ad­min­is­tra­tion and its stu­dents are opt­ing for less fire-and-brim­stone and more soft Chris­ti­an rock. (To get a sense of what stu­dent life is like at Liberty, read Brandon Am­brosino's piece in The At­lantic last year about what it was like to come out as a gay man while at­tend­ing Liberty, or read Kev­in Roose's book about "go­ing un­der­cov­er" at the uni­versity for a semester.)
In his speech, Cruz cited two cases he de­fen­ded while he was a law­yer in Texas — one in­volving a Ten Com­mand­ments monu­ment that was erec­ted at the state Cap­it­ol, and the oth­er pro­tect­ing the phrase "one na­tion un­der God" in the Pledge of Al­le­gi­ance.
An­oth­er ex­ample of re­li­gious cen­sor­ship he gave was the story of an Air Force chap­lain in Alaska. The chap­lain was ordered by his su­per­visor to take down a re­li­gious blog post he'd writ­ten, deem­ing it in­sens­it­ive to athe­ists. "I sort of thought the job of a chap­lain is to be in­sens­it­ive to athe­ists," Cruz said. (He's said that line be­fore, at a speech in Iowa last month.)
Cruz cited Mar­tin Luth­er King Jr. as a hero for his faith, ask­ing the audi­ence how many of them had gone to jail for prac­ti­cing their faith. "Re­li­gious liberty has nev­er been more un­der as­sault," Cruz told the audi­ence. "We are called to ac­tion … to stand and speak, no mat­ter what the con­sequence."
He also ad­voc­ated for the re­lease of Saeed Abedini, an Amer­ic­an pas­tor who was de­tained in Ir­an in 2012 for "un­der­min­ing na­tion­al se­cur­ity." Abedini had been vis­it­ing Ir­an to help build an orphan­age at the time of his ar­rest.
Be­fore Cruz's speech, the uni­versity showed the sen­at­or's cine­mat­ic "stand for prin­ciple" video. Cruz also worked in a call­back to his April Fools' joke. "I'm in­spired to be with be­liev­ers who are stand­ing up with cour­age, who are stand­ing up for the prin­ciples you be­lieve in," he told the stu­dents. "I'm so in­spired, I may get an eagle tat­tooed on my chest!" (Liberty's mas­cot is an eagle.)
Cruz's speech is like a Bizarro World ver­sion of Rand Paul's speech at the Uni­versity of Cali­for­nia (Berke­ley) last month — or vice versa. In terms of cam­pus polit­ic­al cli­mate, Liberty and Berke­ley are near op­pos­ites. And while they hail from the same free­dom-lov­ing fac­tion of their party, Paul and Cruz of­ten hold very dif­fer­ent is­sues near to their hearts. Paul used his speech at Berke­ley to ad­voc­ate for data pro­tec­tion; Cruz for re­li­gious pro­tec­tions.
Polit­ics aside, Cruz is a skilled orator. He can hold a room rapt with his mix­ture of rhet­or­ic, an­ec­dotes, and pure homi­let­ic fire. In an­oth­er life­time, Cruz could have been his gen­er­a­tion's Jerry Fal­well. In­stead, he wants to be his gen­er­a­tion's Ron­ald Re­agan.
What We're Following See More »
STAFF PICKS
Bannon Still Collecting Royalties from 'Seinfeld'
44 minutes ago
WHY WE CARE
The Hollywood Reporter takes a look at a little-known intersection of politics and entertainment, in which Trump campaign CEO Steve Bannon is still raking in residuals from Seinfeld. Here's the digest version: When Seinfeld was in its infancy, Ted Turner was in the process of acquiring its production company, Castle Rock, but he was under-capitalized. Bannon's fledgling media company put up the remaining funds, and he agreed to "participation rights" instead of a fee. "Seinfeld has reaped more than $3 billion in its post-network afterlife through syndication deals." Meanwhile, Bannon is "still cashing checks from Seinfeld, and observers say he has made nearly 25 times more off the Castle Rock deal than he had anticipated."
IT'S ALL CLINTON
Reliable Poll Data Coming in RE: Debate #1
1 hours ago
WHY WE CARE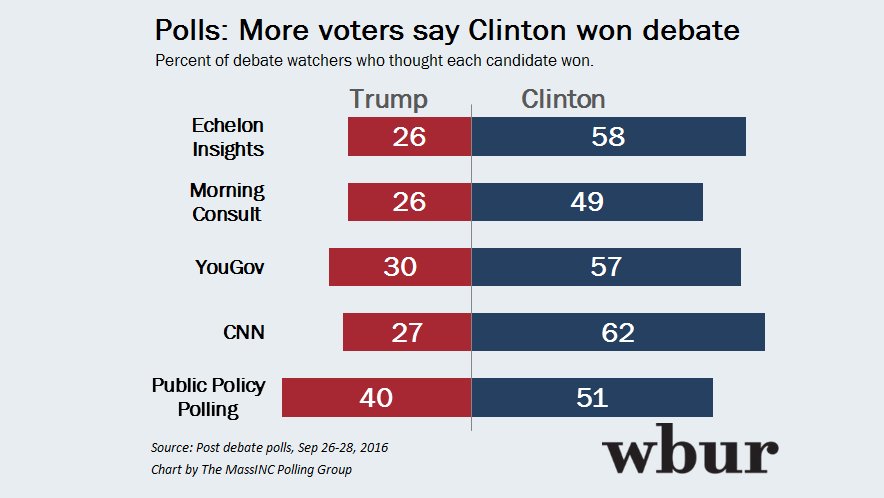 NEXT THURSDAY
Trump Transition Team Meeting with Silicon Valley VIPs
3 hours ago
THE DETAILS
Donald Trump's "transition team will meet next week with representatives of the tech industry, multiple sources confirmed, even as their candidate largely has been largely shunned by Silicon Valley. The meeting, scheduled for next Thursday at the offices of law and lobbying firm BakerHostetler, will include trade groups like the Information Technology Industry Council and the Internet Association that represent major Silicon Valley companies."
WHAT WILL PASS?
McConnell Doubts Criminal Justice Reform Can Pass This Year
3 hours ago
ALSO FIRED UNATTRACTIVE WAITRESSES
Trump Did Business with Cuba
4 hours ago
THE LATEST
Today in bad news for Donald Trump:
Newsweek found that a company he controlled did business with Cuba under Fidel Castro "despite strict American trade bans that made such undertakings illegal, according to interviews with former Trump executives, internal company records and court filings." In 1998, he spent at least $68,000 there, which was funneled through a consluting company "to make it appear legal."
The Los Angeles Times reports that at a golf club he owns in California, Trump ordered that unattractive female staff be fired and replaced with prettier women.