Pan­dora re­cently won a key leg­al vic­tory in its on­go­ing leg­al battle with song­writers, but there's no end in sight for the leg­al spat between the com­pany and the writers whose songs it plays.
At is­sue are the roy­alty fees that Pan­dora pays song­writers in ex­change for the rights to their mu­sic cata­logs. The Amer­ic­an So­ci­ety of Com­posers, Au­thors, and Pub­lish­ers — the coun­try's old­est and largest per­form­ing rights or­gan­iz­a­tion — and Pan­dora have been bat­tling in court for over two years years over roy­alty rates.
The latest rul­ing came in March, when New York Dis­trict Court Judge Den­ise Cote de­cided that Pan­dora must pay AS­CAP 1.85 per­cent the com­pany's an­nu­al rev­en­ue in ex­change for a blanket li­cense to the 100-year-old song­writers group's mu­sic­al lib­rary.
At first glance, Cote's de­cision keeps the status quo: Cote re­jec­ted AS­CAP's ar­gu­ments for a high­er rate while also re­ject­ing Pan­dora's re­quest to pay the lower rate that is awar­ded to to tra­di­tion­al AM/FM ra­dio.
That or­der leaves in place a leg­al frame­work dat­ing back to 1941, when the Justice De­part­ment set up a reg­u­lat­ory ar­range­ment that de­cides how much cus­tom­ers, such as ra­dio sta­tions or res­taur­ants, pay AS­CAP for the rights to play their cata­log of mu­sic in pub­lic. Un­der the or­der, AS­CAP is ob­lig­ated to is­sue a com­puls­ory li­cense to in­ter­ested parties, and if the two groups fail to ne­go­ti­ate a roy­alty rate, the rate is set by a fed­er­al judge. But in set­ting the rate, judges are bound by a set of para­met­ers that have thus far kept roy­alty pay­ments at a rate Pan­dora can stom­ach.
Cote's 136-page de­cision, however, con­tained lan­guage sid­ing strongly with Oak­land, Cal­if.-based Pan­dora — and leav­ing the song­writers plenty of reas­on for con­cern. She had some harsh words for mu­sic ex­ec­ut­ives, writ­ing that the "driv­ing force was the mu­sic pub­lish­ers' envy at the rate their sound re­cord­ing brethren had ex­trac­ted from Pan­dora."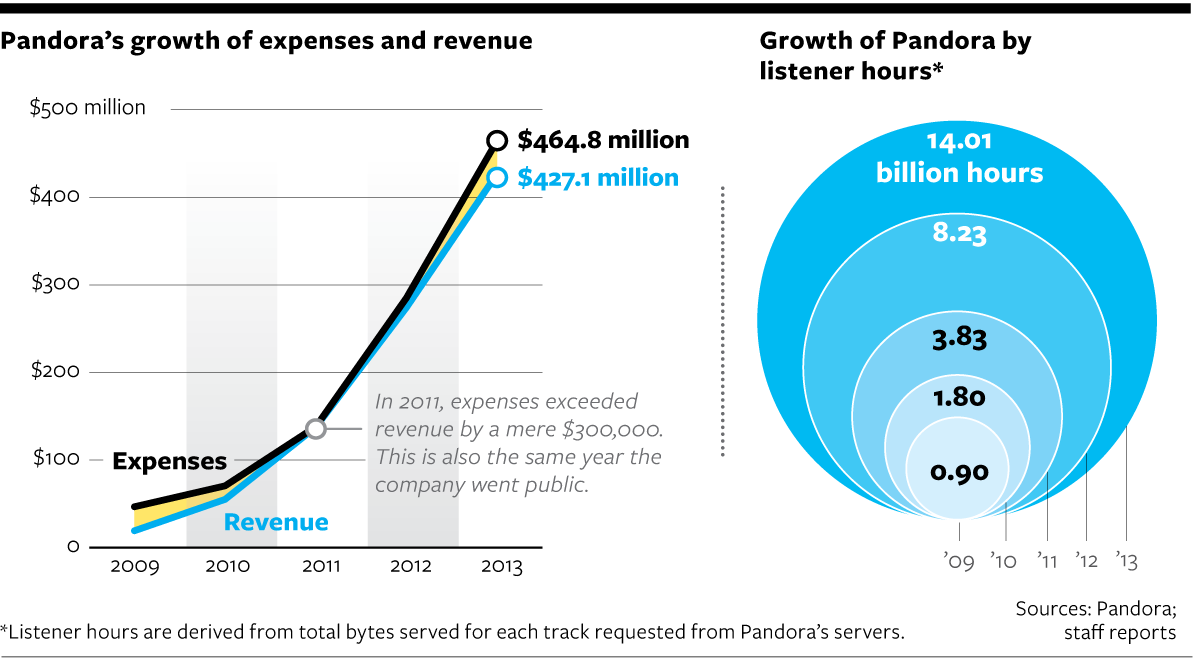 In­deed, song­writers have plenty to envy about their per­form­ing peers. Pan­dora pays re­cord­ing artists and re­cord la­bels about 50 per­cent of its rev­en­ue, while only pay­ing song­writers and pub­lish­ers about 4 per­cent total (AS­CAP is one of three ma­jor per­form­ing-rights or­gan­iz­a­tions).
And the mu­sic in­dustry is none too pleased about it. Cue Steven Tyler, the Aer­o­s­mith front man turned roy­alty-rate war­ri­or.
Tyler was in Wash­ing­ton last week to speak up against the gulf in roy­al­ties rates, and he came to Cap­it­ol Hill with a three let­ter mes­sage: "W-T-F."
"If the laws con­tin­ue go­ing the way they are, [song­writers] will nev­er be paid fairly for [their] own par­ti­cip­a­tion," Tyler said at an event hos­ted by the Na­tion­al Mu­sic Pub­lish­ers As­so­ci­ation. "So people, for­give me for be­ing a little jaded about the state of copy­right."
Song­writers are step­ping up ef­forts to get at the root of the prob­lem: chan­ging the reg­u­lat­ory sys­tem dat­ing back to WWII.
"[The Pan­dora] rul­ing con­firms what we already knew - song­writers will nev­er be paid fairly as long as they must labor un­der World War II era con­sent de­crees," NMPA Pres­id­ent and CEO Dav­id Is­rael­ite said in a state­ment. 
And law­makers, at least a few of them, are listen­ing. Re­pub­lic­an Rep. Doug Collins of Geor­gia in Feb­ru­ary in­tro­duced le­gis­la­tion that would al­low fed­er­al courts more flex­ib­il­ity in de­cid­ing li­cens­ing fees, like let­ting judges take in­to con­sid­er­a­tion how much re­cord la­bels re­ceive when set­ting rates for pub­lish­ers.
House Ju­di­ciary Com­mit­tee Chair­man Bob Good­latte is also lead­ing a com­pre­hens­ive re­view of copy­right laws, al­though re­form would likely take years.
In the mean­time, Pan­dora still isn't in the clear. The In­ter­net ra­dio pos­ted a profit at the end of 2013 for the first time in a few years. Pan­dora blames li­cens­ing pay­ments for their on­go­ing fin­an­cial struggles, re­cently cit­ing rising pay­outs to re­cord la­bels as the reas­on be­hind the com­pany's de­cision to raise sub­scrip­tion fees. 
While the com­pany es­caped a blow in the AS­CAP suit, it still faces a cloudy leg­al fu­ture. Pan­dora is locked in a sim­il­ar leg­al fight with Broad­cast Mu­sic Inc. — the second-largest per­form­ing-rights or­gan­iz­a­tion, bet­ter known as BMI, bound by a sim­il­ar con­sent de­cree that has han­di­capped AS­CAP — that is also seek­ing a big­ger piece of Pan­dora's fin­an­cial pie.
And even if Pan­dora se­cures an­oth­er win, some are con­cerned that ma­jor pub­lish­ers, like Sony/ATV and Uni­ver­sal, could de­cide to pull their mu­sic cata­logs from the AS­CAP or BMI en­tirely in a last-ditch ef­fort to get out from un­der the con­sent de­cree to ne­go­ti­ate fees dir­ectly with Pan­dora.
"If we can't se­cure ad­just­ments to the con­sent de­crees, which were last mod­i­fied be­fore the in­tro­duc­tion of the iPod, we'll have no choice but to con­sider some rad­ic­al steps in or­der to en­sure our writers are fairly com­pensated in the rap­idly chan­ging mar­ket­place," Zach Horow­itz, chair­man of the Uni­ver­sal Mu­sic Pub­lish­ing Group, told the New York Times. 
If that hap­pens, it would mean either a big leap in li­cens­ing fees or a smal­ler mu­sic lib­rary for Pan­dora.