Don­ald Ab­rams knew that Mark Henry was go­ing to die. It was 1986 when the two met. Ab­rams, one of the world's lead­ing AIDS doc­tors, was de­liv­er­ing a lec­ture in Maui. The speech had been set up in hon­or of Henry's former part­ner, who had been the first per­son on the is­land to die of the dis­ease. Henry, who had HIV him­self, sought out Ab­rams at the lec­ture. Ab­rams's ex­per­i­ences told him that Henry's de­teri­or­a­tion would be rap­id and ex­cru­ci­at­ing. Yet that know­ledge didn't stop him from de­vel­op­ing a re­la­tion­ship with Henry. It didn't stop the two men from va­ca­tion­ing to­geth­er, from laugh­ing to­geth­er, or from draw­ing close to each oth­er.
Ab­rams was a Stan­ford Uni­versity-edu­cated hem­at­o­lo­gist and on­co­lo­gist. He'd be­gun his work on AIDS in 1979 when an un­ex­plain­able pro­gres­sion of young gay men with swollen glands began show­ing up at the Kais­er Found­a­tion Hos­pit­al in San Fran­cisco. Lee Wilkin­son, the hos­pit­al's chief hem­at­o­lo­gist, summoned Ab­rams, a 29-year-old openly gay med­ic­al res­id­ent. "Hey, Duck," Wilkin­son said, in­vok­ing the Dis­ney char­ac­ter nick­name he had be­stowed on the prom­ising young doc­tor. "Can you take a look at this?"
Ab­rams ordered lab tests on the men's lymph nodes. The res­ults offered noth­ing from which to draw con­clu­sions. So he found him­self cau­tion­ing the men on un­healthy life­styles. "Stop hav­ing so many sexu­al part­ners," he lec­tured. "Stop tak­ing drugs. Move out of the fast lane."
At the ur­ging of Wilkin­son, Ab­rams moved on to the hem­at­o­logy and on­co­logy train­ing pro­gram at the Uni­versity of Cali­for­nia (San Fran­cisco). There, he star­ted en­coun­ter­ing more young gay men with new, more-severe symp­toms. By 1981, doc­tors at the uni­versity were see­ing the first cases of Ka­posi's sar­coma, a haunt­ing, sys­tem­ic af­flic­tion that left pa­tients splotched with le­sions. Ab­rams began fo­cus­ing on a strange "gay can­cer" that would be­come known as Ac­quired Im­mune De­fi­ciency Syn­drome. He no­ticed many of the men had swollen glands. "How long have you had those?" Ab­rams asked. About two years, they told him, sug­gest­ing a troub­ling pro­gres­sion of the symp­toms Ab­rams had noted in 1979.
Ab­rams ap­plied for a grant to study lymph­aden­o­pathy syn­drome, hop­ing to find clues about the first symp­toms of ill­nesses lead­ing to dia­gnoses of AIDS. He ex­amined 200 gay men with swollen glands who had yet to de­vel­op Ka­posi's sar­coma or pneumo­cystis, the ravaging pneu­mo­nia that would sig­nal their rap­id de­cline. He took lymph node spe­ci­mens to the UC San Fran­cisco labor­at­ory of Har­old Var­mus, a No­bel Prize-win­ning re­search­er. They began study­ing what would be iden­ti­fied as a ret­ro­vir­us that at­tacked cells and altered the body's DNA and its abil­ity to fend off dis­ease.
In 1983, Ab­rams moved to San Fran­cisco Gen­er­al Hos­pit­al. There, on­co­lo­gist Paul Vol­berd­ing and in­fec­tious-dis­ease spe­cial­ist Con­nie Wofsy es­tab­lished the world's first AIDS in­pa­tient ward, Ward 5B, with Ab­rams as their protégé. For a time, the trio knew every AIDS pa­tient in San Fran­cisco. That year, a French re­search­er, Luc Montag­ni­er, would be widely cred­ited with dis­cov­er­ing the vir­us that led to AIDS. Ab­rams later be­came one of three re­search­ers to name it the Hu­man Im­mun­ode­fi­ciency Vir­us, or HIV. Soon the rate of HIV dia­gnoses and the num­ber of AIDS pa­tients were skyrock­et­ing. All too soon, Ab­rams re­called, "we didn't know every­body any­more." San Fran­cisco be­came a death camp for men wast­ing away, dis­figured, stig­mat­ized with a gay dis­ease. Over two dec­ades, 19,000 city res­id­ents would per­ish from AIDS.
Still, Ab­rams let him­self fall in love with Mark Henry. When the two men met, Henry had just had an epis­ode of AIDS-re­lated pneu­mo­nia. Ab­rams knew nearly every­one with the dis­ease died with­in 12 months after a pneumo­cystis out­break.
By 1986, phys­i­cians were pre­scrib­ing a new an­ti­vir­al drug called AZT for the treat­ment of AIDS. Ab­rams be­lieved the tox­icity of AZT out­weighed its thera­peut­ic be­ne­fits. Henry didn't take the drug. Yet Ab­rams watched his part­ner sur­vive through 1986, then 1987, then 1988, and in­to 1989. Throughout this time, Henry smoked marijuana. Ab­rams, who as an un­der­grad at Brown Uni­versity pre­ferred pot to booze, joined him. Ul­ti­mately, the weed made the doc­tor feel para­noid, so Ab­rams cur­tailed his use. But Henry did not. He went on to out­live fel­low AIDS pa­tients in one sup­port group, then a second, then a third.
When he died in 1989, Mark Henry had sur­vived three times longer after pneumo­cystis than the av­er­age for AIDS pa­tients. Ab­rams didn't know for sure if there was a med­ic­al be­ne­fit to the marijuana Henry had used. The doc­tor also had no ink­ling that, years later, he would be­come Cali­for­nia's most renowned re­search­er on med­ic­al marijuana — and that clin­ic­al tri­als in the Golden State would chal­lenge the fed­er­al gov­ern­ment and health-re­search or­tho­doxy by help­ing es­tab­lish the med­ic­al ef­fic­acy of pot. Still, it was not lost on Ab­rams just how long Henry had man­aged to live — and he used can­nabis "every freakin' day."
CHAL­LEN­GING THE GOV­ERN­MENT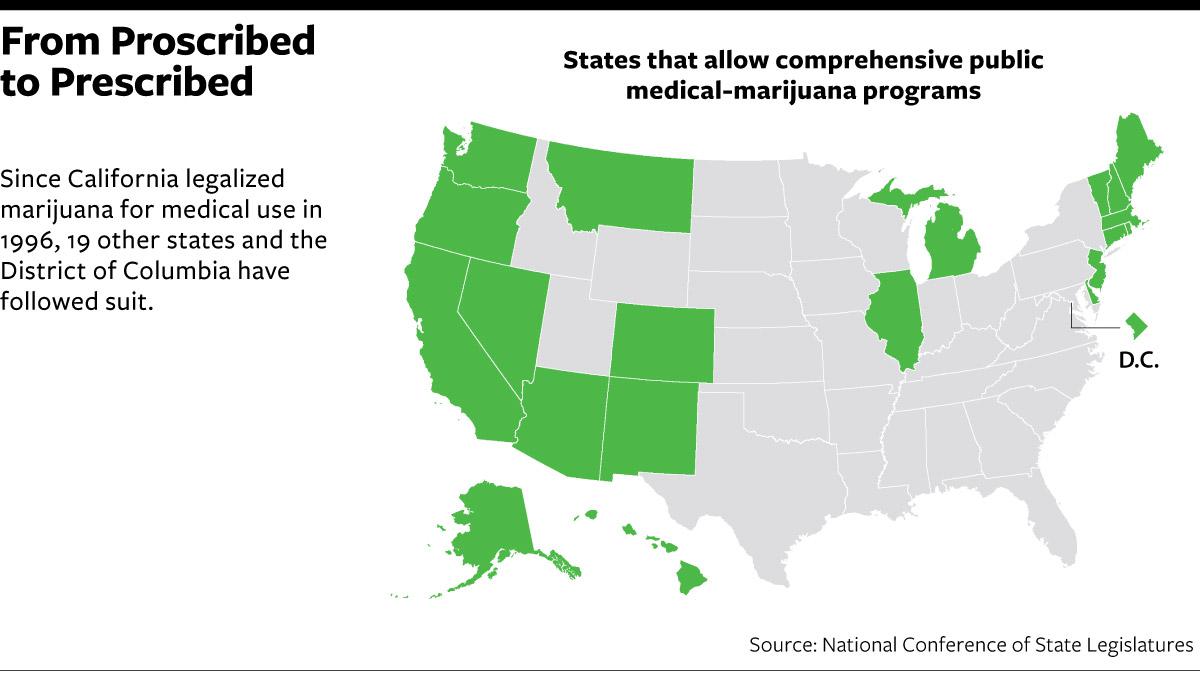 Twenty-five years after Henry's death, med­ic­al marijuana is leg­al in 20 states. In 2012, Col­or­ado and Wash­ing­ton be­came the first states to leg­al­ize marijuana for non­med­ic­al reas­ons. Re­cently, Pres­id­ent Obama said of pot dur­ing an in­ter­view with The New York­er: "I don't think it is more dan­ger­ous than al­co­hol."
Yet with the tide of his­tory seem­ingly on the side of leg­al­iz­a­tion, it's easy to for­get that the ques­tion of wheth­er pot can be le­git­im­ately used for med­ic­al reas­ons re­mains a fraught polit­ic­al sub­ject. The fed­er­al gov­ern­ment still clas­si­fies marijuana as a Sched­ule I drug with no ac­cep­ted med­ic­al use. And last year, the gov­ern­ment's po­s­i­tion on marijuana re­ceived a cru­cial en­dorse­ment from the U.S. Court of Ap­peals for the Dis­trict of Columbia Cir­cuit. A group called Amer­ic­ans for Safe Ac­cess had sued the Drug En­force­ment Ad­min­is­tra­tion over marijuana's 42-year-long clas­si­fic­a­tion as a Sched­ule I drug, and the court ended up sid­ing with the status quo. "There is ser­i­ous de­bate in the United States over the ef­fic­acy of marijuana for med­ic­al uses," Seni­or Cir­cuit Judge Harry Ed­wards wrote in his ma­jor­ity opin­ion — be­fore con­clud­ing that "sub­stan­tial evid­ence" sup­ports the gov­ern­ment's claim that stud­ies af­firm­ing ac­cep­ted med­ic­al use of marijuana "do not ex­ist." In oth­er words, as far as the D.C. Cir­cuit and the fed­er­al gov­ern­ment were con­cerned, the work of Don­ald Ab­rams — and oth­er doc­tors who had spent many years ex­plor­ing the med­ic­al be­ne­fits of marijuana — nev­er happened.
To be sure, Ab­rams and his peers in the med­ic­al pro­fes­sion were hardly the only people work­ing to change the dis­cus­sion sur­round­ing marijuana over the last two dec­ades. Throughout the coun­try, but es­pe­cially in Cali­for­nia, there has been no short­age of act­iv­ists, politi­cians, in­tel­lec­tu­als, and en­tre­pren­eurs who pushed so­ci­ety to ad­opt a dif­fer­ent view of pot. Yet of all these groups, it is ar­gu­ably the doc­tors — spe­cific­ally those steeped in the re­search on med­ic­al marijuana — whose work has offered the most dir­ect chal­lenge to the fed­er­al gov­ern­ment's cur­rent stance on can­nabis.
By 1990, an­guish over the un­solved epi­dem­ic of AIDS and HIV was ex­plod­ing in­to rage in San Fran­cisco. That year the city hos­ted the In­ter­na­tion­al AIDS Con­fer­ence, only to have the event dis­rup­ted by act­iv­ists from ACT UP, the AIDS Co­ali­tion to Un­leash Power. Wear­ing "Si­lence=Death" shirts, they blew pier­cing whistles, threw chairs, and dir­ec­ted shouts of "Shame!" at con­fer­ence par­ti­cipants, in­clud­ing Don­ald Ab­rams and oth­er AIDS doc­tors and re­search­ers. Ac­cord­ing to the act­iv­ists, people were dy­ing be­cause of a con­spir­acy of gov­ern­ment ob­struc­tion, be­cause of a lack of fund­ing for AIDS treat­ments, and be­cause of the con­tin­ued fail­ure of re­search­ers to find a cure.
By then, an­oth­er move­ment was at­tach­ing it­self to the cause of AIDS and gay rights — marijuana. That same year, nar­cot­ics of­ficers raided the apart­ment of Den­nis Per­on, a pot deal­er who sup­plied weed to sick people in the gay com­munity. Po­lice roughed up Per­on's lov­er, le­sion-wracked and skelet­al-thin AIDS suf­fer­er Jonath­an West. An en­raged Per­on would later de­scribe an of­ficer put­ting a boot on West's neck and taunt­ing him: "Know what AIDS means? As­shole in Deep Shit." In 1991, Per­on mar­shaled his fury to win 80 per­cent voter sup­port for San Fran­cisco's Meas­ure P, an ad­vis­ory meas­ure call­ing on the state to leg­al­ize marijuana as medi­cine.
Per­on also found an ally in Mary Jane Rath­bun, an ec­cent­ric Ir­ish-Cath­ol­ic sep­tua­gen­ari­an with a pas­sion for bak­ing and for pot. She partnered with him to set up the San Fran­cisco Can­nabis Buy­ers Club, which went on to provide marijuana to thou­sands of gay men with AIDS. They would later cowrite a book, Brownie Mary's Marijuana Cook­book and Den­nis Per­on's Re­cipe for So­cial Change.
It was at San Fran­cisco Gen­er­al Hos­pit­al where Don­ald Ab­rams and fel­low AIDS doc­tors got to know "Brownie Mary." For years, she was an ever-present vo­lun­teer in an out­pa­tient clin­ic in a con­ver­ted pe­di­at­rics ward on the sixth floor of the hos­pit­al's build­ing No. 80. "Ward 86" be­came Amer­ica's most fam­ous AIDS clin­ic. There, Rath­bun shuttled sick young men she dubbed her "kids" from the clin­ic to ra­di­ology. She also brought them fresh-baked goods in­fused with marijuana, be­com­ing a me­dia darling in the pro­cess.
In 1992, Ab­rams ar­rived in Am­s­ter­dam for an In­ter­na­tion­al AIDS Con­fer­ence. He flipped on the tele­vi­sion in his hotel room. CNN In­ter­na­tion­al was broad­cast­ing a break­ing story from the Bay Area: Brownie Mary had been ar­res­ted with two and a half pounds of weed, raided by po­lice as she was craft­ing her con­fec­tions at a friend's home in Sonoma County. Soon the City of San Fran­cisco — which un­der the voter-ap­proved Meas­ure P now of­fi­cially con­sidered marijuana a le­git­im­ate source of symp­tom re­lief for AIDS, can­cer, and oth­er ill­nesses — staged a "Brownie Mary Day." The Sonoma County dis­trict at­tor­ney later dropped the charges.
Brownie Mary's mes­sage el­ev­ated AIDS and pot as an in­ter­na­tion­al story. It reached a frus­trated med­ic­al-marijuana re­search ad­voc­ate named Rick Dob­lin in North Car­o­lina. Dob­lin was pre­par­ing to re­sume his doc­tor­al stud­ies in pub­lic policy at Har­vard after com­plet­ing his Har­vard mas­ter's de­gree with a thes­is on med­ic­al marijuana. He had foun­ded a group called the Mul­tidiscip­lin­ary As­so­ci­ation for Psy­che­del­ic Stud­ies, which ad­voc­ated re­search on al­tern­at­ive medi­cines, in­clud­ing marijuana and the drug known as Ec­stasy.
Dob­lin had no med­ic­al de­gree. But for two years he had shopped around a re­search pro­tocol for study­ing marijuana's ef­fect­ive­ness in re­vers­ing the naus­ea and loss of ap­pet­ite that led to wast­ing syn­drome and starved AIDS pa­tients in­to hol­low-eyed hu­man forms. After Dob­lin saw Brownie Mary on tele­vi­sion, he wrote a let­ter "to whom it may con­cern" at San Fran­cisco Gen­er­al Hos­pit­al's AIDS pro­gram. The let­ter, ur­ging someone there to take on the re­search pro­ject, was routed to Ab­rams. The doc­tor fol­lowed up, and Dob­lin made an in­stant im­pres­sion. Dob­lin in­sisted that ground­break­ing marijuana re­search "should come from Brownie Mary's in­sti­tu­tion." Ab­rams was be­mused by the thought of be­com­ing the Brownie Mary Re­search In­sti­tute. But he was in­spired by the study idea, which made him think of Henry. It re­minded him of how pot had seemed to keep his lov­er alive and func­tion­ing for so long.
By 1992, Ab­rams was work­ing with San Fran­cisco's Com­munity Con­sor­ti­um, a group of phys­i­cians set­ting up com­munity-based clin­ic­al tri­als to ex­plore treat­ments with AIDS and HIV pa­tients. Des­pite be­ing in­trigued, Ab­rams was skep­tic­al of Dob­lin's plan to in­vest­ig­ate the medi­cin­al ef­fect­ive­ness of marijuana brownies. He didn't see a way to stand­ard­ize can­nabis doses in brownies, par­tic­u­larly over a mul­ti­week clin­ic­al-re­search tri­al. But Dob­lin in­sisted that some kind of study of marijuana's ef­fect on wast­ing syn­drome needed to hap­pen. Dob­lin con­tac­ted the Food and Drug Ad­min­is­tra­tion about sup­port­ing a clin­ic­al tri­al and got a pos­it­ive re­sponse. He ar­ranged with a Dutch med­ic­al-marijuana firm to grow can­nabis for the re­search.
The same year, the pre­scrip­tion drug Marin­ol — con­tain­ing a syn­thet­ic­ally pro­duced ver­sion of marijuana's psy­cho­act­ive delta 9-tet­rahy­drocan­nabin­ol (THC) con­stitu­ent — had been ap­proved for treat­ment of people with HIV wast­ing syn­drome. But pa­tients of phys­i­cians at Com­munity Con­sor­ti­um re­por­ted that swal­low­ing Marin­ol left them zoned out for hours. Many re­por­ted they pre­ferred smoking pot be­cause they could reg­u­late their dose through the num­ber and spa­cing of hits from a joint. The Com­munity Con­sor­ti­um's board de­cided to back a study to as­sess sep­ar­ate groups of wast­ing pa­tients — who either smoked marijuana or took Marin­ol — for changes in im­mune-sys­tem levels, body weight, and body com­pos­i­tion. Re­search re­view boards from UC San Fran­cisco and the state of Cali­for­nia signed off on the study.
But in try­ing to pur­sue the re­search, Ab­rams re­calls that he ran in­to a series of road­b­locks in the fed­er­al gov­ern­ment — at the Drug En­force­ment Ad­min­is­tra­tion, the Na­tion­al In­sti­tute on Drug Ab­use, and the Na­tion­al In­sti­tutes of Health. NIH, for in­stance, re­viewed the study but ef­fect­ively killed it by not at­tach­ing a re­search score, an ac­tion crit­ic­al to rank­ing the tri­al for po­ten­tial gov­ern­ment fund­ing. Two peer re­view­ers ques­tioned why re­search­ers wanted to test a "tox­ic" sub­stance such as pot. An­oth­er sug­ges­ted that wast­ing pa­tients re­dis­cov­er­ing their ap­pet­ites might de­vel­op high cho­les­ter­ol, clogged ar­ter­ies, and re­duced sup­pres­sion of tu­mor cells. Ab­rams was in­cred­u­lous. People with wast­ing syn­drome didn't live re­motely long enough for any of that to oc­cur.
1,400 GOV­ERN­MENT JOINTS
In Novem­ber 1996, three months after the NIH helped kill Ab­rams's study, Cali­for­nia voters passed Pro­pos­i­tion 215, which made the state the first in the coun­try to leg­al­ize med­ic­al marijuana. Though it made no ref­er­ence to med­ic­al re­search, Cali­for­nia's his­tor­ic vote seemed to cry out for stud­ies on pot's ef­fect­ive­ness for those suf­fer­ing from AIDS/HIV, can­cer, an­or­ex­ia, spas­ti­city, and pain.
After Pro­pos­i­tion 215's pas­sage, Ab­rams at­ten­ded meet­ings with the San Fran­cisco De­part­ment of Pub­lic Health to dis­cuss how to make the law op­er­a­tion­al for people who needed can­nabis. At one meet­ing, he met an ACT UP mem­ber wor­ried about the re­cent death of an AIDS pa­tient who had been tak­ing Ec­stasy. The drug had blocked the liv­er's meta­bol­ism of pro­tease in­hib­it­or drugs, height­en­ing the pa­tient's vul­ner­ab­il­ity to the dis­ease. By then, an es­tim­ated 11,000 gay men in San Fran­cisco were us­ing marijuana for AIDS or HIV. The ACT UP act­iv­ist wanted to know wheth­er pot, too, could in­ter­fere with life-sav­ing an­ti­ret­ro­vir­al drugs.
Ab­rams had an epi­phany. He could study the risk of pot for pa­tients on pro­tease in­hib­it­ors. In oth­er words, in­stead of try­ing to in­vest­ig­ate wheth­er pot was med­ic­ally use­ful, he would — as a way of at least mov­ing the sci­ence on pot for­ward — in­vest­ig­ate wheth­er it was med­ic­ally harm­ful when used with anti-AIDS drugs. He wrote up a re­search pro­tocol for a clin­ic­al tri­al on the po­ten­tial in­ter­ac­tion between marijuana and the AIDS-fight­ing med­ic­a­tions, ar­guing that the con­nec­tion was "wor­ri­some since many HIV-in­fec­ted pa­tients con­tin­ue to smoke marijuana as an ap­pet­ite stim­u­lant or to de­crease naus­ea."
In Au­gust 1997, after a peer re­view by spe­cial­ists Ab­rams had sug­ges­ted — in clin­ic­al phar­ma­co­logy, im­mun­o­logy, vir­o­logy, en­do­crino­logy, and HIV medi­cine — the Na­tion­al In­sti­tute on Drug Ab­use and oth­er gov­ern­ment agen­cies signed off on the pro­ject. With $1 mil­lion in fund­ing awar­ded for the re­search, Ab­rams ac­cep­ted de­liv­ery from NIDA of 1,400 gov­ern­ment joints, plus a re­search sup­ply of the syn­thet­ic THC drug Marin­ol. The pot was stored at San Fran­cisco Gen­er­al Hos­pit­al in a locked freez­er equipped with a burg­lar alarm.
On May 12, 1998, the first pa­tients were en­rolled in the study. One group daily smoked three marijuana joints that con­tained 3.95 per­cent THC and had been prepped in a hu­mid­i­fi­er. An­oth­er group smoked can­nabis-fra­grant placebo joints with the THC re­moved. A third group took or­al ap­plic­a­tions of Marin­ol. The 16-mem­ber re­search team led by Ab­rams mon­itored the weight, cell counts, and vir­al health of the pa­tients.
The study con­cluded that use of can­nabin­oids — the nat­ur­al THC in pot or syn­thet­ic THC in Marin­ol — neither in­creased the vir­al load of in­di­vidu­als with HIV in­fec­tion nor in­terfered with their pro­tease in­hib­it­or drugs. An­ec­dot­ally, the re­search­ers noted that pa­tients giv­en Marin­ol were more leth­ar­gic and spent more time in bed, while those smoking pot were more act­ive. The re­search, Ab­rams wrote, failed to demon­strate "clin­ic­ally sig­ni­fic­ant in­ter­ac­tions with can­nabin­oids that would war­rant dose ad­just­ments of pro­tease in­hib­it­ors." He de­livered the con­clu­sion that marijuana was safe for people with HIV. It didn't in­ter­fere with anti-AIDS drugs. And there was something more: Pa­tients us­ing marijuana and Marin­ol saw in­creased pro­duc­tion of healthy cells, with mar­gin­ally high­er levels for the pot smokers. People in the marijuana group also put on an av­er­age of 7.7 pounds in 21 days, com­pared to 7 pounds for the Marin­ol group and 2.9 pounds for the placebo group.
Des­pite the res­ults, no lead­ing med­ic­al re­search journ­al was eager to pub­lish the study. Ab­rams was re­jec­ted by the pres­ti­gi­ous journ­al The Lan­cet, by The New Eng­land Journ­al of Medi­cine, and by The Journ­al of the Amer­ic­an Med­ic­al As­so­ci­ation. Ul­ti­mately, after an ini­tial deni­al, the An­nals of In­tern­al Medi­cine of the Amer­ic­an Col­lege of Phys­i­cians in­ter­viewed Ab­rams on his study. In 2003, the journ­al pub­lished his re­search.
Clin­ic­al evid­ence of the ef­fic­acy of can­nabis with HIV pa­tients was now part of ac­cep­ted med­ic­al lit­er­at­ure. Still, in the study and with the me­dia, Ab­rams was polit­ic about the con­clu­sions. He wrote that the find­ings meant "placebo-con­trolled stud­ies of the ef­fic­acy of smoked marijuana could be con­sidered in the fu­ture." He called for more re­search.
After the death of Mark Henry, Ab­rams had found a new life part­ner in Clint Wern­er. They began a re­la­tion­ship in 1994 and later mar­ried. Years after Ab­rams's clin­ic­al tri­al on can­nabis and pa­tients with HIV in­fec­tion, Wern­er re­vealed the doc­tor's in­tern­al sense of tri­umph. What Ab­rams mostly re­frained from broad­cast­ing, Wern­er, a nat­ur­al-foods chef de­voted to the di­et­ary pre­ven­tion of dis­ease, all but shouted out. "The clin­ic­al tri­al was a Tro­jan horse, fi­nally al­low­ing re­search­ers to get the data they had been seek­ing for years," Wern­er wrote in his book Marijuana Gate­way to Health. Ab­rams's "true pur­pose" in the study, Wern­er wrote, "had been to as­cer­tain wheth­er marijuana helped im­prove the ap­pet­ite of AIDS pa­tients — and it did." Ab­rams's hus­band con­cluded with a flour­ish: "Sci­ence had spoken. THC really did cause the munchies."
After Don­ald Ab­rams's break­through clin­ic­al tri­al, state As­sembly­man John Vas­con­cel­los sought to make med­ic­al can­nabis re­search a fully fun­ded pri­or­ity of the state. Vas­con­cel­los cham­pioned le­gis­la­tion call­ing for cre­ation of a Cali­for­nia Cen­ter for Medi­cin­al Can­nabis Re­search. Its mis­sion would be to provide an­swers — af­firm­at­ive, neg­at­ive, or both — to the ques­tion, "Does marijuana have thera­peut­ic value?"
Vas­con­cel­los set out to de­vel­op the concept in con­sulta­tion with some of the top med­ic­al and re­search pro­fes­sion­als in the Uni­versity of Cali­for­nia sys­tem. He also needed polit­ic­al help in or­der to get his idea through the Le­gis­lature. A self-de­scribed "old-time lib­er­al," Vas­con­cel­los found an un­ex­pec­ted ally dur­ing the 1998 elec­tion sea­son in a law-and-or­der con­ser­vat­ive, Dan Lun­gren, the state's at­tor­ney gen­er­al. Lun­gren, who had been an ar­dent op­pon­ent of Pro­pos­i­tion 215, was run­ning for gov­ernor that year. He drew a Re­pub­lic­an primary chal­lenge from Den­nis Per­on, the pro-med­ic­al-marijuana act­iv­ist. With no shot at win­ning, Per­on served as an ant­ag­on­ist to re­mind people that Lun­gren op­posed the will of voters on med­ic­al marijuana. Look­ing to find middle ground on pot for the Novem­ber gen­er­al-elec­tion race against Demo­crat Gray Dav­is, Lun­gren en­dorsed re­search on the med­ic­al use of can­nabis. Vas­con­cel­los saw a polit­ic­al op­por­tun­ity. He reached out to the at­tor­ney gen­er­al. Their staffs began draft­ing le­gis­la­tion for un­pre­ced­en­ted med­ic­al-marijuana stud­ies.
In 1999, by the time the le­gis­la­tion — Sen­ate Bill 847 — reached the floor, Vas­con­cel­los had moved to the state Sen­ate. Lun­gren was gone from the at­tor­ney gen­er­al's of­fice and had been de­feated in the gov­ernor's race. But his en­dorse­ment helped pry loose cru­cial Re­pub­lic­an votes. Vas­con­cel­los needed 27 votes — a two-thirds ma­jor­ity of the 40-mem­ber Sen­ate — to pass the ap­pro­pri­ation. With no votes to spare, Vas­con­cel­los offered pro­ced­ur­al cov­er to three Re­pub­lic­an sen­at­ors — Jim Brulte, Tim Leslie, and Pete Knight — who were skit­tish about be­ing the 27th vote on a pro-marijuana bill. The GOP trio agreed to shout "aye" in uni­son so that no in­di­vidu­al got the blame as Cali­for­nia law­makers voted to spend $8.7 mil­lion in state tax dol­lars to study weed. In 2000, the Cen­ter for Medi­cin­al Can­nabis Re­search was born.
Re­search pro­pos­als began stream­ing in by 2001. Over the next dec­ade, the cen­ter — headquartered at the Uni­versity of Cali­for­nia (San Diego) — would ap­prove and over­see 15 Cali­for­nia clin­ic­al stud­ies, in­clud­ing sev­en tri­als dir­ectly test­ing pot's ef­fect on re­search sub­jects. The cen­ter es­tab­lished an ex­haust­ive peer-re­view pro­cess and used the le­gis­lat­ive clout of the most pop­u­lous state in the na­tion to win re­search ap­prov­al from mul­tiple fed­er­al agen­cies. The cen­ter's dir­ect­or, Ig­or Grant, a renowned neuro­psy­chi­at­rist at UC San Diego, didn't con­duct any re­search him­self; he saw to it that the cen­ter handled all re­search ap­plic­a­tions and that his clini­cians didn't have to fight the gov­ern­ment to do can­nabis work. Mean­while, he de­man­ded rig­or­ous, mod­ern tri­als that could be pub­lished in med­ic­al-re­search lit­er­at­ure. He figured there was no point in wast­ing Cali­for­nia tax money on stud­ies "that wouldn't see the light of day."
One of those ap­ply­ing for a re­search grant, Barth Wil­sey — a pain-man­age­ment phys­i­cian at the Uni­versity of Cali­for­nia (Dav­is) — sought fund­ing for a study on wheth­er can­nabis provided re­lief for people with neuro­path­ic pain from spin­al cord in­jur­ies, dia­betes, strokes, and oth­er con­di­tions caus­ing life-dis­rupt­ing dis­com­fort from nerve dam­age or in­jury. Earli­er in his ca­reer, Wil­sey was a fel­low in pain man­age­ment at UC San Fran­cisco, see­ing pa­tients in a small clin­ic in the city. People com­ing in would tell him they turned to marijuana when noth­ing else seemed to work. Wil­sey, a li­censed acu­punc­tur­ist, was in­ter­ested in al­tern­at­ive ther­apies.
Mark Wal­lace, an an­es­thesi­olo­gist and pain spe­cial­ist at UC San Diego, pro­posed a study in which healthy sub­jects would smoke marijuana and re­search­ers would study the an­al­ges­ic ef­fects of can­nabis after in­ject­ing cap­saicin, the hot in­gredi­ent in chili pep­pers, in­to their skin. Jody Corey-Bloom, dir­ect­or of the UC San Diego Mul­tiple Scler­osis Cen­ter, set out to see if marijuana could re­lieve spas­ti­city in MS pa­tients whose use of phar­ma­ceut­ic­als of­ten failed to al­le­vi­ate their suf­fer­ing. Don­ald Ab­rams and Ron El­lis, a UC San Diego neur­o­lo­gist, worked to see if pot could quell tingling and shoot­ing pains that would start in the feet of AIDS and HIV pa­tients and move to their fin­gers and hands, dis­rupt­ing their abil­ity to sleep, to ex­er­cise, and, of­ten, to cope.
In sep­ar­ate, over­lap­ping stud­ies between 2002 and 2006, pa­tients with neuro­path­ic pain from HIV smoked pot un­der the su­per­vi­sion of Ab­rams's nine-mem­ber re­search team at UC San Fran­cisco's Gen­er­al Clin­ic­al Re­search Cen­ter and El­lis's eight-mem­ber team at the UC San Diego Med­ic­al Cen­ter. In San Fran­cisco, 55 pa­tients, mostly men with HIV in­fec­tion for 14 years, smoked three marijuana ci­gar­ettes or placebo joints a day in five-day tri­als. In sur­veys for chron­ic pain dur­ing the tri­als, can­nabis was found to re­duce the sub­jects' pain by an av­er­age of 34 per­cent — double the rate of the marijuana placebo. Tests in which brushes were stroked against the sub­jects' skin showed pot could quell shoot­ing pain sen­sa­tions in HIV pa­tients, for whom things as be­nign as pulling a bed­sheet over their toes could trig­ger light­ning bolts of agony. However, Ab­rams's team failed to show sim­il­ar be­ne­fits of marijuana in cases of acute pain such as might be ex­per­i­enced after an in­jury or sur­gery.
In San Diego, re­search sub­jects were giv­en placebo joints or three po­tency levels of marijuana. El­lis's team mon­itored 28 HIV sub­jects as they toked on marijuana or the pot placebos over two-week peri­ods, with a two-week break with no marijuana use al­lowed between each new re­search stage. Not­ably, El­lis also had all sub­jects con­tin­ue tak­ing their phar­ma­ceut­ic­al pain med­ic­a­tions dur­ing the study. He found they still got a boost from can­nabis, with the pot group re­port­ing pain re­lief at two and a half times the fre­quency of the placebo group.
El­lis also meas­ured impair­ment. He tested people's abil­ity to con­nect ran­dom let­ters and num­bers on a page, and he had them op­er­ate a driv­ing ma­chine, in which they were to avoid sim­u­lated traffic obstacles and fol­low lights and signs. In both tests, pa­tients scored worse after smoking can­nabis than be­fore.
In­deed, re­search­ers did not shy away from ac­know­ledging down­sides of pot. One of El­lis's ori­gin­al 34 en­rolled re­search sub­jects had to be ex­cused when he de­veloped an in­tract­able cough from smoking pot. An­oth­er sub­ject, who had nev­er be­fore used marijuana, gave re­search­ers a scare. After smoking his first joint, he star­ted star­ing in­to space and stopped re­spond­ing to ques­tions. The man was in a cata­ton­ic state, "at­tend­ing to what was go­ing on in his head," El­lis ob­served. He came to in a couple of hours with no memory of what had happened. He was dropped from the study.
At UC Dav­is, Wil­sey found something he wasn't count­ing on. In out­pa­tient ses­sions of three to 21 days, Wil­sey and his sev­en-mem­ber team mon­itored 32 pa­tients with nerve in­jur­ies as they smoked marijuana with 7 per­cent or 3.5 per­cent THC or toked on THC-free placebo joints. Sub­jects in both marijuana groups found sig­ni­fic­ant re­lief from chron­ic pain. What sur­prised Wil­sey is that they got the same re­lief with the lower can­nabis dose as with the high­er dose, only with less impair­ment.
Corey-Bloom re­por­ted that MS pa­tients giv­en can­nabis showed mod­est cog­nit­ive impair­ment. However, her study on 30 pa­tients also demon­strated that smoking marijuana could re­duce pain­ful, of­ten dis­abling symp­toms of spas­ti­city.
At UC San Diego, the res­ults of Wal­lace's study us­ing the in­gredi­ent in hot chili pep­pers pro­duced com­pel­ling evid­ence of can­nabis's ef­fect­ive­ness with pain while also stir­ring ques­tions about marijuana dos­ing. Wal­lace had healthy re­search sub­jects smoke marijuana joints with 2 per­cent, 4 per­cent, and 8 per­cent THC, then in­jec­ted cap­saicin in­to one of each sub­ject's fore­arms five minutes af­ter­ward, and in­to the oth­er fore­arm 45 minutes af­ter­ward. When the sub­jects were in­jec­ted after five minutes, pot had no sig­ni­fic­ant ef­fect in re­du­cing the cap­saicin-in­duced pain. When in­jec­ted after 45 minutes, sub­jects tak­ing the 2 per­cent THC dose re­por­ted little or no pain re­duc­tion. But people smoking 4 per­cent THC re­por­ted sig­ni­fic­ant re­lief. And people smoking can­nabis with 8 per­cent THC found their pain ac­tu­ally in­creased. For Wal­lace, the res­ults were sig­ni­fic­ant. His clin­ic­al tri­al had re­vealed ex­pos­ure levels where marijuana was both ef­fect­ive and not.
"A PROM­ISING TREAT­MENT"
There were more stud­ies as well — an at­tempt to fig­ure out wheth­er pa­tients with pain­ful neuro­pathy could get re­lief from marijuana without get­ting stoned; a tri­al that tested wheth­er smoking joints or con­sum­ing can­nabis by va­por­iz­ing de­livered medi­cin­al ef­fects more ef­fi­ciently; a study to find out if can­nabis could be a suit­able co­ther­apy for pa­tients tak­ing opi­ate drugs.
The doc­tors who con­duc­ted all these stud­ies were not act­iv­ists; their goal was not to em­brace the polit­ic­al marijuana cause. Nev­er­the­less, in Feb­ru­ary 2010, when Ig­or Grant and the Uni­versity of Cali­for­nia re­search­ers gathered at the state Cap­it­ol to present their pre­lim­in­ary find­ings, their an­swer to the state-man­dated ques­tion — does marijuana have thera­peut­ic value? — was yes.
"As a res­ult of this pro­gram of sys­tem­at­ic re­search, we now have reas­on­able evid­ence that can­nabis is a prom­ising treat­ment," Grant an­nounced. At the time, he re­frained from point­ing out that the res­ults flew in the face of the U.S. gov­ern­ment's clas­si­fic­a­tion of marijuana as a Sched­ule I drug with no ac­cep­ted med­ic­al use. But in 2012, with the Cali­for­nia clin­ic­al tri­als com­pleted and the last stud­ies be­ing pub­lished, Grant let it be known that the Sched­ule I clas­si­fic­a­tion "is com­pletely at odds with ex­ist­ing sci­ence" and "seems in­tel­lec­tu­ally dis­hon­est."
Every clin­ic­al study by the Cen­ter for Medi­cin­al Can­nabis Re­search showed po­ten­tial med­ic­al be­ne­fits from can­nabis. Yet the Cali­for­nia tri­als didn't in­clude any­where close to suf­fi­cient num­bers of pa­tients to meet FDA stand­ards for eval­u­at­ing marijuana's po­ten­tial as a pre­scrip­tion med­ic­a­tion. Moreover, na­tion­al drug-ab­use and ad­dic­tion sur­veys said marijuana — though it presen­ted less per­ceived danger than oth­er sub­stances — could be ad­dict­ive, with 9 per­cent of users de­vel­op­ing an un­healthy pot de­pend­ency. With­in the med­ic­al com­munity, there re­mains a di­vide between phys­i­cians who have stud­ied the po­ten­tial be­ne­fits of marijuana and those who spe­cial­ize in ad­dic­tion. The lat­ter group, not sur­pris­ingly, is more skep­tic­al about pot.
Grant cau­tioned that a sig­ni­fic­ant body of med­ic­al lit­er­at­ure raised le­git­im­ate con­cerns over pot's danger for people sus­cept­ible to schizo­phrenia or oth­er psychot­ic ill­nesses and over its po­ten­tial harms for teen­agers, whose brains were still de­vel­op­ing. The gov­ern­ment pot used in the stud­ies also wasn't even close to the bot­tom-shelf in­tens­ity of de­sign­er weed strains sold at many Cali­for­nia med­ic­al-marijuana dis­pens­ar­ies, mean­ing re­search­ers didn't test what was ac­tu­ally on the mar­ket. They also didn't have the op­tion of look­ing at new niche marijuana strains bred with low-THC and high con­cen­tra­tions of can­na­bi­d­i­ol, or CBD, a can­nabis con­stitu­ent be­lieved to de­liv­er an­al­ges­ic be­ne­fits without impair­ment.
Still, Grant and his re­search teams were able to char­ac­ter­ize marijuana as a prom­ising ther­apy that offered re­lief to people for whom oth­er treat­ments failed. It was an im­port­ant junc­ture in a sci­entif­ic jour­ney, one that Mark Henry had helped in­spire Don­ald Ab­rams to go on many years ago.
Peter Hecht is a seni­or writer for The Sac­ra­mento Bee and the au­thor of Weed Land: In­side Amer­ica's Marijuana Epi­cen­ter and How Pot Went Le­git, from which this piece is ad­ap­ted.