The Cap­it­ol will soon be home to the off­spring of the very chest­nut tree that grew out­side of the secret an­nex where Anne Frank and her fam­ily were sheltered dur­ing World War II.
Mem­bers of Con­gress will gath­er at the end of the month to plant the sap­ling, one of about 100 that were cut from the ori­gin­al tree in Am­s­ter­dam when it col­lapsed dur­ing a wind­storm in 2010. The sap­lings have since been sent all over the world, where they are be­ing planted in memory of the Holo­caust.
Frank ac­tu­ally wrote about the tree in her di­ary on three oc­ca­sions. "The two of us looked out at the blue sky, the bare chest­nut tree glisten­ing with dew, the seagulls and oth­er birds glint­ing with sil­ver as they swooped through the air, and we were so moved and en­tranced that we couldn't speak," she wrote, of look­ing out the win­dow with Peter van Pels in Feb­ru­ary, 1944.
The United States' 11 sap­lings have been un­der quar­ant­ine since 2010 to en­sure that they are healthy enough for plant­ing, while sites all over the coun­try have com­peted to house the young trees. Five were planted last year at the Chil­dren's Mu­seum of In­di­ana­pol­is, Sonoma State Uni­versity in Cali­for­nia, South­ern Cay­uga School Dis­trict in New York, Bo­ston Com­mon, and the Holo­caust Me­mori­al Cen­ter in Michigan.
This year, the Cap­it­ol and the Clin­ton Pres­id­en­tial Cen­ter in Little Rock, Ark., will each re­ceive a tree as well. The re­main­ing four will be planted at the Wash­ing­ton State Holo­caust Edu­ca­tion Re­source Cen­ter in Seattle, Little Rock Cent­ral High School in Arkan­sas, the Idaho Hu­man Rights Edu­ca­tion Cen­ter, and at the 9/11 me­mori­al in New York City in the near fu­ture.
"We were really look­ing for sap­ling sites that matched our mis­sion," Re­becca Faulkner of the Anne Frank Cen­ter USA said Wed­nes­day. "These 11 sites were rep­res­ent­at­ive of the en­tire United States."
The plant­ing ce­re­mony at the West Front Lawn of the Cap­it­ol, which is loc­ated on the Sen­ate side of the build­ing, is sched­uled for April 30. All four mem­bers of con­gres­sion­al lead­er­ship are slated to at­tend.
What We're Following See More »
UNTIL DEC. 9, ANYWAY
Obama Signs Bill to Fund Government
4 hours ago
REDSKINS IMPLICATIONS
SCOTUS to Hear Case on Offensive Trademarks
4 hours ago
WHY WE CARE
"The Supreme Court is taking up a First Amendment clash over the government's refusal to register offensive trademarks, a case that could affect the Washington Redskins in their legal fight over the team name. The justices agreed Thursday to hear a dispute involving an Asian-American rock band called the Slants, but they did not act on a separate request to hear the higher-profile Redskins case at the same time." Still, any precedent set by the case could have ramifications for the Washington football team.
STAFF PICKS
Bannon Still Collecting Royalties from 'Seinfeld'
5 hours ago
WHY WE CARE
The Hollywood Reporter takes a look at a little-known intersection of politics and entertainment, in which Trump campaign CEO Steve Bannon is still raking in residuals from Seinfeld. Here's the digest version: When Seinfeld was in its infancy, Ted Turner was in the process of acquiring its production company, Castle Rock, but he was under-capitalized. Bannon's fledgling media company put up the remaining funds, and he agreed to "participation rights" instead of a fee. "Seinfeld has reaped more than $3 billion in its post-network afterlife through syndication deals." Meanwhile, Bannon is "still cashing checks from Seinfeld, and observers say he has made nearly 25 times more off the Castle Rock deal than he had anticipated."
IT'S ALL CLINTON
Reliable Poll Data Coming in RE: Debate #1
6 hours ago
WHY WE CARE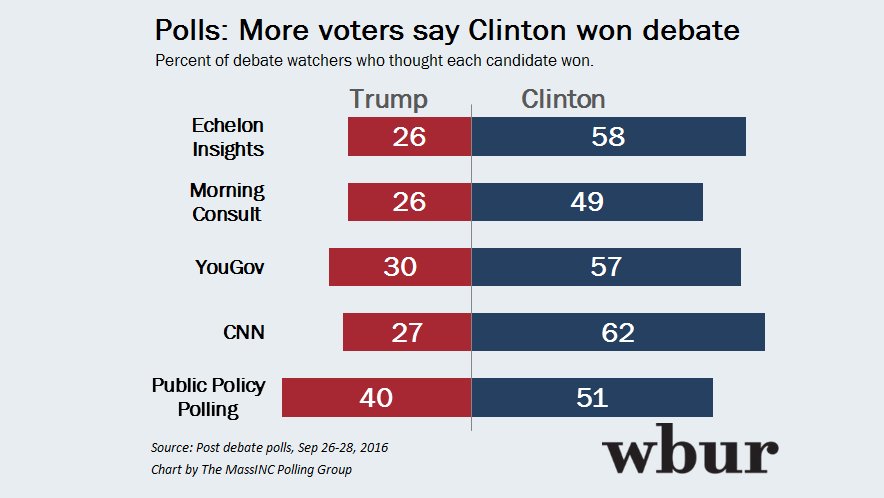 NEXT THURSDAY
Trump Transition Team Meeting with Silicon Valley VIPs
8 hours ago
THE DETAILS
Donald Trump's "transition team will meet next week with representatives of the tech industry, multiple sources confirmed, even as their candidate largely has been largely shunned by Silicon Valley. The meeting, scheduled for next Thursday at the offices of law and lobbying firm BakerHostetler, will include trade groups like the Information Technology Industry Council and the Internet Association that represent major Silicon Valley companies."