April 10, 2014, 5:14 a.m.
Sen. Marco Ru­bio and Rep. Paul Ry­an may be de­vel­op­ing an al­tern­at­ive to the Af­ford­able Care Act, ac­cord­ing to the Wash­ing­ton Ex­am­iner.
Ru­bio and Ry­an are keep­ing mum on the sup­posed plan for now. But in polit­ics, syn­tax is everything. "I don't have any­thing to an­nounce today," Ru­bio told the Ex­am­iner.
House Re­pub­lic­ans have voted 55 times to re­peal Obama­care, but have not yet put for­ward a com­pre­hens­ive re­place­ment plan of their own. If Ru­bio and Ry­an — who have both been mulling pres­id­en­tial runs — could put forth such a plan, and if it passed, they would be­come folk her­oes for their party. That said, any sort of re­place­ment is un­likely to hap­pen un­til 2017 — un­less Pres­id­ent Obama de­cides to re­peal the sig­na­ture law of his pres­id­ency.
Re­pub­lic­ans have ban­died about Obama­care al­tern­at­ives, and they are now tak­ing those ideas to the streets. This month, House Re­pub­lic­ans will test out Obama­care al­tern­at­ives in town-hall meet­ings after the House re­cesses on Thursday. Some al­tern­at­ive pro­pos­als have in­cluded ex­pand­ing health sav­ings ac­counts, al­low­ing small busi­nesses to pool to­geth­er when pur­chas­ing health care plans, and giv­ing more gov­ern­ment as­sist­ance to "high-risk" pa­tients.
But a hard truth for Obama­care op­pon­ents is that, the more en­trenched the cur­rent law be­comes, the harder it will be to re­peal.
"If you want to say the fur­ther and fur­ther this gets down the road, the harder and harder it gets to re­peal, that's ab­so­lutely true," an an­onym­ous GOP health aide told Talk­ing Points Memo on Tues­day. "As far as re­peal and re­place goes, the prob­lem with re­place is that if you really want people to have these new be­ne­fits, it looks a hell of a lot like the Af­ford­able Care Act."
What We're Following See More »
NEVER TRUMP
USA Today Weighs in on Presidential Race for First Time Ever
9 hours ago
THE DETAILS
"By all means vote, just not for Donald Trump." That's the message from USA Today editors, who are making the first recommendation on a presidential race in the paper's 34-year history. It's not exactly an endorsement; they make clear that the editorial board "does not have a consensus for a Clinton endorsement." But they state flatly that Donald Trump is, by "unanimous consensus of the editorial board, unfit for the presidency."
COMMISSIONERS NEED TO DELIBERATE MORE
FCC Pushes Vote on Set-Top Boxes
9 hours ago
THE LATEST
"Federal regulators on Thursday delayed a vote on a proposal to reshape the television market by freeing consumers from cable box rentals, putting into doubt a plan that has pitted technology companies against cable television providers. ... The proposal will still be considered for a future vote. But Tom Wheeler, chairman of the F.C.C., said commissioners needed more discussions."
UNTIL DEC. 9, ANYWAY
Obama Signs Bill to Fund Government
14 hours ago
IT'S ALL CLINTON
Reliable Poll Data Coming in RE: Debate #1
16 hours ago
WHY WE CARE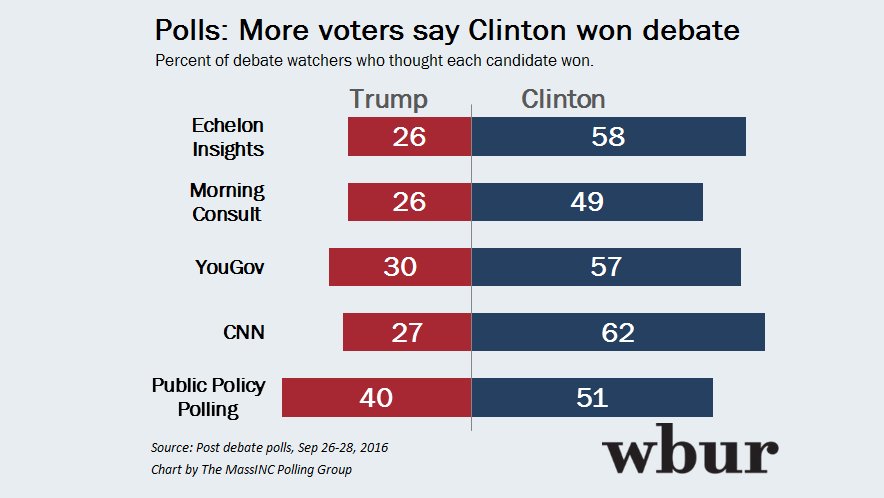 WHAT WILL PASS?
McConnell Doubts Criminal Justice Reform Can Pass This Year
18 hours ago