April 10, 2014, 1:12 p.m.
Ten­sions over changes in the Sen­ate rules late last year res­ul­ted in an ex­plos­ive con­front­a­tion between party lead­ers on the Sen­ate floor and a delayed va­ca­tion for Demo­crat­ic mem­bers on Thursday.
At is­sue are two of Pres­id­ent Obama's ju­di­cial nom­in­a­tions and long-sim­mer­ing Re­pub­lic­an an­ger over Ma­jor­ity Lead­er Harry Re­id's de­cision in Novem­ber to in­voke the so-called nuc­le­ar op­tion. Un­der the new rules, Demo­crats need just a simple ma­jor­ity of votes to ap­prove the nom­in­a­tions, but they still have to al­low for 30 hours of de­bate, ab­sent an agree­ment from the minor­ity.
But on Thursday, Re­pub­lic­ans re­fused to come to an agree­ment to move up the vote, lead­ing Re­id to call for a rare vote re­quir­ing all ab­sent sen­at­ors to ap­pear on the floor just after 3 p.m., as many mem­bers were pre­par­ing to leave for a two-week East­er re­cess. The mo­tion suc­ceeded with 55 mem­bers vot­ing in fa­vor, in­clud­ing Re­pub­lic­an Sens. Dean Heller of Nevada and Richard Shelby of Alabama.
Re­id was hope­ful that once the mem­bers were to­geth­er on the Sen­ate floor with the sounds of jet en­gines run­ning in the back of their minds, some kind of deal could be reached, but Re­pub­lic­ans ob­jec­ted to mov­ing for­ward with the vote.
"I'm so sorry," Re­id said, apo­lo­giz­ing to his fel­low Demo­crats, the ma­jor­ity of whom had already left the Sen­ate floor. Demo­crats will have to vote Fri­day af­ter­noon to con­firm Michelle T. Fried­land to the 9th Dis­trict Cir­cuit Court of Ap­peals, Re­id said, though Re­pub­lic­ans who op­pose the nom­in­a­tion will be free to go home. "They don't have to be here, we do," Re­id lamen­ted.
Re­pub­lic­ans scoffed at Re­id's re­quest to move up the nom­in­a­tion, not­ing that many GOP sen­at­ors op­pose Fried­land and de­serve a full 30 hours of de­bate to out­line their con­cerns. "There is con­tro­versy over this nom­in­ee," Sen. Chuck Grass­ley, R-Iowa, de­claimed, ask­ing for the vote to be delayed un­til after the two-week East­er re­cess, a pro­pos­al that Re­id quickly re­jec­ted.
The 30 hours of de­bate is sched­uled to ex­pire between 4 and 5 p.m. Fri­day, for­cing mem­bers to stick around for an­oth­er day. It's un­clear how many Demo­crat­ic mem­bers are still in Wash­ing­ton, and some Re­pub­lic­ans could be needed to com­plete the nom­in­a­tion on Fri­day.
Sen­ate Minor­ity Whip John Cornyn noted "there is some con­tro­versy as­so­ci­ated" with a nom­in­ee, and said that Re­id brought this situ­ation upon him­self when Demo­crats changed the Sen­ate rules around nom­in­ees. "Then when we're try­ing to ap­ply the rules al­low­ing for 30 hours post-clo­ture [time], he some­how thinks that's an un­reas­on­able po­s­i­tion," Cornyn said. "So I think there'd be a lot more bi­par­tis­an co­oper­a­tion so every­body could be ac­com­mod­ated, but for the ex­treme po­s­i­tion taken on the nuc­le­ar op­tion."
Sen­ate Minor­ity Lead­er Mitch Mc­Con­nell ex­pressed out­rage at Re­id's re­quest to ad­vance the vote early, es­sen­tially ask­ing Re­pub­lic­ans to give up what little power they now hold over Sen­ate pro­ceed­ings in the post-nuc­le­ar age. "Des­pite this heavy-handed be­ha­vi­or, [Re­id] ex­pects the minor­ity to ex­ped­ite con­sid­er­a­tion."¦ We're simply ex­er­cising our right un­der the rules of the Sen­ate," Mc­Con­nell said.
Demo­crats ar­gued that the 30 hours of de­bate time (more than two weeks, really, giv­en the re­cess) would not be used by Re­pub­lic­ans any­way. "The real­ity is if they want 30 hours, then de­bate it, but that's not what they're go­ing to do," said Sen. Mark Be­gich, D-Alaska. "They're just go­ing to leave an empty floor. So the Amer­ic­an people ex­pect when you fili­buster, you ac­tu­ally come to the floor and ex­plain why you don't like this [nom­in­ee]."
Be­gich said that he had planned on stick­ing around D.C. un­til Sat­urday any­way, so a Fri­day vote won't be an is­sue for him. He pre­dicted that this scen­ario will play out again in the fu­ture. "It's go­ing to keep hap­pen­ing be­cause this is what they like to do," Be­gich said of Re­pub­lic­ans. "And it's too bad be­cause it's really de­struct­ive to mov­ing for­ward on oth­er is­sues."
Re­id said on the floor that dur­ing Obama's pres­id­ency, the Sen­ate spent too much time on de­bate, which ul­ti­mately has no ef­fect on the fi­nal vote. "We've wasted thou­sands of hours through the last five years," Re­id com­plained.
Ul­ti­mately, Re­id did not re­lent to Re­pub­lic­an re­quests to take up the nom­in­a­tion after the re­cess. Al­though there is still time for the sen­at­ors to come to an agree­ment on de­bate time this even­ing, Demo­crats will very likely spend an­oth­er day in Wash­ing­ton be­fore they board their flights home. "Most people work on Fri­days," Re­id said.
What We're Following See More »
STAFF PICKS
Bannon Still Collecting Royalties from 'Seinfeld'
49 minutes ago
WHY WE CARE
The Hollywood Reporter takes a look at a little-known intersection of politics and entertainment, in which Trump campaign CEO Steve Bannon is still raking in residuals from Seinfeld. Here's the digest version: When Seinfeld was in its infancy, Ted Turner was in the process of acquiring its production company, Castle Rock, but he was under-capitalized. Bannon's fledgling media company put up the remaining funds, and he agreed to "participation rights" instead of a fee. "Seinfeld has reaped more than $3 billion in its post-network afterlife through syndication deals." Meanwhile, Bannon is "still cashing checks from Seinfeld, and observers say he has made nearly 25 times more off the Castle Rock deal than he had anticipated."
IT'S ALL CLINTON
Reliable Poll Data Coming in RE: Debate #1
1 hours ago
WHY WE CARE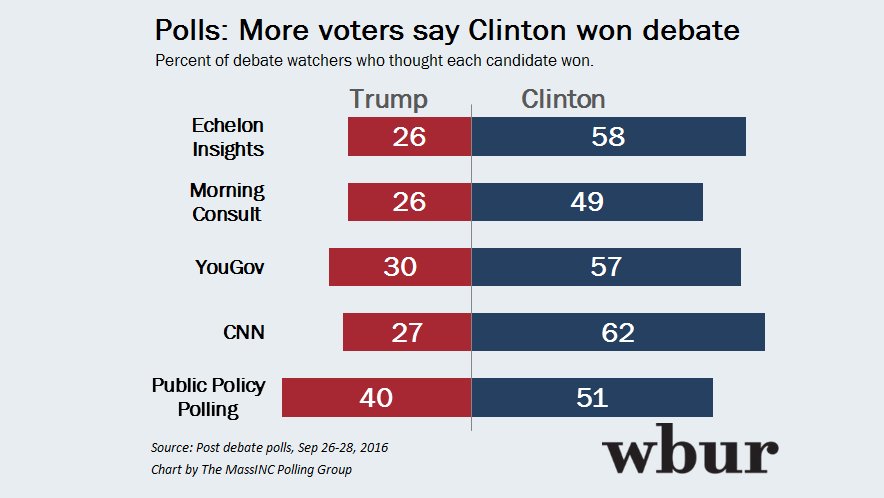 NEXT THURSDAY
Trump Transition Team Meeting with Silicon Valley VIPs
3 hours ago
THE DETAILS
Donald Trump's "transition team will meet next week with representatives of the tech industry, multiple sources confirmed, even as their candidate largely has been largely shunned by Silicon Valley. The meeting, scheduled for next Thursday at the offices of law and lobbying firm BakerHostetler, will include trade groups like the Information Technology Industry Council and the Internet Association that represent major Silicon Valley companies."
WHAT WILL PASS?
McConnell Doubts Criminal Justice Reform Can Pass This Year
3 hours ago
ALSO FIRED UNATTRACTIVE WAITRESSES
Trump Did Business with Cuba
4 hours ago
THE LATEST
Today in bad news for Donald Trump:
Newsweek found that a company he controlled did business with Cuba under Fidel Castro "despite strict American trade bans that made such undertakings illegal, according to interviews with former Trump executives, internal company records and court filings." In 1998, he spent at least $68,000 there, which was funneled through a consluting company "to make it appear legal."
The Los Angeles Times reports that at a golf club he owns in California, Trump ordered that unattractive female staff be fired and replaced with prettier women.