April 11, 2014, 7:40 a.m.
The clearest di­vid­ing line on how people think about the Obama­care right now is between col­lege- and non-col­lege-edu­cated white voters, a key dis­tinc­tion as one red-state Demo­crat­ic group goes on the air with TV ads de­fend­ing the law as strongly as any spots in four years.

— In new data from the Pew Re­search Cen­ter, Obama­care ap­prov­al only nar­rowly trails dis­ap­prov­al among col­lege whites, 42%-49%. But that gap be­comes a chasm among non-col­lege whites (22%-66%). And while col­lege whites split 31%-33% on wheth­er the law will af­fect their fam­il­ies pos­it­ively or neg­at­ively in the fu­ture, non-col­lege whites em­phat­ic­ally re­ject the pos­sib­il­ity that it will help (17%-48%).

— That sets up very dif­fer­ent fights over the law in, say, Col­or­ado and New Hamp­shire (where re­cent exit polls put col­lege whites at over half the elect­or­ate) versus red states like Arkan­sas or Montana (or Ken­tucky, where the state health ex­change has per­formed well) where there have been non-col­lege white ma­jor­it­ies of voters.

— That makes the latest TV ad out in Alaska par­tic­u­larly in­ter­est­ing: The pro-Mark Be­gich su­per PAC there is fea­tur­ing a wo­man can­cer sur­viv­or who says that after be­ing denied cov­er­age by in­sur­ance com­pan­ies, "I now have health in­sur­ance again, be­cause of Mark Be­gich." Per­son­al­iz­ing the is­sue, which re­search demon­strates to work bet­ter than stat­ist­ics, looks like a stab at "show­ing, not telling" people that Obama­care could af­fect them pos­it­ively in the fu­ture.

Among non-col­lege whites, at least, there's really no where for Demo­crats to go on Obama­care but up. Wheth­er that rep­res­ents an op­por­tun­ity to mes­sage to them in new ways, or a harsh real­ity ahead of Novem­ber, re­mains to be seen.
— Scott Bland
What We're Following See More »
NEVER TRUMP
USA Today Weighs in on Presidential Race for First Time Ever
12 hours ago
THE DETAILS
"By all means vote, just not for Donald Trump." That's the message from USA Today editors, who are making the first recommendation on a presidential race in the paper's 34-year history. It's not exactly an endorsement; they make clear that the editorial board "does not have a consensus for a Clinton endorsement." But they state flatly that Donald Trump is, by "unanimous consensus of the editorial board, unfit for the presidency."
UNTIL DEC. 9, ANYWAY
Obama Signs Bill to Fund Government
18 hours ago
IT'S ALL CLINTON
Reliable Poll Data Coming in RE: Debate #1
20 hours ago
WHY WE CARE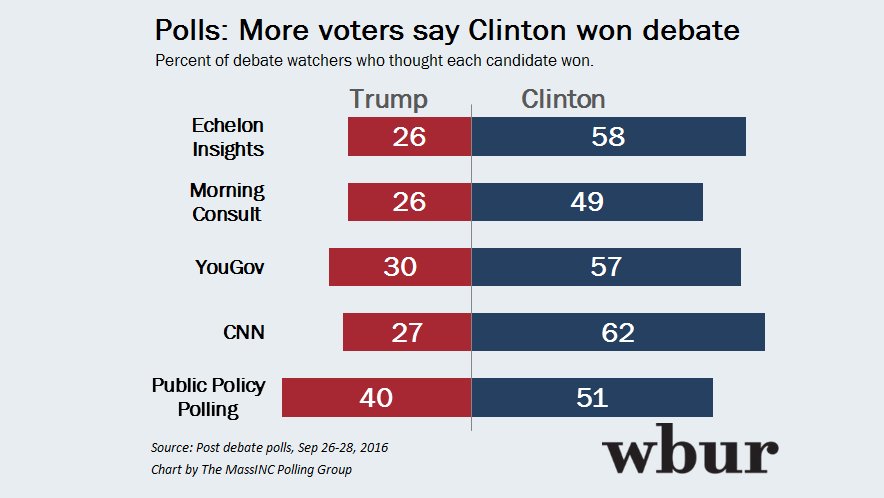 WHAT WILL PASS?
McConnell Doubts Criminal Justice Reform Can Pass This Year
22 hours ago
ALSO FIRED UNATTRACTIVE WAITRESSES
Trump Did Business with Cuba
23 hours ago
THE LATEST
Today in bad news for Donald Trump:
Newsweek found that a company he controlled did business with Cuba under Fidel Castro "despite strict American trade bans that made such undertakings illegal, according to interviews with former Trump executives, internal company records and court filings." In 1998, he spent at least $68,000 there, which was funneled through a consluting company "to make it appear legal."
The Los Angeles Times reports that at a golf club he owns in California, Trump ordered that unattractive female staff be fired and replaced with prettier women.