That's the linch­pin of the oil and gas in­dustry ar­gu­ment for per­mit­ting the con­tro­ver­sial drilling prac­tice. And it's be­come the in­dustry's trump card as the de­bate rages — among poli­cy­makers and sci­ent­ists — over wheth­er frack­ing is safe for the people and en­vir­on­ment around it.
Get­ting an ex­act count of how many people col­lect paychecks as a res­ult of frack­ing, however, is more art than sci­ence, and in many cases — par­tic­u­larly when it comes time for in­dustry back­ers and politi­cians to tout the prac­tice — a close look at the num­bers shows that some of the largest es­tim­ates are based on the most gen­er­ous eco­nom­ic as­sump­tions.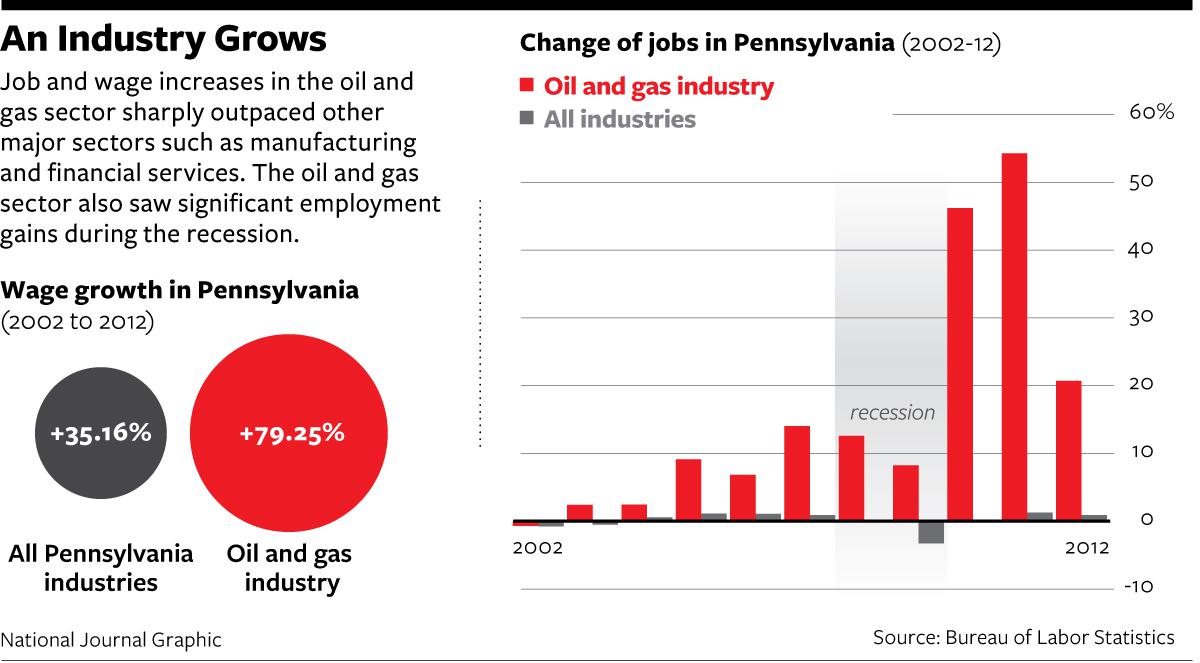 Take Pennsylvania, a state at the cen­ter of the frack­ing boom. It sits atop the Mar­cel­lus shale, the largest rock form­a­tion of its kind in the U.S., and has seen a surge in shale gas pro­duc­tion. Nat­ur­al-gas pro­duc­tion in Pennsylvania in­creased by 72 per­cent from 2011 to 2012, the largest jump out of all the ma­jor gas-pro­du­cing states.
Sup­port­ers of frack­ing say the pro­duc­tion ex­plo­sion has gen­er­ated a com­par­able in­crease in oil and gas jobs. Pennsylvania Gov. Tom Corbett, a Re­pub­lic­an await­ing the win­ner of a crowded Demo­crat­ic primary in what is pro­jec­ted to be a hotly con­tested gubernat­ori­al race, has worked to put pro-frack­ing policies in place — and his cam­paign is telling Pennsylvani­ans that the policies have pro­duced res­ults.
Corbett's cam­paign pro­claims in a tele­vi­sion spot that the Mar­cel­lus shale nat­ur­al-gas in­dustry is sup­port­ing over 200,000 jobs. But ac­cord­ing to the Pennsylvania De­part­ment of Labor and In­dustry, just over 30,000 people were em­ployed by in­dus­tries dir­ectly tied to the frack­ing boom in the third quarter of last year.
So what ex­plains the 170,000-job gap between Corbett's cam­paign and his state agency cal­cu­la­tion?
The 30,000 fig­ure is the state's es­tim­ate of jobs that are closely con­nec­ted to nat­ur­al-gas pro­duc­tion in the Mar­cel­lus shale — a tally that in­cludes em­ploy­ment in fields like nat­ur­al-gas ex­trac­tion, well drilling, and pipeline trans­port­a­tion.
The state also provides an­oth­er, broad­er met­ric of shale-re­lated jobs. In­stead of count­ing jobs in core Mar­cel­lus shale in­dus­tries, it cal­cu­lates em­ploy­ment in the lar­ger nat­ur­al-gas sup­ply chain. The total for this cat­egory comes to 214,946 jobs in the third quarter of last year.
That's the fig­ure Corbett is re­ly­ing on for his ad, his cam­paign con­firmed.
But the num­ber was nev­er in­ten­ded to come without caveats. It cov­ers in­dus­tries whose con­nec­tion to oil and gas de­vel­op­ment is tenu­ous at best, ran­ging from freight truck­ing to high­way, street, and bridge con­struc­tion. And agency of­fi­cials openly ad­mit that the fig­ure — when used to es­tim­ate jobs sup­por­ted by shale — amounts to little more than a guess.
"We have ab­so­lutely no idea how many jobs in that second cat­egory are due to nat­ur­al-gas pro­duc­tion," said Tim McEl­hinny, an eco­nom­ic re­search man­ager at the state De­part­ment of Labor and In­dustry's cen­ter for work­force in­form­a­tion and ana­lys­is.
None of this is to say that frack­ing hasn't cre­ated jobs. In 2002, the oil and gas in­dustry em­ployed roughly 6,500 people in Pennsylvania, ac­cord­ing to the fed­er­al Bur­eau of Labor Stat­ist­ics. By 2012 — the latest year for which BLS had data avail­able — that num­ber had bal­looned to more than 30,000, an in­crease of about 360 per­cent. Dur­ing that peri­od, the state saw a rise of only 1.3 per­cent in total em­ploy­ment.
The en­ergy boom has in­jec­ted frack­ing — and en­ergy jobs in gen­er­al — in­to the gubernat­ori­al race, but its role in the polit­ic­al dis­cus­sion dwarfs the sec­tor's ac­tu­al im­pact on the state eco­nomy: In 2012, jobs in core in­dus­tries tied to nat­ur­al-gas pro­duc­tion made up less than 1 per­cent of Pennsylvania's total 5.5 mil­lion jobs.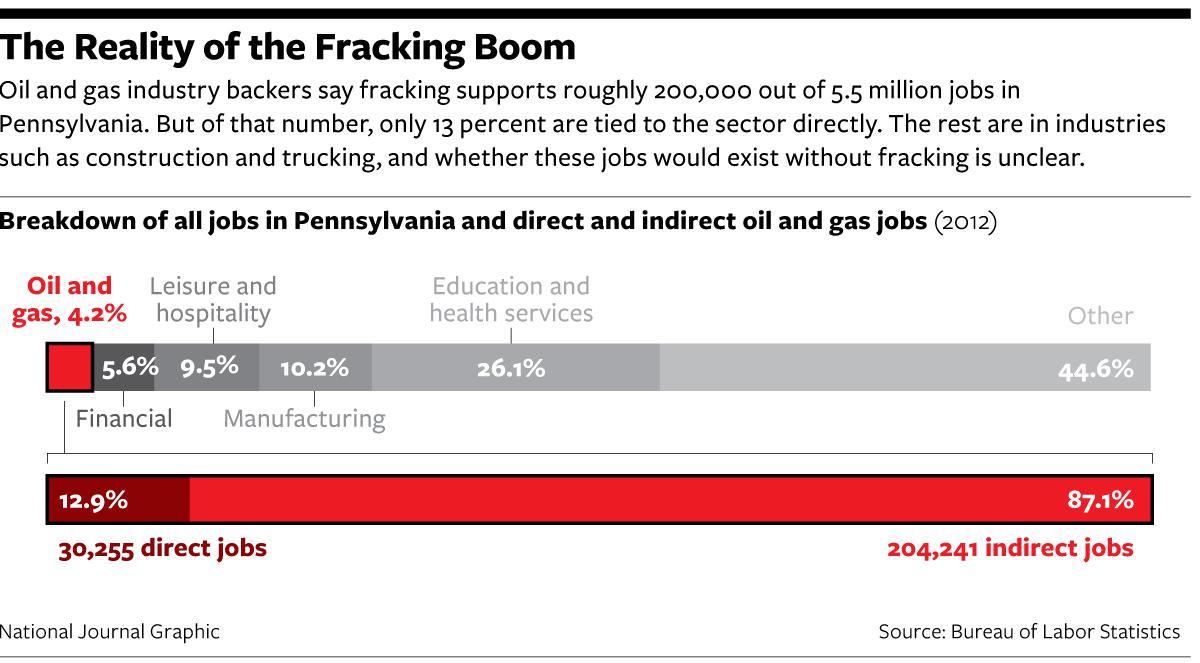 "It's a drop in the buck­et," said Tim Kel­sey, a pro­fess­or at the Pennsylvania State Uni­versity and cofounder of the Cen­ter for Eco­nom­ic and Com­munity De­vel­op­ment. "Re­l­at­ive to statewide em­ploy­ment this is a very small num­ber of jobs."
Pennsylvania's shale boom was enough to ease — but not erase — the state's pain dur­ing the re­ces­sion. BLS re­ports the state shed a net total of 74,133 jobs between 2007 and 2012, while the oil and gas in­dustry ad­ded roughly 21,000 jobs.
And frack­ing's abil­ity to spur em­ploy­ment may be wan­ing.
The in­dustry con­tin­ues to add jobs, but the pace has slowed. After post­ing its highest em­ploy­ment gains in a dec­ade between 2010 to 2011 — an in­ter­val when the in­dustry ad­ded roughly 8,800 jobs — the rate of job growth de­clined sig­ni­fic­antly the fol­low­ing year. (The in­dustry ad­ded just over 5,000 jobs from 2011 to 2012.)
Mar­ket forces sug­gest this dip may be more than a blip: Nat­ur­al gas has fallen vic­tim to its own suc­cess. Frack­ing has dra­mat­ic­ally ex­pan­ded the nat­ur­al-gas sup­ply, and as cus­tom­ers pay less for the product, drillers have star­ted to turn to en­ergy sources like oil whose prices are high­er and more stable.
That's good news for states like Ohio and North Dakota that sit on fields of the li­quid fossil fuel — but bad news for Pennsylvania. It's also a re­mind­er that the en­ergy boom won't last forever.