April 16, 2014, 8:27 a.m.
Saudi Ar­a­bia's top dip­lo­mat ac­cused the Syr­i­an re­gime of con­duct­ing new chem­ic­al strikes that he called a test of "in­ter­na­tion­al will," Re­u­ters re­ports.
"These con­tinu­ous vi­ol­a­tions by the Dam­as­cus re­gime re­quire the in­ter­na­tion­al com­munity to take firm ac­tion against the con­tinu­ous de­fi­ance of in­ter­na­tion­al, Ar­ab and Is­lam­ic will," Saudi For­eign Min­is­ter Saud al-Fais­al told journ­al­ists in Riy­adh on Tues­day.
His state­ment came in re­ac­tion to re­ports of sev­er­al chem­ic­al strikes con­duc­ted on Fri­day and Sat­urday in Syr­ia's three-year-old civil war. Syr­i­an Pres­id­ent Bashar As­sad's gov­ern­ment and its op­pos­i­tion have blamed one an­oth­er for the at­tacks, which al­legedly in­volved re­leases of chlor­ine gas in the rebel-held town of Kfar Zeita.
The Saudi for­eign min­is­ter said the new al­leg­a­tions con­sti­tute an af­front to the U.N. Se­cur­ity Coun­cil's 2013 call for As­sad's re­gime to elim­in­ate its chem­ic­al arms. The gov­ern­ment joined an in­ter­na­tion­al chem­ic­al-arms ban and agreed to elim­in­ate its stock­piled war­fare sub­stances after a sar­in gas as­sault in Au­gust promp­ted threats of in­ter­na­tion­al mil­it­ary in­ter­ven­tion in the con­flict.
The re­gime's dis­arm­a­ment pledge does not ex­tend to chlor­ine, which has peace­ful ap­plic­a­tions. Still, the Chem­ic­al Weapons Con­ven­tion pro­hib­its use of the sub­stance in com­bat, ac­cord­ing to former Brit­ish mil­it­ary of­ficer Ham­ish de Bretton-Gor­don.
The is­sue ex­pert said chlor­ine is easy to ob­tain in Syr­ia, but ad­ded that the ma­ter­i­al re­portedly fell from air­craft in the re­cent al­leged at­tacks.
"As far as I am aware, the op­pos­i­tion does not have heli­copters," de Bretton-Gor­don said.
What We're Following See More »
NEVER TRUMP
USA Today Weighs in on Presidential Race for First Time Ever
12 hours ago
THE DETAILS
"By all means vote, just not for Donald Trump." That's the message from USA Today editors, who are making the first recommendation on a presidential race in the paper's 34-year history. It's not exactly an endorsement; they make clear that the editorial board "does not have a consensus for a Clinton endorsement." But they state flatly that Donald Trump is, by "unanimous consensus of the editorial board, unfit for the presidency."
UNTIL DEC. 9, ANYWAY
Obama Signs Bill to Fund Government
17 hours ago
IT'S ALL CLINTON
Reliable Poll Data Coming in RE: Debate #1
20 hours ago
WHY WE CARE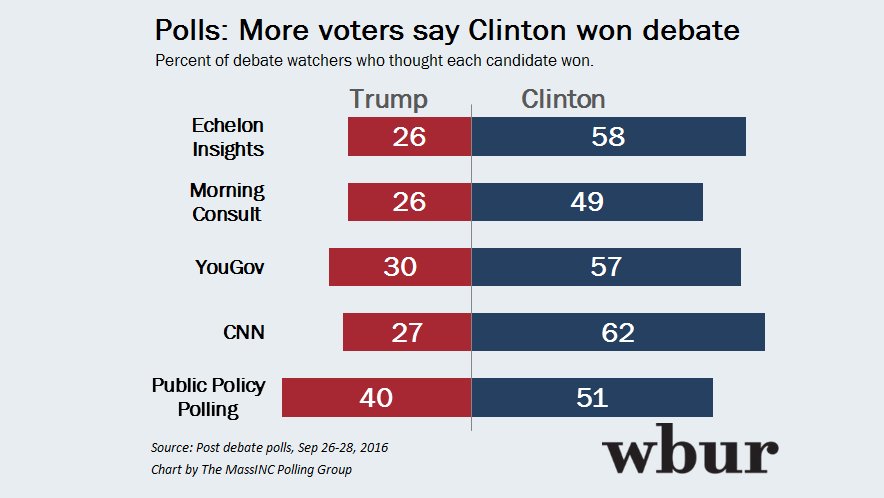 WHAT WILL PASS?
McConnell Doubts Criminal Justice Reform Can Pass This Year
22 hours ago
ALSO FIRED UNATTRACTIVE WAITRESSES
Trump Did Business with Cuba
22 hours ago
THE LATEST
Today in bad news for Donald Trump:
Newsweek found that a company he controlled did business with Cuba under Fidel Castro "despite strict American trade bans that made such undertakings illegal, according to interviews with former Trump executives, internal company records and court filings." In 1998, he spent at least $68,000 there, which was funneled through a consluting company "to make it appear legal."
The Los Angeles Times reports that at a golf club he owns in California, Trump ordered that unattractive female staff be fired and replaced with prettier women.