April 17, 2014, 9:31 a.m.
A day after the United States said it was pre­par­ing more sanc­tions against Rus­sia, dip­lo­mats from both coun­tries sat down for a chat. And they ac­tu­ally agreed on something.
Rep­res­ent­at­ives from the U.S., Rus­sia, Ukraine, and the European Uni­on have reached an agree­ment about on­go­ing ten­sions after sev­en hours of ne­go­ti­ations in Geneva. The meet­ings co­in­cided with a fal­ter­ing "an­ti­ter­ror­ist cam­paign" by Kiev against pro-Rus­si­an sep­ar­at­ists, who have stormed Ukrain­i­an gov­ern­ment build­ings this month. The Ukrain­i­an mil­it­ary is no match for Rus­si­an forces, and Rus­si­an Pres­id­ent Vladi­mir Putin said his Par­lia­ment has al­lowed him to use mil­it­ary force to de­fend pro-Rus­si­an pro­test­ers in Ukraine.
Here's what Thursday's agree­ment en­tails:
All sides must re­frain from vi­ol­ence, in­tim­id­a­tion, and pro­voca­tion.
Il­leg­ally armed groups in Ukraine have to give up their weapons.
The gov­ern­ment build­ings just in­side the Ukrain­i­an bor­der re­cently seized by pro-Rus­si­an sep­ar­at­ists must be re­turned to Ukrain­i­an con­trol.
Pro­test­ers who com­ply with the above de­mands will be gran­ted am­nesty, ex­cept for those who are found to have com­mit­ted cap­it­al crimes.
Mon­it­ors from the Or­gan­iz­a­tion of Se­cur­ity and Co­oper­a­tion in Europe will now be dis­patched to Ukraine to en­force the re­quire­ments of the agree­ment.
"All of this, we are con­vinced, rep­res­ents a good day's work," Sec­ret­ary of State John Kerry said dur­ing a press con­fer­ence after the meet­ings. "It has pro­duced com­mit­ments and it has pro­duced words on pa­per."
However, he con­tin­ued, "words on pa­per will only mean what the ac­tions that are taken as a res­ult of those words pro­duce. So it is ab­so­lutely clear now that these words are im­me­di­ately trans­lated in­to ac­tion."
In oth­er words: Your move, Mo­scow.
The agree­ment cre­ates a lull in anxi­ety for European coun­tries, whose of­fi­cials wor­ried about im­pos­ing eco­nom­ic sanc­tions and for­cing Mo­scow to re­tali­ate, cut­ting them off from en­ergy sup­plies. It also eases the pres­sure on the White House to act quickly with ad­di­tion­al sanc­tions. But the situ­ation re­mains tenu­ous. Kerry's re­marks sug­gest he's more than a little skep­tic­al about how Rus­sia will fol­low through on pulling back from Ukraine. And why shouldn't he be? Putin's ques­tion-and-an­swer ses­sion with me­dia this morn­ing was a near du­plic­ate of state­ments he made a month ago — right be­fore he an­nexed Crimea.
What We're Following See More »
ABSENT FROM LIST: GENNIFER FLOWERS
Most Trump Guests Have Military Ties
2 hours ago
TOP OF MIND
Trending on Google: 'Why Should Trump Not Be President'
2 hours ago
THE DETAILS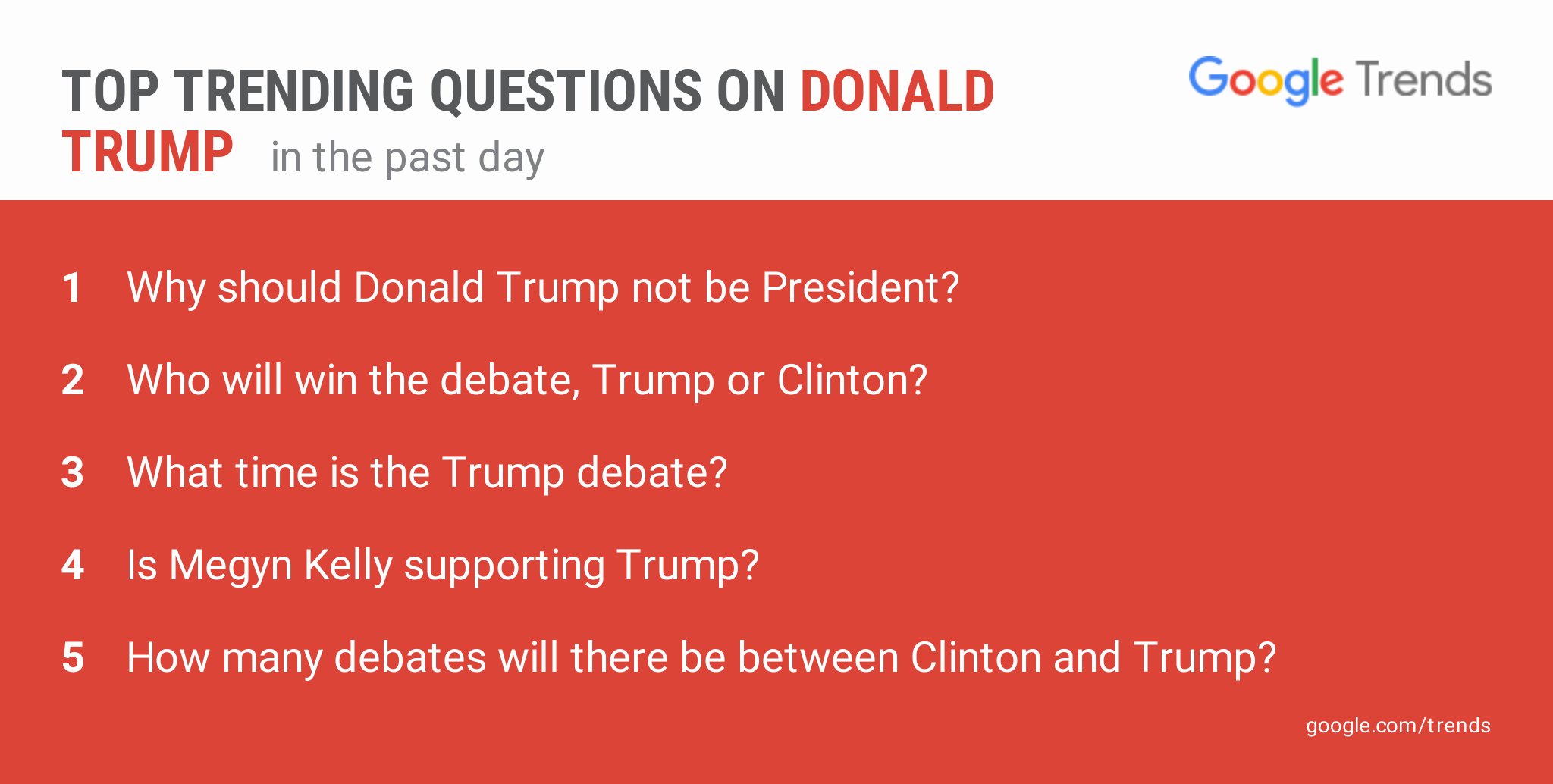 WHO PLAYED THE DONALD?
Longtime Clinton Aide Played Trump in Mock Debates
5 hours ago
THE DETAILS
After keeping the information private for most of the lead-up to the debate on Monday, it has been revealed that longtime Clinton aide Philippe Reines has been playing the role of Donald Trump in her debate prep. Reines knows Clinton better than most, able to identify both her strengths and weaknesses, and his selection for a sparring partner shows that Clinton is preparing for the brash and confrontational Donald Trump many have come to expect.
WEEKEND POLLING ROUNDUP
New Polls Still Show Razor-Thin Margins
5 hours ago
THE QUESTION
How Many Times Has the Trump Campaign Emailed Ted Cruz's Supporters?
5 hours ago
THE ANSWER
More than 30 times, in the case of some donors. Long before Cruz endorsed Trump—and before he even snubbed the nominee at the Republican National Convention—"the senator quietly began renting his vast donor email file to his former rival, pocketing at least tens of thousands of dollars, and more likely hundreds of thousands, that can be used to bankroll the Texan's own political future."